This is an extraordinary saga of a man who was a college dropout, broke all the barriers, and chose to leave a solid mark in the corporate world.
Mr. Gautam Adani, who is the Founder and Chairman of the Adani Group, which is now a prevalent organisation in the fields of Energy and Logistics sectors.
The Adani Group is an Indian multinational conglomerate, which has operations in six major sectors including energy & resources, logistics, agribusiness, financial services, real estate, and defense and aerospace creating a world-class logistics and utility infrastructure portfolio that has a PAN-India network and is currently India's largest port developer and operator with ten ports including the Mundra Port, which is the largest.
With four IG rated corporations, it is the only Infrastructure Investment Grade issuer in India.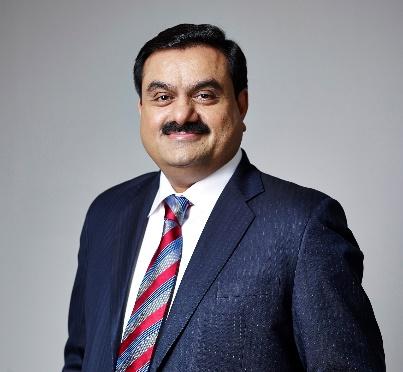 Timeline:
In a time span of just three decades, the company has risen from ashes to a company worth $22 billion. With the inspired presence of Mr. Gautam Adani and powerful guiding principles, Adani Group has captured the Indian market with its staggering business execution and diversified presence.
The timeline of its operations are as follow –
In 1978, as a teenager, Gautam moved to Mumbai, the City of Dreams with only a hundred rupees. He worked as a diamond sorter for a few years.
In 1981, his elder brother Mansukh Bhai Adani bought a plastics unit in Ahmedabad and invited him to manage the business.
In 1988, Gautam founded Adani Exports Limited, which is the holding company of the Adani Group. Today, it is known as Adani Enterprises.
In 1990 the Adani Group developed its own port in Mundra to provide a base for its trading operations. It began construction at Mundra in 1995.
In 1991, Adani started expanding the businesses into the trading of agro products, textiles, and metals.
In 1996, Adani Power Limited was founded by Adani which is the largest private thermal power producer in India with a power generation capacity of 4620 MW.
The company began coal trading in 1999 followed by a joint venture in edible oil refining in 2000 with the formation of Adani Wilmar.
In 2002, the Mundra port became the largest port in India after it handled 4 Mt of cargo.
Later in the year 2006, the company became the largest coal importer in India with 11 Mt of coal handling. Adani entered the Power generation business in 2006.
In 2014, Adani Power emerged as the largest power producer in India.
In 2015 the Adani Group's Adani Renewable Energy Park signed an agreement with the Rajasthan Government for a 50:50 joint venture to set up India's largest solar park with a capacity of 10,000 MW.
In 2016, Adani Aero Defence signed a pact with Elbit-ISTAR and Alpha Design Technologies to work in the field of Unmanned Aircraft System (UAS) which gave it a huge boost. In September of that year, Adani Green Energy, the renewable wing of Adani Group, began operations in Tamil Nadu, India. At the same time, it even inaugurated the biggest solar power plant in the world.
In 2017, the Adani Group acquired the power arm of Reliance Infrastructure and made itself a market leader in the segment.
In 2018, after the demerger of Adani Green energy and Adani Gas Ltd., its Fortune became the largest Food FMCG brand in India.
In 2019, it became the 2nd largest IRM player in the world.
Therefore, its journey has marked immense success and has now made Adani Group one of the most famous and biggest family business houses in India.
Business Segments:
Adani Group diversified its way into various segments and were also involved in the import and export of multi-basket commodities.
Some of the core business segments of the Adani Group are –
1. Adani Enterprises Ltd.
In 1993, the partnership company Adani Exports Ltd. was converted into a limited company named Adani Enterprises Ltd. It was originally started to trade commodities and exported various products like dyes, agricultural items, plastics and frozen food to more than 28 countries. As of today's date, this is the share price of Adani Enterprises Ltd.
2. Adani Ports and SEZ Ltd.
It is India's largest private integrated ports company and logistic company. The company's activities are comprised of Port Management, Logistics and special economic zones which accounts for one-fourth of the cargo movement in the country. As of today's date, this is the share price of Adani Ports and SEZ Ltd.
3. Adani Power Ltd.
It is the power subsidiary of Adani Group and is India's largest private thermal power producer, with capacity of more than 12,450 MW. The Company is responsible for all the power projects and their maintenance in the Indian subcontinent. As of today's date, this is the share price of Adani Power Ltd.
4. Adani Transmission Ltd.
The company was incorporated in the year 2013. It is one of the largest private sector power transmission companies in India.
 It offers electricity generation, transmission, and distribution services, as well as provides operation and maintenance support.
The company serves customers worldwide. The company has many subsidiaries in western, northern and central regions of India.
As of today's date, this is the share price of Adani Transmission Ltd.
5. Adani Green Energy Ltd.
Adani Green Energy Limited is an Indian-based power generation company. It builds and operates solar and wind energy power plants in India. It operates a fully-operational single-location solar power plant in Kamuthi, Tamil Nadu with a capacity of 648 Megawatts (MW) and other plants in various other parts of India. As of today's date, this is the share price of Adani Green Energy Ltd.
6. Adani Gas Ltd.
Adani Gas Ltd is an Indian-based company which is into the business of distribution of natural gas.  The Company is in the development of a network for city gas distribution networks to supply piped natural gas to the industrial, commercial, domestic and compressed natural gas to the transportation sector. It has already set up city gas distribution networks in Ahmedabad and Vadodara in Gujarat, and few other cities. As of today's date, this is the share price of Adani Gas Ltd.

What Differentiates Adani?
Sound Leadership – The man who has developed the company from scratches and has seen every upside and downside of the story still chairs the group and is known for his brilliant strategies and company relations. With a strong top tier of management, the company has been able to grow by leaps and bounds and expand into different sectors.
Diversified Portfolio – What differentiates Adani, in this case, is that it has expanded into some of the rarest and huge sectors such as aerospace, defense and green energy. With its domination over the port sector, it has become a market leader in no time.
Growth with Sustainability – The factor which drives behind the company's success has been the growth and development of all the factors surrounding the company. It aims for long-term sustainability by taking care of the environmental and social factors and ensuring a proper environment for all the stakeholders.
The company has the core philosophy of 'Nation Building' which is driven by 'Growth with Goodness' which stands for sustainable development. With increased focus on Environmental-Social-Governance (ESG) factors and guiding principles of Mr. Gautam Adani, it aims to revolutionise the Indian Infrastructural pattern and become the market leader in diversified segments.
Few listed businesses of Adani Group are:-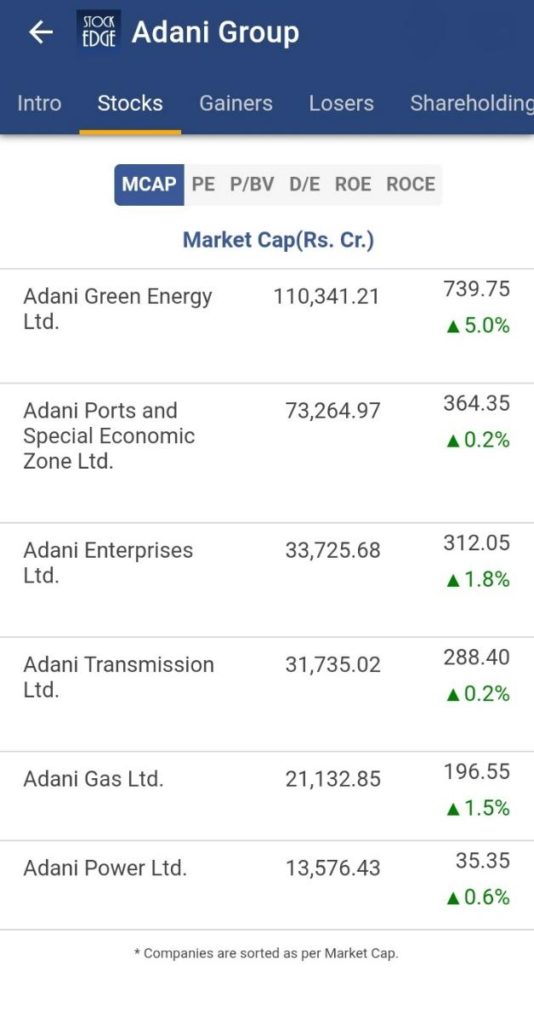 Frequently Asked Questions
What does Adani group do?

Adani Group is a diversified organization in India with market cap of $40 billion (as on 28th Oct 2020) comprising 6 publicly traded companies. It has created a world class transport and utility infrastructure portfolio that has a pan-India presence. Adani Group is headquartered in Ahmedabad, in the state of Gujarat, India. Over the years, Adani Group has positioned itself to be the market leader in its transport logistics and energy utility portfolio businesses focusing on large scale infrastructure development in India with O & M practices benchmarked to global standards. With four IG rated businesses, it is the only Infrastructure Investment Grade issuer in India.
Who is the owner of Adani Power?

Adani Power Limited is the power business subsidiary of Indian conglomerate Adani Group with head office at Ahmedabad, Gujarat. It is a private thermal power producer, with capacity of 12,450 MW.
Who is the CEO of Adani group?

Mr. Gautam Adani, is the Founder and Chairman of the Adani Group. Each business under the group has a different CEO for running that particular segment.
Watch the entire video on the Journey of Gautam Adani and his Company here-
Know more about Adani Group by using the Business Houses tab in the StockEdge Web Version.
Business Houses are one of the paid tools offered by the StockEdge App
Check out StockEdge Premium Plans.