In today's blog, we will talk about Endurance Technologies Ltd., a leading auto component manufacturer. This stock has been trending after SBI Mutual Fund acquired 12,60,749 shares of Endurance Technologies at Rs 1,162 on NSE. The fund manager also bought another 11,13,000 shares at the same price on BSE. As of today, this is the share price of Endurance Technologies Ltd.
The Story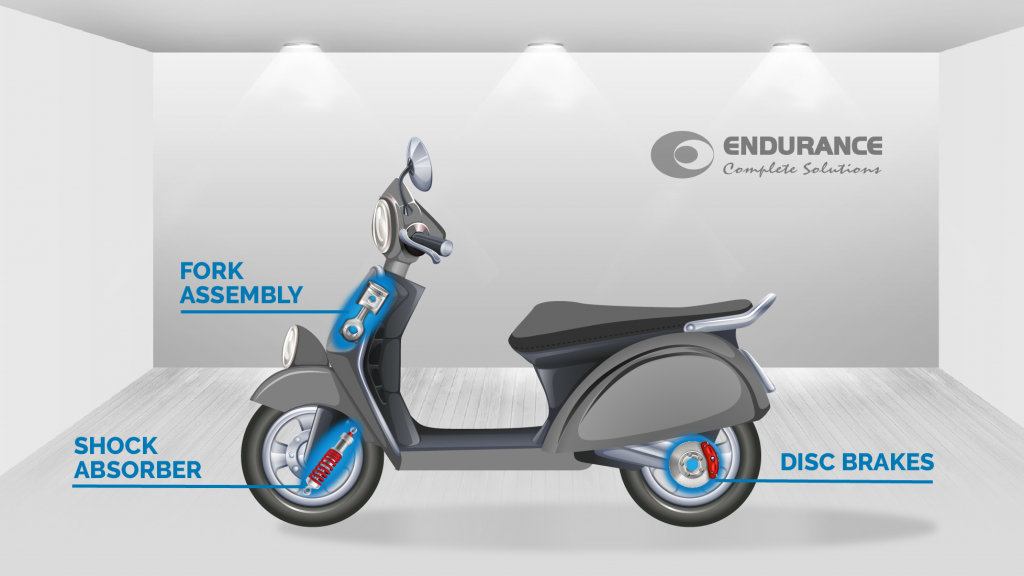 Endurance Technologies started in 1985 as Anurang Engineering, which used to supply aluminium die-casting parts to Bajaj Auto. Later it expanded into high-value products such as two-wheeler suspensions (1996), two-wheeler and three-wheeler transmission (1998), and two-wheeler disc brakes(2004). Endurance expanded into the European Union in FY07, where it now supplies castings to prestigious 4W OEMs.
Endurance has operations in Europe, with highly automated manufacturing facilities in Italy and Germany. The company has 27 plants; 18 are in India and 9 in Europe.
Endurance Technologies controls nearly half of the disc (used in disc brake) market in India (45% market share) and roughly one-third (30%) of the 2W disc brake assembly market. In addition, it has a 40% market share in front forks and a 36% market share in shock absorbers in suspensions.
Endurance has increased its market share in various segments over the years, owing to its ability to develop technologically superior products through collaboration with global technology partners/in-house R&D capabilities and offer them at cost-competitive prices to OEMs, owing to process capabilities/R&D and cost focus.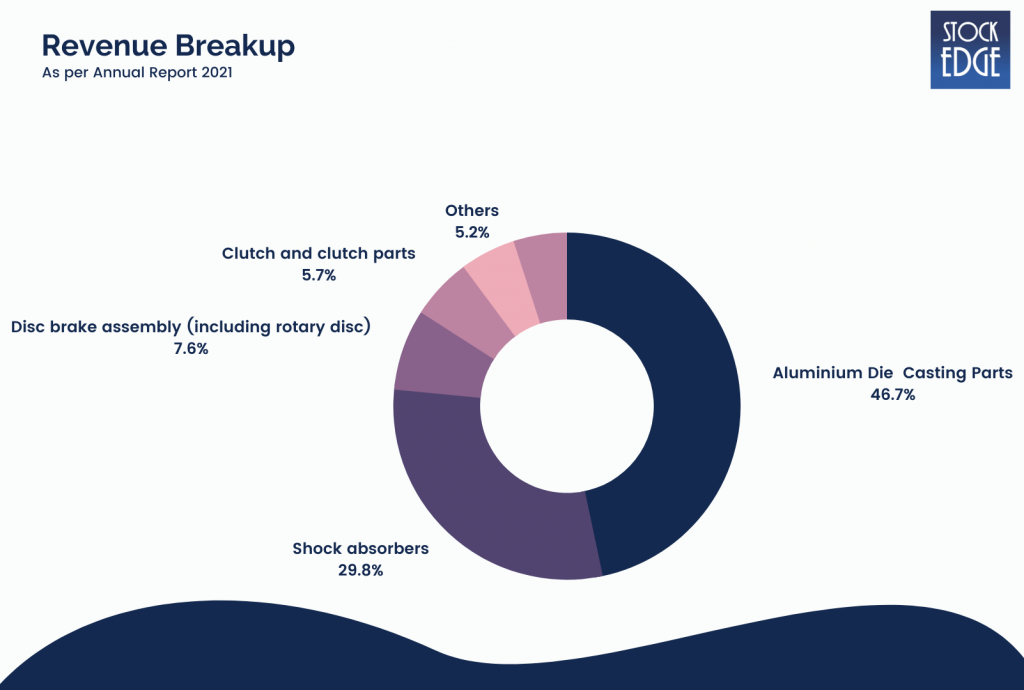 Let's look at the product segment of Endurance Technologies
Casting Business – With over three decades of experience in tooling, development, and manufacturing of high pressure, low pressure, and gravity die-casting products for Indian and overseas OEMs, Endurance is the market leader in aluminium die-casting and machining.
The main focus of Endurance in this segment is on increased value addition. They began supplying fully finished machined castings to its key OEM customers. They are also working to improve their market presence in the non-auto and tractor segments and have secured an order for supplying tractors during the year. They supply high/low pressure and gravity die casting products like flywheel housing, front housing, clutch housings etc., to 2wheeler, three-wheeler and 4wheeler OEMs in India.
he company has embarked upon a project to increase its alloy wheel manufacturing capacity during the year to cater to new business wins. It also bagged significant orders from large OEMs for passenger cars / 4-Wheeler fully machined casting business. With its new plant at Vallam to produce machined castings, the company will be able to serve more orders from this facility.
In addition, focus on value additions, like fully finished castings and a higher degree of automation, are expected to boost profitability further. With all the new business wins, especially in the 4-Wheeler segment, prospects for the casting segment look robust.
Suspensions – Endurance is a pioneer and market leader in high-performance suspension systems for 2-Wheeler, 3-Wheeler and quadricycles. With over two decades of experience, Endurance designs and produces a wide range of front forks and shock absorbers to provide a safe, stable and comfortable riding experience across all road surfaces.
This helps passengers be relatively isolated from road noise, bumps and vibrations. Endurance is credited with being the only company in India to design, develop and manufacture adjustable and non-adjustable damping force inverted front forks and mono-shock absorbers. It supplies suspension products in both domestic and international markets.
Endurance is focused on Inverted Front Forks (IFF) and adjustable rear mono shocks /emulsion shocks for high-end models of motorcycles. With the help of an esteemed European collaboration partner, they are also developing front forks and shock absorbers for electric 2-Wheelers. In addition, the company launched a backward integration project for aluminium forging axle clamps, which are required for the growing business of inverted front forks.
As a result, the inverted front forks business is seeing good traction and is expected to accelerate significantly, with new order wins expected from several domestic 2-Wheeler companies. Furthermore, with support from a European technology provider, the company aims to increase the on-road supply and start with the off-road motorcycles, including inverted front forks and rear mono shockers for higher cc vehicles.
Transmission – Endurance is a well-established player in transmission systems for 2-Wheelers and 3-Wheelers, with over two decades of experience. It holds close to 14% market share in transmission. Driven by its in-depth understanding of Indian driving habits, the company continuously innovates to design, develop and manufacture a wide range of reliable clutches and Continuous Variable Transmissions (CVTs).
Its robust capabilities help ensure `first time right' and breakthrough products through value addition and value engineering. The products are tested by simulating the exact vehicle operating conditions, enabling the company to deliver reliability and excellent performance with reduced development time. In addition, the company enhanced its capacity to produce paper-based friction clutch plates and started supplies for new models.
As part of its value addition focus, they embarked upon developing new generation clutch assemblies for high-end motorcycles of 200cc plus, with the acquisition of an Italian company, Adler SpA, in April 2020. The company is also working on replacing cork-based clutch assemblies with paper-based clutch assemblies for specific motorcycle models.
As a result, CVT or automatic clutch development progressed well for major OEMs in the scooter category. Endurance Adler SpA (erstwhile Adler SpA) is an advanced service and manufacturing company focusing on conceiving, designing, prototyping, sampling, testing and manufacturing clutch assemblies for motorcycles and the automotive sector.
Braking Systems – Endurance is a leading player in high-performance braking solutions for 2-Wheelers and 3-Wheelers. Their braking solutions are designed for less stopping distance and better stability during deceleration, ensuring rider safety. Endurance is the first company in India to design and manufacture brake systems with split type callipers, integral callipers, and fixed type callipers.
They are also pioneers in designing and manufacturing master cylinders with integral reservoirs and remote reservoirs. In addition, the company established a plant in Pantnagar for CBS manufacturing and an assembly unit in the Vallam plant to integrate disc brake components with control brake modulators. The acquisition of Grimeca Srl in Italy helped win significant business for 200cc plus motorcycles during the year. Backed by the strong IP support and brand equity of Grimeca, it aided the company in making significant inroads in the 2-Wheeler market.
Segment growth during FY21 was led by new and replacement business from existing customers for braking systems, CBS braking systems, and new customers. In addition, the regulatory norm mandating CBS in up to 125cc and ABS for larger bikes also led to market growth for the company's disc brake systems. As a result, the company is expanding its capacity in the braking segment to realize its vision of establishing itself as the market leader.
The company focuses on ABS and has already bagged its first order from an OEM for one model. Robust quality, strong technology, and competitive pricing in a limited competition market are the elements powering growth in this business segment. The backward integration of steel braided hoses required for the ABS is expected to steer profitability and growth in this segment further. The company has started supplying ABS for 150cc plus motorcycles in collaboration with its US-based technology partner, BWI Group.
EV and hybrid – The growth prospects for EVs in both domestic and European markets are enormous. The company has already bagged orders for brake assemblies, suspension and aluminium castings for EVs in the domestic market and castings in Europe. They have also won orders to supply EV components, such as adapters, deckels, housings, oil modules, etc., to several leading OEMs in Europe. Further wins are expected to materialize in the coming year.
During FY22, the company started supplying brake assemblies, suspension and aluminium castings, including battery housing castings, for electric scooters and 3-Wheelers. In addition, the company is collaborating for EV-related product development with existing OEM customers and new EV companies that have the financial strength, technology, efficient supply chain and robust distribution network.
Let's look at the Financial Performance of Endurance Technologies.
Endurance Technologies reported a weak Q3FY22 performance, primarily due to weak two-wheeler demand in India, ongoing semiconductor shortages in India and Europe, and higher energy costs in Europe. The consolidated revenue was Rs 1,889 Cr, a 7% decrease year on year. EBIDTA was Rs 203 Cr, a 42% decrease year on year. This was due to a weaker performance in Europe, which was caused by a steeper-than-expected decline in PV industry production due to semiconductor shortages and a steep increase in energy costs. As a result, the company's EBIDTA margins were 10.8%, down by 650 basis points year on year. PAT was Rs 95 Cr, a 50% decrease year on year.
Who is the jockey?
The company is led by Mr Anurang Jain, who is responsible for the company's overall operations. He has over 31 years of experience in the automobile components industry. He is the nephew of the motorcycle tycoon Late Rahul Bajaj. He did his MBA from the University of Pittsburgh.
To get more detailed analysis and Reports on Stocks, visit our Edge Report Section by subscribing to our StockEdge premium plans.
Road Ahead…
Endurance's India business added a new product category – drive shafts, developed in-house. The company will begin supplying Bajaj Auto 3Ws in 1QFY23 and is also in talks with TVSL/M&M 3Ws. Driveshafts are powertrain agnostic products, so Endurance will also supply e-3Ws in the future. As a result, Endurance intends to supply drive shafts to PVs and is currently in talks with M&M about drive shaft supply.
Endurance Technologies can capitalize on the premiumization trend among two-wheelers by introducing value-added products and increasing content per vehicle. Furthermore, the increased focus and traction on EV-related products provides more clarity on long-term growth. As a result, Endurance Technologies has the potential to outperform the underlying 2W industry in India, thanks to new customer wins and a technology-led increase in content.
However, as with such companies, there exist certain risks like macro-economic slowdown or an auto industry-specific downturn that can impact the company's performance. In addition, raw material price inflation could affect the company's performance.
So we will have to wait and see how Endurance Technologies develops from here on out.
Until then, keep an eye out for the next blog and our midweek and weekend editions of "Trending Stocks and Stock Insights." Also, please share it with your friends and family.
Happy Investing!