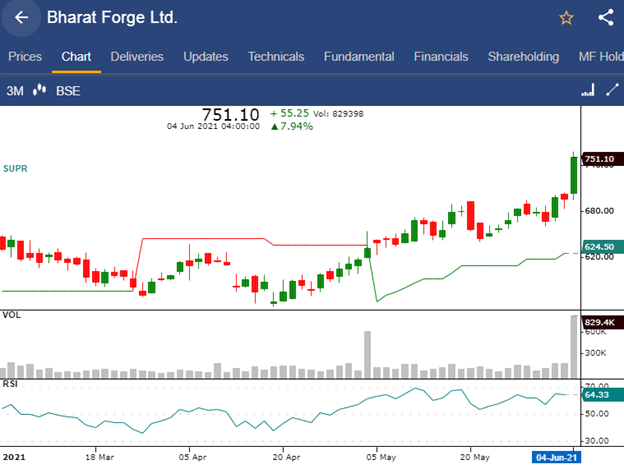 In this blog, we will share our spotlight on Bharat Forge Ltd.
Bharat Forge Ltd. – Highlights
Bharat Forge Ltd. was trading at Rs.751.10, up by 7.94% on the BSE.
The stock is up by 119.97% in last one year as compared to a 53.32% surge in S&P Bse Sensex in the same period.
The stock hit a fresh 52-week high of Rs.758.35 in today's trading session.
The stock went up after the company reported a consolidated profit after tax of Rs.212 crore for the March quarter (Q4FY21) on strong sales revenue. In the fourth quarter of fiscal year 2020, the auto ancillary company posted a loss of Rs.68.6 crore.
In Q4FY21, the company's revenue from operations increased 19.6% to Rs.2083 crore, up from Rs.1742 crore in the previous quarter. Despite cost inflationary pressures, the company's EBITDA (earnings before interest, taxes, depreciation, and amortization) has increased by 310 basis points.
"During the quarter, the company was declared the successful bidder for Vadodara-based Sanghvi Forgings. This expands the company's footprint in India and expands our industrial product manufacturing capabilities. The company recently received a government order for the development and supply of components and products, which is expected to be completed by the end of September 2021 "as per the company.
The company's management anticipates that robust demand will continue in a key segment of the export business. The lockdown in India to prevent the spread of Covid has clearly had an impact on demand and production in the automotive sector. However, management believes that this weakness is only temporary and that India will grow as business activities resume.
"At the end of the fiscal year 2020-21 (FY21), the balance sheet remains robust, with a significant level of liquidity. Operating cash flows were strong in FY21 and are expected to improve even more in FY22. "With improved asset utilization, the return ratio will normalize towards the 20% range in the coming years," said B.N. Kalyani, who is the chairman and managing director of Bharat Forge.
The Board of Directors of Bharat Forge Ltd. recommended a final dividend of Rs.2/- per equity share with a face value of Rs.2/- each (at a rate of 100%) for the fiscal year ended March 31, 2021, subject to approval of the Company's Members at the ensuing Annual General Meeting. If approved by members, the final dividend for the fiscal year ended March 31, 2021 will be paid on or after August 20, 2021.
Bharat Forge is a preferred Technology & Engineering driven development partner as well as a global leader in metal forming. It is also a leading supplier of various aviation components, making it a well-known name among aerospace forging companies in India and around the world. The company produces a wide range of critical and safety components for a variety of industries, including automobiles (commercial and passenger vehicles), oil and gas, aerospace, locomotives, marine, energy (renewable and non-renewable sources), construction, mining, and general engineering.
For more fundamental data and analysis, click on Bharat Forge Ltd.
Read our latest article on Praj Industries Ltd. – Innovate, Integrate and Deliver
To get more detailed analysis and Reports on Stocks, visit our Edge Report Section by subscribing to our StockEdge premium plans
Disclaimer: This document and the process of identifying the potential of a company has been produced for only learning purpose. Since equity involves individual judgments, this analysis should be used for only learning enhancements and cannot be considered to be a recommendation on any stock or sector.