In this weekend's Stock Insights, we are going to place our spotlight on India's one of the most accomplished industrial biotechnology Company with global footprints, which is driven by innovation, integration, and delivery capabilities, i.e. Praj Industries Ltd.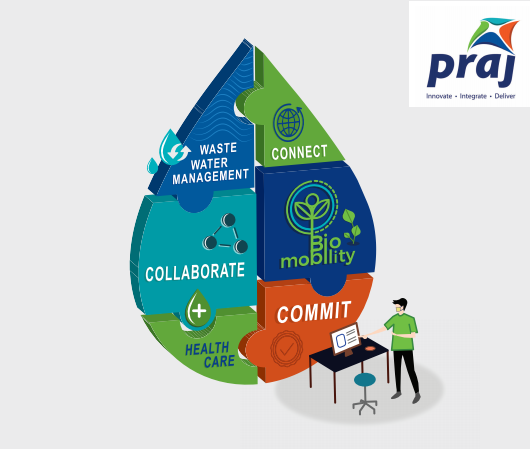 Source: Company Annual Report
Brief introduction on Praj Industries
Praj Industries Ltd., was founded in 1984 with the goal of providing cutting-edge technologies to the distillery industry. It is a leading biofuel technology company that offers a wide range of processes and systems for the production of ethanol and biodiesel. It is a globally leading Company with over 600 references & Praj has acquired an international reputation for responsible and reliable solutions. As of today's date, this is Praj Industries share price.
Praj Industries Ltd., is engaged in the business of process and project engineering. In addition, the company offers design and engineering services. Its business portfolio includes: Bioenergy; High Purity Systems, Critical Process Equipment and Systems, Brewery Plants and Wastewater Treatment Systems. Its water & waste water treatment division operates in the industrial waste water systems while the critical process engineering division provides high-end equipment and systems finding applications in the oil & gas, petrochemical, fertilizer and chemicals industries.
The company develops complexes that can produce biodiesel and bioethanol. It also does plant engineering for brewery industries.
Headquartered in Pune, India, Praj has spread its presence across the globe in more than 75 countries.
From which segment does Praj Industries Ltd. get most of its money from?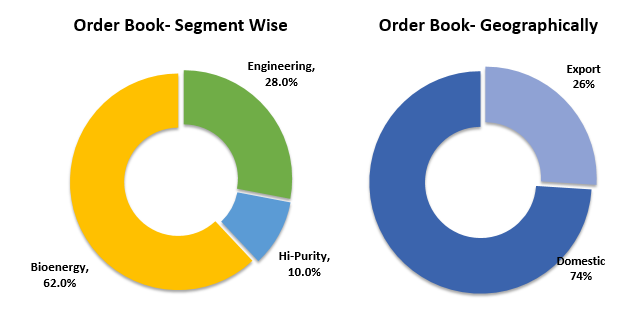 Operational Highlights
Consolidated revenue of ₹ 567cr in Q4FY21 increased by 63% QoQ & 91% YoY.
EBITDA stood at ₹ 72cr on consolidated basis. It is up by 85% QoQ & 125% on YoY basis.
PAT for the recent quarter increased by 86% QoQ. On YoY basis PAT has more than doubled to ₹52cr
EBITDA margins have remained healthy above 12.5%.
PAT margins also witnessed an uptick to 9.2% for Q4FY21.
FY21 operating revenue stood at ₹ 1305cr, showing an increase of 18.2% vs FY20.
FY21 EBITDA at ₹ 112cr which showed a growth of 44% vs FY20.
PAT in FY21 stood at ₹ 81cr, witnessing a growth of 16% vs FY20.
EPS in FY21 is 4.43 on a Trailing Twelve Month basis. In FY20 EPS was 3.85.
Cash in hand stood at ₹ 476cr as of March 2021.
The company is not looking to raise debt in the near term and continue to be debt free company for the time being.
They are providing critical equipment in the entire complex injectable and vaccine development phase.
Praj has developed 2 very strong products which can be of great use to the country and being currently 100% imported will now be supplied domestically by Praj. Currently many more products are in different stages of development.
Bioenergy returned a strong performance and is witnessing strong enquiries and leads across various feedstocks during the quarter.
Under their Engineering segment, Zero discharge and Praj Hi-purity (Complex injectable and vaccines space) is witnessing strong traction currently due to government regulations on waste discharge.
Shutdown was in effect in the Pune office due to Covid restrictions, however, plants and manufacturing facilities were operating at normal level keeping all restrictions in mind.
For more fundamental data and analysis, click on Praj Industries Ltd.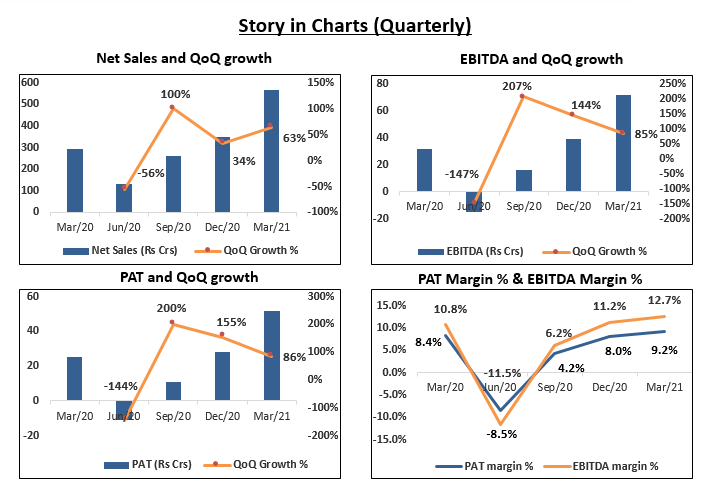 Future outlook
Praj Industries bagged a prominent breakthrough order from Hindustan Petroleum Corporation Limited (HPCL) for setting up a CBG project at Badaun in Uttar Pradesh. The project has the capacity to process 35,000 MT of rice straw as feedstock to generate 5,250 MT of CBG annually.
Praj won an order from Godavari Bio refineries to set up India's largest capacity syrup based ethanol plant in Karnataka. Praj will expand the existing ethanol manufacturing capacity to 600 KLPD, using sugarcane syrup.
In the previous quarter, Praj had received an order for ₹2267cr from Indian Oil Corporation Limited (IOCL), New Delhi, for execution of water and wastewater treatment systems including zero Liquid discharge for Acrylic/Oxo-Alcohol Project.
Received no new business in India from Brewery industry barring one capacity expansion in the country but witnessing strong demand in Africa in brewery business.
For Ethanol, the Government has recently preponed EBT target of 20% by 5 years to 2025 which has generated additional Ethanol demand of 10 billion liters of Ethanol per annum. To meet this target, the government has also added other feedstocks to the list with sugar and rice.
Praj Industries Ltd. – Financials over the years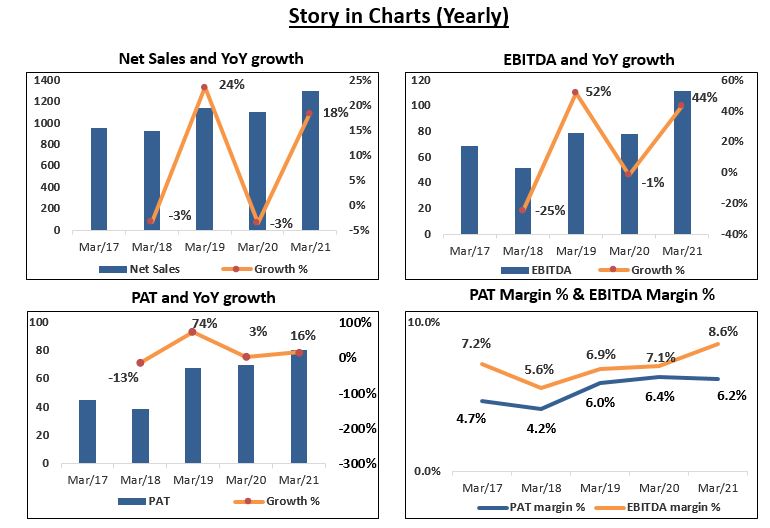 Management Update
Significant traction in development of Bio-CNG projects would be undertaken under Sustainable Alternative towards Affordable Transportation (SATAT).
On the domestic Bioenergy front, ethanol blending with petrol in India has reached more than 7.4 % in the first five months of the 2020-21 ethanol supply year. This is the highest level of ethanol blending ever recorded on an all-India basis.
To increase the use of renewables across the country, the government recently permitted the direct sale of ethanol as a fuel for compatible automobiles. The Center, like petrol and diesel, has permitted the sale of E-100 directly to compatible vehicles.
Good monsoon and rabi harvest can witness another healthy agriculture season for the overall economy going forward which will help generate good production of feedstocks.
Key Risks
The company is exposed to foreign exchange risk mainly through its sales to overseas customers and purchases from overseas suppliers in various foreign currencies.
Business is exposed to project-related risks such as fluctuations in input prices. With the average duration of a project being 12-24 months, variations in input prices during this period impacts cost, and therefore, profitability.
Praj primarily operates in the cyclical capital goods sector, where demand is influenced by the capital expenditure cycle of its end-user industries. Any slowdown in the growth prospects of end-user industries has an impact on Praj's top line and profitability.
Major Public Shareholding
Technical View
Praj Industries is consolidating in a pennant formation in the daily chart and is likely to stay positive in the short term till it holds 325-330 zone. Breakout from the pattern to take place above swing high of 372 level. Technical parameters look neutral to positive as of now and likely to see further strength in the medium term after breakout from the pattern.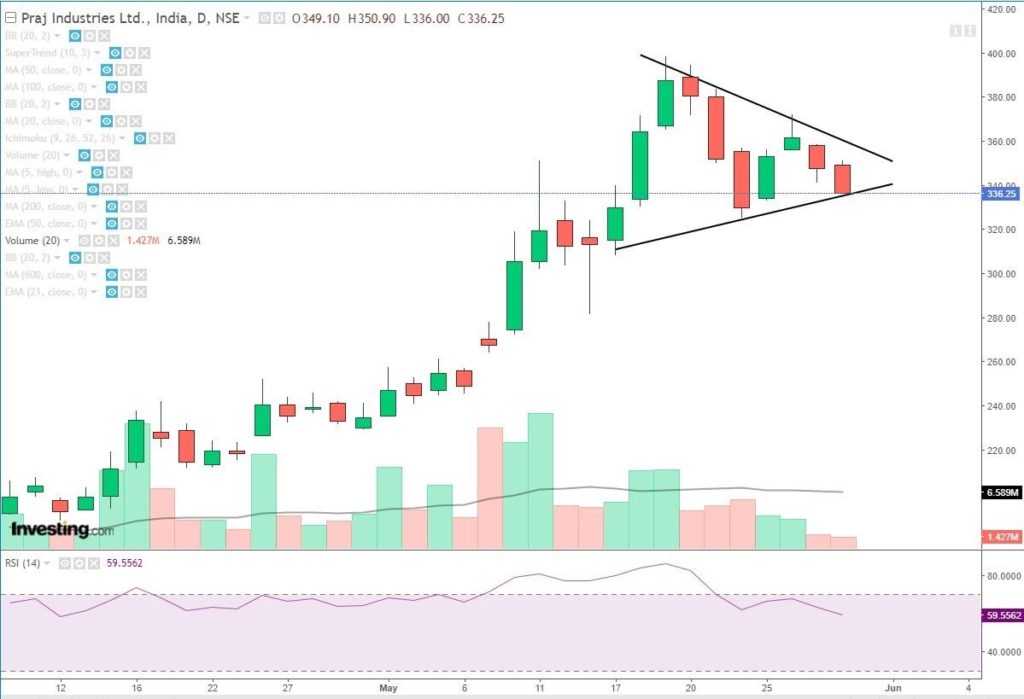 Conclusion
Praj industries commands around 75% market share in the bio energy business in India and is the only dominant player. Praj has diversified into business areas of Ethanol manufacturing plants, water and waste-water management, critical process equipment, bio-nutrients and hi purity systems which are used at Industrial level. The diversified segments of Praj's end-user allows them to have a stable revenue stream through the business cycle.
They possess world class R&D centers, which have been recognized globally as well. Going forward as they will move to different segments they will collaborate with different companies for R&D as well.
Strong improvement in order book inflow, stable order book & margin recovery are all playing in favor of Praj's robust performance. Praj with its leadership in bio-fuel technology will benefit from upcoming opportunities in Bio-Mobility, Bio-CNG & RCM with a global push for a sustainable environment.
Financial risk profile of Praj should remain strong with the backing of steady cash accrual, prudent funding for capex programs and strong liquidity.
Know more about Praj Industries Ltd. and its peers by using the Sectors tab in the StockEdge Web
To get more detailed analysis and Reports on Stocks, visit our Edge Report Section by subscribing to our StockEdge premium plans
Read our latest article on Adani Transmission Limited – Energizing India, Enriching Lives.
Upgrade to latest version of StockEdge Version 6.1 for latest updates.
Disclaimer: This document and the process of identifying the potential of a company has been produced for only learning purpose. Since equity involves individual judgments, this analysis should be used for only learning enhancements and cannot be considered to be a recommendation on any stock or sector.