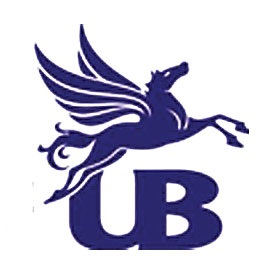 The Story of United Breweries
The foundation of United Breweries Ltd. was laid by Thomas Leishman, a Scotsman on 15th March 1915, by bringing all the five breweries of South India (Bangalore Brewing Co. (1885), Castle Brewery and Nilgiris Brewery Co. (1857), BBB Brewing Company Ltd. (1913), and British Brewery Corp. (1903) were the names of the five breweries) under one umbrella.
During that time, the brews were not labelled as Kingfisher, but in 1944, the first beer bottle with the label "Exports Beer" was introduced to the market. The Group learned the basics of beer making and brewing from British Brewery Corp. in South India.
The late Mr. Vittal Mallya, who was the father of Vijay Mallya saw an opportunity in UBL, and started buying the shares of the company until he bought the company in 1947, and got elected as the UB Group's first Indian Director (1947) when he was just 22 years old, and became the Chairman in the following year.
Prior to the independence of India, the company used to transport giant barrels or "Hogsheads" of beer to British troops. The "Kingfisher" brand debuted in the 1960s and quickly became the most profitable and viable brand of the UB Group.
Bangalore, which is now known as Bengaluru, was chosen as the headquarters of UB Group. The company grew significantly in the 1950s and 1960s by acquiring other breweries led by Vittal Mallya.
The canned beer of Kingfisher was not launched in the Indian market until 1981, and the following year, the board of directors was finally successful in launching the Kingfisher Lager in the United States and United Kingdom.
In the early 1980s, Vittal handed over control of the group's businesses to his son Vijay Mallya, as his health was deteriorating and died at an early age of 39 yrs due to heart attack.
In October 1983, Vijay Mallya took over as group chairman. He established a new corporate structure and hired professional managers.
However, Mallya's ill-fated foray into aviation in 2005 through Kingfisher Airlines, a full-service airline, never made a profit and quickly became an albatross around the group's neck.
Mallya was forced to sell the majority of his and the UB Group's stake in United Spirits Ltd to Diageo Plc as a result of Kingfisher's problems.
United Breweries beer business was unaffected by the Mallya & Kingfisher Airlines saga. Instead, with the support of Heineken, a global powerhouse in the alcoholic beverage sector, United Breweries has swatted its competition and grown at a faster rate than most of its peers. Its revenue (net of excise duty) exceeds 6,500 crores, with profits over more than 420 crores as on 31st March 2020.
The Company's beer business has shown strong growth and it is the undisputed king of the Indian beer market with 52 % of the market share. It must also be noted that consumption of beer is perpetually on the rise and the hope is that this trend will continue. India provides a market opportunity like no other. While in most countries the proportion of beer sales as a percentage of total alcohol sales stands at 87%, in India, it stands at a measly 20%. Indians are more inclined to consume spirits i.e. whisky, rum, which form 78% of total alcohol sales. The beer market is wide open and it's there for the taking.  As of today's date, this is United Breweries share price.
The Company is synonymous with innovation and aggressive marketing, which is supported by a strong distribution network that includes an impressive spread of owned and contract manufacturing facilities across the country.
The company's flagship brand, 'Kingfisher,' has consistently achieved international recognition and has won numerous awards at international beer festivals. It's most popular beer, Kingfisher Premium Lager beer, is currently available in many countries and leads the way among Indian beers in the international market.
For more fundamental data and analysis, click on United Breweries Ltd.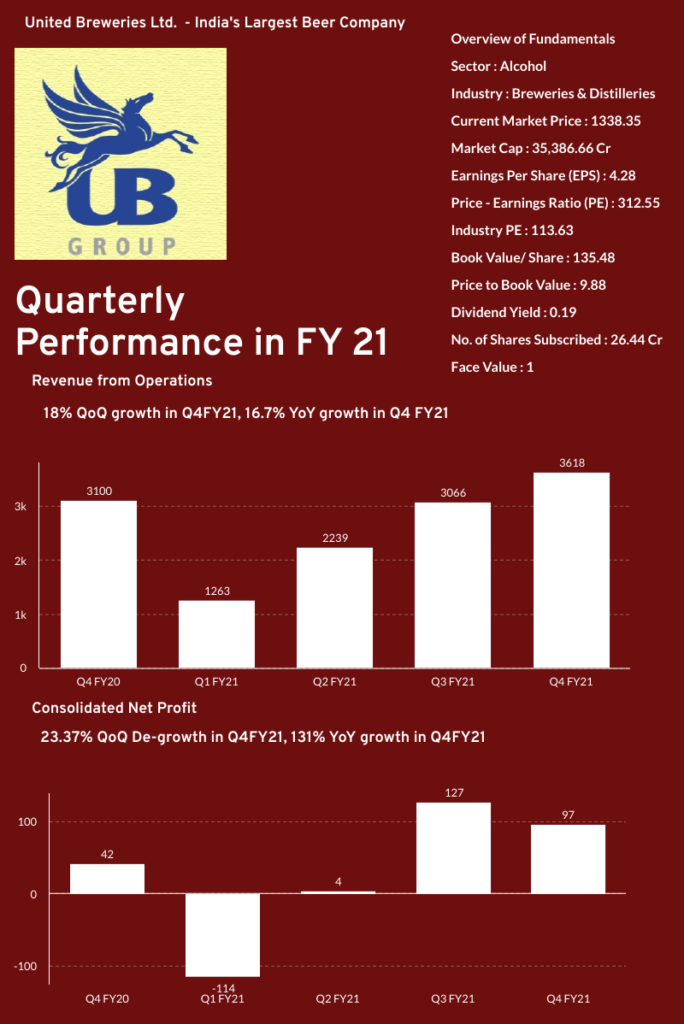 Did you know that Dutch major Heineken, owns 46.69% shares in United Breweries Ltd.
Operational Highlights
The revenues grew by 17% during Q4FY21 to Rs.3618 cr as compared to Rs.3100 cr in Q4FY20. Volumes grew 9% YoY, due to good growth in all key markets except Telangana, Delhi and Odisha.
The EBITDA grew by 97% to Rs.262 cr in Q4FY21 as compared to Rs.133 cr in Q4FY20. The margins improved due to a better state mix and price hikes, along with control on operational costs.
The PAT grew by 131% to Rs.98 in Q4FY21 as compared to Rs.42 cr in Q4FY20. The operational performance was negated by exceptional expense.
Exceptional expense constituted Rs.62 crore due to recognition of impairment loss of Rs.44.5 crore at Bihar plant and impairment loss of Rs.17.8 crore on investment in subsidiary company.
Peer Comparison
Know more about United Breweries Ltd. and its peers by using the Sectors tab in the StockEdge Web
Future Outlook
The company continues to actively review costs besides focusing on working capital management and capital investments to further strengthen the operational performance.
UBL will continue to invest in brands. The company's ad intensity is in line with market recovery and with recovery picking up, ad intensity would also grow.
UBL shored up its balance sheet by raising its liquidity position (Rs 470 crore cash) and improved its WC position (H2 onwards) to stay afloat during uncertain times, as its newer competitors (microbreweries, PE funded premium craft players) continue to remain more impacted than the bigger rivals like Carlsberg and the Joint Venture of SABMiller (Makers of Haywards & Royal Challenge) and AB Inbev (Makers of Budweiser and Corona).
Also, increased technology in the delivery sphere of alcohol is expected to shift consumer behaviour (more acquisition of new customers and lowering the social stigma attached to alcohol), driving beer penetration.
Technical View
United Breweries witnessed a strong breakout in today's session and looks quite strong as per volume buildup and technical parameters. The stock closed above the breakout area and is likely to stay positive in the near term till it holds 1310-1320 zone, overall a positive setup till now.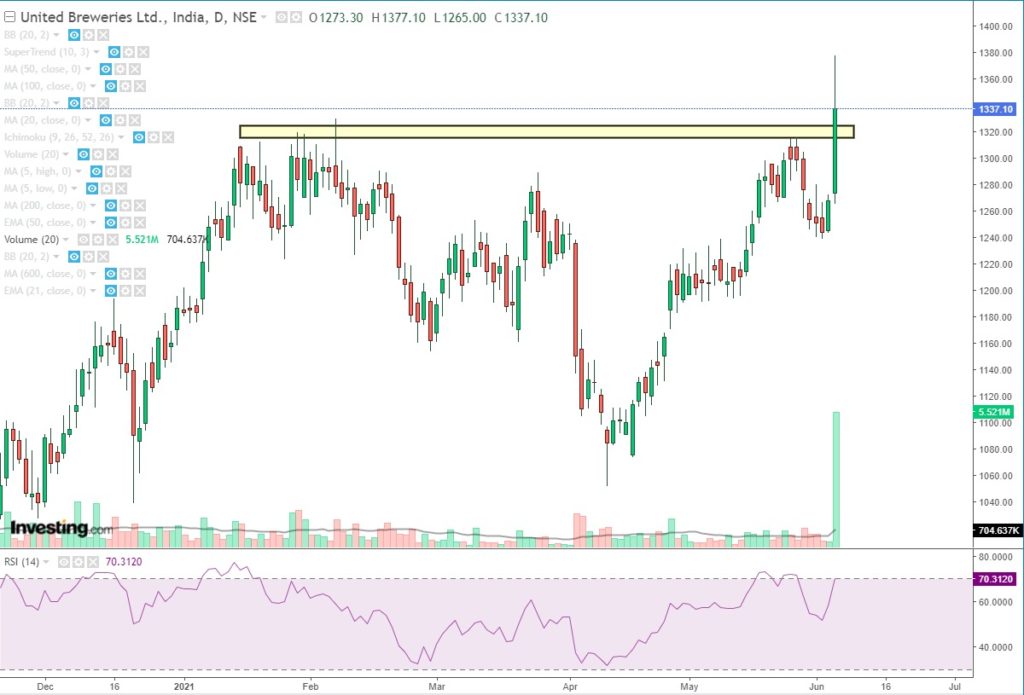 Bottom Line
UBL maintains a strong balance sheet with a nearly debt-free position by strengthening its WC position, implementing cost-cutting measures, and lowering its capex requirement. The management has also displayed discipline and prudence when dealing with evolving customer needs via broad portfolio and wide reach. Being an underpenetrated segment (per capita ~2 litre consumption) and a youth centric status of ready to drink social drink, enables the sector to have long term growth potential. With the efforts put in by Mr. Rishi Pardal, MD & CEO of United Breweries Ltd., it is expected to reduce seasonal dependence in the business over the next 8–10 quarters, which will be interesting to watch.
To get more detailed analysis and Reports on Stocks, visit our Edge Report Section by subscribing to our StockEdge premium plans
Read our latest article on Praj Industries Ltd. – Innovate, Integrate and Deliver
Disclaimer: This document and the process of identifying the potential of a company has been produced for only learning purpose. Since equity involves individual judgments, this analysis should be used for only learning enhancements and cannot be considered to be a recommendation on any stock or sector.