An exclusive trading event curated by the traders and for the traders' community.
The last 2-3 years have been a roller coaster ride for the Indian Stock Market and their market participants. We saw FIIs pumping money in the late months of 2020 and we saw how FIIs have been pulling out money.
We saw the fear of COVID, and we are fearing inflation, recession and god knows what next.
But the sufferer's of the Indian Stock Market have always been retail investors.
Bull run has attracted a lot of people to the stock market, but sustaining in the stock market has never been easy.
It has taken years and a lot of effort for traders to understand the markets in and out, create a profitable strategy, and master the trading psychology to start earning in the markets.
While it is seemingly convenient to learn and practice a strategy, it's not easy to accept losses and is mentally taxing to push oneself after facing losses, and that's where the difference lies between an analyst and a professional trader.
Trading live in the markets is a different ball-game altogether, and we as an institution are here to help retail investors make money in the markets the right way.
StockEdge Club is a holistic product where we take care of our members from learning to earning, and it just got upgraded by hosting India's first live Multi-Asset Trading Marathon on 29th July at 9 am.
It is a special curated event by the traders and for the traders' community. Our Club members will get a chance to trade live with the experts.
See how they assess the markets, identify stocks to watch, and enter trades that fit in their trade setups with proper risk management. Learn how they maximize their profits and book their trades.
The expert traders for the trading event:
Vivek Bajaj – A professional trader with ( experience of more than 15 years trading in equities, options, currencies and commodity markets. His passion towards data, analytics and technology is what makes Vivek Bajaj a financial market winner.
Thoviti Brahmachary – A Senior Technical Analyst with 30+ years of experience, passionate about teaching and has trained over 5000 traders in equity, commodity, and currency markets across India. Heading the Association of Technical Market Analysts (ATMA), Hyderabad Chapter and associated with StudioN News Channel as Business Editor.
Jyoti Budhia – Passionate about stock markets from a very young age, Jyoti Budhia has 35 years of experience in the markets and is empaneled as a Trainer with the National Stock Exchange, Bombay Stock Exchange, National Institute of Securities Market (NISM), and many Reputed Institutions.
Akhilesh Poddar – A technical analyst with 20 years of experience, he is a CA Rank Holder & a CFA Gold Medalist. After working with Citibank's Investment Banking team for nearly a decade, he started his entrepreneurial journey in 2012. He has been an active trader and investor in equity markets since 2018.
Abhijit Paul – Passionate about technical analysis, trading & investments, he finds great value in teaching technical trading, something that he has been doing since 2005. He likes to design trading strategies for different market conditions. He is also an active trainer in the subject of technical analysis and trading for over 15 years, visits various business schools and institutions like IIMC, NSE Academy, NIBM Pune, BIBS Kolkata, India Infoline, Kredent Academy & elearnmarkets.com.
Souradeep Dey – He has experience of 12 years as an equity and commodity trader and trainer. He has worked as a crude oil trader for 3 years for FuturesFirst, trading in the ICE exchange, Europe. Technical analysis is his area of interest and he is involved in developing trading algorithms.
Kaushik Akiwatkar – Kaushik Akiwatkar is a Derivative Trader and Investor. He has over 7 years of experience in trading and investing in the capital market. He has worked as Dean of Cresta School of Management, Science & Arts and as Director of Rishihood University. He has developed a unique way of identifying the trend of the Index and stocks using a noiseless chart – Renko.
Saanando Das – He has 10+ years of experience as a Global FX trader with specialisation in global macro economic analysis. He is a writer with hands-on experience in various market segments, namely non-ferrous metals in LME/MCX/SHFE, Energy in Comex/Nymex/ICE, Precious metals in Comex/SHFE/MCX, Equity Index (i.e. S&P, Dow, Dax), FX in CME & OTC markets, Bonds(i.e. Treasury, Shatz, Bobl).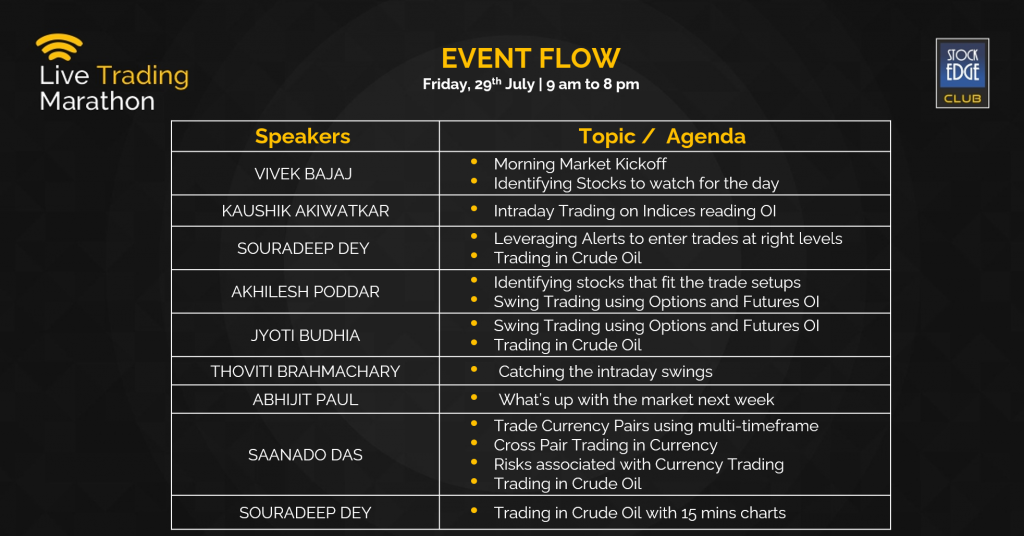 Everything said and done, with the above list of stock market experts, this is going to be a big opportunity for you to practise what they have been preaching for so long and trade the right way.
Remember, a disciplined trader will mostly always beat the street if he knows the right ingredients to mix it up and use with hard work.
So, rather than scrolling twitter and telegram, to find the next breakout stock or the next profitable trade, why don't you learn it the right way and that too live with these stalwarts.
So 8 Experts, 11 hours, Infinite Learning. To become a part of this event, join StockEdge Club today. This event is exclusive for StockEdge Club members only.
Until then, keep an eye out for the next blog and our midweek and weekend editions of "Trending Stocks and Stock Insights." Also, please share it with your friends and family.
Happy Trading!