With more than 2,500 mutual fund schemes and 44 AMFI certified fund companies in India, picking just 4-5 funds for your portfolio can be difficult.
Availability of so many funds can make it difficult for investors to select the optimal plan for their needs. So to ease out that effort, we've compiled a list of India's best five mutual funds where you may begin a SIP.
In this blog, we will look at why new investors should consider investing in mutual funds in order to build wealth and achieve their long-term goals.
Why should you invest in mutual funds?
Investing in mutual funds is a simple, paperless process. Investors can keep an eye on the market and make decisions based on their needs. Furthermore, switching between mutual fund schemes and portfolio rebalancing helps keep returns on track.
You can build a diversified mutual fund portfolio by investing as little as Rs 500 per month in mutual fund schemes of your choice through SIP. You can also invest as a lump sum or as part of a systematic investment plan (SIP).
When compared to lump-sum investments, however, a SIP can lower the overall cost of investment while utilizing the power of compounding benefit.
Then there are tax deductions available for particular financial instruments under Section 80C of the Income Tax Act, up to a maximum of Rs 1.5 lakh every financial year, and tax-saving mutual funds are one of them. Due to its greater returns and the shortest lock-in period of three years among all Section 80C choices, the Equity Linked Savings Scheme (ELSS) is a popular tax-saving option for Indians.
Your mutual fund investments are managed by a professional fund manager supported by a research team. The fund manager develops the investment strategy for your asset allocation. The research team selects appropriate securities based on the fund's investment objectives.
Why should you start a SIP?
One of the most common reasons why people are drawn to SIP investing is the instillation of regular habits of saving, at small and regular intervals.
Here are some of the benefits of SIPs.
Instills the habit of investing regularly.
As previously stated, SIP investments are made regularly, i.e., monthly, quarterly, or every six months on a predetermined day. The SIP amount is automatically deducted from an individual's account and invested in the scheme chosen by the investor. Investor benefits significantly from this disciplinary approach to regular investments because they do not have to track the market actively.
Convenience
Another advantage of investing through SIP is that it is a simple process. All an investor has to do is tell their bank to enable auto-debits from their account. This eliminates the need for the investor to go out and manually pay their installment amount; instead, the technology does it for them.
Rupee Cost Averaging
Rupee cost averaging allows investors to beat market fluctuations and make their investments less volatile. When stock prices are at their lowest, SIP allocates more units to an investor and fewer units when they are at their highest, averaging their savings.
Compounding power
The power of compounding refers to earning profits by investing your profits. To maximize the benefits of compounding in mutual funds, one must start investing early and stay invested for a long time.
Own more stocks in small quantities
If investors decide to buy individual stocks directly to diversify their portfolios, they will need a large surplus. However, if you invest in mutual funds, you can own these stocks in small amounts for as little as a few thousand rupees.
Now, let's check out the list of mutual funds which we have selected for you to start your SIP.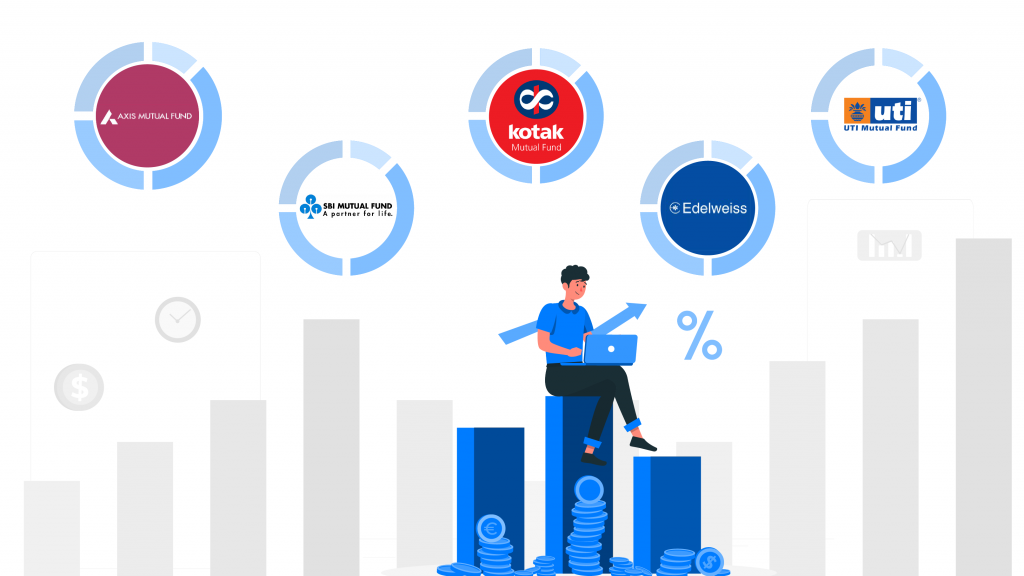 Axis Bluechip Fund
This is an equity-oriented fund. The primary goal of this fund is to achieve long-term capital appreciation by investing primarily in equity and equity-related securities of large-cap companies, including derivatives. This fund is best suited for investors with a high risk tolerance and a desire to earn a high return on investment over a long period of time.
SBI Focused Equity Fund
This is an open-ended equity fund that invests in equity and equity-related securities with the goal of generating long-term capital appreciation. SBI Focused Equity Fundis a high-risk equity-oriented fund that provides higher returns on investment.
Kotak Debt Hybrid Fund
This is an open-ended scheme with the goal of increasing returns on a portfolio of debt instruments while maintaining a moderate exposure to equity and equity-related instruments.
These funds are appropriate for investors who cannot tolerate excessive volatility in the value of their investments and are satisfied with moderate returns that are slightly higher than returns from fixed income options. The debt portion of these funds generates a modest but consistent stream of income. It is recommended that you only invest if you have a three-year or longer investment horizon.
Edelweiss Balanced Advantage Fund
Edelweiss Balanced Advantage Fund, one of the best SIP plans, is an open-ended fund with the primary goal of providing long-term capital growth through investments primarily in equity and debt instruments. This fund is an excellent investment option for investors with a moderate to high risk tolerance and a desire for a profitable return on investment.
UTI Nifty Index Fund
The UTI Nifty Index Fund is an open-ended index fund scheme to replicate the performance of the Nifty 50 Index, subject to tracking error. These funds helps beat Long-term inflation and generate high returns, appropriate for investment objectives with duration of 10-15 years or longer (minimum five years).
We like to believe that the following schemes are good to invest in these funds to meet your long-term financial goals. One may invest in these schemes with a time horizon of five to seven years. However, please don't assume that these schemes are risk-free or won't fluctuate.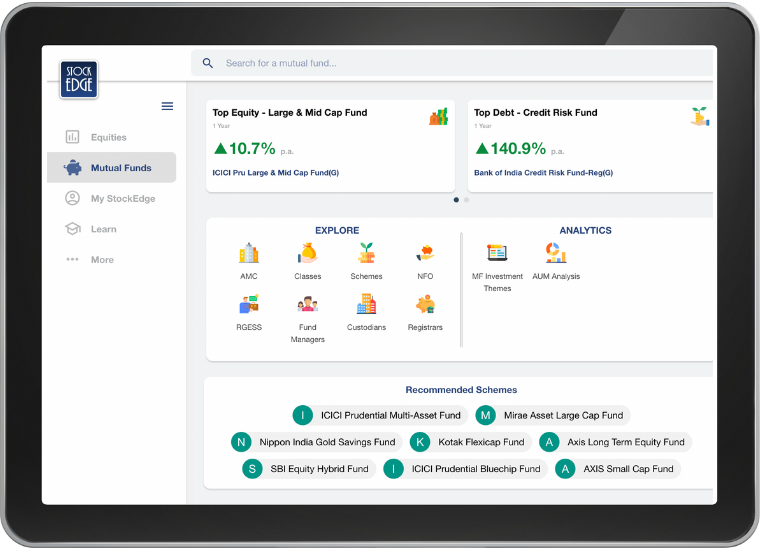 Closure
As Indians, you might not remember every advertisement that you have watched but we are sure that you do remember those golden words said time and again at 2x speed after every mutual fund advertisement ever – Mutual funds are subject to market risk, please read the offer document carefully before investing! Well, they meant it and so do we.
Until then, keep an eye out for the next blog and our midweek and weekend editions of "Trending Stocks and Stock Insights." Also, please share it with your friends and family.
Happy Investing!
Disclaimer: This document and the process of identifying the potential of a mutual fund have been produced for only learning purposes. Since investing involves individual judgments, this analysis should be used only for learning enhancements and cannot be considered a recommendation on any stock or sector.