In this week's blog will look at the top 5 high-quality mid-cap stocks for 2022 identified by StockEdge analysts.
Investing in stocks is not difficult. Retail investors stay out of the markets during these times due to a fear of losing money, and thus have a pessimistic attitude toward risky assets such as equity. And even if they are convinced to invest, they start with index funds which mirrors the return of the index. However, we are not against index funds or so any funds. We are just trying to give you some rational reasons why sometimes you should prefer individual stocks over index funds. Two reasons are as follows:-
While indexes are low-cost and diverse, they prevent investors from taking advantage of other opportunities.
Furthermore, when an investor has a large exposure to stock index funds, indexes do not provide protection from market corrections and crashes.
According to historical data and analysis, investing in the stock market outperforms other traditional instruments such as Fd deposits, monthly income schemes from post offices, Public Provident Funds (PPF), gold, and so on.
We believe that stock returns and investor popularity are driven not only by fundamentals (strong financial positions and management), but also by macroeconomic factors. These stocks which are given below are appropriate for both bottom-up and top-down investing strategies.
However, various parameters (revenues, cash flows, net profits, etc.) must be evaluated in order to determine the best mid-cap stocks to invest in right now.
What are Mid-Cap Stocks?
According to the SEBI definition, mid-caps are companies with market capitalisation ranging from 101 to 250. Mid-cap companies are considered riskier than large-cap companies, but they provide higher returns, making them one of the most sought-after investments for retail investors.
On the other hand, mid-cap companies have the potential to grow into large-cap companies in the long run. Since these companies have a higher growth potential than large-cap companies, a larger number of investors are interested in investing in them.
So, without any further delay, let's start!
Don't be surprised if you don't recognize the names of the mid-cap companies we've highlighted below. Some mid-cap companies are well-known, but many are not, particularly those in specialized industries.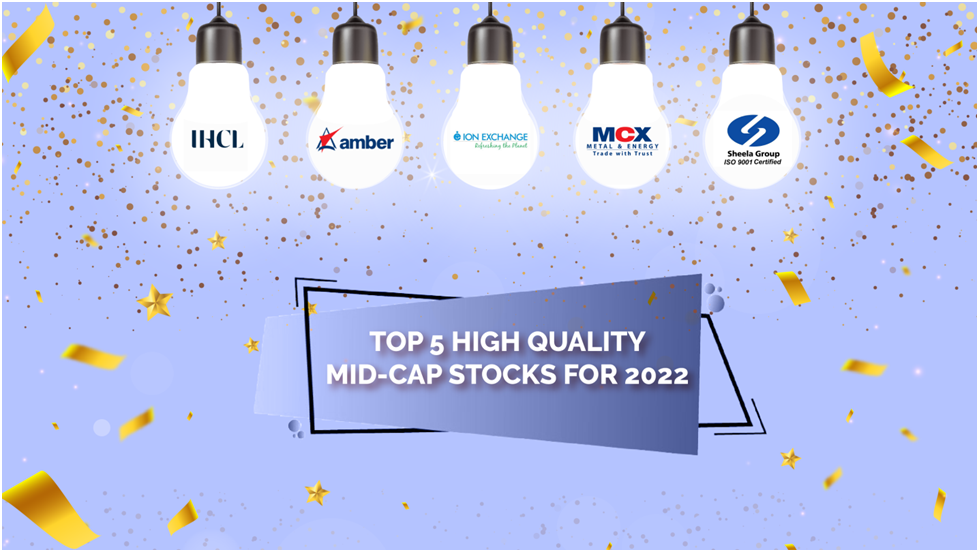 Sheela Foam Ltd.
Sheela Foam Ltd. is a major player in India's mattress and foam products industry. They are the largest polyurethane (PU) foam producer in the Asia Pacific region. Their flagship brand, Sleepwell, was launched in 1994 and is one of India's most well-known mattress brands and major international markets. Currently, the organised sector accounts for 38% of the total mattress market, with Sleepwell accounting for 23% out of the 38%. As of today's date, this is Sheela Foam share price.
Other brands of the company include Feather Foam and Starlite, which provide consumers with low-cost mattresses.
Branded mattresses are primarily consumed by two end-users in India: residential and institutional. While the residential segment accounts for 80% -85% of the total market, the institutional sector contributes 15% -20%.
Amber Enterprises India Ltd.
Amber Enterprises India Ltd. is a significant player in the Indian room air conditioner (RAC) industry and air conditioning for mobility applications.
It has a diverse portfolio that includes room air conditioners (RAC), air conditioner components, non-ac components, mobile air conditioners, defense HVAC (heating, ventilation, and air conditioning) products and PCBA (printed circuit board assembly), washing machine tub assembly, and other consumer durables. As of today's date, this is Amber Enterprises share price
It supplies leading brands such as Panasonic, Daikin, Carrier, LG, Hitachi, Whirlpool, Voltas, Blue Star, Havells, Godrej, Mahindra, SML Isuzu, and John Deere, among others. Additionally, BEML, BEL, the Department of Telecom, Chittaranjan Locomotive Works, China Railway Rolling Stock Corporation, and others are key customers in the mobile application HVAC segment.
The Indian Hotels Company Ltd.
The Indian Hotels Company Limited, a Tata group company, is the largest hospitality-focused enterprise with Indian origins in South Asia. It offers everything from iconic luxury vacation properties to upscale and budget stopovers, as well as in-flight catering. Boasting of a portfolio of 221 hotels, including 165 operational hotels as of March 31, 2021, it has a presence in 90+ locations in India and 100+ locations globally. In addition, the company operates a hotel and allied service chain under various brand names, including Taj, SeleQtions, Vivanta, Ginger, Expressions, and TajSATS. Its hotel brands include Taj, SeleQtions, Vivanta, and Ginger, while Expressions and TajSATS represent its retail services and catering business. As of today's date, this is Indian Hotels Company share price
Ion Exchange (India) Ltd.
Ion Exchange (India) Ltd. is a pioneer in water, wastewater treatment, and environmental solutions, serving various industries, homes, and communities. As of today's date, this is Ion exchange share price
The company provides a wide range of solutions across the water cycle, from pre-treatment to process water treatment, wastewater treatment, recycling, zero liquid discharge, sewage treatment, packaged drinking water, seawater desalination, and so on. The company also manufactures ion exchange resins, specialty chemicals for water and wastewater treatment, and non-water applications.
Multi Commodity Exchange of India Ltd.
The Multi Commodity Exchange of India Limited (MCX) is a commodity derivatives exchange that allows for online trading of commodity derivatives, providing a platform for price discovery and risk management. The exchange, which began operations in November 2003, is governed by India's Securities and Exchange Board (SEBI). In terms of the value of commodity futures contracts traded in FY21, MCX is India's leading commodity derivatives exchange, with a market share of 96%. As of today's date, this is Multi Commodity Exchange of India Ltd. share price
MCX provides trading in commodity derivative contracts in various segments, including bullion, industrial metals, energy, and agricultural commodities, as well as indices based on these contracts. India's first exchange offers commodity options contracts, bullion index futures, and base metals index futures contracts. The exchange has a national reach, with 636 registered members and 52,777 authorized persons, and a presence in approximately 1,016 cities and towns across India as of March 31, 2021.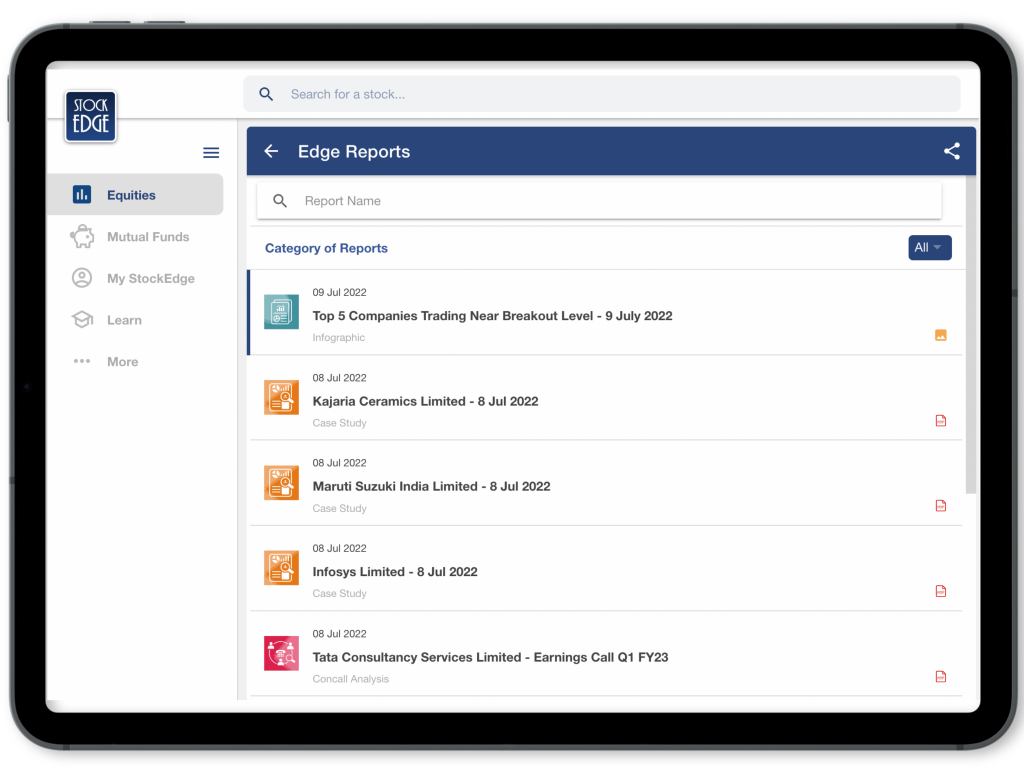 To get more detailed analysis and Reports on Stocks, visit our Edge Report Section by subscribing to our StockEdge premium plans.
Closure
Everything said and done, with the above mid-cap companies, they face existential risks such as currency risk, raw material price volatility, and demand slowdown that could give a sidekick to the expectations of good returns.
Until then, keep an eye out for the next blog and our midweek and weekend editions of "Trending Stocks and Stock Insights." Also, please share it with your friends and family.
Happy Investing!