Today we will talk about Page Industries, which is an exclusive licensee of Jockey USA in India and neighbouring countries and has established market leadership in men's premium innerwear and women's lingerie segments. As of today's date, this is the share price of Page Industries Ltd.
The Story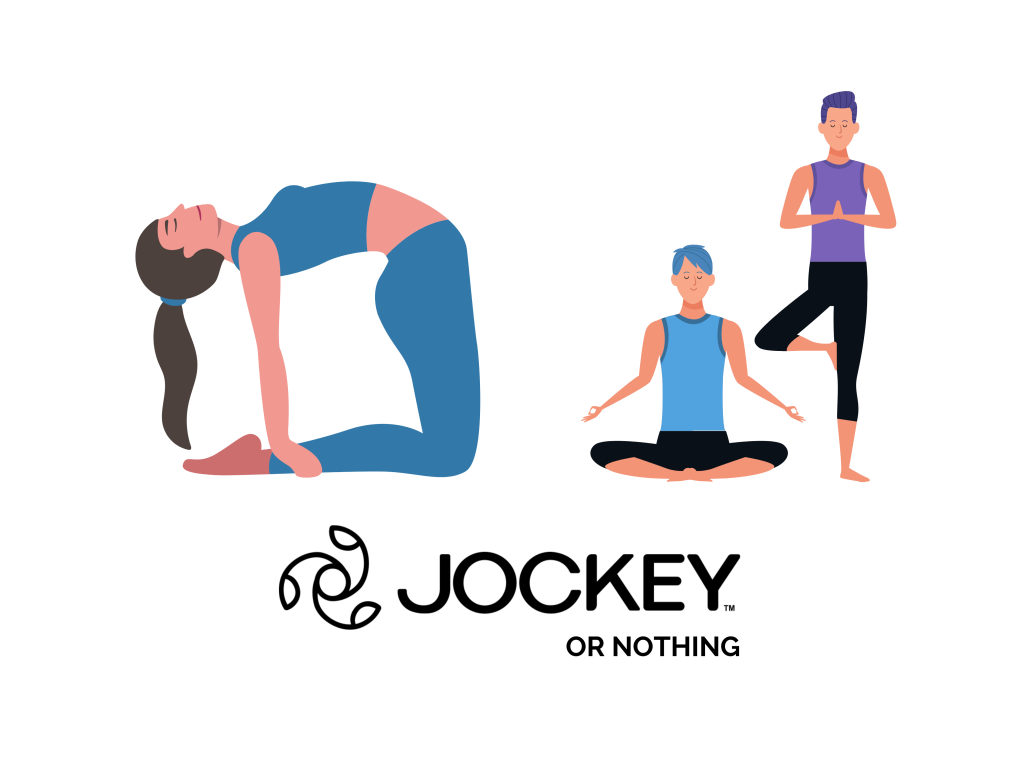 The Indian innerwear industry has undergone a massive paradigm shift in the last two decades. Consumers no longer regard innerwear as a necessity, but rather as a lifestyle purchase with an emphasis on style and comfort.
With a strong surge in demand from new millennium consumers, the Indian innerwear industry has seen several new entrants, including foreign players, who have entered either directly or in collaboration with local players.
Indian consumers are gravitating toward branded products as social media influence grows alongside western influence. Jockey has all of the ingredients for long-term sustainable growth, thanks to its wide product availability and brand recall.
Page Industries, founded in 1994, was the first to introduce premium innerwear in India, giving it a competitive advantage. Back then, the innerwear market was dominated by a few large traditional players and several unorganized/small/unbranded players all focusing on basic utility products that failed to make an impression on new millennium consumers.
Page Industries successfully positioned Jockey as an aspirational brand through a unique offering and marketing. The early advantage resulted in rapid market share growth. Despite being in the premium category, it is labelled as "affordable."
Page Industries has several moats that keep it competitive in a rapidly changing industry. Factors such as
strong in-house manufacturing,
a large and growing distribution network,
presence across sales channels,
strong brand equity,
a diverse product portfolio,
and focused investment in supply chain and technology
Keeps it ahead of competitors like Van Heusen, U.S. Polo, Hanes, etc.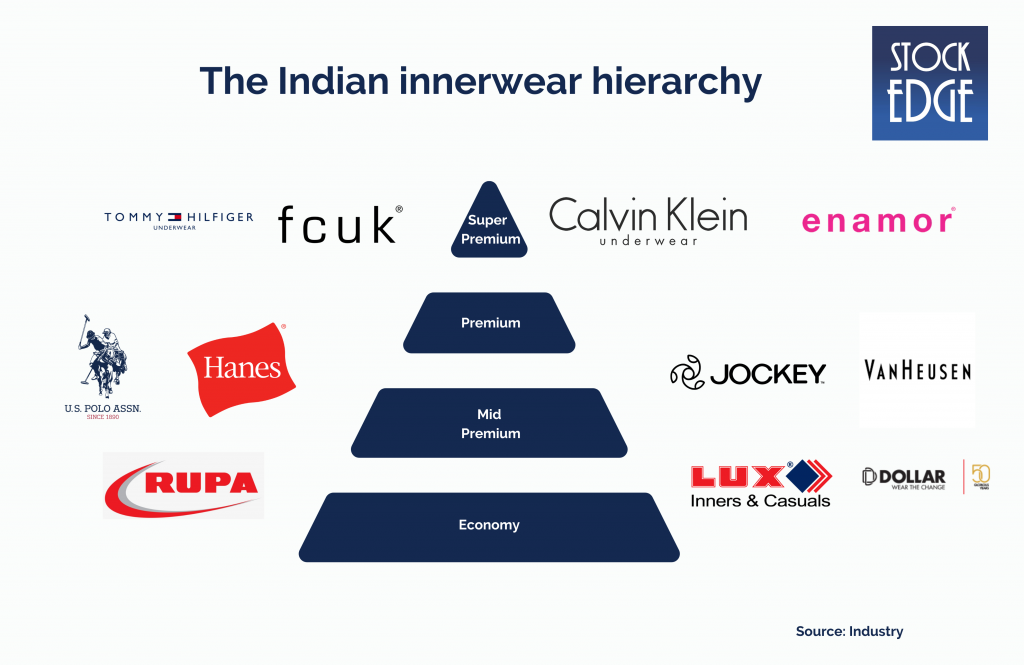 Despite the presence of multiple small-to-large local brands such as Rupa, Lux, Dollar, and Amul, as well as a number of unbranded small players in the Indian innerwear industry, Page has managed to achieve healthy profit growth over the long term (revenue and PAT CAGRs of 18% and 19%, respectively, over FY13-22).
Its superior growth longevity was due to differentiated brand positioning, offerings in mid-premium categories, a distinct distribution model, a diverse product portfolio, an efficient supply chain, an in-house manufacturing capability, and multiple sales channels.
Though traditional players such as Lux, Rupa, and Dollar attempted to replicate/change their business models and product positioning to match Page Industries.
They had limited or no success because most were still stuck with the old wholesale-based sales model.
They were also unable to create new sales channels, did not significantly broaden their product basket, did not change their brand positioning, and made limited investments in supply chain management.
Most traditional players ventured into premium innerwear under various brand names, either through in-house brands or licenced brands, but failed to make a meaningful impact due to a lack of brand awareness, a greater emphasis on fashion over comfort, and an inability to penetrate modern channels.
Page's phenomenal growth and ability to spot opportunities in Indian innerwear markets drew in a slew of new players. The majority of them created new brands or expanded existing lifestyle brands in the innerwear category. Even traditional players that had previously failed to provide meaningful competition launched their own lifestyle brands, such as Pepe, FCUK, and others.
A few, such as Zivame and Enamor, carved out a niche in the women's category by focusing more on online retail. After Page had already developed the market through its two-decade efforts, many new entrants began replicating the flagbearer's model.
Unlike traditional players, they capitalised on their existing popular lifestyle brands to gain a competitive advantage in terms of brand recall. Even in terms of the sales channel, they adhered to Page's model of distributor-led sales by approaching existing multi-brand innerwear distributors. They made use of modern trade channels such as Large Format Stores, Exclusive Brand Outlets, and e-commerce.
Because of such players, consumers now have a plethora of brands to choose from.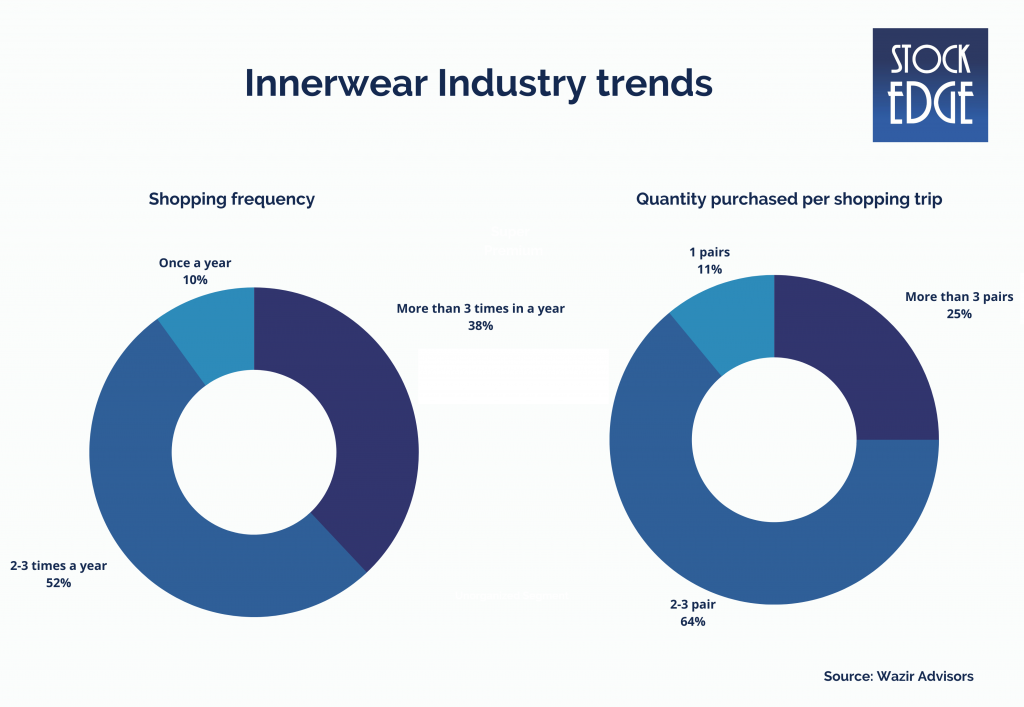 What are the growth drivers for Page Industries?
High Disposable Income
The age group of 15-34 Yrs is the largest consumer group
Increase in the urban population
The increased shift in organised retail
High growth across the Middle, Premium, and Super Premium segment
Higher inspiration for global brands
Let's look at the Financials of Page Industries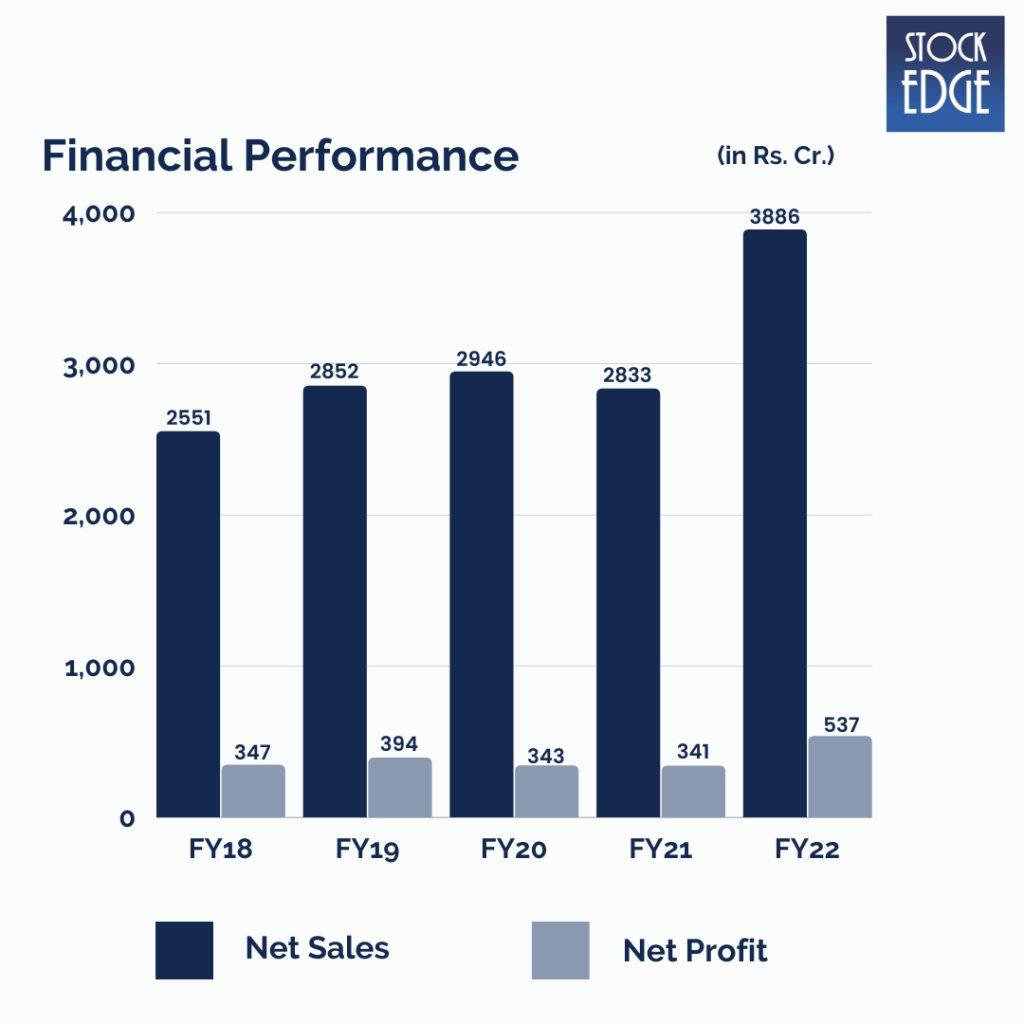 Page Industries finished the fiscal year with another strong quarter, with sales increasing by 26%. Demand remained strong across all products, channels, and geographies. Sales/EBITDA/PAT increased by 37/49/58% in FY22 compared to FY21. EBITDA margins increased 162 basis points to 20.2% in FY22.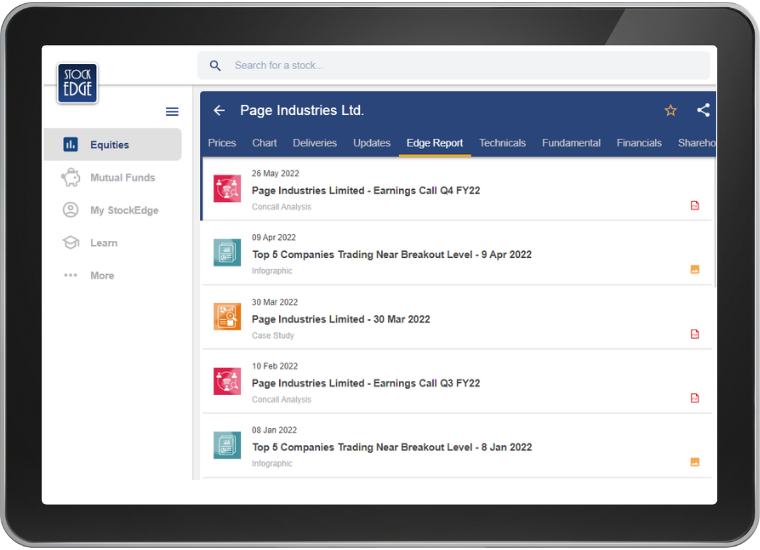 To get more detailed analysis and Reports on Stocks, visit our Edge Report Section by subscribing to our StockEdge premium plans.
Who is the jockey of this "Jockey"?
Sunder Genomal is the Managing Director of Page Industries and one of the company's founders. He has worked in various aspects of the textile industry for over three decades. He and his team are in charge of the entire operation and affairs of the company.
Road Ahead…
Page Industries has seen a significant increase in demand across all product categories. During the fiscal year, the company added 200 exclusive brand outlets and continues to strengthen its distribution channels. With a 5-year horizon, management aims for a $1 billion topline.
Page Industries is concentrating on digital and business transformation in order to improve efficiencies, automation, and time to market. With its diverse product portfolio and solid business model, management is optimistic about the company's medium and long-term prospects. They are optimistic about the Jockey Juniors range, with India having the distinct advantage of a growing child population.
However, as with such companies, there are risks like intensifying competition in the Indian innerwear industry by any strong/sizable lifestyle brands that can pose a threat to market leader Jockey. So we will have to wait and see how the company develops from here on out.
Until then, keep an eye out for the next blog and our midweek and weekend editions of "Trending Stocks and Stock Insights." Also, please share it with your friends and family.
Happy Investing!