This week there was a lot of buzz around sugar-producing companies, which led to a rally on Strong Outlook by a rating agency. So, while many people have been curious to invest in sugar stocks, we thought we could start by providing a brief overview of the industry. So, in this week's blog, we discuss the dynamics of the sugar industry.
The Story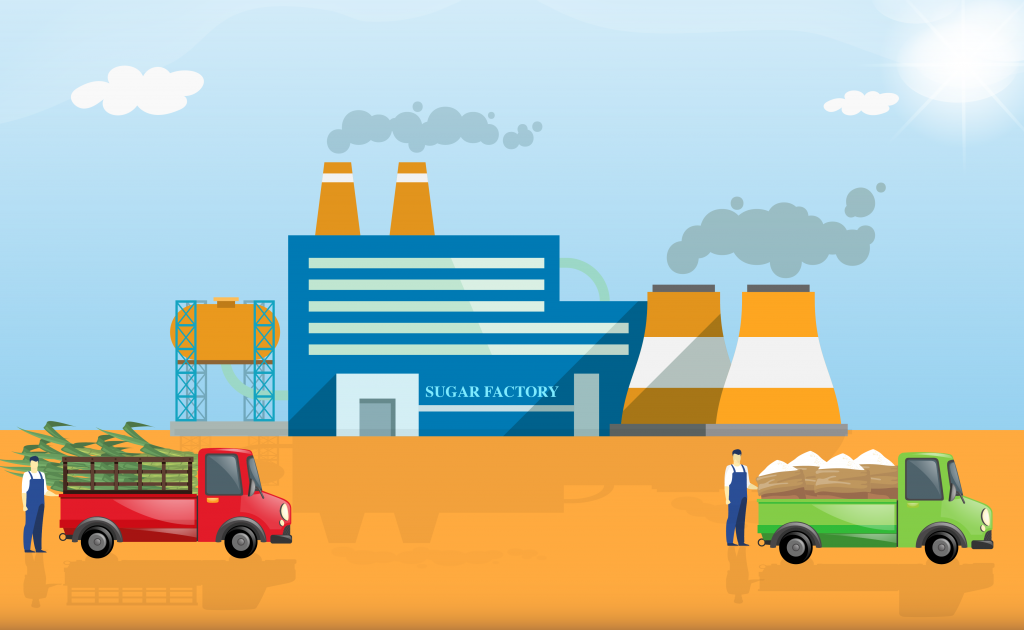 India remains the world's second-largest producer of sugar and the largest consumer, with an estimated output of 34.7 million tons in the Sugar Year 2021-22. We contribute around 19-20% of the global supply.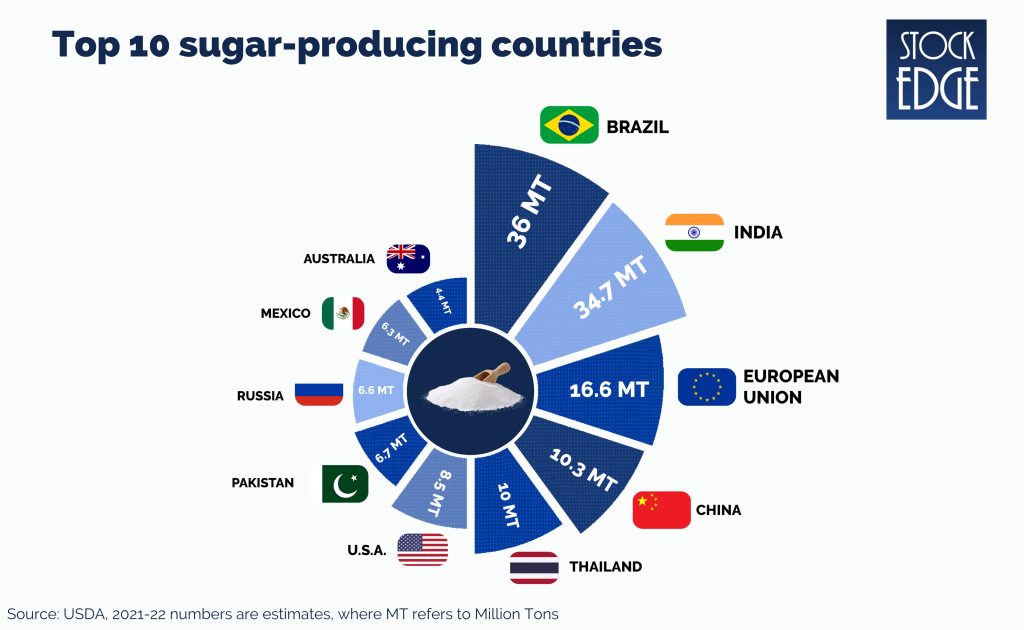 The Indian sugar industry employs approximately 12% of the Indian rural population in nine states (Andhra Pradesh, Bihar, Gujarat, Haryana, Karnataka, Maharashtra, Punjab, Uttar Pradesh, and Tamil Nadu).
The country has over 490 operational sugar mills, but most sugar production (89% as of 31st Dec 21) is concentrated in Maharashtra, Uttar Pradesh, and Karnataka.
Sugarcane Crop
Sugarcane is a "ratoon" crop. The stubble from the previous crop is used to grow the new crop. As a result, the crop planted has a multi-year life cycle, and new crops are generally not planted in the same farm area for a few years.
In India, the sugar season (SS) is from Oct-Sept. So SS22 means Oct '21 to Sept '22, with harvesting beginning in Oct '21.
However, the moment you harvest it, its shelf life begins to dwindle dramatically. Therefore, it is perishable and must be used as soon as possible. As a result, the sugar mill owners locate their manufacturing and crushing plants near agricultural areas. They do this to reduce the time between cutting and crushing.
What are the factors which affect the sugar realizations in India?
The cyclical sugar industry in India is highly regulated. The government determines the amount of sugar sold and exported by mills, but the good thing is that the government also bails out the industry with subsidies during bad times.
Lower acreage – This happens due to droughts which cause farmers to shift to other crops, which results in a drop-in cane cultivation areas in major sugar-producing states. This leads to a spike in sugar prices.
Payment Arrears – This happens when sugar mills run at losses, the mill owners don't pay the farmers, and these late payments become arrears, and the debt accumulates. As a result, farmers divert to other crops resulting in reduced cane availability for the next crushing season. This also leads to a spike in sugar prices.
Dependency on Monsoon – Poor monsoon results in significant changes in production estimates, decreasing inventory levels. This again leads to a spike in sugar prices.
Increased Consumption – Any increase in consumption levels leads to a noticeable dependence on sugar stocks which again leads to a spike in sugar prices.
What's driving the growth in the sugar industry?
The government is making a serious effort to promote ethanol as an alternative fuel option, culminating in the final release of the ambitious National Bio-Fuel policy in May-2018. The strategy is to:
Increase ethanol production.
Gradually begin blending it with gasoline.
Eventually, reduce oil imports significantly.
The government wants to achieve a 10% blend rate by 2022, which means 10% ethanol and 90% gasoline. After that, they want to increase it to 20% by 2025. And, if everything goes as planned, we may be able to reduce the volatility that is common in the sugar industry.
The policy also allows mill owners to utilize surplus sugar proceeds better and improve financials because ethanol margins are higher.
In 2014, ethanol blending was only 1.5% or 38 million liters, but it has increased to 8.5%, or 332 million liters, by 2021. Sugarcane currently accounts for approximately 85% of ethanol production, which will be reduced to around 60% in the coming years. To meet the 20% blending target by 2025, India will need to produce 10-11 billion liters of ethanol, with sugarcane accounting for 6-6.5 billion liters.
Other triggers are India's rising population. It increased to 140 crores in 2021 from 555.2 million in 1970 and is projected to reach 152 crores by 2036, catalyzing sugar consumption.
If we look at Indian revenues from the confectionery segment, it was US$ 72.3 million in 2021, and the market is projected to grow annually by 6.35% (CAGR 2021-25). The bakery industry in India is moving ahead with a growth rate of 9.0%. Sugar accounts for 20-30% of raw material for these industries.
India's per capita soft drink consumption in 2021 stood at around 84 bottles by 2021, almost double compared to the per capita consumption of 44 bottles in 2016, a trend likely to sustain sugar consumption growth.
(Source: NITI Aayog Report: Roadmap for ethanol blending in India 2020-25, Dalmia Bharat Sugar And Industries Ltd. FY21 Annual Report)
Sugar stocks in India
Now with so much information, you must be tempted to track down the stocks in the sugar industry, so here's how you can begin with. You can check out our StockEdge app & website and then in the Sectors tab, you can go to the Agriculture sector and then click on the sugar industry. You will find all the stocks listed in the Indian stock market.
Once you have selected the stocks based on Mcap, debt to equity, ROCE, sales, PAT, etc., you can make a watchlist out of it. And on top of that, you can get Edge Report insights on the stocks our analysts cover, which can help you invest in them by subscribing to our StockEdge premium plans.
Closure
Cyclicality is a pattern that keeps repeating itself. Prices fall, mills reduce production, there is acute scarcity, prices rise again, and mills increase production. To iron out this cyclicality of the sugar industry, the government has been pushing the sugar producers to increase the use of ethanol in petroleum products.
However, as discussed above, with such soft commodities, there are risks like sluggishness in demand, exposure to variables like rainfall, soil, temperature, transportation expenses, and competing crop yields which could give a setback.
So we will have to wait and see how the industry develops from here on out.
Until then, keep an eye out for the next blog and our midweek and weekend editions of "Trending Stocks and Stock Insights." Also, please share it with your friends and family.
Happy Investing!