Does it even feel like Christmas if it's not full of surprises?
This Christmas, Santa surprised us with StockEdge Version Update 7.2. This surprise adds on to the celebrations and uplifts the festive cheer.
To know more about what Santa has in store for us this time, continue reading below.
Premium features include:
Download Sector/Industry data to CSV
Plot TTM PE in Edge Chart
2 new William %R Scans
Strategies made more Powerful
Free Features include:
EV and Debt values in Sector/Industry page
12 new Absolute Returns Scans
Filter in Forthcoming Corporate Actions
Half Yearly Balance Sheet
View upcoming stock specific result date
Learn section enhanced
DOWNLOAD SECTOR/INDUSTRY DATA TO CSV:
Sector & Industry data can be downloaded in CSV format to facilitate equity research.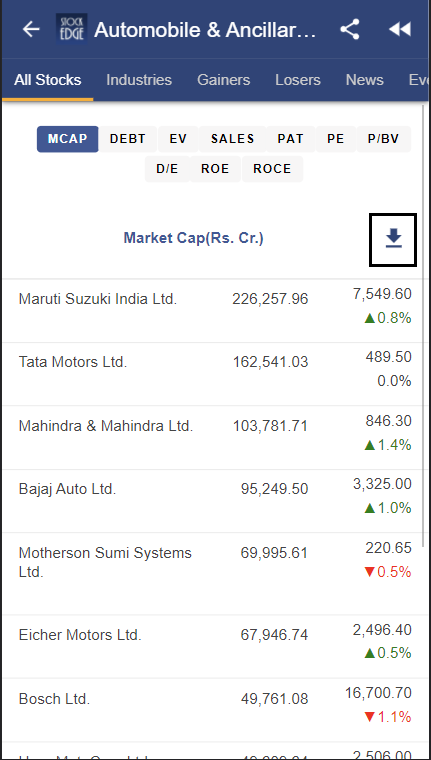 PLOT TTM PE IN EDGE CHART:
Users can now plot another fundamental indicator, TTM Price/Earnings ratio in Edge Charts over a 2-year and 5-year time frame. This will enable users to see the historical performance of a company in a graphical manner and will make the investment decision making process more efficient.
PS: If the PE value is more than 1000 then it is not plotted as it is not relevant.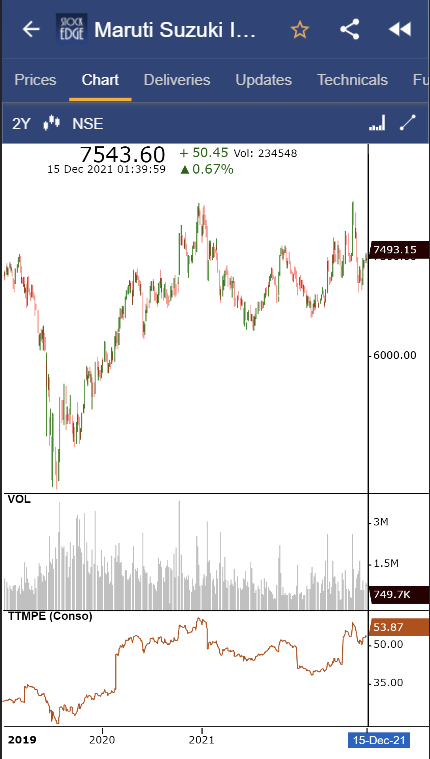 2 NEW WILLIAM %R SCANS:
William %R is a technical indicator which ranges between 0 and -100 measuring overbought and oversold levels. It shows the current closing price relative to the 14-day high-low range. It identifies entry and exit points into the market.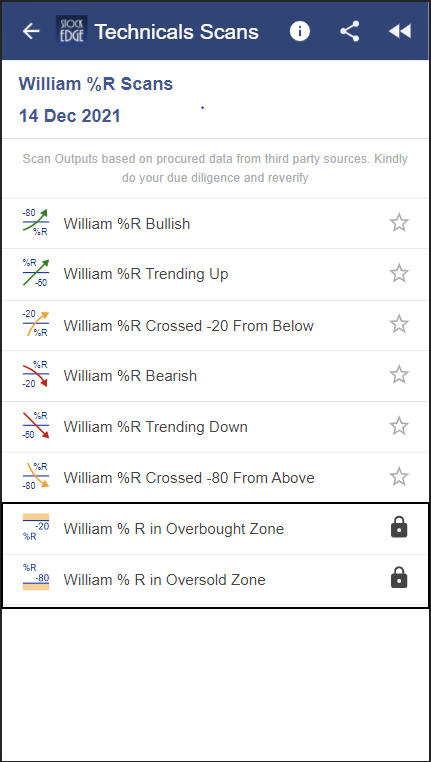 The 2 new scans introduced are:
William %R in Overbought Zone: Stocks that have William %R value between 0 & -20 lie in the overbought zone. A change in price trend is anticipated once the stock is in the overbought zone.
William %R in Oversold Zone: Stocks that have William %R value between -80 & -1000 lie in the oversold zone. A change in price trend is anticipated once the stock is in the oversold zone.
EV AND DEBT VALUES IN SECTOR INDUSTRY PAGE:
Enterprise Value (EV) and Debt figures of companies are listed on the Sector/Industry page for peer comparison. This addition will make sectoral analysis more wholesome.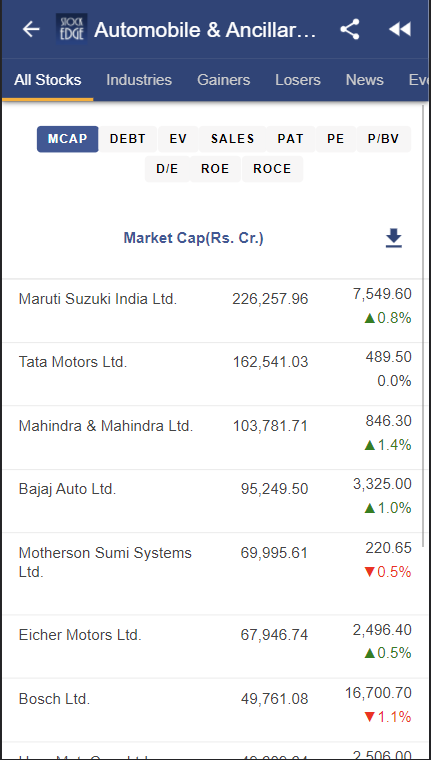 TRANSFORMED LEARN AND STRATEGIES SECTION:
The Learn Section of StockEdge has been revamped and made more integrated. All topic videos are grouped together depending on their subject and relevant information regarding courses and webinars is also available. The Learn section aims to cater to both, newcomers and experts of the financial markets and helps users become financially literate.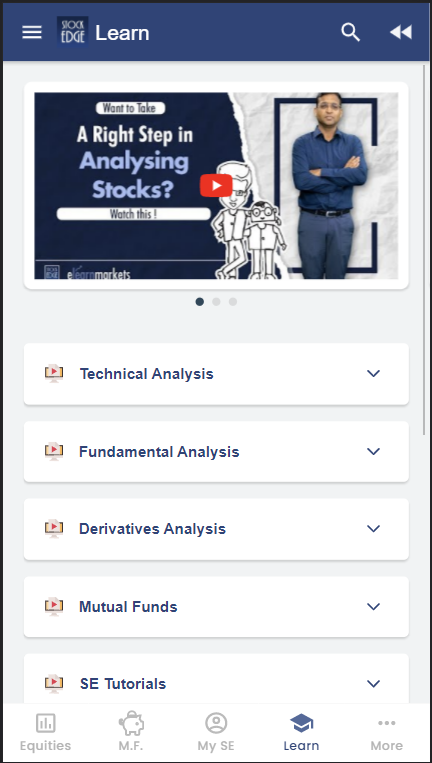 The Strategies Section has now become more universal in nature catering to the needs of all participants of the Stock Markets. It has some offering for everyone, from swing traders to long term investors.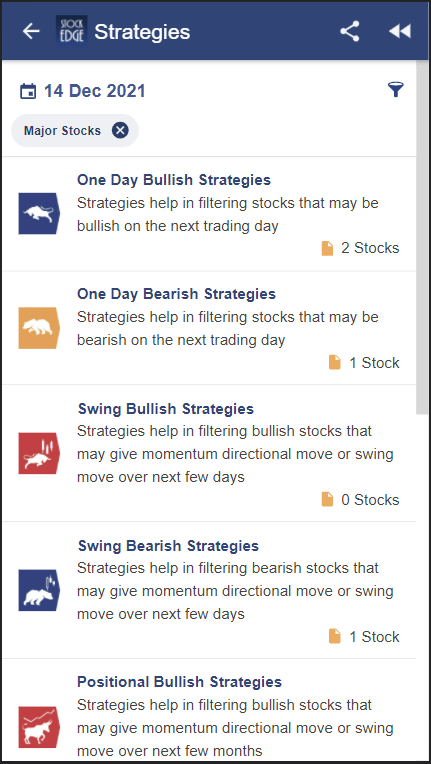 12 NEW ABSOLUTE RETURN SCANS:
Absolute Returns measures the return a stock generates over specific time periods. It measures the appreciation/depreciation of a stock. It is independent of any other investment avenue or benchmark. The new scans show the absolute return values over different time periods. The 12 new scans introduced are: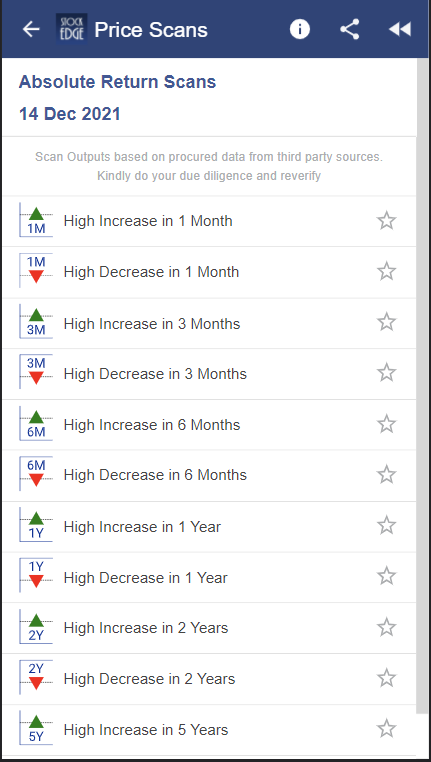 High Increase in 1 Month
High Decrease in 1 Month
High Increase in 3 Months
High Decrease in 3 Months
High Increase in 6 Months
High Decrease in 6 Months
High Increase in 1 Year
High Decrease in 1 Year
High Increase in 3 Years
High Decrease in 3 Years
High Increase in 5 Years
High Decrease in 5 Years
FILTER IN FORTHCOMING CORPORATE ACTIONS:
The option to filter out different types of corporate actions has been introduced in the forthcoming corporate actions section under daily updates. Users can now view only those corporate actions that are relevant to them.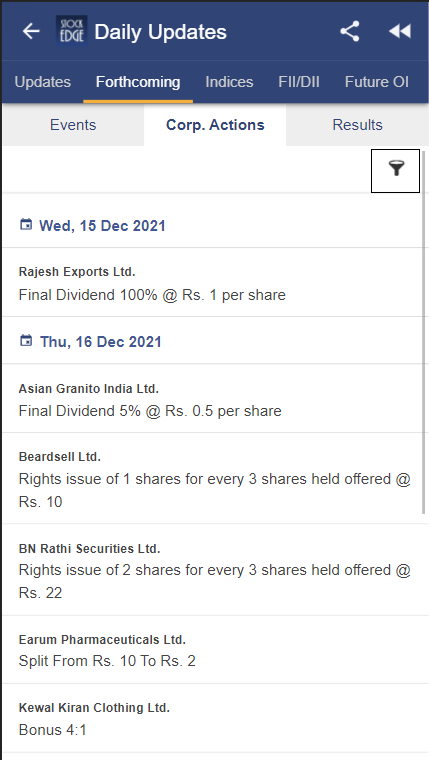 INTERIM BALANCE SHEET AND UPCOMING RESULT DATE:
The latest balance sheet of a company published with the quarterly results will now be available in the Balance Sheet section under the Financials tab of a stock. This feature gives users the most updated position of a company and helps users take more informed decisions while investing. The upcoming result date for a company will be available in the results page under the Fundamentals tab of stock.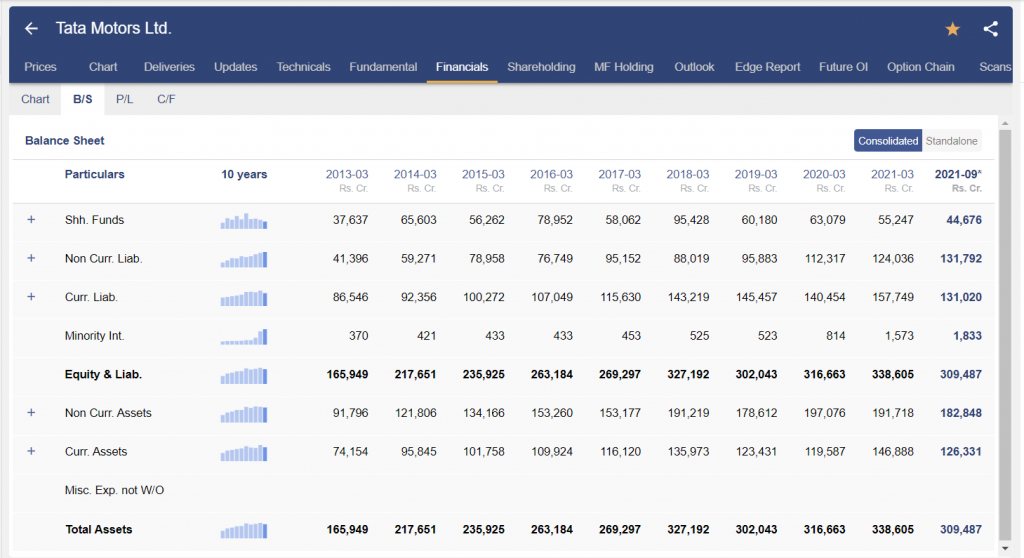 This is all StockEdge has to offer in it's latest version update 7.2. StockEdge team hopes that new features add great value to users and make their investment decision impeccable. If you think StockEdge has helped you in your investment journey, don't hold back from sharing it with your near ones and make their investment journey better.
Check out StockEdge's Premium Plans to get the most out of it.
Also, keep watching this space for our midweek and weekend editions of 'Trending Stocks' and 'Stock Insights'.