The Story
RHI Magnesita India Ltd. is a 70% subsidiary of RHI Magnesita N.V., which is headquartered in Vienna (Austria) and is a global leader in refractories with the most manufacturing locations worldwide. RHI Magnesita, which was formed in 2021 by the merger of three entities, manufactures and markets special refractory products, systems, and services for the steel industry in India and around the world and as of today this is RHI Magnesita India share price
They are the market leader in India for special refractories, with a 16% market share, and have many global customers. They generate 74% of their revenue from refractory manufacturing and 22% from refractory trading and have three state-of-the-art manufacturing facilities located in Bhiwadi (Rajasthan), Tangi (Odisha), and Visakhapatnam (Andhra Pradesh).
But first let's try to understand what are refractories?
Refractories are ceramic materials that are designed to withstand the extremely high temperatures (over 1,000°F [538°C]) encountered in modern manufacturing. They are used to line the hot surfaces found inside many industrial processes because they are more heat resistant than metals.
Refractories can withstand physical wear and corrosion caused by chemical agents in addition to being resistant to thermal stress and other physical phenomena caused by heat. As a result, they are critical in the production of petrochemical products and the refining of gasoline.
What are refractories made of?
Refractories are made from silicon, aluminium, magnesium, calcium, and zirconium oxides, as well as non-oxide refractories such as carbides, nitrides, borides, silicates, and graphite.
What are refractories used for?
The metallurgy industry uses refractories in the internal linings of furnaces, kilns, reactors, and other vessels to hold and transport metal and slag. Refractories are commonly used in non-metallurgical industries on fired heaters, hydrogen reformers, ammonia primary and secondary reformers, cracking furnaces, utility boilers, catalytic cracking units, coke calciners, sulphur furnaces, air heaters, ducting, stacks, and so on.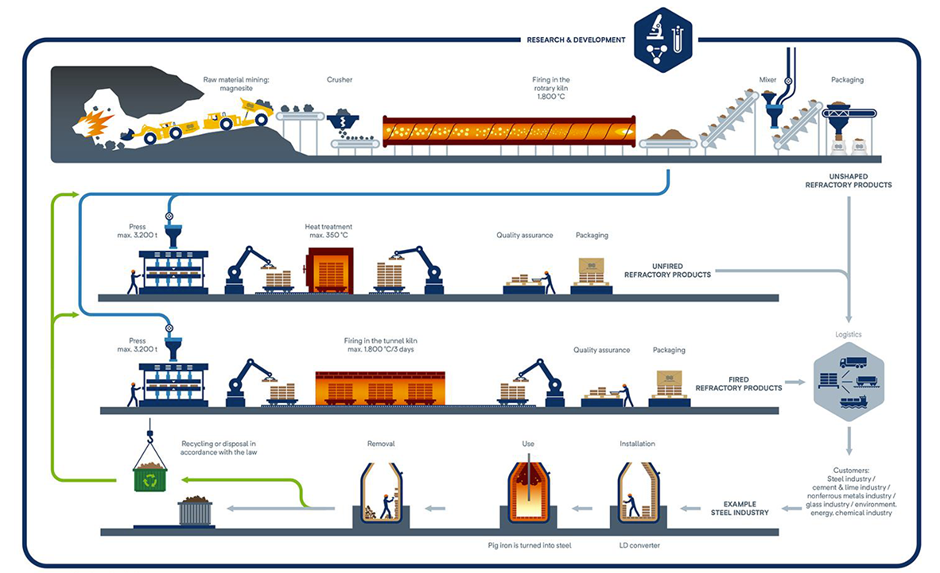 Why did RHI Magnesita merged its entities?
RHI merged its three Indian entities—RHI India Private Limited, RHI Clasil Limited, and Orient Refractories—to form RHI Magnesita India, India's largest refractory manufacturing and trading company. This procedure was finished in May 2021. The merger allows RHI to maximise consolidation synergies.
Margin will be improved by operational synergies such as low input costs, raw material recycling, and a common supply chain for all plants.
RHI Magnesita's diverse product portfolio enables it to offer a full line of contracts under total refractory management (TRM) services, which are required by most steel companies. RHI provides a wide range of tailored services at customer sites under TRM, including refractory installation, recycling, digital, and supply-chain services. These improve process efficiencies and lower customer costs.
Recycling and Import-substitution
The Indian refractory industry is focusing on product localization and substituting imports from China or the EU (European Union)/USA.
In November 2019, RHI Magnesita acquired a plant in Cuttack to manufacture magnesia bricks. 75% of the domestic demand for nearly 300,000 tonnes of bricks is imported from China. RHI Magnesita intends to gradually increase capacity by debottlenecking from 10K tonnes to 18K tonnes.
In addition, RHI has established a new R&D (research and development) hub in Bhiwadi with the goal of developing three new products in the shaped refractory business. They are also working on starting production of certain high-end products that are currently imported into India from European and American facilities at this facility. This would result in the importation of these products.
This will increase localisation, lower costs, and be used for recycling. RHI intends to increase recycled material contribution, saving 30% on costs.
Large entry barriers reduce the risk of new entrants
Due to the high barriers to entry in the Indian refractory industry, no new player has gained a significant market share in the last decade:
A gestation period of 4-5 years is required to establish a market share among steel plants.
Because refractory is only about 3-4% of the cost of steel plants, the relationship plays a larger role in market penetration.
Product quality is critical because it influences the efficiency of heating furnaces.
Large players' R&D capabilities improve with decades of experience.
Peer Analysis
RHI Magnesita has the best margins in the industry due to access to a global supply network, vertical integration, including access to parent mines, ensuring better raw material availability, localization and recycling, and better capacity utilization compared to the competition.

Indian Government's Infrastructure focus will Aid Growth
The Indian refractory market is estimated to be worth approximately Rs.10,000 crore. Steel manufacturers account for approximately 75% of domestic demand for refractories. The remainder is derived from other industries such as glass, cement, and nonferrous metals.
Even though steel drives most of the refractory demand and thus is perceived as vulnerable to commodity price risks, our long-term study of refractory companies concludes that gross margins vary within a very narrow range, unlike a typical commodity company.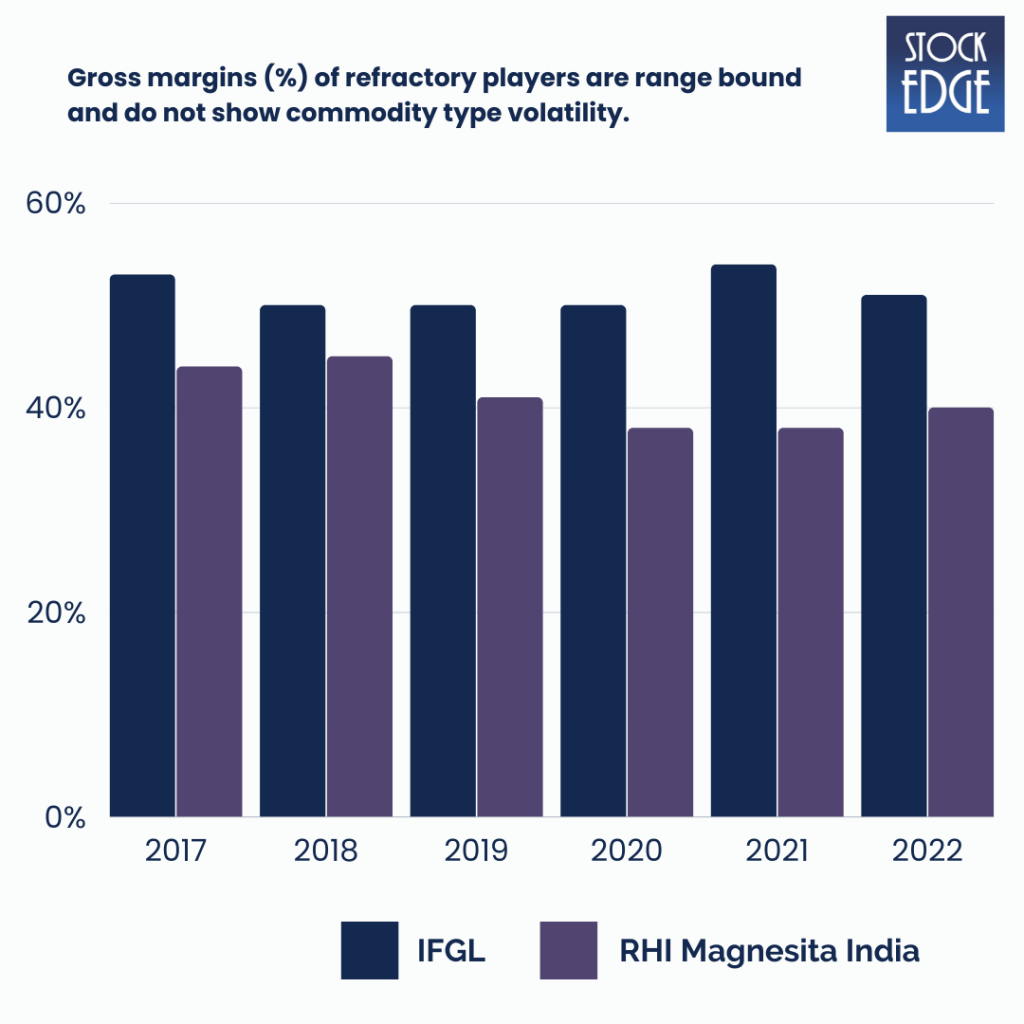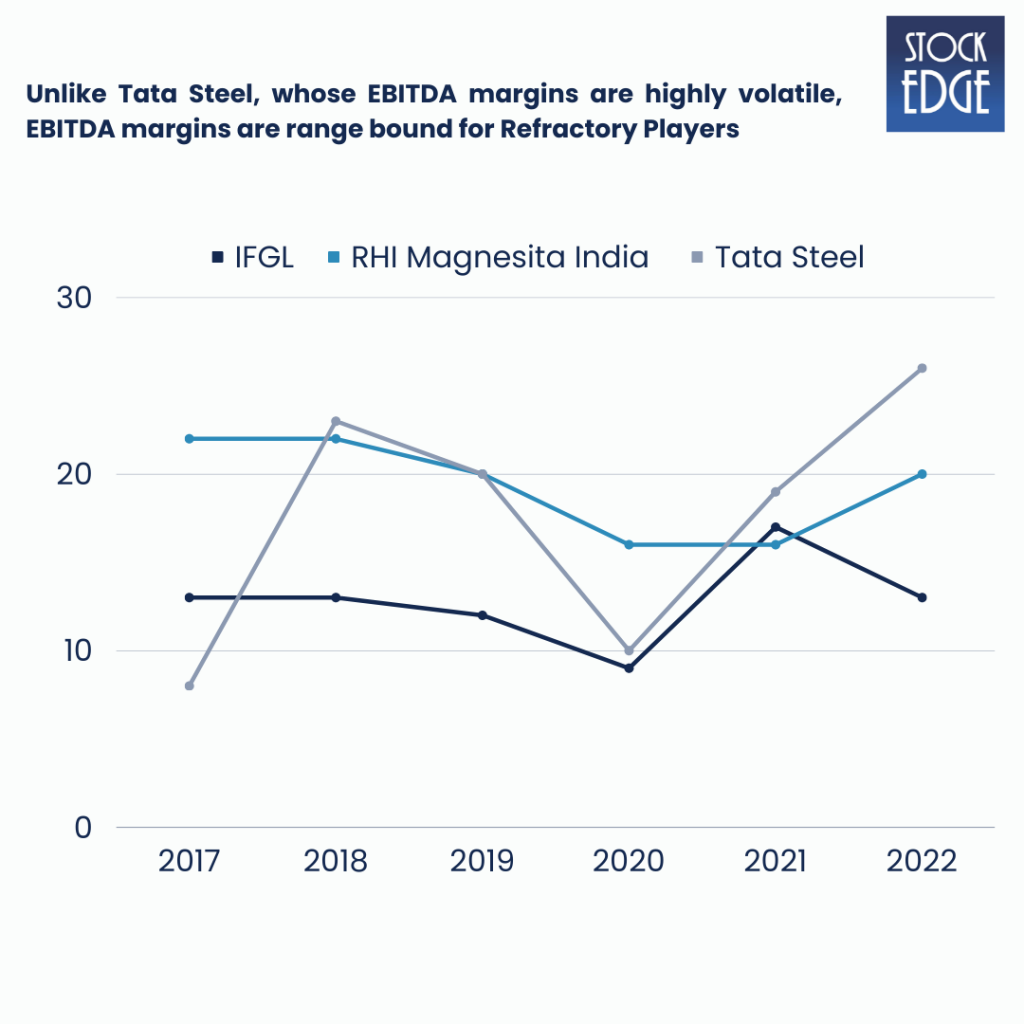 Government spending on schemes such as the national infrastructure pipeline, the PLI (production linked incentives) scheme, the Jal Jeevan Mission, housing schemes, the Vehicle Scrappage Policy, PMAY – Urban & Rural, and so on indicates that the current growth trajectory is likely to continue.
Let us look at the Financials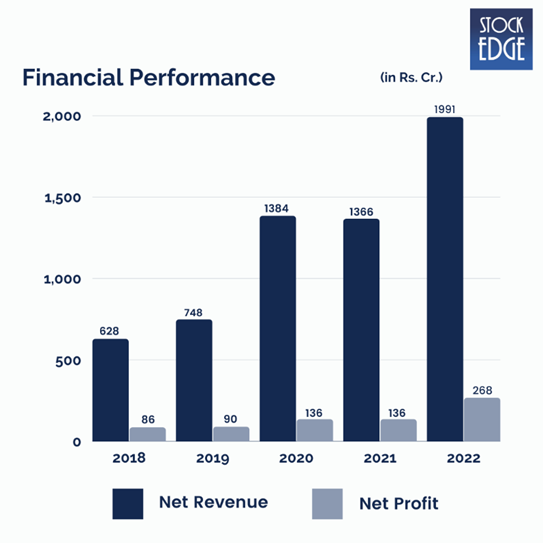 RHI Magnesita increased its revenue by 46% in FY22, reaching Rs.1,991 crore. Operating profits increased by 84% to Rs.385 crore, while EBITDA margins increased by 400bps (basis points) to 19%. PAT increased by 97% to Rs.268 crore, and net profit margin was 13%, up 300 basis points from the previous year.
Revenues increased by 40% year on year and 2% quarter on quarter to Rs.602 crore in Q1FY23. EBITDA for the quarter was Rs.116 crore, up 57% year on year (down 16% quarter on quarter), with corresponding EBITDA margins of 19%, up 200 basis points annually but down 400 basis points sequentially due to higher input costs. PAT for Q1FY23 was Rs.82 crore, up 64% year on year but down 18% quarter on quarter. The net profit margin was 14%, up from 12% a year ago and 17% in the previous quarter.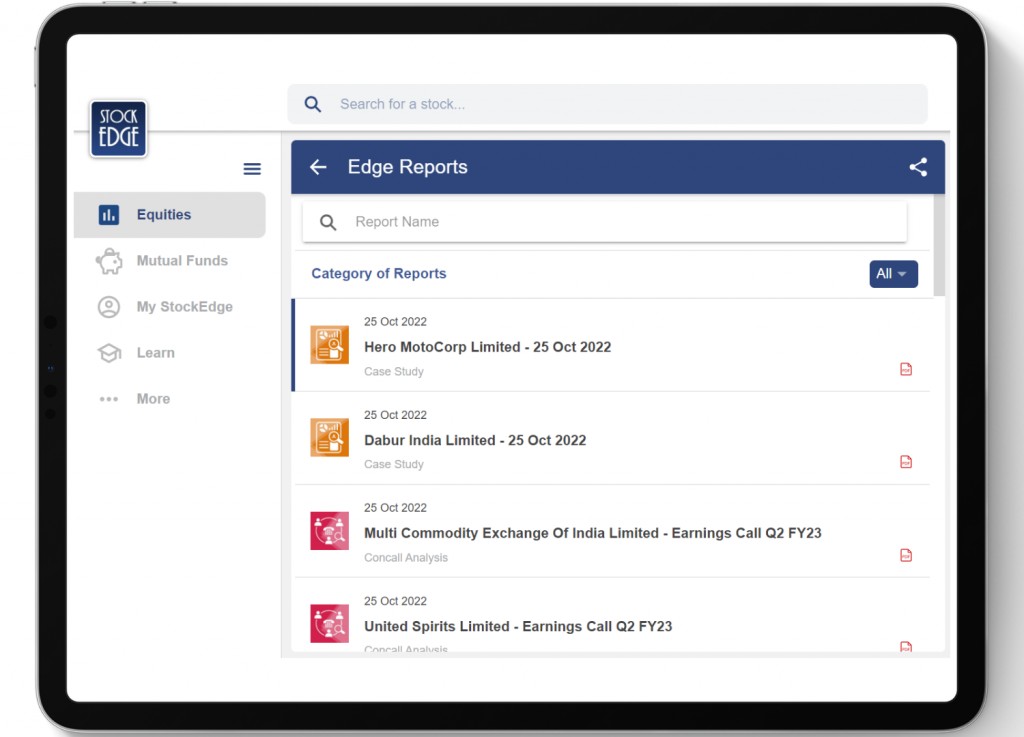 To get more detailed analysis and Reports on Stocks, visit our Edge Report Section by subscribing to our StockEdge premium plans.
Who is sailing the ship?
Parmod Sagar, the CEO and Managing Director of RHI Magnesita, oversees the company's Indian operations. He has over 28 years of refractory industry experience. He has also served as chairman of the Indian Refractory Makers Association, the governing body of the Indian refractory industry.
Major Clients: Jindal Stainless Ltd., JSW Steel, Gerdau, Tata Steel, Lafarge Holcim, Sunflag Steel, Birla Shakti Cement, SAIL, etc.
Road Ahead…
According to Stefan Borgas, who is the President, and CEO of RHI Magnesita NV, (source: Hindu BusinessLine), "India is the only real growth market in the refractory industry (globally), and it is their primary focus region."
RHI Magnesita intends to invest close to Rs.450 crore in brownfield expansion of their existing plants across India over the next 2-3 years in order to increase their market share. They currently have an annual production capacity of around 1.42 Lakh tonnes spread across three units, with plans to more than double that to close to 2.80 Lakh tonnes by the end of 2023.
The parent company intends to make RHI Magnesita the new manufacturing hub for Asian and African markets.
However, as with such companies there are risks associated with them such as volatility in raw material prices, intensifying competition from global players, hike in royalty pay outs to parent company can impact the Company's performance.
So, we will have to wait and see how RHI Magnesita develops from here on out.
Until then, keep an eye out for the next blog and our midweek and weekend editions of "Trending Stocks and Stock Insights." Also, please share it with your friends and family.
Happy Investing!