In this weekend's blog, we are going to talk about a chemical company that has been a direct beneficiary of the China plus One Strategy. Yes, it's Deepak Nitrite!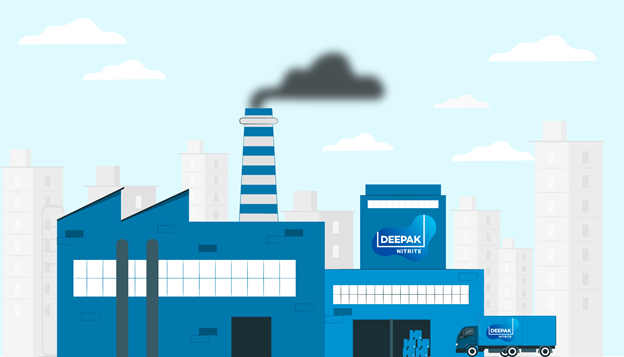 China has emerged as a global manufacturing behemoth in recent decades. Since 2000, its chemical production capacity has increased eightfold. However, in recent years, capacity reductions as a result of increasing environmental compliance of chemical facilities, a trade war with the US, and, most recently, COVID-19 crisis-led lock-downs have led companies to adopt a China+1 strategy. With supply chain disruption and uncertainty in China, global players are looking to diversify their sourcing, and India provides strong alternatives like Deepak Nitrite with comparable scale, technology, raw materials, and supportive government policies.
The Story
Deepak Nitrite was founded in 1970 by C.K Mehta. It began as a manufacturer of sodium nitrite and sodium nitrate before gradually diversifying its product line. But today the company is a major player in the chemical intermediates industry. The company has grown over the years to become a domestic market leader in inorganic intermediates (sodium nitrite and sodium nitrate), nitro toluene, and fuel additives. It has six manufacturing facilities which are located in Gujarat, Maharashtra, and Telangana. It exports to over 30 countries in key geographies such as Europe, the United States, Japan, Latin America, and so on.
It operates in four segments: basic chemicals, fine and specialty chemicals, performance products, and phenolics which proves to be a Hercules.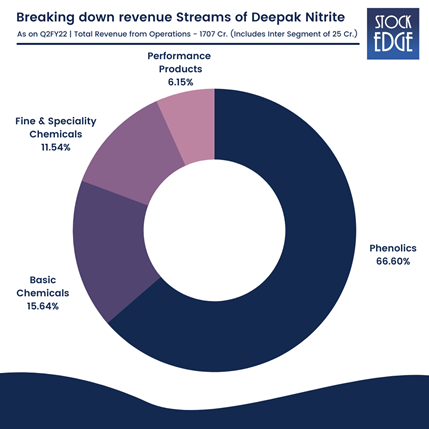 Let us try to understand each segment one by one!
Deepak Nitrite makes bulk products like nitrites, nitrogen toluidines, and fuel additives under the category of basic chemicals. It has around 80% market share for sodium nitrite and 50% market share for nitro toluene. In addition, it has a market share of 75% in fuel additives. Colorants, rubber chemicals, explosives, dyes, pigment, food colors, pharmaceuticals, and other industries are among the end-user industries for the Basic Chemical segment.
Under the specialty chemicals, it manufactures niche and specialized products that require technical skills and technological competencies when dealing with complex reactions. It makes specialty chemicals like xylidines, oximes, and cumidines which are tailored as per the needs of the customers. These are high-margin products manufactured in low quantities. They are used in the agrochemical, pharmaceutical, and personal-care industries.
If we look at the Performance Products segment, we get to know that Deepak Nitrite is a fully integrated optical brightening agent (OBA) manufacturer, with operations beginning with the conversion of basic input toluene into para-nitro toluene (PNT), followed by diamino-stilbene-disulfonic acid (DASDA), and finally into OBA. It has around 75 % market share in OBA and a 60% market share in DASDA. Deepak Nitrite has established itself as a preferred supplier due to its expertise and technical know-how, and it has also strategically diversified its clientele across geographies and end-user industries.
The phenolics segment produces acetone, cumene, isopropyl alcohol, and phenol entirely through its subsidiary, Deepak Phenolics Ltd. Deepak Phenolics, which began commercial production in 2018, has already established itself as the most trusted player in the domestic phenol and acetone markets, with a market share well above 50%. As the pandemic unfolded and the demand for sanitizers skyrocketed, Deepak Nitrite seized the opportunity and began producing isopropyl alcohol at a plant capacity of 30,000MTPA.
Let's look at the Financial Performance of Deepak Nitrite
Click here to check out the entire data.
Deepak Nitrite's revenue has grown at a CAGR of 34% between FY17 to FY21— from Rs.1371 to Rs.4360 crores. PAT has been growing at a CAGR of 73% from Rs.96 crores to Rs.776 crores. The growth has been so exceptional that the company's share price has grown by 1892% in the last five years.
Operating margins have been steadily increasing. It reached 29% in FY21 from 10% in FY17. Deepak Nitrite was able to achieve such high margins because of its diverse product base, improved realizations, and better cost control.
Quarterly Performance
The day before yesterday, Deepak Nitrite reported a mixed bag of results for the 2nd Quarter of FY22. The revenue from operations increased due to volume growth across all segments as well as price increases implemented during the quarter. EBITDA was 855 crore in H1 FY22, up from 468 crores in H1 FY21, an increase of 83 % on a year-on-year basis. During the period, improved operating performance drove EBITDA growth. Despite an unprecedented rise in input prices, the EBITDA margin remained largely stable on a year-over-year basis at 27 % in H1 FY22.
If we look at each segment's performance individually, then Phenolics was the one which was the outlier as it outperformed other segments, with EBIT margins in the Fine and Specialty Chemicals falling for the fourth consecutive quarter and Basic Chemicals' margins normalizing.
Shareholding Pattern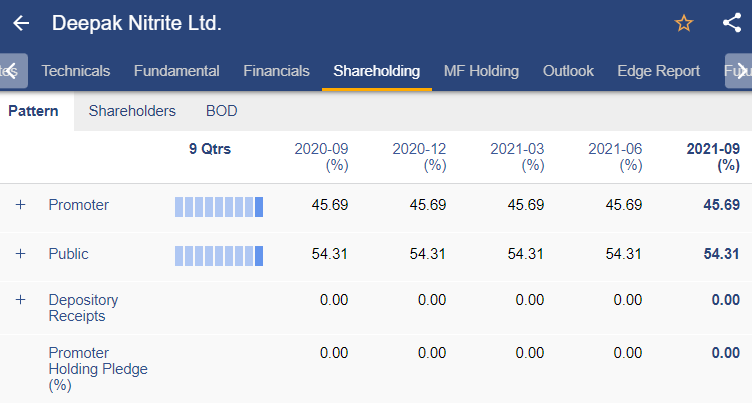 How good is the jockey?
Deepak Mehta, the company's chairman, and managing director, currently leads the company. He has been in charge of Deepak Nitrite for the past 49 years. He holds a science degree from the University of Mumbai. He is the chairman of the Gujarat State Council of FICCI and an active participant in industry forums. He is also the chairman of the FICCI's National Chemicals Committee. He was the past president of the Indian Chemicals Council (ICC).
Last year, Maulik Mehta had been appointed as the executive director and CEO of Deepak Nitrite. He completed his bachelor's degree in business administration from the University of Liverpool. Then he went to Columbia University to complete his Master's degree in industrial and organizational psychology. With approximately 13 years of experience in business development and he has been responsible for the day-to-day operations of all Deepak Nitrite verticals.
Road Ahead…
Deepak Nitrite aims to become the market leader in solvents by leveraging import substitution. The management team is focused on expanding the Fine & Specialty chemicals segment and closing gaps in the value chain. It has been investing in its market intelligence team, which investigates new and existing market opportunities. The management has shifted its focus to advanced/high-value products, which will help the company's margin expansion and sustainability.
Until then, stay tuned for the next blog and keep watching this space for our midweek and weekend editions of 'Trending Stocks". And, if you liked the way we represented Deepak Nitrite's story, show us some love by sharing it with your friends and family. Until then, take care and happy investing!