In today's blog, let us discuss Deepak Fertilisers And Petrochemicals Corporation Ltd., which has been outperforming its benchmark and sectoral index.
The Story
Deepak Fertilisers and Petrochemicals Corporation Ltd. is a major producer of industrial chemicals and fertilisers in India. It is a major player in Technical Ammonium Nitrate (TAN), including mining chemicals, industrial chemicals, crop nutrition (fertilisers), and value-added real estate. As of today's date, this is Deepak Fertilisers & Petrochemicals Corporation Ltd share price.
The management has stated that it intends to exit the non-core business of real estate in Pune, worth Rs 700 crores, and reinvest the proceeds in the core business. It is a multi-product Indian conglomerate with modern manufacturing facilities in four states: Maharashtra (Taloja), Gujarat (Dahej), Andhra Pradesh (Srikakulam), and Haryana (Panipat).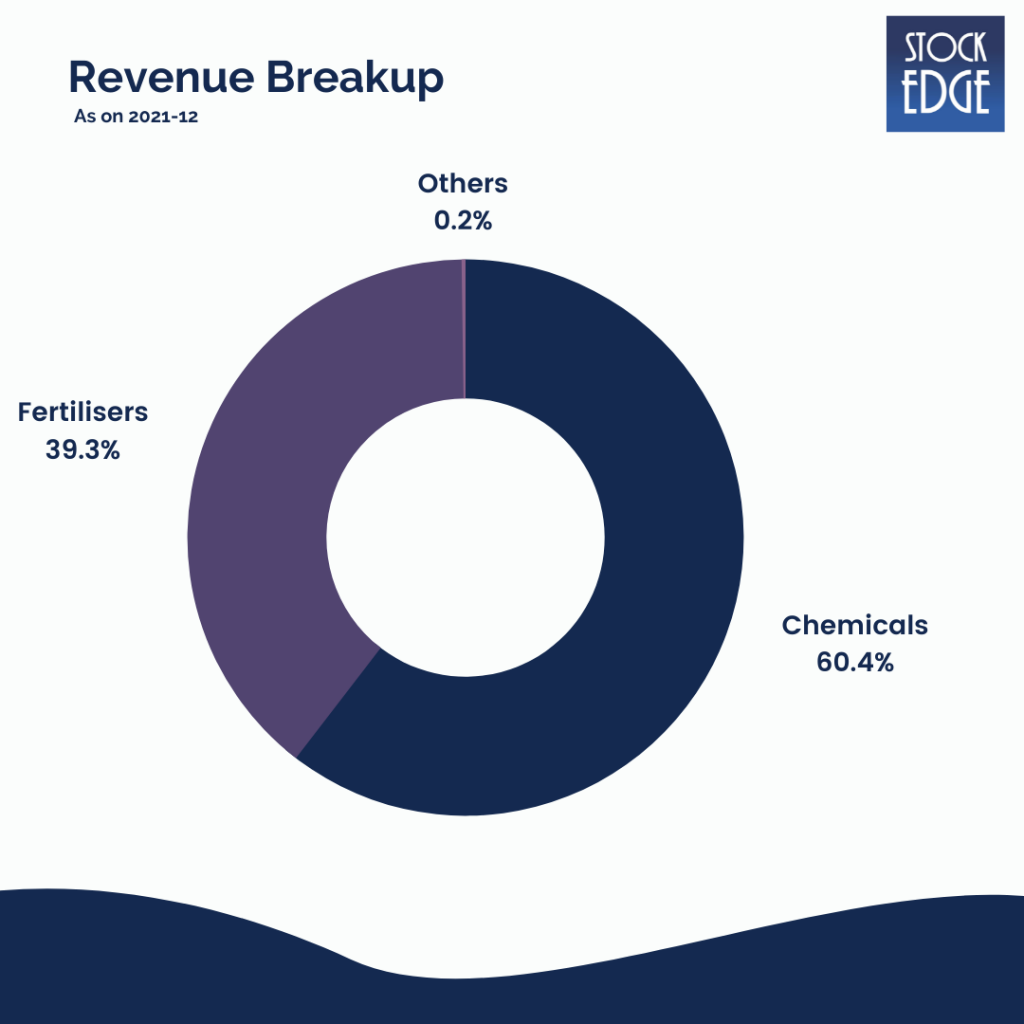 Let us try to understand its business verticals one by one.
Industrial Chemicals – Industrial chemicals are chemicals that have been developed for use in the industrial processing of chemicals. Some industrial chemicals are only used in industrial production processes, while many others are used as ingredients in commercial products sold in consumer markets. Solvents, reactants, lubricants, fertilisers, agrochemicals, drugs, coatings, dyes, colourants, inks, mastics, stabilisers, plasticisers, fragrances, flame retardants, conductors, and insulators are examples of industrial chemicals. Significant exposure to many of these chemicals can have adverse effects on people or the environment.
They are the second largest Nitric Acid manufacturer in South East Asia and the largest in India. To make the giant leap towards a more customer-facing organisation, the company has been focusing on better price-volume management, new product development, and a hybrid work environment for optimum productivity. As a result, they have a strong distribution network of 50+ channel partners in India and direct relationships with over 600 industrial customers. Going forward, the structural global supply chain shift attributed to the China+1 strategy and the trend towards India will continue to drive strong demand for Nitric Acid from downstream customers.
Deepak Fertilisers And Petrochemicals Corporation is a major producer and marketer of isopropyl alcohol (IPA). Its Taloja plant in Maharashtra has an installed capacity of 70,200 MTPA. The company trades in IPA to meet increased demand from end customers and maintain its market leadership. With its IPA-based product brand 'Cororid,' they have forayed into the hand sanitisers, disinfectants, and wipes segment.
The 'Cororid' brand has received positive feedback from the domestic market, including B2B and B2C segments. As part of its strategy, the company intends to focus on a product portfolio comprised of a mix of bulk commodity products and value-added specialty offerings, which will aid in reducing earnings volatility over the business cycle.
Technical Ammonium Nitrate – Deepak Fertilisers And Petrochemicals Corporation Ltd. is the world's fifth-largest single TAN producer, producing High-Density Ammonium Nitrate (HDAN), Low-Density Ammonium Nitrate (LDAN), and Ammonium Nitrate Melt (AN Melt). The company is India's sole manufacturer of explosives grade TAN solids and Medical-Grade Ammonium Nitrate, which is widely used in the production of medical-grade nitrous oxide for use as an anaesthetic/analgesic. In the domestic TAN market, the company holds a 43 per cent market share.
To meet rising TAN demand, the company is constructing a new TAN manufacturing plant on India's Eastern Coast with an estimated capacity of 376000 MTPA. The plant is expected to be operational by Q2FY25, allowing Deepak Fertilisers And Petrochemicals Corporation Ltd. to capitalise on the strong demand growth.
Ammonia – Ammonia is a colourless inorganic compound with a strong odour. It is naturally obtained from the air, soil, water, plants, and animals. Ammonia gas is compressed into a liquid that dissolves in water to form ammonium hydroxide and is transported in steel cylinders. Ammonia is frequently used in the manufacture of ammonium nitrate fertilisers, which release nitrogen into the soil to promote the growth of farm crops and plants. Currently, the Ammonia business has an installed capacity of 128,700 MTPA. The company is planning a Greenfield expansion of 510,000 MTPA. The plant is expected to be operational by Q1FY24.
Crop Nutrition Business – Deepak Fertilisers And Petrochemicals Corporation Ltd. is one of India's largest manufacturers of NPK and specialty fertilisers. Smartchem Technologies Limited, the company's 100 per cent subsidiary, is in charge of the Crop Nutrition Business (STL). Under its flagship brand Mahadhan, the company provides a wide range of NP (Nitrogen Phosphate), NPK (Nitrogen Phosphorus Potassium), Water Soluble Fertilisers, and Bentonite Sulphur to Indian farmers. The company's flagship brand, 'Mahadhan,' is a household name among farmers in its operating geographies, aided by a robust distribution network of 3,800+ distributors and 20,000+ retailers across 12 states.
The company is constantly developing new products and solutions to aid in the efficient use of nutrition, improve soil health, and thus increase crop productivity. In addition, the company is expanding its crop- and stage-specific product portfolio. This shift in strategy would assist the company in consolidating its market position and carving out a niche for itself, giving the company an advantage over the competition.
Let's look at the Financials of Deepak Fertilisers And Petrochemicals Corporation Ltd.
In Q3FY22, we saw that the company's consolidated net profit doubled to Rs.179.73 crore from Rs.87.55 crore on healthy operational income. Net Sales grew 35% year-on-year (YoY) at Rs 1,956 crore as against Rs 1,447 crore in Q3FY21.
EBITDA for the quarter came in at Rs.352 crore, up 62% YoY, with a corresponding EBITDA margin of 18%.
The management stated that net profits more than doubled during the quarter due to significant margin expansion in the chemicals segment, while the fertiliser segment faced challenges due to uncertainties in raw material availability and costs.
Who is sailing the ship?
The management is led by Sailesh Mehta, who has been with Deepak Fertilisers And Petrochemicals Corporation Ltd. for over three and a half decades, starting with work on the brand's manufacturing operations after earning a management degree in Texas, USA. Mr Mehta joined the company in 2002 as Managing Director and was named Chairman in 2012.
Under his direction, the company has risen to become one of the world's top five producers of Technical Ammonium Nitrate, Asia's leading producer of Nitric Acid, and a domestic market leader in specialty fertilisers and crop nutrients.
To get more detailed analysis and Reports on Stocks, visit our Edge Report Section by subscribing to our StockEdge premium plans.
Road Ahead…
In the coming year, management expects to continue reaping their measures' benefits and grow more robust and more efficient. All three of their business verticals are well aligned with India's growth story, and they are expected to maintain their growth trajectory with strong financial performance.
One of Deepak Fertilisers And Petrochemicals Corporation Ltd.'s key focus areas in the coming years will be to look at sustainable chemical solutions across end-user industries that will allow the company to move forward with courage and responsibility.
They are diversifying their product portfolio to include crop-specific and stage-specific solutions, intending to become their customers' preferred specialty chemicals solutions partner. Their transitional strategy is going well, and they are confident that they will be able to strengthen their offerings further and position them as a 'service' rather than a 'commodity.'
They are working to reduce waste in their processes and convert it into value-added products. As they look to expand their pharma portfolio with IPA-based downstream products in the hygiene segment, they see the pharmaceutical sector as a promising market.
However, as with such companies, there exist risks like raw material price inflation that can impact the company's performance. In addition, a delay in capacity expansion and payment of subsidies by the government could affect the company's performance.
So we will have to wait and see how the company develops from here on out.
Until then, keep an eye out for the next blog and our midweek and weekend editions of "Trending Stocks and Stock Insights." Also, please share it with your friends and family.
Happy Investing!