"The best time to get involved with cyclicals is when the economy is at its weakest, earnings are at their lowest, and public sentiment is at its bleakest." Do you know who said that? No? Peter Lynch said that! He is one of the most successful and well-known investors of all time.
Why did we use this quote? That's because in the next couple of minutes we are going to explore a small-cap stock from a cyclical industry.
So, let's begin.
Among the other trending stocks, we'll talk about a company that is engaged in the business of manufacturing and selling specialty cotton yarns and knitted fabrics, i.e. Ambika Cotton Mills Ltd., and try to understand the sector tailwind in the industry.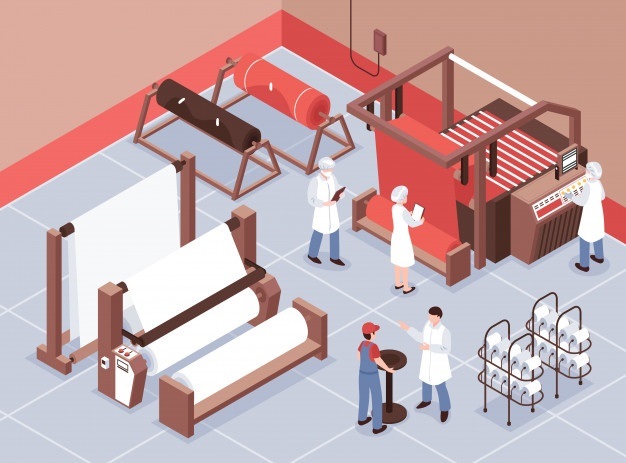 The Story
Incorporated in 1988, the headquarters of the company are in Coimbatore, and its manufacturing facilities are in Dindigul (Tamil Nadu). With a total installed spindle capacity of 108,288 in four units and a knitting facility capable of converting 40,000kg of yarn per day into fabrics and an installed capacity of 27.4MW of wind power for spinning segment captive consumption, the company serves clients in woven and hosiery products. In FY17, it entered the knitted fabrics market and gradually increased its capacity to 14,400 tonnes per year. More than 60% of the company's revenue comes from exporting to major clothing manufacturers worldwide.
If we break down the revenue streams of the company, it comes from three product categories: cotton yarn, knitted fabrics, and waste cotton.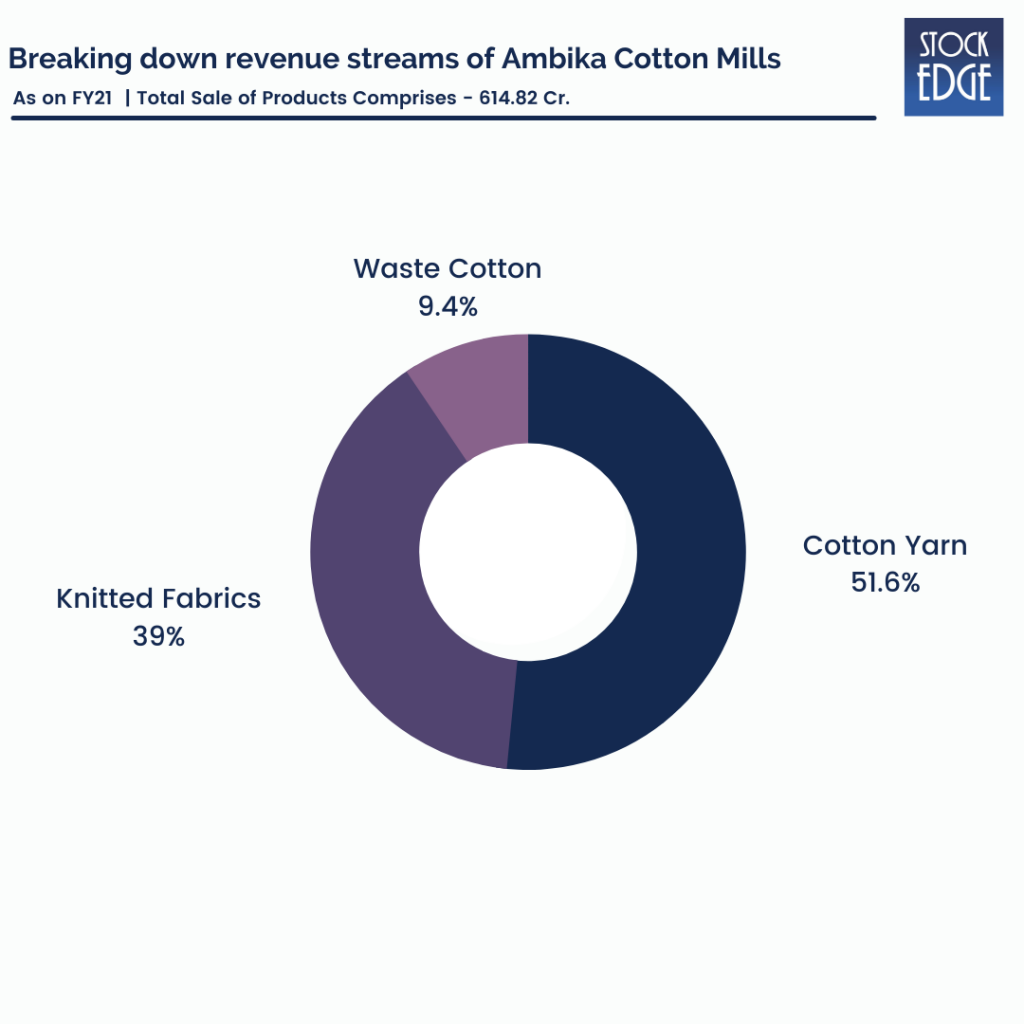 Ambika specializes in the production of high-quality compact and Eli twist yarn. It manufactures yarn with extra-long-staple cotton by importing high-quality Giza and Pima cotton from Egypt, United States, and Australia, respectively, and blending it with indigenous cotton. This is used in the manufacturing of premium branded shirts and t-shirts.
What does the Indian Textile market look like?
The Indian textile market is currently going through a tailwind. Global manufacturers have begun shifting manufacturing operations from China to alternate sourcing destinations in an effort to de-risk their supply chain/concentration from China (initiative known as 'China +1′). India stands out as a suitable '+ 1′ destination due to its abundance of raw materials (it produces 25% of the world's cotton), lower labor costs, improved 'ease of doing business,' and strong manufacturing infrastructure with a presence throughout the value chain.
This trend is becoming more pronounced as a result of the US Senate passing legislation prohibiting China's Xinjiang Cotton (20% of the world's cotton). With retailers in developed countries wary of sourcing cotton from China's Xinjiang region, orders are being rerouted to India, resulting in an increase in India's market share.
The Indian textile market is gaining incremental demand from markets such as the US and the EU, owing to the EU's backlash against Pakistan's abuse of blasphemy laws.
Higher export orders have prompted Indian textile players to embark on aggressive CAPEX plans (expanding capacity by 20-40%) across spinning, processing, and garment manufacturing.
The Indian textile industry is poised for rapid expansion, buoyed by both strong domestic consumption and export demand.
By FY 2023, the sector is expected to be worth US$ 226 billion. Because of changes in fashion and trends, urbanization is expected to support higher growth. This is bolstered by the opening of exclusive stores by the country's leading brands.
The proposed increase in the FDI limit in multi-brand retail will attract more players, providing consumers with more options. It will also increase investment across the entire value chain, from agricultural production to final product manufacturing. With global retail brands assured of a domestic presence, outsourcing will skyrocket.
Textile & Apparel growth will be driven by (a) increased domestic demand due to rising per capita apparel consumption, (b) WFH culture, which has resulted in a greater emphasis on home improvement products, (c) robust government policies acting as stimulants, and (d) global trends shifting in India's favor.
Financials of Ambika Cotton Mills Ltd.
Ambika Cotton Mills' revenue has grown 90% between Q1FY21 to Q1FY22— from Rs.99 to Rs.188 crores. Net profit has grown by a whopping 620% from Rs.5 crores to Rs.36 crores. Operating profit margins have improved from 15.16% in Q1FY21 to 30.04% in Q1FY22. The growth has been so remarkable that the company's share price has grown by 166% in the last one year. The management adheres to a conservative, almost debt-free policy, funding capacity expansions through internal accruals. ROCE has improved to 17% in FY21 from 14% in FY20.
Who is sailing the ship?
PV Chandran is the chairman and managing director of Ambika Cotton Mills, who is a Coimbatore-based first-generation entrepreneur who began his business in yarn marketing in 1972. Mr. P.V. Chandran had joined the board of directors with his two daughters. Mrs. Bhavya Chandran joined the board as a director in FY2008, and Mrs. Vidya Jyothish Pillai joined the board as a director in FY2012. The company has grown and significantly strengthened its position under his leadership.
Road Ahead…
The Company's specialty cotton yarn continues to be in high demand, and it has created specific markets for its products. Furthermore, the Company's broader range of products in its knitting segment has established newer markets in the knitting segment. This ensures more profitable operations over time. The company continues to strengthen its production base by modernizing and adding balancing equipment, as well as improving the production process.
The company has installed windmills to meet 100% of its captive requirements and an EHT line (110 KVA Sub-Station) to ensure a steady flow of quality power. A new Stenter plant has been established for the knitting division to heat process the fabrics. Ambika Cotton Mills' business outlook remains positive, thanks to stable yarn prices. With a strong balance sheet and superior profitability catering to premier international and domestic clients. Its integration into knitted fabrics in the future is likely to boost margins.
That's all from our end folks! We hope you liked our weekend read. Stay tuned for the next blog and keep watching this space for our midweek and weekend editions of 'Trending Stocks". And, if you loved the way we represented Ambika Cotton Mills' story, show us some love by sharing it with your friends and family. Until then, take care and happy investing!