In today's blog we'll talk about Zee Entertainment Enterprises Ltd., which has been making headlines for quite some time now, and the happy love marriage between Zee and Sony which is about to happen, and try to find out why Invesco and OFI Global China Fund are unhappy about the same.
Let's get going.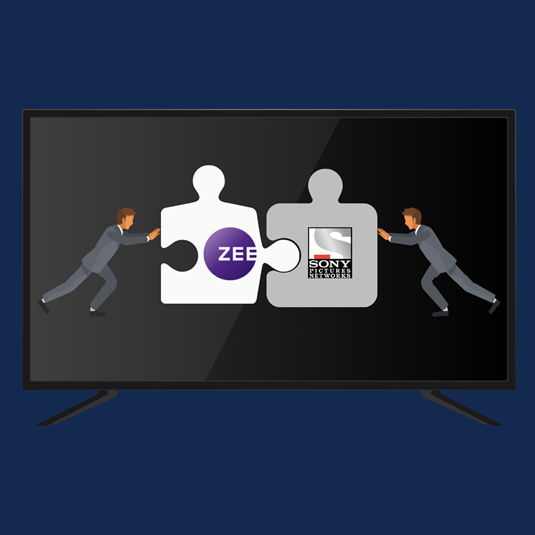 The History of Zee Entertainment
On the evening of September 13, two of ZEE's long-serving non-executive board members, Ashok Kurien and Manish Chokhani, resigned amid rumors that they were involved in insider trading. The following day, the company's largest shareholder, the US-based hedge fund Invesco Developing Market Funds (which owns 18.44 % of the company), called for an EGM to remove Punit Goenka and the 2 above-mentioned directors. Invesco also suggested appointing a few independent directors with the help of a resolution.
For the uninitiated, the story begins in 2019, when Essel Group was about to lose control of Zee Entertainment Ltd. (ZEEL) and started defaulting on some of its obligations. It was a time when the group's massive infrastructure investment backfired, leaving them with billions of dollars in unpaid loans secured by Zee's shares. To make matters worse, around the same time, Zee shares began to fall in value, and the collateral's value began to fall dramatically.
To pay off the loans, they had no choice but to sell those shares, and that's when Invesco stepped in to assist. They paid off their debts by selling their stock to Invesco. But, Invesco eventually became the majority shareholder, and Subhash Chandra, the group's billionaire chairman, lost control of Zee Entertainment Enterprises.
Zee Entertainment was still run by Essel Group. However, tax evasion, siphoning off funds to various promoter entities, and corporate governance issues began to emerge on a regular basis. This didn't go well with institutional investors.
So now we all know why the institutional investors wanted the directors to be removed from the board.
As of today's date, this is Zee Entertainment Enterprises Ltd. share price.
The Share Price Performance of Zee
If we look at the share price, in the last month the stock has rallied like crazy, giving an extraordinary return of 40% in one single day (14th September 2021) after the news surfaced that Invesco had called for an EGM to remove the MD Punit Goenka.
On 16th September 2021, the board of directors of the company strongly condemned the allegations made by certain proxy advisory firms against its former Non-Executive Directors, Ashok Kurien, and Manish Chokhani, who resigned just one day before the company's AGM.
While all this was going on, the company all of a sudden informed that for a potential merger, Zee and Sony had signed an exclusive non-binding term sheet. The combined company would be India's largest broadcaster, with significant strengths in Hindi and regional genres, as well as a presence in sports and digital.
The Deal
The Zee Board of Directors approved a non-binding term sheet from Sony Pictures Network India (SPNI) for a potential merger of Zee and SPNI (subject to due diligence and regulatory approvals) as follows:
Sony Pictures Network India will infuse a capital of US$1.575 billion; As a result, ZEE's initial shareholding percentage will be 47.07%, while SONY's will be 52.93%. The deal values Zee at Rs.250/share.
Sony Pictures Network India would be the Merged Company's promoter, with the right to nominate the majority of board members;
Punit Goenka would be the Merged Company's MD & CEO for five years, subject to approval; and
Sony Pictures Network India would transfer 2.1% of its Merged Company's stake to Zee's existing promoters as a non-compete fee. Punit Goenka and his family would thus own 4% of the Merged Company, with the option to increase their stake to 20% under applicable law.
Zee and Sony Pictures Network India have agreed to a 90-day binding exclusivity period.
How is the deal going to benefit both sides?
The deal would help Sony to become India's leading broadcaster, with a 30% viewership market share, creating a presence in Hindi and regional genres with Zee's existing portfolio of content as the latter is a strong player in Hindi & regional genres. The proposed deal has the potential to deliver a win-win solution for all stakeholders:
Sony Pictures Network India will achieve critical scale, execution, and portfolio strength to increase investments in OTT and sports genres; which will improve profitability and market share.
Punit Goenka can continue as MD & CEO with a non-compete fee that compensates for dilution and future stake increase opportunity.
Zee's minority: Re-rating driven by reduced governance concerns, merger synergies, and increased likelihood of success in OTT. The three key ingredients for OTT success are capital, content, and technology; The value of a media company is determined by its digital success.
The Road Ahead as per Zee…
The merger scheme will need to be approved by the NCLT, SEBI, CCI, and shareholders, according to Zee. The management estimated a completion time of 6-8 months. According to internal assessments, management does not anticipate any difficulties in obtaining CCI approval, assuming CCI considers market share at the national-level evaluation. The management doesn't know if it will go smoothly, but Merged Company can always divest or shut down a channel or two to meet CCI requirements if necessary.
How are things shaping up?
Invesco filed a complaint with the National Company Law Tribunal (NCLT) on Wednesday against Zee Entertainment Enterprises Ltd for failing to set a date for the extraordinary general meeting (EGM) to remove Zee's chief executive and managing director, Punit Goenka, from the board and reconstitute it.
The NCLT stated during the hearing of Invesco's appeal that Zee should call the EGM because it is the "mandate of the law." According to the tribunal, the decision to call or not call an EGM is not a discretionary power of the board.
The board asserts that it has no authority to refuse an EGM requested by shareholders holding one-tenth of the total shareholding.
Section 100 of the Companies Act of 2013 requires listed companies to announce an EGM date within three weeks of receiving a request from an investor holding at least 10% of the shares.
Why is Invesco in such a rush?
In reference to the mega-merger deal announced by ZEEL with Sony Pictures Networks India, the counsel for Invesco and OFI Global stated that they are concerned that the EGM call will be delayed until their shareholding is diluted. Furthermore, 1st October was the last working day before the 21-day deadline expires, and Zee has made no move to call an EGM, which must be held within 45 days with a 21-day notice period.
The Adamant Zee
A day after refusing to convene an EGM on the basis of its top investor Invesco's demand, Zee Entertainment moved the Bombay High Court on Saturday, requesting that the demand be deemed "illegal and invalid."
It seems like Invesco has some special alternative objectives in mind which it wants to fulfill through the help of EGM. The NCLT, which stated that the case would be heard again on October 4, stated that ZEEL's board must "comply with Section 100 of the Companies Act." "The board has no authority to deny the EGM," it stated again.
While we wait to see how things unfold after the hearing on 4th October, Till then, Stay tuned for the next blog and keep watching this space for our midweek and weekend editions of 'Trending Stocks". And, if you liked our blog, show us some love by sharing it with your friends and family.
Until then, take care and happy investing!