From acquainting the Indians with the universe of jeeps through their CJ jeeps to making the most secure and safe vehicles of India, the XUV series, Mahindra Group has made considerable progress since its origin.
There is only one motto the organization follows – "To Rise". The "Made in India" brand began its activity even before freedom and has been known for the creative methodology spread across more than 22 fields.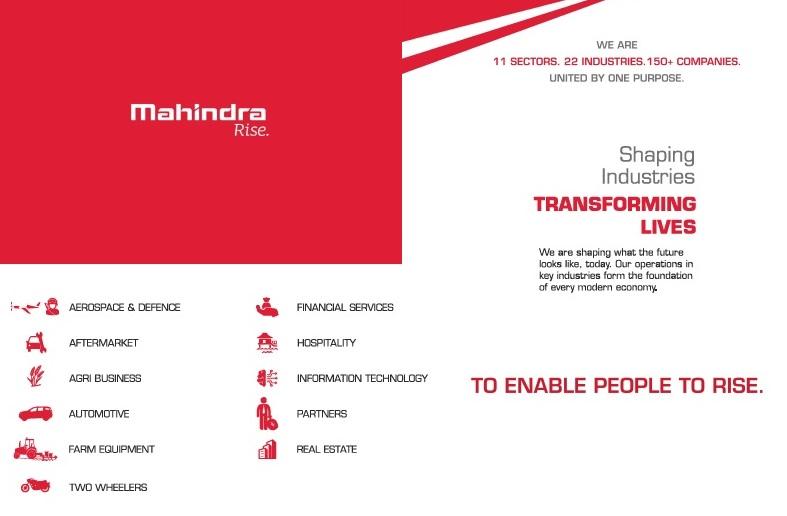 The History
In 1945, the Mahindra Group was incorporated as a steel trading company. The company was formed by J.C. Mahindra, K.C. Mahindra and Malik Ghulam Muhammad. Since then the company has diversified their presence in different industries over the years, and are now listed among the top business houses in the economy. This agenda and the corporate impetus have triggered their growth into a $20.7 billion multinational meeting with more than 180,000 workers in more than 100 countries across the globe.
The unified framework allows each organisation to chart its own future and at the same time control alliances over the skills of the entire community. The Mahindra brothers were early advocates of globalisation and partnered with a wide range of foreign companies. At its peak times, the reach of Mahindra expanded to shipping, telecoms, tractors, and more beyond steel.
Here is a glimpse of the main activities that contributed to the Mahindra Group's success.
In 1945, 'Mahindra and Mohammed' was established as a steel trading organisation.
In 1947, the Jeep hit the Indian stores with over 75 jeeps coming in from the Willys Overland Export Corporation, USA.
In 1948, 'Mahindra and Mohammed' was renamed to 'Mahindra and Mahindra' as Ghulam Muhammed became Pakistan's Finance Minister.
In 1950, M&M and Mitsubishi partnered for 5000 tonnes of steel for wagon building.
In 1955, the company went public and its shares were listed on the Bombay Stock Exchange in 1956.
In 1963, Keshub Mahindra was appointed the second chairman of the company.
In 1983, Mahindra became the largest selling tractor brand in India, and it's holding the position for three decades now.
In 1986, Mahindra entered the telecom IT services space through Mahindra British Telecom, a joint venture with British Telecom, UK – the company that later became 'Tech Mahindra'.
In 1991, Maxi Motors Financial Services Limited was established. Its name was changed to Mahindra & Mahindra Financial Services Limited later on.
In 1999, Mahindra & Mahindra Financial Services Ltd., which began operations in 1995, became a subsidiary of M&M.
In 2004, Mahindra Systems & Automotive Technologies (MSAT) Sector is set up
In 2008, Mahindra entered the two-wheeler segment and its automotive facility began in Pune.
In 2009, they entered into the Aerospace segment so as to diversify their segment line.
In 2013, Tech Mahindra and Mahindra Satyam were merged.
From a small-scale steel trading enterprise in 1945, the Mahindra group transformed into a multi-billion-rupee conglomerate in a small period of time. Strategic acquisitions—as many as 60 in the past seven years—in industries ranging from engineering and IT to aerospace and two wheelers were the main platform of the group's growth strategy. The group, meanwhile, plans to penetrate deeper into opportunities in sectors including rural transformation, urbanization, transport, tourism and leisure, digital transformation and security.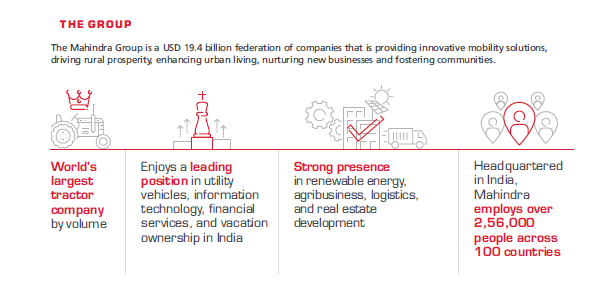 Major Business Segments
Some of the major company segments of the group are-
1. Mahindra and Mahindra Limited –
It is the flagship company of the Mahindra Group and is a supplier of mobility goods and agricultural solutions. From SUVs to hybrid cars, trucks, commercial vehicles, tractors, two-wheelers, and construction equipment, the company offers a variety of products and solutions. As of today's date, this is Mahindra and Mahindra share price.
2. Tech Mahindra Limited–
Tech Mahindra reflects the connected world, delivering information technology experiences that are creative and customer centred, allowing businesses, associates, and society to grow.  With 125,700+ professionals in 90 countries, the organisation is a 9 billion company that serves 941 global clients, including Fortune 500 businesses. As of today's date, this is Tech Mahindra share price.
3. Mahindra and Mahindra Financial Services Limited–
In the early 90s, Mahindra Finance started as a captive financier of Mahindra Utility Vehicles. The product portfolio includes the financing of cars, including the financing of passenger vehicles, utility vehicles, tractors, industrial vehicles and construction equipment, as well as the financing of pre-owned vehicles and SMEs. The business also undertakes the sale of mutual funds, fixed deposits and personal loans customised to meet its particular client set. As of today's date, this is Mahindra and Mahindra Financial Services share price.
4. Mahindra Holidays and Resorts India Limited –
It is part of the Mahindra Group's leisure and hospitality market, which provides quality family holidays primarily through participation in vacation ownership and brings values such as reliability, confidence and customer satisfaction to the industry. Club Mahindra Holidays, the company's flagship brand, which began in 1996, now has a fast-growing customer base of more than 220,000 members and 61+ resorts in some of the most exotic locations in India and abroad. As of today's date, this is Mahindra Holidays and Resorts India Ltd. share price.
5. Mahindra Logistics Limited–
With over a decade of experience, Mahindra Logistics Limited is a leading 3PL solutions provider. In our two distinct business segments, Supply Chain Management and Enterprise Mobility Solutions, we have a strong presence across the world. We have expertise in the supply chain to various vertical markets, such as automobiles, engineering, consumer goods, pharmaceuticals, telecommunications, and e-commerce. IT and Enterprise Mobility skills, ITeS, Engineering Company Consulting, Banking, Financial Services, and Insurance. As of today's date, this is Mahindra Logistics share price.
6. Mahindra Aerospace Private Limited–
It reflects the business interests of the Company in utility aircraft and aero structures. The aerostructures company is based in India, which uses state-of-the art equipment and systems to produce aerospace parts, and the aircraft business is based in Australia, which manufactures the utility aircraft Airvan 8.
Anand Mahindra – The Pioneer of Growth
The Chairman of the Mahindra Group and the Executive Chairman of Mahindra and Mahindra Ltd. is Mr Anand Mahindra. His presence has seen the Company grow into a number of large mechanical segments locally and internationally, from vehicles and agribusiness to IT and aviation. He is currently a member of Invest India's leading body, the National Investment Promotion and Facilitation Agency.
He was included in Barron's Top 30 CEOs Worldwide List (2016) and the rundown of the World's 50 Greatest Leaders by Fortune Magazine (2014). He was designated Knight by the President of the French Republic (2016) in the National Order of the Legion of Honour.
Key Achievements
World's largest Tractor Company by Volume.
India's No. 1 multi-brand certified used-car Company.
India's largest Rural Non-banking financial company.
India's largest Electric Vehicle maker.
India's largest 3rd party Logistics service providers.
Among India's top 5 IT service providers.
India's largest Utility Vehicle maker.
Only Indian team in Formula-E. (All-Electric Car Racing Championship)
Conclusion
The Mahindra Group is an organisation that focuses on long-term support and continued achievement in the external situation using the Strategic Key. It is the one that embraces innovative innovations and in addition, plans to deal with new goods on the market. Through its CSR programmes, the company has shown that, alongside its business motives, it stands for the social development of the country. In various segments, the organisation has a fair vision and shows dedication to the country.
The mission itself means that the society is not concerned about profits, but about the ability to grow. The Mahindra Group is an organisation that is regarded and trusted by its clients and is one of India's top companies.
Frequently Asked Questions
Who is Mahindra group owner?
Jagdish Chandra Mahindra, was the co-founder of Mahindra Group (Mahindra & Mahindra). His grandson, Anand Mahindra is the chairman of Mahindra Group.
Is Kotak Mahindra related to Mahindra group?
No, it is not related to Mahindra Group but in 1986, Anand Mahindra took a stake in the Kotak Capital Management Finance Ltd., and that is when the company's name was changed to Kotak Mahindra Finance Limited. Later in 2003, Kotak Mahindra Finance was converted into a commercial bank. Anand was a co-promoter of Kotak Mahindra Bank. In 2013, he ceased to be a promoter and stayed on as a non-executive director.
Watch the entire video on the Journey of Mahindra Group here:
Know more about Mahindra Group by using the Business Houses tab in the StockEdge Web
Business Houses are one of the paid tools offered by the StockEdge App
Check out StockEdge Premium Plans.