From demergers to unexpected acquisitions, the Indian stock market has witnessed a lot during this pandemic.
In this weekend's blog, we talk about the recent acquisition of 41% stake in Just Dial by Reliance Retail and try to understand the reason behind this deal and future prospects for the company.

On 16th July 2021, Reliance Retail said it has acquired 41% stake in Just Dial which offers local search and e-commerce services through its website, mobile apps and telephone line. And also it will make an open offer to acquire an additional 26% stake later for a consideration of ₹3,497 crore. There was a preferential allotment of 25.33% stake to RRVL for ₹2,165 crore. VSS Mani, who is the founder and CEO of Just Dial, will continue his leadership role, announced by both the companies in a joint press release. As of today's date, this is Just Dial share price.
What does Just Dial do?
The company generates revenue by selling listings to small and medium-sized businesses across the country. It provides local search-related services to users in India via multiple platforms such as desktop, mobile site, mobile apps, over the phone, and text."
The company has its own JD App, which is an All-in-One App, replete with features like Map-aided Search, Live TV, Videos, and News & Real-Time Chat Messenger, to make the life of the consumer infinitely smoother & more engaging. The company is running more than 457,360 active paid campaigns for paid advertisers and has 30.4mn listings. Its services connect sellers of products & services with potential buyers/ users.
Just Dial has also launched JD Omni, an end-to-end business management solution for SMEs, through which it intends to transition thousands of SMEs to efficiently run their business online and have adequate online presence via their own website and mobile site.
Apart from this, it has also launched JD Pay, a unique solution for quick digital payments for its users and vendors, and JD Social, its official social sharing platform to provide curated content on latest happenings to users.
It is present in more than 250 cities of India which covers more than 11,000+ PIN codes and ~9,400- member, strong sales force to cover majority of India, giving businesses an opportunity to connect with newer markets and customers all over the country.
How is the deal going to benefit both sides?
This seems a logical integration that brings a strong customer and vendor franchise to Reliance Retail. Just Dial currently has an average quarterly traffic of 12.91 crore users and lists over 30.4mn vendors and service providers. This is a priceless database that Reliance Retail can use.
This acquisition will strengthen Reliance Retail Venture Limited's digital ecosystem of MSMEs and partner merchants. One of RRVL's big plans is to use Google Cloud to connect customers, retailers, and wholesalers into a single, seamless chain. Just Dial customers and listings would naturally fit into the RRVL scheme of things due to their predominantly digital audience.
VSS Mani and family, who are the promoters, will see their stake in Just Dial reduced to approximately 10.35%, though VSS Mani will continue as MD and CEO of Just Dial to ensure continuity. The promoters, on the other hand, have a strong justification for the deal. It has built the database, and now the big challenge awaits, which is data monetization.
This required a large amount of capital infusion as well as an established business model, which Reliance Retail already has, that can leverage this data franchise automatically and seamlessly and help Just Dial to improve its JD Mart's content, help in developing end to end capability (by building tech, logistics, payment etc.), leadership team to monetize & develop better content.
Just Dial may have a 25-year history, but the true digital valuation advantage is in creating and leveraging the ecosystem, not in building the database.
Operational Highlights:
Operating revenue of ₹165cr in Q1FY22 decreased by 5.85% QoQ but marginally up by 1.83% YoY.
EBITDA stood at negative ₹17cr on a consolidated basis. It is down by 150% QoQ.
PAT for the recent quarter decreased to a loss of ₹4cr. A decline of 110% QoQ & 104% on YoY.
EBITDA margins has declined into negative territory.
PAT margins also witnessed a significant downtick from Q1FY22.
FY21 operating revenue stood at ₹675cr, showing a decrease of 21% YoY.
FY21 EBITDA at ₹155cr showed a significant de-growth of 43% YoY.
PAT in FY21 stood at ₹214cr, falling by 21% YoY due to reduced spending Business.
EPS in FY21 is 34.6 on a Trailing Twelve-Month basis. In FY20 EPS was 41.9, a decline of 18% YoY.
The company is net debt free.
Cash and investments stood at ₹1,572cr as of March 31, 2021, down just 1.2% year-on-year.
Total active listings stood at 3.06 crore as on 30th June 2021.
Traffic share for Q1 FY22: Mobile platform 84.1%, Desktop/PC 11.1% and Voice platform 4.8%.
In FY21, the majority of traffic came organically (without advertising).
Total traffic (unique visitors) stood at 12.4 crore users for Q1FY22.
Just Dial's Financials
Future outlook:
In years ahead, this platform would generate two streams of revenue- subscription revenues & transaction linked revenues.
Management's focus on marketing, mindshare gain, and curated content helped to revive growth.
Growth in overall listings will be sustainable ahead.
Paid campaigns have also gained traction along with healthy growth traffic on its various platforms.
The Company is looking to expand the services that it provides and leverage consumer engagement to entice more SMEs to join their platforms.
Management Update:
IPL 2021 campaign has resulted in great branding and awareness about JD Mart among businesses.
Advertising spends resumed/accelerated from Mar-Apr 2021 in order to promote our newly launched B2B platform, JD Mart.
Plans to give a 30-day or 60-day free trial to customers.
Key Risks:
Increasing competition in internet space could lead to significant market share loss to vertical focused classified players.
Slower than expected growth in paid campaigns and traffic.
Higher than expected advertising spend adversely impacting margin performance.
Significant decline in realizations due to low penetration in the Tier-2 & 3 cities.
Technical View
Rising channel break down clearly visible in the daily time frame with sharp negative trading and closing. Technically all the indicators RSI – MACD – BBW are showing weakness where DMI is flattish. Further weakness below 50MA :958 -955 zone having high possibility extend underlying negative sense . Any bounce back above 1015 can try to gather positive strength to achieve 1045-1050-1075. From daily perspective momentum clearly on the negative side .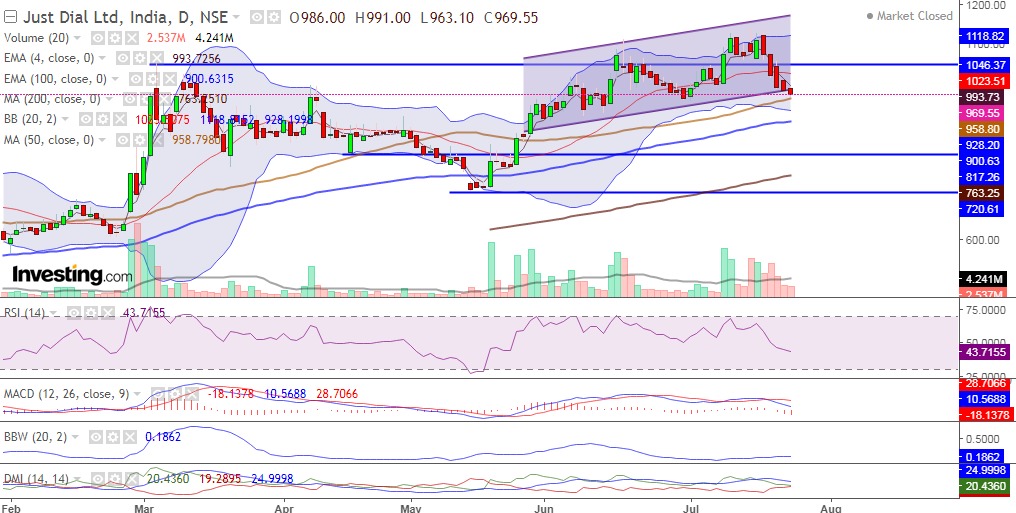 Conclusion:
The number of digital consumers is rising, with mobile data services being made available and affordable to a large segment of people even in rural areas presenting an opportunity for the company to grow its user base. Additionally, India is the fastest growing market for digital consumers enabling the company to entice SMEs to reach out to these potential customers by leveraging the company's services.
Paid Advertisers pay a fixed fee to run searched advertising campaigns for their businesses on Just Dial's platforms. Various premium & non-premium listing packages available & multiple factors determine pricing, such as business categories of advertiser, geographies targeted, type of package. Advertisers can pay amounts either upfront or through monthly payment plans, with ability to manage campaigns online. This prepaid model signifies a stable revenue visibility to a significant extent & scalable at different levels through penetration into untapped markets.
With lockdown easing and impact of COVID-19 abating post the first wave, monetization had been on an improving trajectory with Q4FY21 monetization stood at ~85% of pre-COVID levels. In the long term, Just dial's JD and JD Mart platforms are likely to be key beneficiaries of rising internet adoption among SMEs to take their business online to get customers and to also run their business efficiently via use of technology.
The company is registering healthy growth in paid campaigns and overall traffic which are the main revenue drivers. Further, the company has introduced various new features to enhance an offering which is expected to help in enhancing performance.
Know more about Just Dial Ltd. and its peers by using the Sectors tab in the StockEdge Web
Check out StockEdge Premium Plans.
Disclaimer: This document and the process of identifying the potential of a company has been produced for only learning purpose. Since equity involves individual judgments, this analysis should be used for only learning enhancements and cannot be considered to be a recommendation on any stock or sector.
Read more blogs on StockEdge blog section.