Today, StockEdge wants to share its insights on the remarkable journey of a US$ 250 company to a US$72.2 billion company. Finding the numbers fascinating? Indeed they are as much as the company. Yes, we are talking about the one and only Infosys Ltd.
Infosys Ltd. is an Indian multinational corporation founded in 1981 by N.R. Narayana Murthy, engaged in consulting, technology, outsourcing, and next-generation services. It has a presence in more than 46 countries with respect to 39 years of industry presence and experience.
After reaching its 52W Low of Rs.509.25 on 19th March 2020, the company made a whopping comeback of 173% returns as of 13th January 2021 by hitting its 5-year high of Rs 1392.80. Currently, it is trading at 1260-1270 levels. As of today's date, this is Infosys share price.
Want to check the charts and technical levels of Infosys Ltd in a more detailed manner, go to web.stockedge.com
Headquartered in Bangalore, it is the second-largest Indian IT company. Its segments are Financial Services and Insurance (FSI), Manufacturing and Hi-tech (MFG & Hi-TECH), Energy & Utilities, Communication and Services (ECS), Retail, Consumer packaged goods and Logistics (RCL), and Life Sciences and Healthcare (LSH).
The company has also forayed into the business process management services through its subsidiary, Infosys BPO Ltd.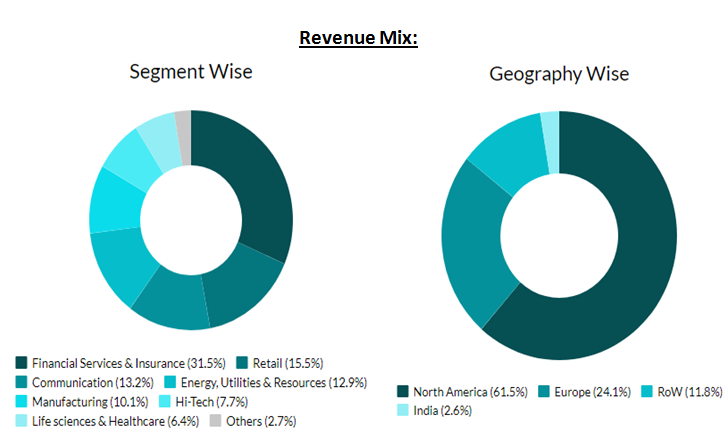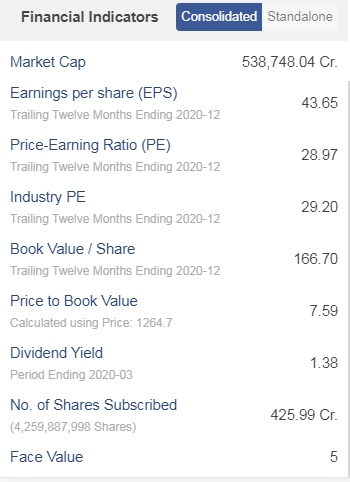 Operational Highlights:
• In Q3 FY21 Infosys Ltd reported a net sales of Rs.25, 927 crore, a growth of 12.27% YoY.
•Growth was witnessed across all the major segments.
• EBITDA was Rs. 7,415 crore, a growth of 27.82% YoY. EBITDA margin was 28.60%, an expansion of 348 bps YoY.
• PAT was Rs. 5,215 crore, a growth of 16.77% YoY.
• Continued strong Q3 free cash flow at Rs 5,683 crore, growth of 19.4% YoY.
• Q3 FY21 voluntary attrition for IT services declined to 10.0% from 15.8% in Q3 FY20.
• Large deal TCV (total contract value) was at an all-time high of $7.13bn with 73% being net new deals. Thus, providing revenue visibility. The new client partnerships with leading global companies such as Vanguard, Daimler, and Rolls-Royce, demonstrate the depth of digital and cloud capabilities of the company.
To study more reports and get more infographics on Infosys Ltd, Kindly go to web.stockedge.com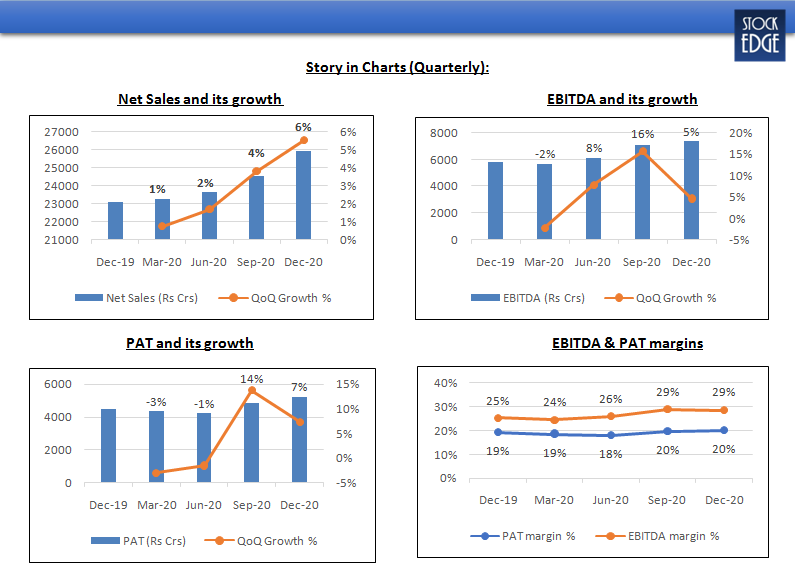 Future Outlook of Infosys Ltd:
• For FY21, the revenue growth guidance increases to 4.5%-5% in constant currency and the operating margin guidance increases to 24%-24.5%. This was on the back of continued strong performance, solid deal wins, robust deal pipeline, acceleration of spending on digital transformation, and improving demand environment in large verticals.
• The company should be a key beneficiary of a recovery in IT spending in FY22, given its capabilities around Cloud and Digital transformation.
• In the next four to five years, most companies are expected to migrate to the cloud, and the use of Artificial Intelligence (AI) will gain momentum. Therefore, digital, large deals, client mining, and opening of new accounts are expected to be key revenue drivers.
   The company is also partnering with public and private cloud players like AWS, Google, Azure, Nutanix, VMware, and SAAS/APP players like SAP, Adobe, and Oracle to further strengthen its cloud capability.
• Additionally, the management has highlighted cost measures, which it will undertake to improve profitability viz. 1) optimizing onsite/offshore mix & nearshoring, 2) improving onsite and offsite pyramid, 3) automation, 4) rationalizing subcontracting cost and 5) improving digital value.
•The management is seeing demand coming in from cost takeout deals and large enterprises looking to invest in Digital infrastructure. Its capabilities around Digital, Automation, and efficiency have become key.
• The company completed three acquisitions in the last year; and continues to look for more opportunities to further enrich its Digital offerings.
•No weakness in Q4 FY21 is expected by the management. However, some seasonality would keep the momentum low.
•Key risk: rupee appreciation and/or adverse cross-currency movements; slackening pace in deal closures; constraints in local talent supply in the US would affect earnings.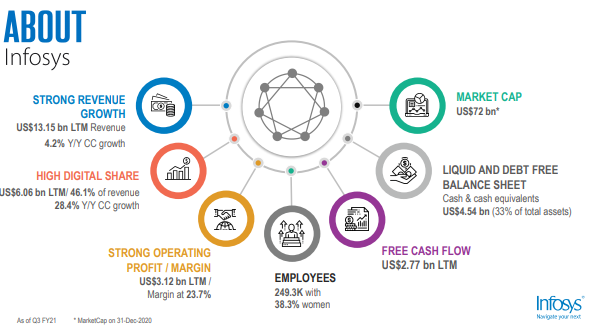 Read our latest article on A Beginners Guide to Thematic Funds
StockEdge Technical View:
Infosys Ltd is consolidating right above the support zone in the daily chart and is likely to stay positive till the stock stays above the 1230-1245 zone. Probable resistance in the short term comes at the 1310-1320 zone. Technical parameters look neutral as of now and suggest range-bound trading till the stock stays in above mentioned support and resistance zone.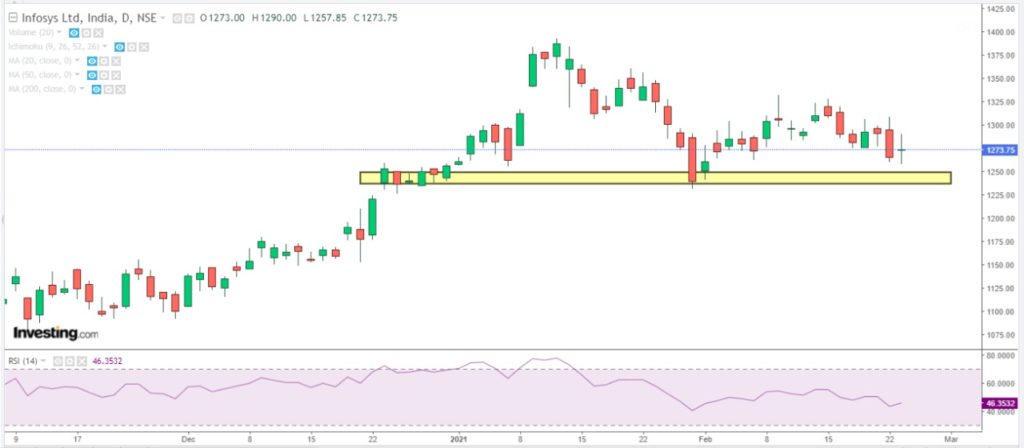 Bottom line:
The company will maintain its strong position in the Indian IT services sector and its robust financial risk profile and liquidity over the medium term.
The management believes that the company is gaining market share as most of the clients look to consolidate their positions. It is optimistic of the company's performance and therefore has increased its revenue and margin guidance for FY21.
A robust pipeline, large deals, and higher utilization should improve the company's growth prospects over the medium term. Additionally, higher investment in IT and digital transformation should support the company's performance further.
However, the management expects some cost to return as travel resumes and the situation normalizes. Normalization in utilizations can also be expected.