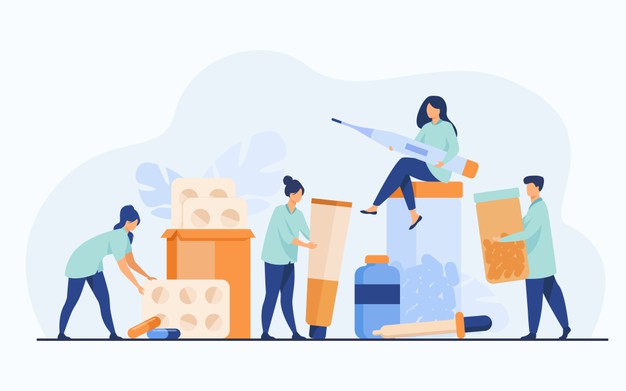 The Story of Biocon Limited
Established in 1978 with an initial seed capital of Rs 10,000 (US$ 140). Papain, an enzyme contained in papaya that is used to prevent beer from being hazy, was Biocon's first product to go on the market. The company named Biocon Limited combined enzymes and supplied them to brewing, textiles, biofuels, animal feed, and other such industries around the world until 1983. As of today's date, this is Biocon India share price.
Kiran Mazumdar Shaw started Biocon India in the garage of her rented house in Bangalore.
It became the first company in India to be able to produce enzymes and export them to the United States and Europe within a year of its founding, overcoming all the major challenges.
She listed Biocon Limited on the stock market in 2004, after seeking advice from Narayana Murthy, to raise capital to be able to further expand Biocon's research programs. It was India's first biotechnology company to go public.
Today, Biocon Limited is an integrated innovation-led biopharmaceutical company engaged in discovering, developing and producing biologics in chronic therapies. Key products include statins, immunosuppressants anti-diabetic drugs and specialty enzymes.
Biocon has shaped its business into 4 key growth verticals with the aim to deliver sustainable long term value for patients, partners and healthcare across the globe-biologics, branded formulations, small molecules and research services.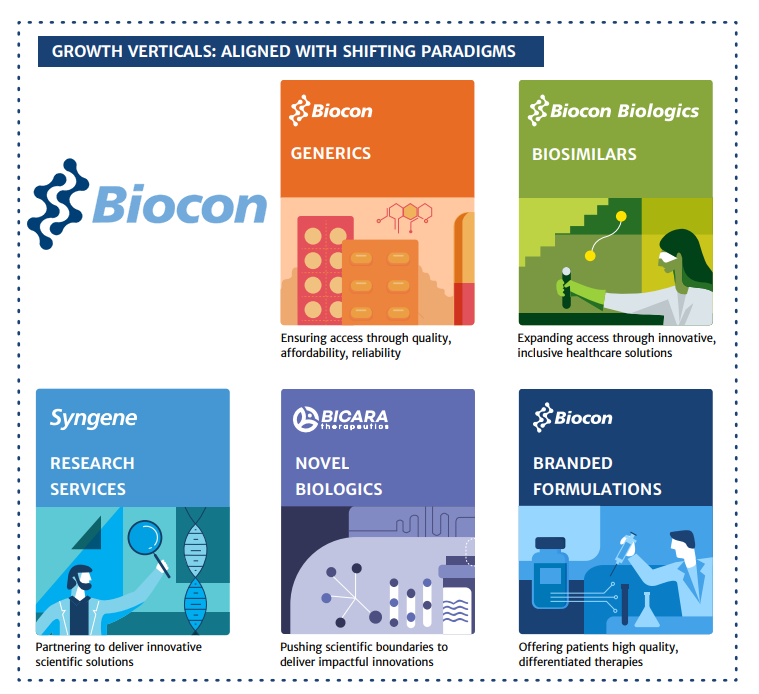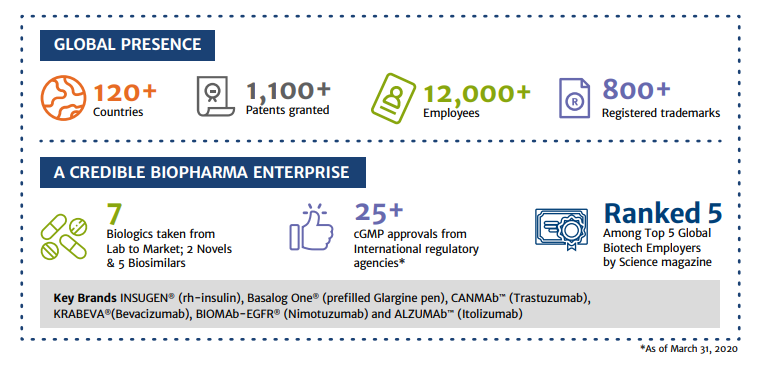 Building on core expertise in APIs, the company forward integrated into Generic Formulations for both developed and emerging markets, a few years ago. To stay abreast of the ever-growing competition in the generics business, Biocon has chosen to focus on niche therapeutic areas such as oncology, diabetes, autoimmune diseases and immunosuppressants over the next few years. Initially, the product selection was focused on leveraging supply reliability due to vertical integration in the chronic space of cardiovascular drugs and other chosen therapeutic areas.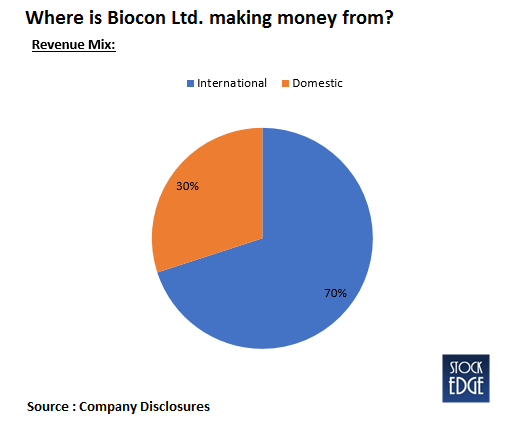 Operational Highlights of Biocon Limited
The revenues grew during Q3FY21 to Rs.1851 cr as compared to Rs.1717 cr in Q3FY20. For the Generics segment, the revenue stood at ₹561 crore in Q3 and declined by 6.3% QoQ
The EBITDA declined to Rs.399 cr in Q3FY21 as compared to Rs.444 cr in Q3FY20. The company had an expense of Rs.183 crore on account of research & development and employee costs during the quarter.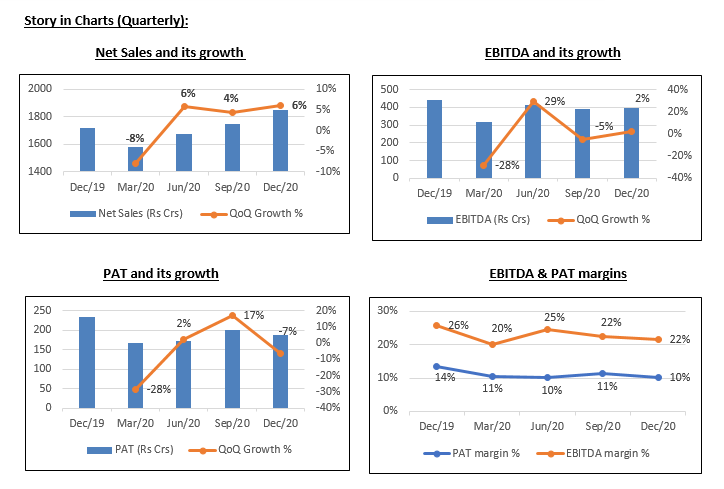 The PAT declined at Rs.187 in Q3FY21 as compared to Rs.233 cr in Q3FY20.
Abu-Dhabi based, Abu Dhabi Developmental Holding Company (ADQ) would invest ₹555 crore for a minority stake of 1.8% in Biocon Biologics. The valuation of Biocon Biologics post investment would be $4.17 billion.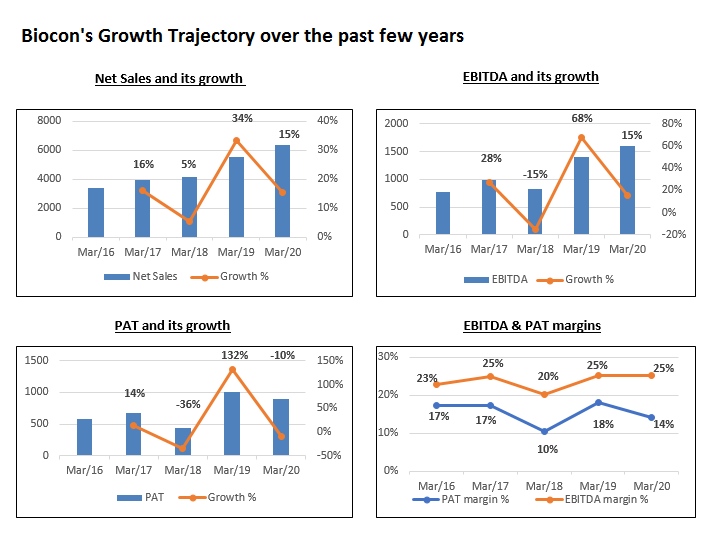 Future Outlook
The management is sticking to the earlier revenue target of USD 1 bn by FY22 for biologics business on back of the current portfolio as well as the forthcoming launches.
It received approval from the National Pharmaceutical Regulatory Agency (NPRA), Malaysia, for Insulin Aspart and Bevacizumab.
The Research Services increased by 12.5% QoQ to ₹585 crore during the quarter. Syngene entered into collaboration with 3DC (Deerfield Discovery and Development) and expanded Hyderabad facility by adding capacity for additional scientists.
Management Update
The manufacturing capacity of Insulin in India & Malaysia has the dimension to support demand of developing as well as emerging market segments. Its entry into countries like Japan and Russia was impacted by Covid-related challenges, such as delays in good manufacturing practice (GMP) audits.
Goldman Sachs did a capital injection of $150 million in exchange for optionally convertible debentures of Biocon Biologics.
Over 100 patients, out of a total of 300, were enrolled in Phase 4 clinical studies for Itolizumab in treating CRS (cytokine release syndrome) in moderate to severe ARDS (acute respiratory distress syndrome) due to Covid.
Read our latest article on Vinati Organics Limited – Shaping a Reliable Future
StockEdge Technical View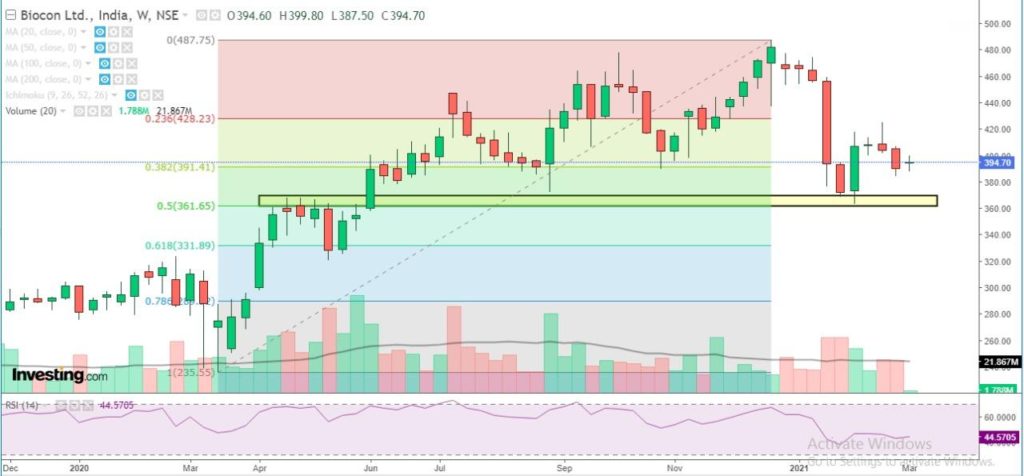 Biocon has a strong support at 365-370 zone and likely to stay positive in the medium term till the stock holds above support zone. Weakness to get extended only below 360 level. Probable resistance in the medium term comes at 450 level. Technical parameters look neutral as of now.
Bottom Line
Biocon Limited continues to diversify its portfolio with launches of Pegfilgrastim and Trastuzumab in the US market with its partner Mylan. Company has also received the approval for Trastuzumab and Insulin Glargine and is all set to enter in Latin America and commonwealth independent states, and commenced supply of Insulin Glargine in Malaysia. Company also filed for three APIs in the key regulated market. Timely launches and ramp up of biosimilar in the developed as well as EMs and Syngene's performances remain key levers for the company.
New products launches and smooth operation ahead amidst US FDA approval for most of the facility should support longer-term earning growth prospectus. Also, the Branded formulation and Biologics segment (impacted by COVID-19) should recover gradually. Biocon Limited has a strong pipeline of biosimilars to be launched over the next 3-5 years across various markets. Despite the competition, the biosimilar products have good potential to gain market share from its peers based on its track record. The CEO of the Biologic division has stepped down.
Click here to know more about the Premium offering of StockEdge.
You can check out the desktop version of StockEdge using this link.