Established in the year 2000, Indiabulls is a diversified financial services group with interests in housing finance, consumer finance and personal wealth. A subsidiary of Dhani Integrated Services is Dhani Loans and Services Limited which is a personal finance company – a digital end to end personal loan fulfilment company.
One of India's first online brokerage companies, Indiabulls Group was founded by Mr. Sameer Gehlaut, who holds a BTech degree in Mechanical Engineering from the Indian Institute of Technology in 1995.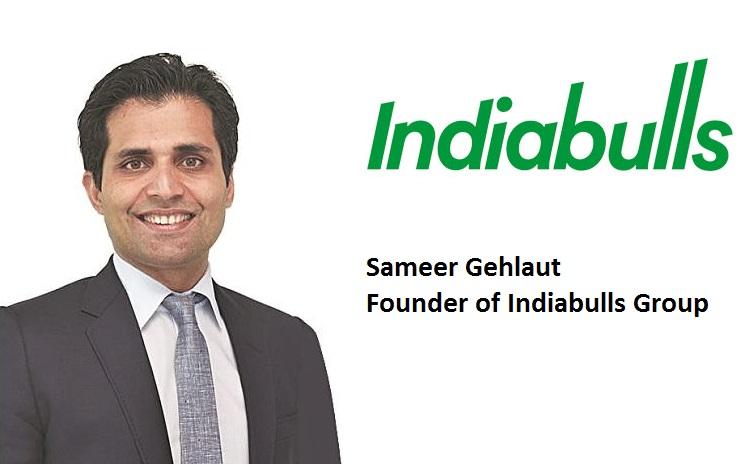 In 2004, Indiabulls Financial Services raised Rs.52 crore through IPO to start its lending business.
In 2006, the group PAT crossed Rs.100 Cr, and net worth crossed Rs.1000 Cr. IBREL, IBSFL and IBSL were demerged and spun off from IBSFL.
In 2008, IBFSL loan assets crossed Rs.10, 000 crore.
In 2011, IBREL purchased Indiabulls Blu from National Textile Corporation for ₹1,505 crore and the group profit after tax crossed ₹1,000 crore.
In 2013, IBFSL reverse merged into IBHFL and the group profit after tax crossed ₹1,500 crore.
In 2015, the net worth was more than ₹19,500 crore with group profit after tax crossing ₹2,300 crore.
In 2016, the group net worth was more than ₹19,800 crore and the group PAT crossed ₹2,700 crore. In the same year, IBHFL raised Rs.4000 Cr through QIP.
In 2018, IBHFL serviced 1 million customers and was ranked as the 13th largest consumer financial services globally by Forbes 2000 global.
In 2019, Dewan Housing Finance Limited (DHFL), a non-banking finance company was sent to the bankruptcy tribunal by the Reserve Bank of India. Because of this, IHFL's business was hugely impacted. DHFL had entered into an arrangement for assignment of loans with Indiabulls Commercial Credit Ltd. and Indiabulls Housing Finance Ltd. for a consideration. As per the arrangement, the Indiabulls entities became assignee of the loans and DHFL ceased to hold any rights in such loans after the assignment. The non-bank lender continued to act as a collecting agent for the two Indiabulls entities.
The major company segments in Indiabulls Group are:
Dhani Services Limited – Formerly known as Indiabulls Ventures Limited (IBVL) has presence in consumer lending, asset reconstruction and capital market business. It is a growing financial services company. Through its subsidiary Dhani Loans and Services Limited, formerly Indiabulls Consumer Finance Limited (IBCFL), the company provides personal loan offerings. Finding a sweet spot in the lending business backed by a future ready digital offering for today's consumer, Indiabulls Dhani is a mobile and web-based loan fulfilment application. It has been developed to cater to the aspirational needs of the everyday Indian by offering quick and convenient personal financing solutions. IBCFL launched Indiabulls Partner, a platform wherein agents can refer Indiabulls Dhani to potential customers and earn commissions, to further expand its network. As of today's date, this is Dhani Services share price.
Indiabulls Housing Finance Limited (IBHFL) – It is regulated by the National Housing Bank (NHB). It has a nationwide presence and continues to reach out further with eHome Loans – an online home loan fulfilment platform. It offers competitively priced home loans in the affordable housing segment. The primary goal of the company is to ensure a superior home buying experience to its customers and to make housing finance more affordable and viable by contributing to the ecosystem that supports it.
Indiabulls Real Estate Limited (IBREL) – With a diversified presence in both commercial and residential real estate development, the company has projects across the price spectrum, from mid-income, premium to the super luxury space. As of today's date, this is Indiabulls Real Estate share price.
Yaari Digital Integrated Services Limited – Formerly known as Indiabulls Integrated Services Limited or SORIL Holdings and Ventures Limited directly and through its subsidiaries, is engaged in providing management and maintenance services, construction advisory and other related services, charter business of aircraft, trade in all kinds of sculptures, paintings and art graphics, etc. They are now focused on distribution of digital loan products. As of today's date, this is Yaari Digital Integrated Services share price.
SORIL Infra Resources Limited – The Company (formerly Indiabulls Retail Services Limited) is a pioneering infrastructure development enabler, with the goal to increase the speed, smoothness, and profitability in project planning and execution. The three core products include Equipment Renting, Management and Maintenance of Real Estates and Assets and Consultancy.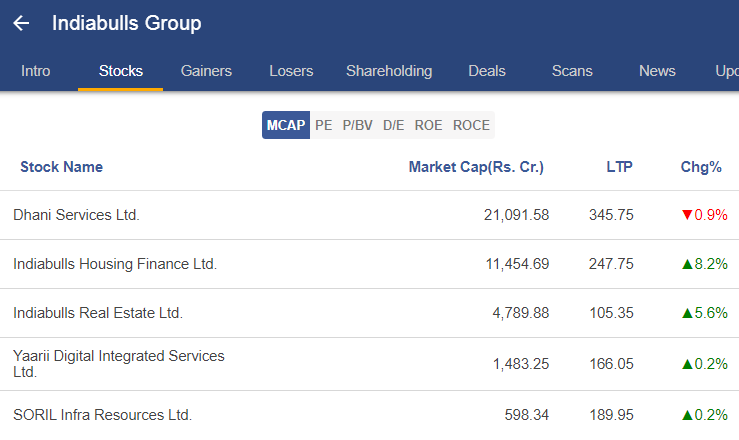 The Indiabulls Group has a strong focus on technology and customer, ensuring that all of its companies are in line with the Group's principle. All of its products and offerings are designed to ensure that convenience and simplicity are the primary experience for customers.
Among its leading companies, Indiabulls Housing Finance, which is the Group's flagship company, is rated AA by leading credit rating agencies, including CRISIL & CARE.
In 2020, Indiabulls Real Estate and two subsidiaries of Embassy Group entered into a definitive agreement to merge their residential and commercial projects across markets to create one of the largest property development platforms in the country.
Through customer-focused solutions and improved service standards, it strives to be the referred housing finance partner for Indian home buyers. It wants to grow its Dhani customers from 5 million to 20 million in FY21.
Read our latest article on Biocon Limited – Transforming Healthcare. Transforming Lives
Watch the entire video on the Journey of Indiabulls Group here:
Know more about Indiabulls Group by using the Business Houses tab in the StockEdge Web
Business Houses are one of the paid tools offered by the StockEdge App
Check out StockEdge Premium Plans.