Dixon Technologies – The TV Manufacturing Company
Many a times, we all have heard these quotes that 'Actions speak louder than words', 'Facts and Figures speak for itself', but we never came across such examples that could live up to the core meaning of the above mentioned quotes but after reading today's insight, we will get a clear depiction of the truest meaning of these words.
Yes today we will be talking about the journey of a colour TV manufacturing company of 1994, how it became the leading electronic services and products manufacturer of 2020. The journey of being the fifth largest company in Consumer Durables Sector in terms of Market Cap, the journey of delivering 697% return to its shareholders from its listing price of Rs.2725 (18/09/17) to Rs.19006.25(08/03/21) i.e in just 3 and a half years. Stories are unlimited but the name is only one – Dixon Technologies Limited. As of today's date, this is Dixon Technologies share price.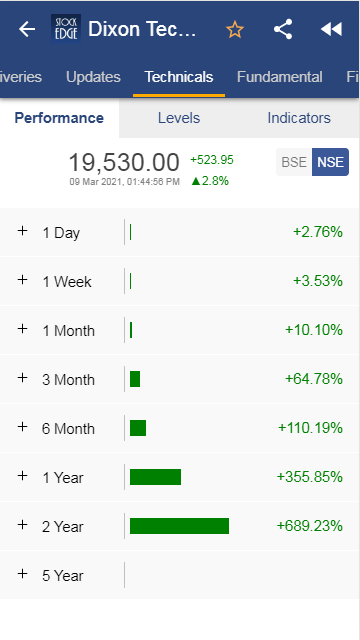 Dixon Technologies (India) Limited is one of the largest home grown design-focused and solutions company engaged in manufacturing products in the consumer durables, lighting and mobile phones markets in India.
The company has a fully integrated end-to-end product and solution suite to original equipment manufacturers ("OEMs") ranging from global sourcing, manufacturing, quality testing and packaging to logistics. It is also an original design manufacturer ("ODM") of lighting products, LED TVs and semi-automatic washing machines in India. As an ODM, it develop and design products in-house at its R&D center.
Dixon Technologies manufactures and supply these products to well-known companies in India who in turn distribute these products under their own brands. The diversified product portfolio includes Consumer electronics like LED TVs ,Home appliances like washing machines, Lightning products like LED bulbs and tubelights, downlighters and CFL bulbs, Mobile phones like feature phones and smartphones, Security Surveillance Systems like CCTV and DVRs.
To know more about this company and increase your understanding about fundamentals of the company, Click Here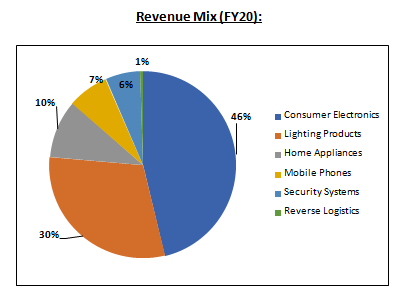 Operational Highlights of Dixon Technologies Ltd.:
Net Sales during Q3 FY21 was Rs. 2,182.78 crore, a growth of 119.64% YoY.
Segment wise revenue performance:
(I) Consumer Electronics – Rs. 1359.83 crore, a growth of 199.36% YoY. Consumers are preferring large sized TVs (from 32-inches sets to 43-inches sets) leading to higher realisations.
(II) Lighting Products – Rs. 348.61 crore, a growth of 26% YoY. The sales growth exceeded the pre-Covid levels during the quarter.
(III) Home Appliances – Rs. 115.18 crore, a growth of 68.41% YoY.
(IV) Mobile & EMS Division – Rs. 299.17 crore, a growth of 114.40% YoY. Growth was on the back of strong sourcing from it's anchor customer and sharp ramp up in set top box sales.
(V) Security Systems (50%) – Rs. 55.53 crore, a growth of 10.35% YoY.
(VI) Reverse logistics – Rs. 4.5 crore, a decline of 2.2% YoY.
EBITDA was Rs. 100.50 crore, a growth of 95.03% YoY. EBITDA margin was 4.60%, a contraction of 58 bps YoY. Margins contracted due to adverse sales mix, rising commodity prices and freight costs.
PAT was Rs. 61.59 crore, a growth of 134.18% YoY.
It expanded its home appliance capacity in Dehradun from 1.2 million units to 1.6 million units. The capacity from it would be ~6 lakhs per year. The cash balance for Q3 FY21 was Rs.151 crore.
Future Highlights of Dixon Technologies Ltd:
The management expects to end FY21 with revenue of Rs.6200-6300 crore. It targets to achieve revenue of Rs. 10,000 crore in FY22. Consumer electricals are likely to see revenue of Rs. 3500 crore and Rs. 4000-4500 crore from the mobile segment in FY22.
As a strategic step, the company would explore opportunities in backward integration of mobile phone chargers, battery packs and mechanics. It has also forayed into the wearables market (Rs. 5000 crore market size) post tie-up with Boat and has received initial orders for 10,000 units.
The company through its 100% subsidiary Padget Electronics) tied up with Nokia and Motorola for their smartphone manufacturing under the PLI scheme. Commercial production for Nokia smartphones has commenced while for Motorola it would start from March 2021. Dixon aims to achieve smartphone capacity of 20 million in the next few years.
Dixon Technologies will continue to focus on the capacity expansion of the various verticals, deepen the relationship with the customers and increase the backward integration process in its various segments during the year. This will help the company increase the customer base and increase the revenues.
StockEdge Technical View
Dixon Technologies is consolidating in a rectangle pattern in the daily chart with lower support at 18300 and upper resistance at 20300. Next leg of move to take place above swing high of 20500 level. Technical parameters look neutral as of now. Fresh momentum in the stock to be seen above the breakout level.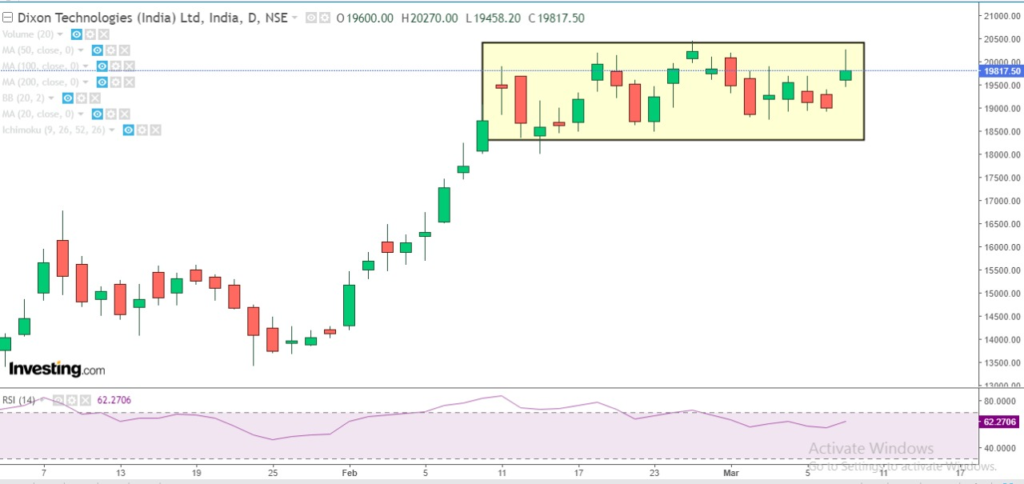 Read our latest article on Indiabulls Group – Enabling Growth, Enabling Trust
Bottom line:
The Company's growth outlook over the next few years remains robust led by
(1) Mobile Phone PLI revenue booking from Q4 FY21 (with Motorola and Nokia as clients)
(2) Value and Volume growth in LED TV
(3) International Business Opportunities in Lighting
(4) Foray into new verticals (fully automatic top-load washing machine, set-top boxes, medical electronics, wearables)
(5) Further diversification prospects through upcoming PLI (Production Linked Incentives) schemes (IT products like laptops and tablets).
These growth drivers are further strengthened by leading positions in its key product segments (like LED television, lighting, etc.), well-established relationship with reputed clientele along with healthy return ratios.
Know more about Dixon Technologies Ltd and its peers by using the Sectors tab in the StockEdge Web
Check out StockEdge Premium Plans.