Home First Finance is a technology driven affordable housing finance company that targets first time home buyers in low and middle-income groups. It primarily offers customers housing loans for the purchase or construction of homes, It also offers other types of loans comprising loans against property, developer finance loans, and loans for the purchase of commercial property. The Net Proceeds of the Fresh Issue are proposed to be utilized for increasing the company's Tier I capital base. As of today's date, this is the share price of Home First Finance Company India Ltd.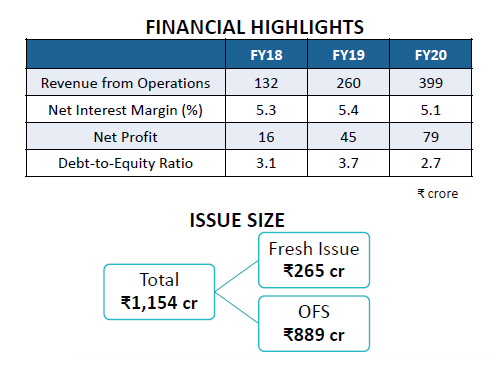 As of September 30, 2020, Home First Finance had a network of 70 branches covering over 60 districts in 11 states and a union territory in India, with a significant presence in urbanized regions in the states of Gujarat, Maharashtra, Karnataka and Tamil Nadu.
Gross Loan Assets (GLA) represents the aggregate of current principal outstanding and overdue principal outstanding, if any, for all loan assets under management which includes loan assets held by the company as of a relevant period as well as loan assets which have been transferred by the company by way of assignment and are outstanding as of the last day of the relevant year or period.
As of September 30, 2020, it's Capital to Risk Assets Ratio
(CRAR)-Tier I capital was 50.40%.
It has leveraged technology in various facets of business such as processing loan applications, managing customer experience and risk management.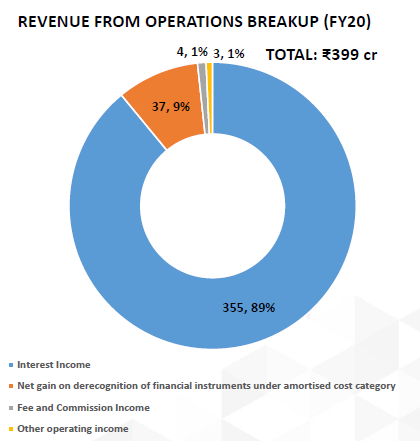 Home First Finance categorizes its branches into large branches, mid-sized branches and small branches, on the basis of the GLA of each branch, and tracks key performance indicators such as growth of GLA and disbursements per branch to determine branch productivity. As of September 30, 2020, it had 21 large branches operating with an average GLA of ₹105 crore, 21 mid-sized branches operating with average GLA of ₹50 lacs, and 28 small branches operating with average GLA of ₹16 crore.
Customers from the low and middle-income groups accounted for 71.7% of our GLA, while 32.8% of our GLA were from customers new to credit, as of September 30, 2020.
Read our latest article on Tata Metaliks Ltd. – Building a smart future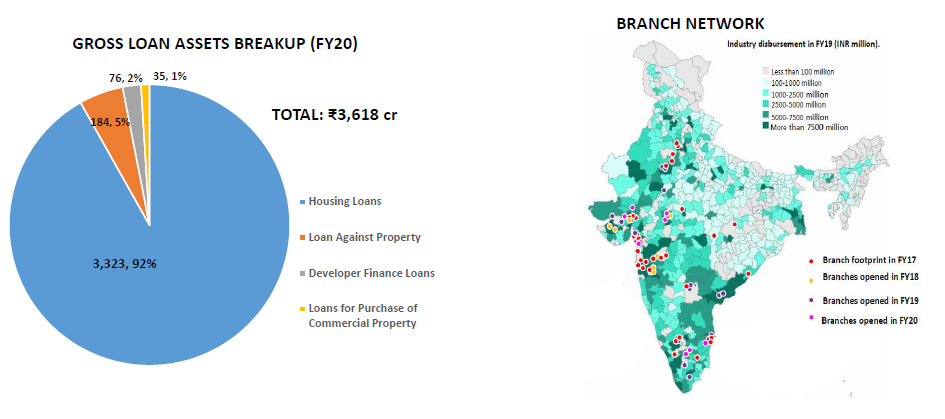 Sector Outlook
The Indian housing finance market experienced growth in housing loans outstanding of ~16% over FY15-20 on account of a rise in disposable income, healthy demand and a greater number of players entering the segment.
CRISIL Research estimates the total housing loan outstanding of ₹20.4 trillion in FY20. Growth in the total housing loan outstanding declined in FY19 and FY20 due to slow growth of the HFCs post the IL&FS default and the economic slowdown.
Over the last couple of years, the housing finance sector has been facing distress after the Diwan Housing Finance fiasco and concerns around asset-liability mismatch.
India's mortgage market can broadly be divided into two segments by ticket size of the housing loan at the time of disbursement – loans with ticket size of more than ₹25 lacs and loans with ticket size of ₹25 lacs and below. The former can be defined as "normal mortgage loans", which is prominent in the metro and urban areas, and the latter, which generally includes outskirts of these areas and semi-urban and rural areas, can be defined as "affordable housing loans".
Affordable housing loans outstanding grew at a CAGR of approximately 12% over FY15-20, on account of the Government's increased focus on the affordable housing segment. The growth reduced to approximately 6% (YoY) in FY20 due to the economic slowdown. While there was a sharp decline in disbursements in April and May due to the lockdown, the demand for housing loans improved in the second quarter of FY21.
CRISIL Research expects the overall affordable housing loans outstanding to grow at a CAGR of 6% to 7% (YoY) in FY21 and at 9% to 10% over FY20-23, primarily on account of expected recovery in economic activity, increase in finance penetration and favorable government and regulatory support to promote the affordable housing finance industry.

Promoter Background and Shareholding
Home First Finance was founded by Jaithirth Rao, P. S. Jayakumar and Manoj Viswanathan commenced operations in August 2010.
Home First Finance is a professionally managed company and its Promoters are True North Fund V LLP and Aether (Mauritius) Limited.
Further, Bessemer (~10%) and Orange Clove Investments B.V. (An affiliate of Warburg Pincus, a global private equity investor) (~24%), have acquired a stake in the company. It expects to continue to benefit from strong capital sponsorship and professional expertise of its marquee shareholders.
The promoters hold a total of 52.85% which is further distributed
•TrueNorthVLLP (31.74%)
•Aether (21.11%)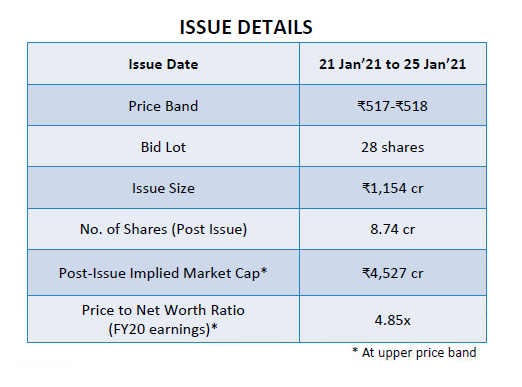 To know whether to invest or not in the IPO of Home First Finance Company India Ltd, Read the detailed report on the StockEdge website by clicking here
Disclaimer:
This document is published for learning purposes only and nothing contained herein shall be construed as a recommendation on any stock or sector.