Established by Lovji Nusserwanjee Wadia in 1736, the Wadia Group is India's one of the oldest conglomerates which was opened as a Marine Construction organization that fabricated boats for the British.He secured contracts with the British East India Company to build ships and docks in Bombay in 1736. He was one of India's first ace shipbuilders and a pioneer of the worldwide boat building industry.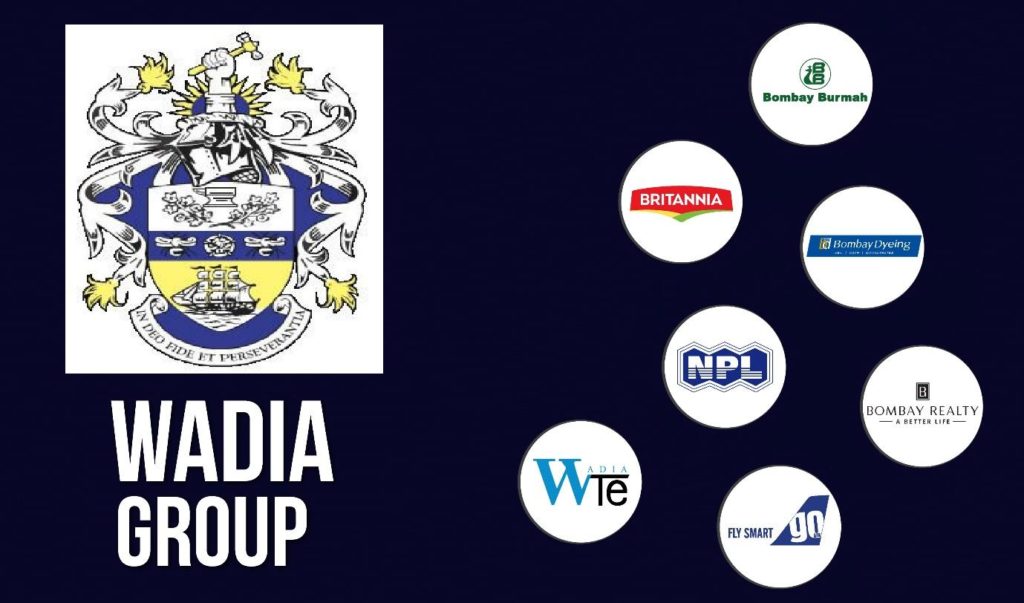 The conglomerate has interests in plantations, foods, textiles, chemicals, electronics and light engineering, health care and real estate. Some of the flagship companies of the group are Bombay Burmah, Bombay Dyeing, Britannia and GoAir.
The timeline of operations are as follows –
In 1786, the Wadia Group's first venture, over 280 years ago, was in the marine construction industry. The Wadia's were marine designers and master builders par excellence where they built 355 vessels that ploughed international waters, over their 160 years of existence, including the first ships constructed for the British Navy outside England.
In 1863, the company founded its fortunes on teak in the year 1863, as a public company, with the establishment of the Bombay Burmah Trading Corporation, Limited (BBTCL) and everything that followed is history.
In 1879, Bombay Dyeing announced uninterrupted dividends for over a hundred and twenty-five years.
In 1918, the company ventured into the FMCG industry by founding Britannia, India's No.1 food brand for 10 consecutive years.
In 1954, the company entered the chemicals industry by establishing NPL, a pioneer in India for peroxygen chemicals and is the largest manufacturer of Hydrogen Peroxide in India.
In 1960, Wadia Techno-Engineering Services Limited (WTESL) was established. The company is a leader in design, engineering and project management services for industrial, commercial, residential, infrastructure and hospitality projects.
In 2005, GoAir was launched with the objective of making air travel accessible to people.
In 2011, Bombay Realty, a real estate venture, transformed and redefined the Mumbai skyline with two mixed use developments in the centre of Mumbai.
Major Segments of Wadia Group
Britannia Ltd. –
Britannia Industries is one of India's driving food organizations with a 100-year inheritance and yearly incomes in overabundance of Rs. 9000 Cr. It is among the most trusted food brands, and manufactures India's favourite biscuit brands like Good Day, Tiger, NutriChoice, Milk Bikis and Marie Gold which are household names in India. The product portfolio of Britannia includes Biscuits, Bread, Cakes, Rusk, and Dairy products including Cheese, Beverages, Milk and Yoghurt. As of today's date, this is Britannia share price
Bombay Burmah –
The Bombay Burmah Trading Corporation, Limited (BBTCL) is a 150-year-old organization. It established its fortunes on teak in the year 1863, as an open organization, and all that followed is history. The organization is a main worry of the Wadia Group, a rumoured Indian business house with interests in ranches, nourishments, materials, synthetic substances, hardware and light designing, medical care and land. Bombay Burmah, Bombay Dyeing and Britannia are the mastheads of the Wadia Group. As of today's date, this is Bombay Burmah share price.
Bombay Dyeing –
Set up by Nowrosjee Wadia in 1879 as a little activity of Indian spun cotton yarn plunge coloured by hand, Bombay Dyeing has now become one of the most regarded and confided brands in the nation. Over the time of over a century, it has become one of the most perceived brands in the nation. As of today's date, this is Bombay Dyeing share price
GoAir Airlines –
GoAir is an Indian low-cost airline based in Mumbai, Maharashtra. In October 2017, it was the fifth biggest carrier in India with an 8.4% traveller piece of the overall industry. It was established in November 2005 by Jeh Wadia, son of Indian industrialist Nusli Wadia.
National Peroxide Ltd –
NPL is a pioneer in India for peroxygen synthetic substances and is the biggest producer of Hydrogen Peroxide in India, It's completely coordinated assembling site for Hydrogen Peroxide is situated at Kalyan in Maharashtra (India). In India, Hydrogen Peroxide is made to global principles by National Peroxide Limited, utilizing the auto-oxidation measure, at its generally current and forward-thinking plant close Kalyan, Maharashtra. As of today's date, this is National Peroxide share price.
Conclusion
Through its diversified interests in various industries, Wadia Group has created a huge impact on the business world. With its prolonged rich heritage and strong leadership, the Group aims to reach at the top of every industry in which it owns a stake.
Read our latest blog on Vinati Organics Limited – Shaping a Reliable Future
Watch the entire video on the Journey of Wadia Group here:
Know more about Wadia Group by using the Business Houses tab in the StockEdge Web
Business Houses are one of the paid tools offered by the StockEdge App
Check out StockEdge Premium Plans.