Vinati Organics Limited (VOL) which was founded in 1989 is a specialty chemical company, manufacturing specialty chemicals and organic intermediaries. With two state-of-the-art manufacturing units in Maharashtra, VOL is a leading producer of two major products – Isobutyl Benzene (IBB) and 2-Acrylamido 2 Methylpropane Sulfonic Acid (ATBS).
The company is the world's biggest producer, with a 65% global market share, of ATBS, which has a range of uses, from water treatment and synthetic fibres to personal care products and oil and gas. It is also a leading maker of isobutyl benzene (IBB) with 65% global market share, a key raw material for ibuprofen, an over-the-counter painkiller. As of today's date, this is Vinati Organics share price.
Vinati Organics has successfully established a strong foothold across the globe, with its products reaching out to customers in more than 35 countries.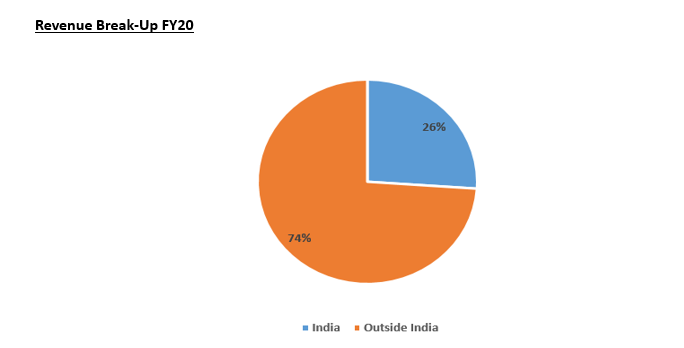 Operational Highlights
Vinati Organics reported net sales of ₹219 Cr i.e., a decline of 12% YoY due to decline in ATBS business sales. ATBS business declined due to slowdown in the oil and gas sector.
EBITDA stood at ₹84 Cr i.e., a decline of 19% YoY.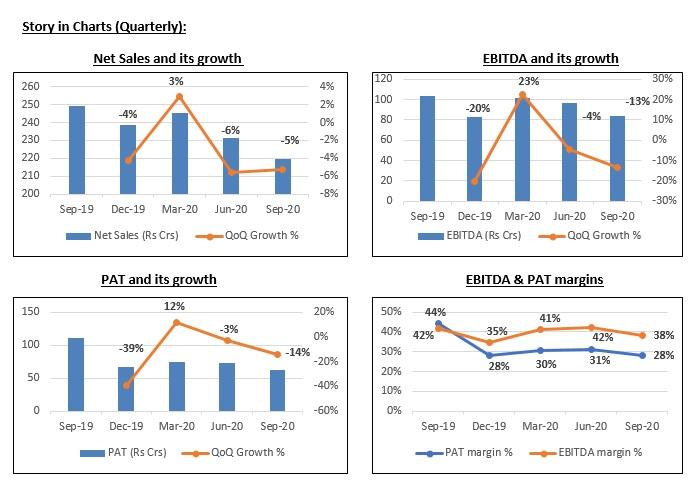 EBITDA margin of the company stood at 38.4% i.e., a contraction of 336 basis points YoY because of lower contribution from high margin ATBS in the total sales mix.
PAT of Vinati Organics stood at ₹62 Cr i.e., a decline of 44% YoY because of lower operating profit. PAT margin of the company stood at 28.3% i.e., a contraction of 1585 bps YoY.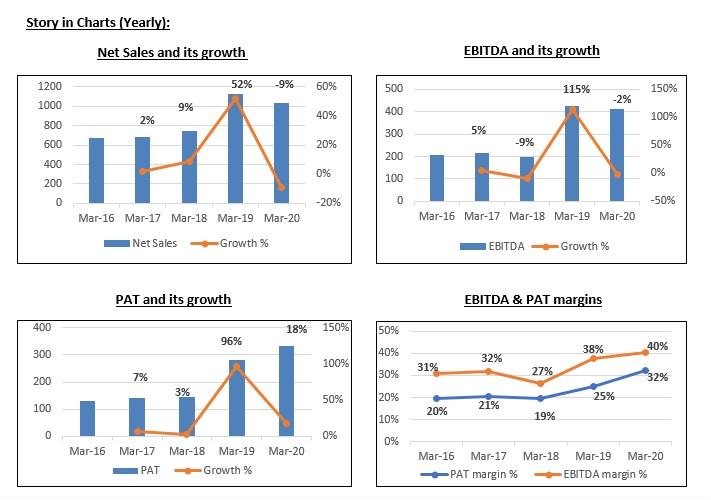 Future Outlook
The demand for the product that goes into the pharma sector was very high this year due to stocking. But there was a slight slowdown in the second product that is used mainly in the oil and gas sector till November but from December, the company has seen some improvement.
The company's new product butyl phenols will come on stream in FY21 and they are used in various industries like antioxidants, fragrance and plastic additives. Plant has started at a good scale recently in November- December. Its potential revenue will be seen in 2021.
Vinati Organics Ltd has announced a Capex of ₹200-250 Cr of which about ₹50 Cr will be for expanding its existing product and remaining ₹150 Cr will be for manufacturing 4 new specialty chemicals.
Want to subscribe to Home First Finance IPO? Read Home First Finance IPO: Is it worth subscribing?
StockEdge Technical Views
Vinati Organics Ltd came down from resistance level and is making lower lows whereas Technical indicators are mild bearish and sloping downwards. Nearby Important support is at 1087. A new uptrend is expected when the price will close above resistance level of 1400. Nearby Fibonacci resistance is at 1555 and 1697 on the weekly chart.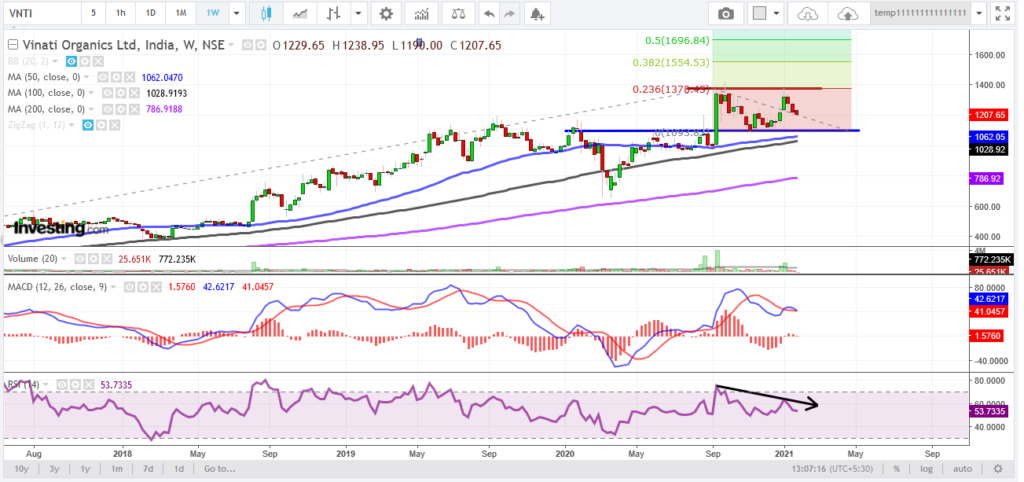 Bottom Line
ATBS is the company 's largest product and contributes more than 50% of total sales mix followed by IBB, IB and others. ATBS applications include oil & gas, water treatment, paints & coating, textiles, adhesives. In Q2 FY21, ATBS revenue was impacted due to the oil and gas sector. However, IBB volumes continued to steady on account of improved off-take due to the current pandemic. All other products namely IB, HPMTBE, customized products saw stable demand.
Going forward, revival in ATBS mainly in oil and gas, continued volume growth in other products and growth in butyl phenols (new product) will drive the revenue and profitability. The company has a debt free balance sheet, high operating margin profile and good return ratios.
Disclaimer:
This document and the process of identifying the potential of a company has been produced for only learning purposes. Since equity involves individual judgements, this analysis should be used for only learning enhancements and cannot be considered to be a recommendation on any stock or sector. Our knowledge team has limited understanding and we all are learning the art and science behind this.