Emami Group, established in the early 1970s, has expanded into a variety of industries in India, including FMCG, newsprint and packaging board manufacturing, edible oil and biodiesel, real estate, hospitals, ball point tip manufacturing, retail, pharmacy chain, and contemporary art.
The Emami Group was founded in West Bengal in 1974 with a meagre capital of Rs 20,000, when two childhood friends, Mr. R. S. Agarwal and Mr. R. S. Goenka left their high-profile jobs as Chartered Accountants with the Birla Group to set up Kemco Chemicals, an Ayurvedic medicine and cosmetic manufacturing unit in Kolkata.
Emami Group – Timeline
Powered by their keen sense of the consumer insight and business vision, Both Mr. Agarwal & Mr. Goenka realized the importance of the nature based solutions of Ayurveda and started manufacturing cosmetic products as well as Ayurvedic medicines under the brand name of Emami in 1974 from a small office (still retained) in Kolkata's business district of Burra Bazar.
In 2008, Emami acquired Zandu Pharmaceuticals Works Ltd for Rs 730 cr
In 2012, Emami commenced the first overseas manufacturing unit in Bangladesh
In 2015, Emami acquired 'Kesh King' which is into the hair & scalp care business for Rs 1,684 crore.
In January 2019, Emami Limited also acquired Creme 21, which is an Iconic German brand with strong roots & brand recall.
In 2020, it marked the entry into the hand sanitizer segment under its flagship brand, BoroPlus and also launched a home hygiene solution range under the brand name of Emasol.
Recent Events
The group completed the sale of its cement business to Nuvoco Corporation Ltd in July 2020 for an enterprise value of Rs 5,500 crore. The completion of Emami Cement deal with Nuvoco has been an important step in the Group's stated objective and commitment to release the Promoter Pledge. The Group also sold its solar power business to Canadian Investment firm Brookfield Asset Management through a 100% stake sale in June 2020.
Management – Emami Group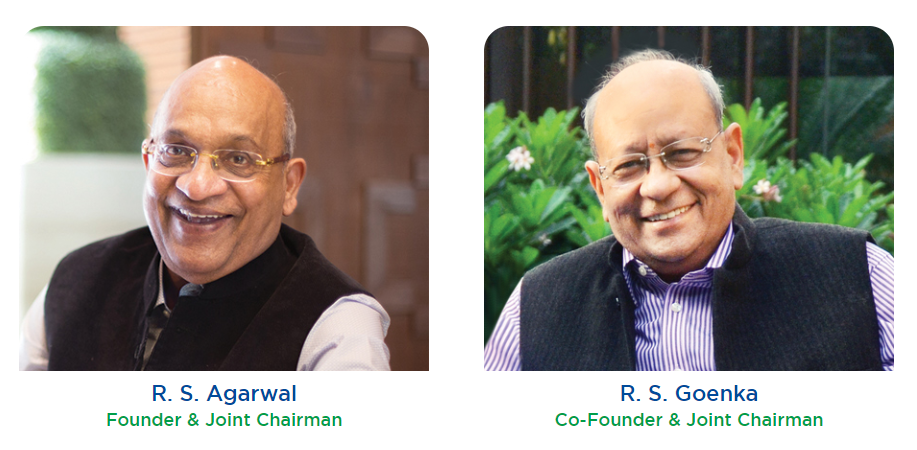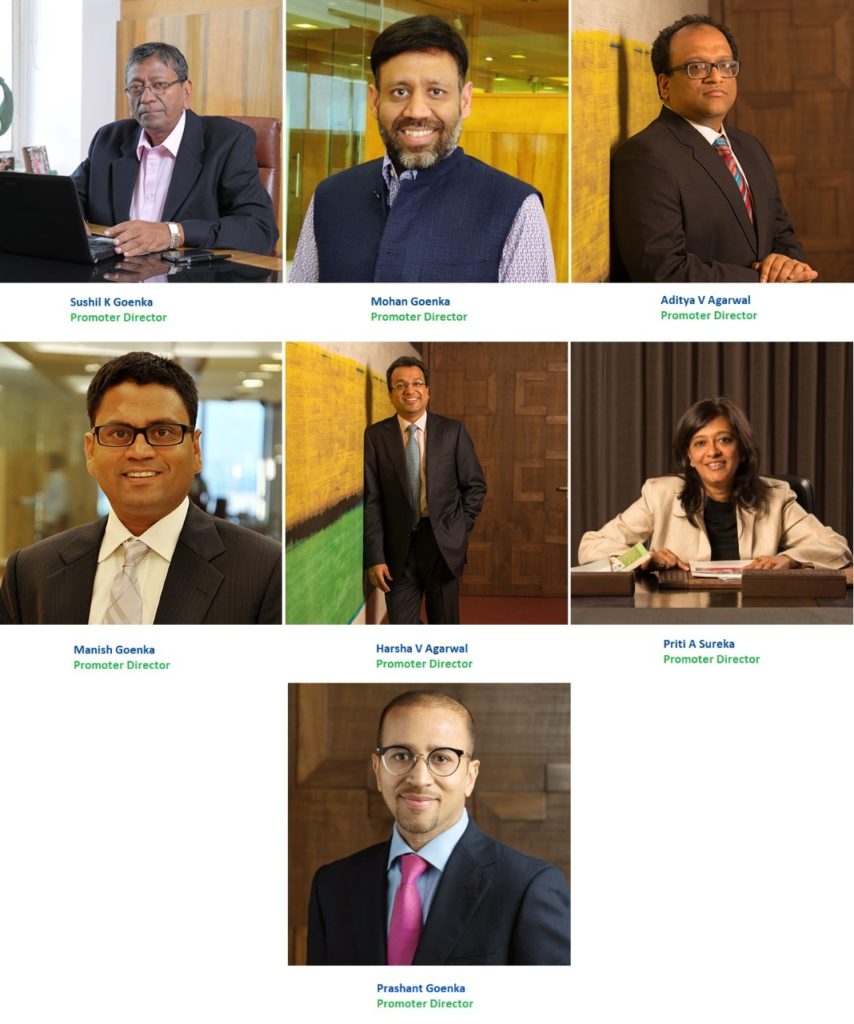 Diversified Business Entities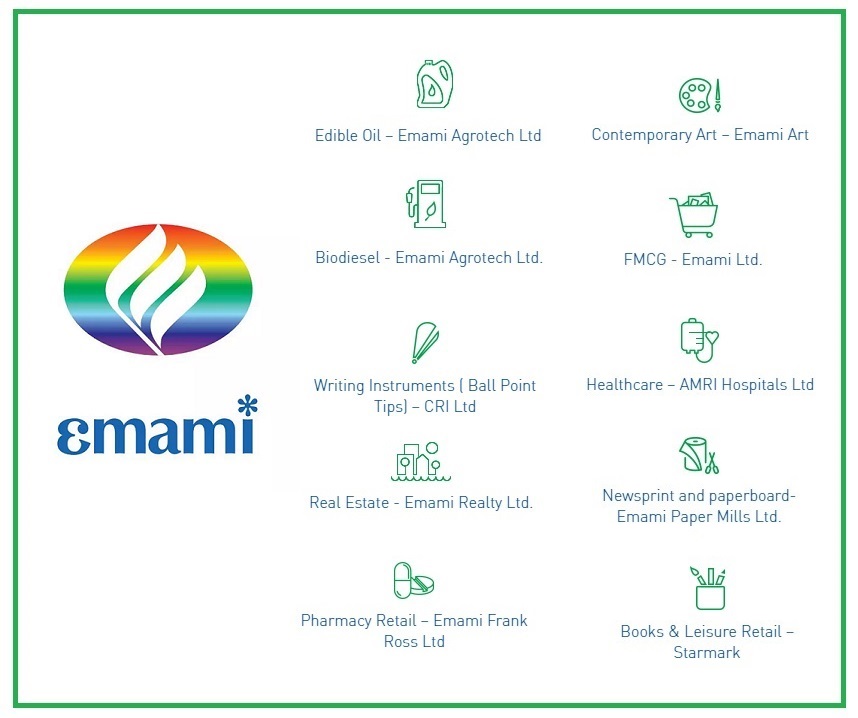 FMCG – Emami Ltd -The flagship company of the Group & one of the leading FMCG players in the country which is engaged in manufacturing & marketing of personal and healthcare products like Navratna, BoroPlus, Zandu Balm, Fair & Handsome and Kesh King. The Company has also forayed into the Home Hygiene Category with the launch of its EMASOL Range of Products. As of today's date, this is the share price of Emami Ltd
Bio Diesel and Edible Oil – Emami Agrotech – 2nd largest edible oil refinery in India with a capacity of 11,000 TPD. In addition, it is Eastern India's only biodiesel manufacturer.
Paper – Emami Paper Mills – India's largest newsprint manufacturer with recent diversification in multi layered paperboard. As of today's date, this is Emami Paper share price.
Writing Instrument – CRI Ltd – World's 2nd largest ball point tip manufacturer.
Realty – Emami Realty – A leading real estate company with prestigious projects viz. Emami City, Urbana, South City etc in Kolkata, Emami Tejomaya in Chennai, Emami Aerocity in Coimbatore and Emami Nature in Jhansi. As of today's date, this is the share price of Emami Realty.
Healthcare – AMRI Hospitals– Eastern India's largest chain of private hospitals.
Retail –Emami Frank Ross and Starmark – Largest pharmacy retail chain in the East & one of the largest leisure-cum-book store chains in India.
Contemporary Art – Emami Art and Kolkata Centre for Creativity – One of the largest creative centres and art galleries in India.
Read our latest article on Graphite India Ltd. – Pioneers in manufacturing of carbon and graphite products in India
Conclusion
Emami is the tale of a dream that started with a humble beginning and transformed into a business behemoth. Today, Emami is a reputed business group which is committed to stringent principles of corporate governance. The Group currently employs over 20,000 people and is led by visionary founders Mr. R S Agarwal and Mr. R S Goenka, with the assistance of second generation Promoter Directors from the two families. It also strives to contribute whole-heartedly towards the environment and society at large integrating all its stakeholders into the Emami family and be recognized as a global brand.
Watch the entire video on the Journey of Emami Group here:
Know more about Emami Group by using the Business Houses tab in the StockEdge Web
Business Houses are one of the paid tools offered by the StockEdge App
Check out StockEdge Premium Plans.