In today's Stock Insights, we are going to talk about a premium engineering service provider worldwide and amongst the leaders in the automotive, media, broadcast, communications, and healthcare industries.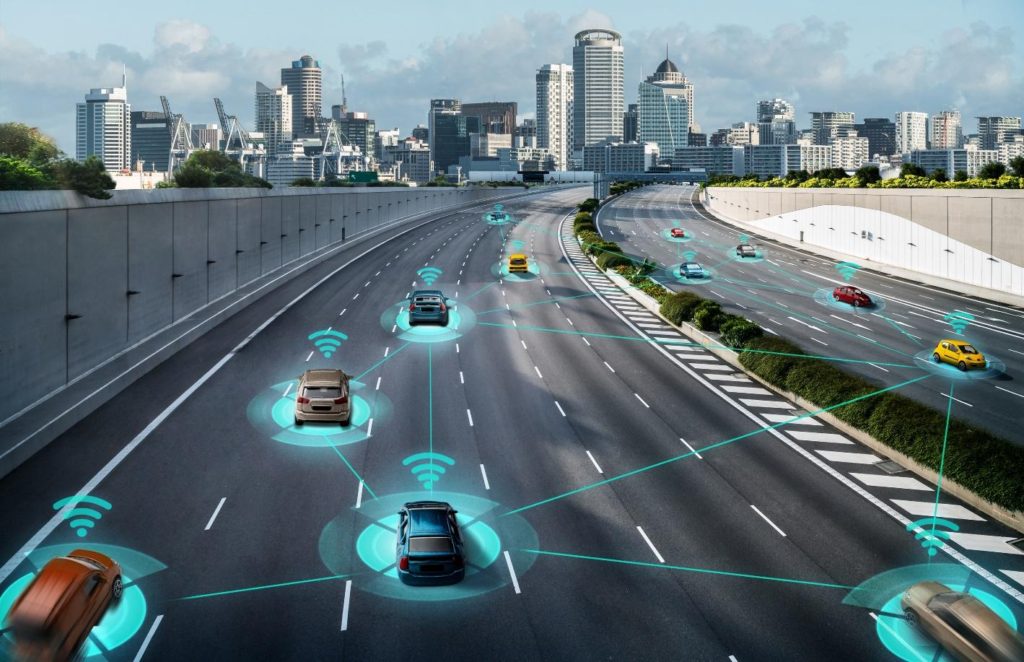 The Story
Incorporated in 1989, Tata Elxsi Ltd is one such leading engineering firm, which is using cutting age technologies like IoT, Artificial Intelligence and design thinking to help enterprises in the different industries to become efficient and cut costs.
The word 'Elxsi' in Tata Elxsi is taken from a supercomputer startup born in Stanford University in the 1970s. The Elxsi supercomputer architecture was based on the ECL (emitter-coupled logic) semiconductor technology. Elxsi had two early adopters in India, TCS and Tata Motors. The Tata's wanted to bring Elxsi to India and applied for a government license in the 1980s. That's how Tata Elxsi was born. As of today's date, this is Tata Elxsi share price.

The company has its registered office in Bengaluru, Karnataka. Tata Elxsi primarily earns its revenue from providing information technology, engineering design, systems integration and support services, sale of licenses and maintenance of equipment.
It operates in 2 segments Software Development & Services and System Integration & Support. The Software Development & Services is further classified into Embedded Product Design (EPD) and Industrial Design & Visualization (IDV).
The EPD division provides technology consulting, new product design, development, and testing services. IDV services span across consumer research and strategy, branding and graphics, product design, service design, user experience design, transportation design, 3D-prototyping, visualization and manufacturing support.
The System Integration & Support segment provides professional services for cloud and infrastructure management, Virtual Reality (VR), 3D Printing and Robotics.
Tata Elxsi has collaborated with leading OEMs and suppliers in the automotive and transportation industries to provide R&D, design, and product engineering services ranging from architecture to launch and beyond. It is also engaged with broadcasters & operators to create solutions for smarter living, engaged entertainment and a digital future driven by IoT, analytics and artificial intelligence.At the device level, the Tata Elxsi teams have powered the next generation voice-based user interfaces and integration across platforms including Android, iOS, Web as well as Android TVs. It also works with leading telecom operators in their digital and network transformation journeys, assisting with integration, workflow automation and rolling out of new services.
Read our latest article IDFC Ltd. – Strengthening Foundation for long term Growth
From which segment does Tata Elxsi Ltd get most of its money from?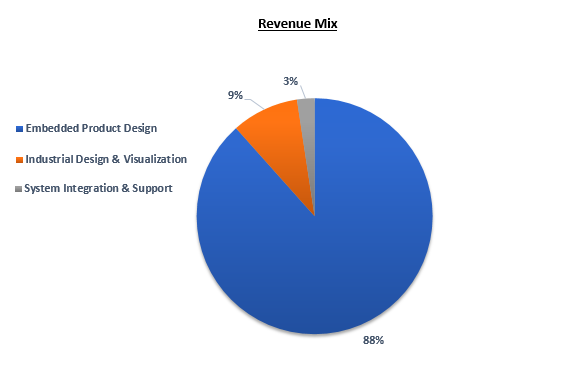 To know more about this company and increase your understanding about fundamentals of the company, Click Here
Operational Highlights
In Q3 FY21, revenue from operations reached 477.1 crore, up 10.9 % QoQ and 12.7 % YoY. Constant currency growth was 10% QoQ and 7.5 % YoY.
The net profit for the quarter stood at ₹105.2 crore, reporting a growth of 33.3% QoQ and 39.5% YoY.
Profit before Tax increased 33.1 % QoQ and 43.4 % YoY to 146.3 crore.
Operating margins for the quarter stood at 30.1%. The increase in the margins was due to growth in the Healthcare & Medical Devices business, increase in the offshore mix and increase in the utilization percentage.
Tata Elxsi Ltd – Financials over the years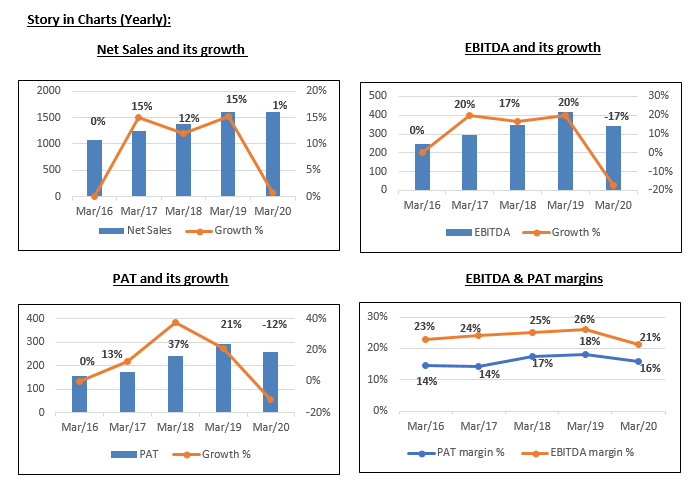 Tata Elxsi Ltd – Future Outlook
Tata Elxsi Ltd continued to diversify away from the automotive vertical. Currently, the auto vertical contributes less than half of the revenues (~42% in Q1 FY21 v/s 47% in Q1 FY20).
The auto vertical has been facing headwinds over the past 2 years almost, however the company continues to win new deals as well as add new customers in this segment.
The management has indicated that the growth trend in the medical devices is expected to continue as the company is investing in serviceability and is also witnessing demand. Also, the company is evaluating inorganic opportunities for growth.
The management has guided for the margins to be in the range of 22% – 24%.
It intends to focus on expanding its footprints in the existing industry verticals instead of entering into new ones.
The management believes that the margins can be further improved.
Apart from the external risks, it doesn't foresee any company specific risk going forward.
Technical View
Tata Elxsi Ltd is trading in between support and resistance zone and trading near life time high whereas Technical indicators are bullish if price trades above resistance level of 3125, more upside is expected. Nearby Fibonacci resistance is at 3316 and 3498, if price trades below support level of 2800 next support is at 2580 on daily chart.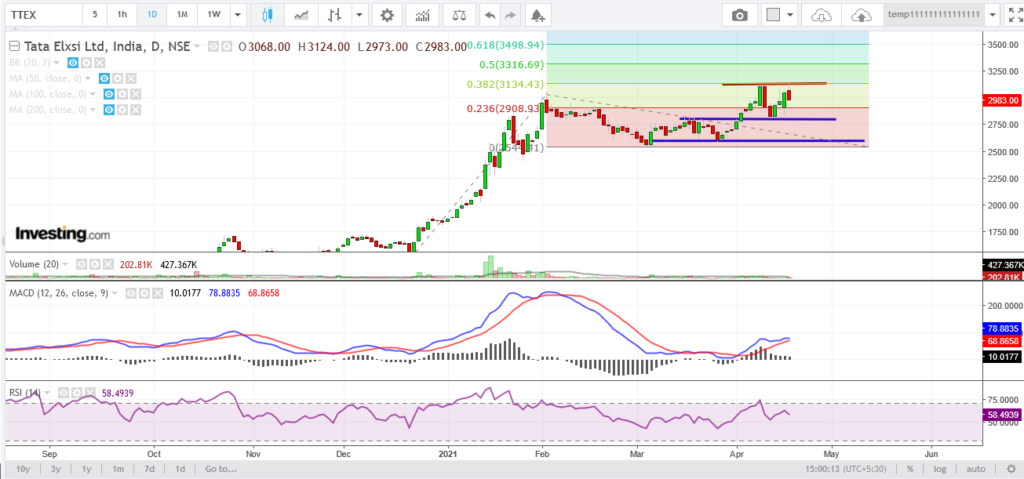 Bottom Line
Considering the slowing economic activity and travelling restrictions, Tata Elxsi Ltd is focusing more on offshore business. It is also benefiting from higher business from the broadcast & communication vertical with increasing traction seen in sub-segments of Broadcast & communication vertical like operators (focusing in the US, Europe, SA, & ME), OTT players & devices (like set-top boxes etc.) This is also in alignment with the company's objective of de-risking & diversifying away from transportation business (42% in Q1FY21).
We believe Tata Elxsi is more sustainable than its peers because it has reduced its dependence on the automotive vertical and is focusing more on expanding the communication and healthcare verticals. We remain optimistic about technology adoption trends and believe that Tata Elxsi has the right set of products/services (Electric vehicles, Autonomous cars and OEM, Internet TV, Cloud, and SDN Technology) to address the market opportunity through collaborative approaches. With the company's rapid development in the healthcare vertical, we see a respite in this vertical.
Know more about Tata Elxsi Limited and its peers by using the Sectors tab in the StockEdge Web
Check out StockEdge Premium Plans.