The Story of Jubilant Ingrevia Ltd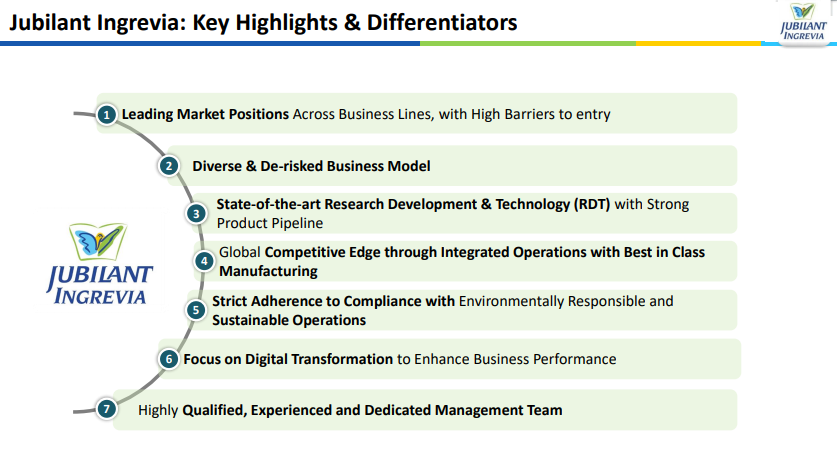 Jubilant Lifesciences demerged its Pharma and Lifesciences business in March 2021 into Jubilant Ingrevia and Jubilant Pharmova. Jubilant Lifesciences renamed itself to Jubilant Pharmova with pharma business & its lifesciences segment to Jubilant Ingrevia.
The rationale behind the demerger was to create separate & focused entities for Pharmaceuticals & Life Science Ingredients (LSI) businesses, Unlock value for its shareholders and Capture attractive growth opportunities.
Jubilant Ingrevia Ltd is a global integrated life science products & innovative solutions provider serving pharmaceutical, nutrition, agrochemical, consumer, and industrial customers. It offers a broad portfolio of high-quality ingredients that find application in a wide range of industries. Its portfolio also extends to 70 products in the specialty segment, 34 in Nutrition & health solutions & 6 in Life science chemicals.

They have 61 plants spread across 5-sites in 3 states (UP, Maharashtra, Gujarat) and a diversified customer base with the top 10 customers accounting for 20% of sales. Ingrevia is the world's largest manufacturer of Bio-Acetaldehyde and As of today's date, this is Jubilant Ingrevia share price.
Operational Highlights of Jubilant Ingrevia Ltd
Nutritional & health solutions segment showed a robust growth of 16% YoY.
Life Science segment delivered 1% growth whereas Specialty chemicals revenue de-grew by 1% on YoY basis.
EBITDA & PAT margins have remained erratic for this demerged entity in the past, due to external shocks.
Overall, PAT has improved by 1.85% YoY.
De-risking their revenue stream by diversifying into various industries & vast numbers of customers across the global, with sales reaching more than 50 countries.
Incoming orders of higher margin products allow them to gradually shift towards EPS accretive products.
Operating cash flows is significantly higher than capital requirements.
Net debt has been reduced to ₹529cr this quarter from ₹1276cr in FY19.
75% of Nutrition sales is in China, Europe and America, of which animal nutrition makes up 80%.
Pharma and Agrochemicals accounts for 77% of Specialty chemical revenue.
Ingrevia has also launched herbal products under the 'Phyto Shield' brand for Animal feed application.
Jubilant Ingrevia Ltd – Financials over the years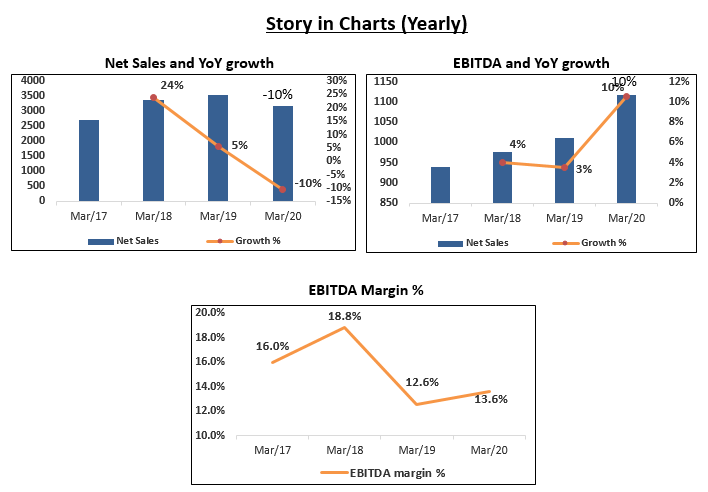 Read our latest article Tata Elxsi Ltd. – Integrating Digital Technology & Design
Future Outlook
Revenues to grow by double-digit in the near-term on the back of stabilization in pricing & demand for Acetic Anhydride, favourable price dynamics in Vitamin B3 and tailwinds in the Specialty segment.
Anti-dumping duty on pyridines by China on import from India was withdrawn in November 2019. It would help Ingrevia gain momentum in this segment over the medium term.
Ingrevia currently has more than 60 new products in Pipeline for the next 3-4 years (Specialty chemicals- 32, Nutritional- 24, Life science chemicals- 7).
Introduce new technologies by academia collaboration/expanding internal infrastructure
Development of dedicated Centre of Excellence for Bio-catalysis & Flow chemistry.
CAPEX plans of around ₹ 900 Cr in the next 3 years, for the following segments-
■ Specialty Chemicals- ₹550 cr
■ Nutrition- ₹ 100 cr
■ Life science- ₹ 250 cr
Management Update
Company plans to Invest in new facility for the launch of 6 Diketene derivatives. Subsequently, they will add 8 value added Diketene derivatives, which is a highly competitive global industry.
Ingrevia has pivoted to produce gamma picolines (used in Anti-tuberculosis drugs) and beta picolines (used in Vitamin B3, Animal Feed and other pharma applications).
Ingrevia plans on investing in GMP & Non-GMP multi product facilities for Pharma & Crop Protection customers over next 3 years.
Expand Recombinant DNA Technology (RDT) with focus on Agrochemicals, Nutrition CDMO & Anti-microbials at Greater Noida – new Product Development.
Technical View
Jubilant Ingrevia Ltd bounced from the support zone and is likely to stay positive in the near term till the stock holds the 290-300 zone. Technical parameters look positive as of now. Probable resistance in the near term comes at 345 level and further strength can be seen above swing high of 350 level on a closing basis. The overall setup looks positive as of now.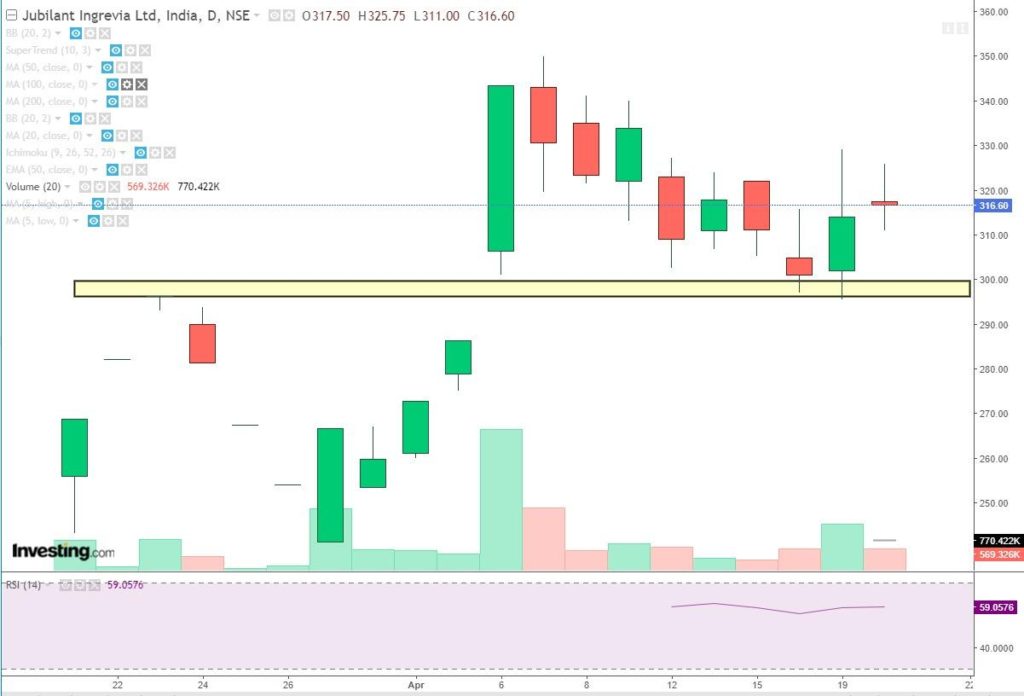 Conclusion
With more than 90 highly qualified scientists& a dedicated Project Management team to address inquiries, Ingrevia stands to advance with a healthy growth trajectory ahead. Being a domestic market leader in escalating market of Acetic Anhydride (73% market share) and Ethyl Acetate (33% market share) for the last 4 decades, Ingrevia finds itself in a sweet spot to benefit from the increasing prices of Acetates & Anhydrides globally. Operating capacity will improve in the upcoming quarters from the current 80-85% capacity utilization adding to top-line growth.

The backward-integrated facilities allow them to access many of the key raw materials and help them manufacture other high-margin end-products. Over the medium term, the new Capex initiatives of ₹900cr funded by internal accruals, across all key segments will likely contribute ~₹360cr EBITDA and improve margin profile. Its key raw material, Acetic acid, has a huge impact on the margins mainly due to the price fluctuation of Acetic Acid. Further, the segment has a high correlation with crude prices which may affect profitability if the cost is not passed.
Know more about Jubilant Ingrevia Ltd. and its peers by using the Sectors tab in the StockEdge Web
Check out StockEdge Premium Plans.