In today's Stock Insights, we are going to talk about one of the leading private sector general insurance companies in India, ICICI Lombard GIC Ltd..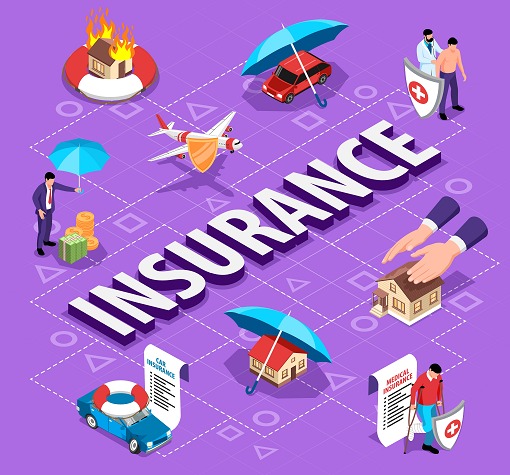 General insurance is the insurance of non-living objects. These policies are purchased to protect goods or assets that, if damaged, would result in financial loss to the owner. General insurance policies, in addition to covering assets, also cover financial costs incurred as a result of specific perils. Fire insurance policies, for example, cover damages caused by fire.
In simple words, it is the business of collecting premiums in advance and paying claims at a later date. This difference in timing creates a negative working capital cycle, allowing the insurer to deploy and earn investment income on policyholder funds (float) during the interim period.
With a Gross Written Premium (GWP) of Rs.135.92 billion for the fiscal year ended March 31, 2020, ICICI Lombard GIC Ltd. is one of India's leading private sector general insurance companies. As of March 31, 2020, the company had issued over 26.2 million policies and settled over 1.86 million claims. As of today's date, this is the share price of ICICI Lombard GIC Ltd.
The company offers general insurance solutions to protect people and their families from unexpected and unfavourable events. People in rural and urban India can benefit from ICICI Lombard's protection solutions for business, personal, and project liabilities. It provides insurance for automobiles, health, travel, home, and student travel, etc.
From which segment does ICICI Lombard GIC Ltd. get most of its money from?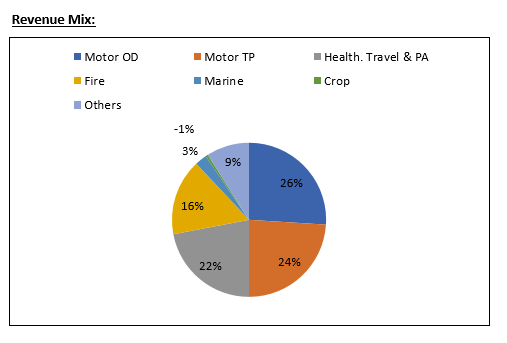 To know more about this company and increase your understanding about fundamentals of the company, Click Here
Operational Highlights
The revenues grew during Q4FY21 at Rs.2616 cr as compared to Rs.2345 cr in Q4FY20. The revenues grew in FY21 to Rs.10013 cr as compared to Rs.9403 cr in FY20. SME business growth was 34.5% for FY2021 (29.1% for FY2020). The growth was driven by strong growth in fire and health segments.
The EBITDA losses increased to Rs.562 cr in Q4FY21 as compared to losses of Rs.252 cr in Q4FY20.
The company reported profits of Rs.346 cr in Q4FY21 as compared to Rs.282 cr in Q4FY20. The profits grew to Rs.1473 cr in FY21 as compared to Rs.702 cr in FY20.
Loss ratios were down for P&C segments as some parts of the country witnessed curfews/partial lockdowns in Mar-21.
On a quarterly basis the GDPI (gross direct premium income) grew in Q4 FY2021 by 9.4% over Q4 FY2020 compared to the industry growth of 14.0%. The focus on preferred segments primarily drove GDPI growth.
Read our latest article on Hero MotoCorp Limited – An Authentic 'Make in India' Story
ICICI Lombard GIC Ltd. – Financials over the years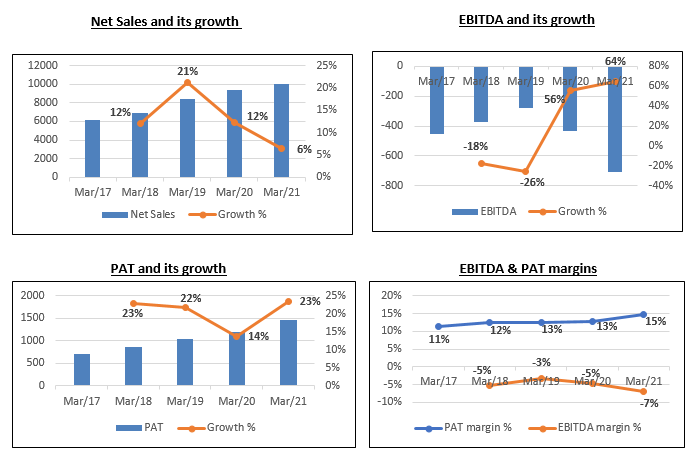 Future Outlook
The worst hit segment was Health, Travel & PA. However over the upcoming quarters, vaccines to catalyse the economic activities in travel and hospitality business.
Also the recent hike in FDI limit up to 74%, may help unlock further value in the near-to-medium term.
Additionally, new motor regulations are expected to drive down both claims and tariffs, creating profitability in the short term.
Management Update
For the industry, COVID-19 claims till now are Rs. 7.68 lacs of which ~39,000 were reported with ICICI Lombard. The company hopes that the decline in non-COVID claims might keep loss ratio in check.
The digital platforms incubated by the company over the years continued to see enhanced adoption in recent times with over 97% of the policies issued in financial year 2021 being in paperless form. Under the SME segment, close to 90% of the business sourced were through these digital solutions
The discontinuation of long-term motor package policy by IRDAI effective from 1st Aug 2020, should positively impact the already strained segment.
Concerning the Bharti AXA deal, the company is awaiting approval from NCLT for the amalgamation
Technical View
ICICI Lombard consolidates in a symmetrical triangle pattern in the weekly chart and trades right above the support area. Likely to remain positive in the near to medium term if the stock holds 1400-1420 zone on a closing basis. RSI also took support suggesting possible bounce in the stock.
Bottom Line
The company has managed to hold profitability this quarter mainly from capital gains. Though its sales and promotional expenses are expected to go up, we expect it to have a meaningful and positive impact on its top line as well as on margins. Also the recent hike in FDI limit up to 74%, may help unlock further value in the near-to-medium term in this stock.
Know more about ICICI Lombard GIC Ltd. and its peers by using the Sectors tab in the StockEdge Web
Check out StockEdge Premium Plans.