In this week's Stock Insights, we talk about the largest Indian producer of graphite electrodes and one of the largest globally, by total capacity, Graphite India Ltd.
The Story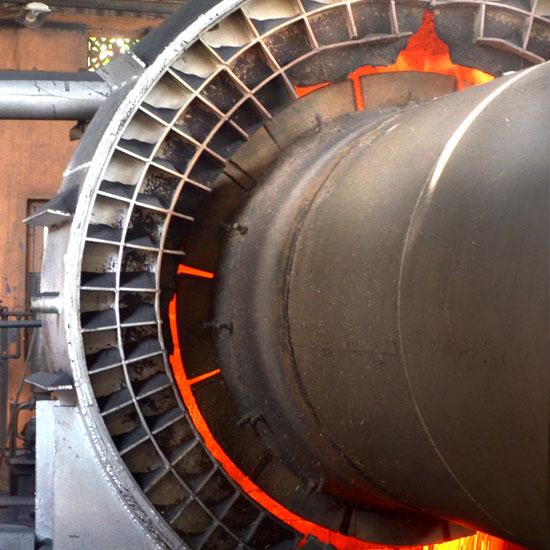 Source: Company Website
In the early 1960s, when steel production through the Electric Arc Furnace Route was still in its infancy in India, the founders of Graphite India Ltd demonstrated their foresight by commissioning an integrated Graphite Electrode Plant at Durgapur for the first time in this part of the world in 1967, with the collaboration of one of the erstwhile leading manufacturers of Graphite Electrodes, Great Lakes Carbon Corporation of USA.
With the increased demand for steel, the production of steel via Electric Arc Furnace increased exponentially. As a result, there is a greater demand for graphite electrodes. Consumer trust in Graphite India's product quality and services enabled the company to expand its capacity.
Today, It has a manufacturing capacity of 98,000 tonnes per annum with plants at 3 locations. Graphite India is mainly engaged in the manufacturing of graphite electrodes, graphite equipment steel, glass reinforced plastic (GRP) pipes and tanks and generation of hydel power.
Graphite India Ltd operates through three segments: Graphite and Carbon, Steel and Others. Its products include graphite electrodes, impervious graphite equipment, speciality products, carbon products, glass reinforced plastic pipes and high speed & alloy tool steel.
The company's manufacturing facilities are spread across 6 plants in India and it has also got a 100% owned subsidiary at Nuremberg, Germany, by name Graphite COVA GmbH. As of today's date, this is Graphite India share price.
Where does Graphite India Ltd. get most of its money from?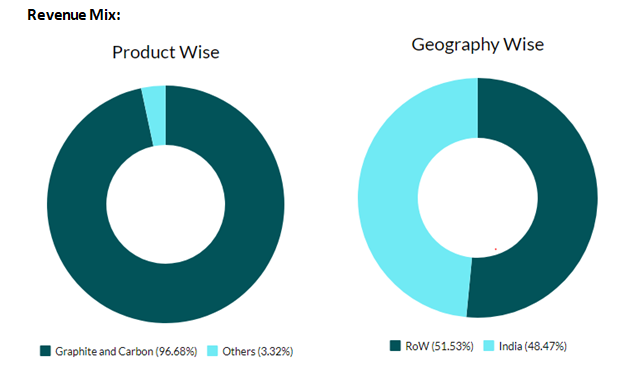 To know more about this company and increase your understanding about fundamentals of the company, Click Here
Operational Highlights of Graphite India Ltd
The overall steel industry, both global as well as domestic, saw recovery in steel production, which led to a small pick-up in demand for electrodes however pricing remained under pressure.
In Q3 FY21, the net sales was Rs. 499 crore, a decline of 22.39% YoY. It was impacted due to lower realizations despite the higher volumes.
Segment wise revenue performance:
(I) Graphite and Carbon – Rs. 468 core, decline of 25.12% YoY.
(II) Others – Rs. 31 crore, a growth of 72% YoY.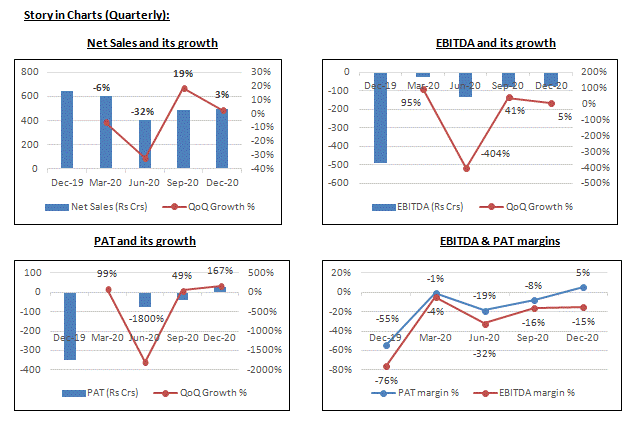 EBITDA was Rs. -74 crore as compared to Rs. -488 crore, in the corresponding period last year.
PAT was Rs. 26 crore as compared to a loss of Rs. 351 crore, in the corresponding period last year. The improvement was underpinned by one time income of Rs. 81 crore on account of electricity refund.
Gross Debt of Rs. 239 crore. Net cash generated during the quarter was Rs. 196 crore.
The consolidated capacity utilisation rate was 65%, up from 60% in the previous quarter.
Graphite India's financials over the years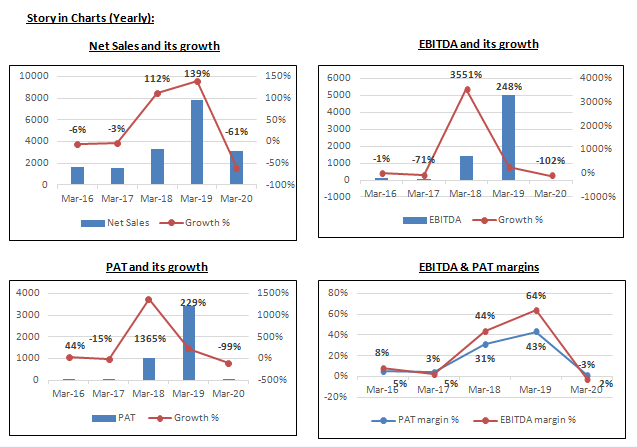 Future Outlook
The consistent growth in global steel production and a positive outlook ahead with a healthy recovery in major steel consuming industries like construction and automobiles, the demand and realisations in graphite electrodes is likely to rise.
Also, China's plan to raise EAF (electric arc furnace) steel capacity from 11% to 20% by 2025 augurs well for graphite electrode manufacturers.
Graphite electrode prices have started to stabilise and a positive recovery is likely in coming quarters. Needle coke (major input) prices have also stabilised and may increase in line with electrode pricing in coming quarters.
The company has a geographically diversified customer base and exports graphite electrodes to the Middle East, Europe, the US and South East Asia.
It also continues to benefit from economies of scale and its competitive cost structure on a global scale. Particularly its Durgapur facility, are among the low-cost graphite electrode manufacturing lines, globally.
Key concerns: higher than expected increase in operating cost (especially needle coke); exposed to volatility in global steel industry and volatility in foreign currency .
Read our latest article on Grasim Industries Limited – The Stronglomerate
Technical View
Graphite is presently trading right below the convergence of the weekly resistance zone and 50% Fibonacci retracement. Further breakout to be seen only above 615 level on a medium term basis. Probable resistance post breakout comes at 735 level. Technical parameters look positive till now.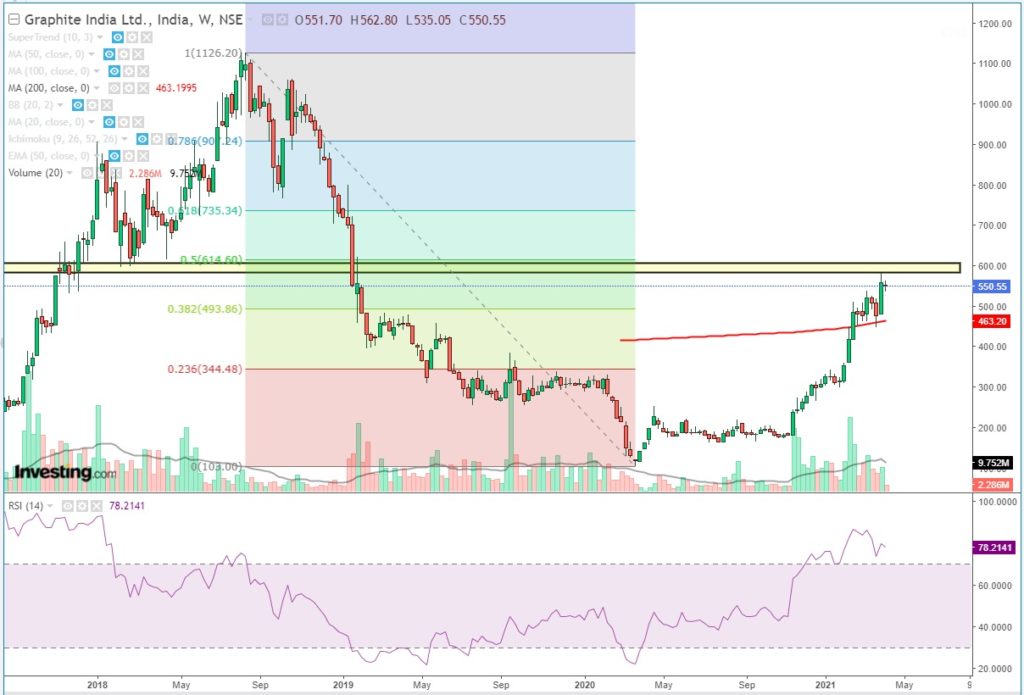 Bottomline
The pick-up in steel production globally is expected to drive demand for graphite electrodes and is likely to augur well for the company. Moreover, the capacity utilization is also moving up.
The raw material costs have stabilized which is likely to provide comfort to the company's margin profile. This is likely to result in an improvement in the financial performance of the company for the remaining fiscal.
Know more about Graphite India Ltd. and its peers by using the Sectors tab in the StockEdge Web
Check out StockEdge Premium Plans.