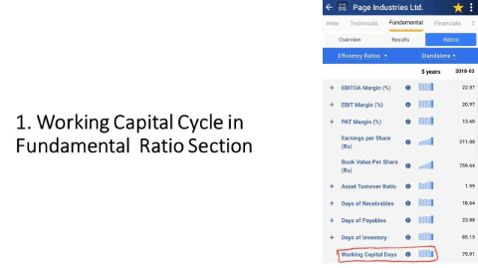 Happy Diwali Friends!!! We have some bewildering news for you all. The news is, that we have launched Diwali Double Dhamaka version 4.0 in which we have come up with many astonishing new features for our free as well as paid subscribers! StockEdge has released new version 4.0. In this version, StockEdge has brought many new dhamakas for simplifying your trading as well as investing needs. In this article let us discuss the new features in brief:
In version 4 of StockEdge, many new and exciting features have been added which will help you in understanding the mantras of investing as well as trading with discipline and continuity. It has mapped many new parameters to understand various kinds of investing and trading opportunities with insight into what the leaders of the markets are investing into or trading in and many more to interest you.
Additions in New Version
New features of Diwali Double Dhamaka StockEdge Version 4.0
We have added a new menu in the home page called Premium besides My Stockedge which gives you 3 premium services, free for the premium subscribers, and one watchlist, Investor group and strategy free for normal subscribers. Now, they are Ready watch list, Ready Investor groups, Ready Combination scans and Edge Chart.
Ready Watch lists: Contains stocks likely to be impacted by current themes like Rising crude prices, Falling Rupee or Upcoming Elections and many more. Regularly updated by us, Readymade for you!
This tab gives you ten stocks for every theme for better learning and analytics for the investment opportunity. It is further divided into 10+ themes out of which two themes are free for all and rest are paid watchlists.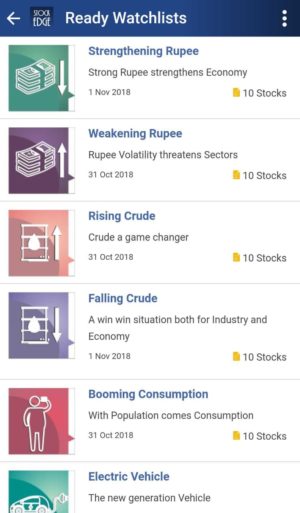 Ready Veteran Investor groups: Get access to readymade portfolios of more than 50 Ace Investors like Rakesh Jhunjhunwala, Dolly Khanna, Porinju Veliyath, Vijay Kedia, R K Damani and many more. Start tracking and understanding their investing style.
This tab gives you the list of shares held by Ace Investors. Thus we have shortlisted 50+ veteran Investors investing under different names. Thus we have compiled their holding for your ease. In this RJ group is free for all and rest are for our premium subscribers.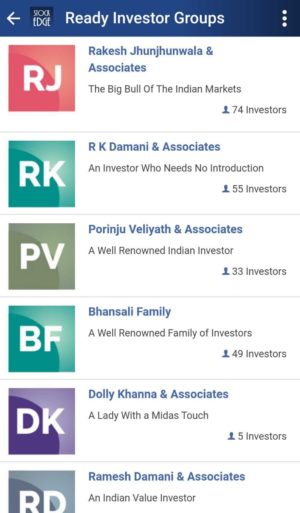 Ready Combination Scans: Now learn, analyze and apply trading strategies from a choice of intraday or swing. It's designed from a combination of multiple scans and lets you focus on identifying quick trading opportunities.
This tab gives you a ready combination of different scans compiled into one scan. We have compiled 10+ combination scans with mathematical and technical synergies to help you to trade as well as invest. In this we are giving Agni scan free to all and other scans are are part of paid offerings.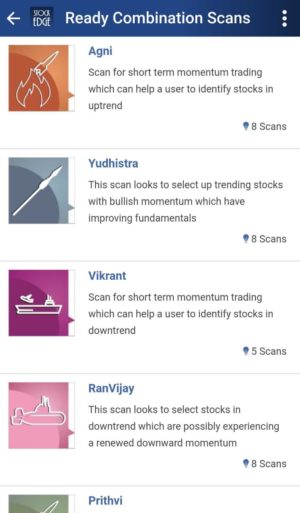 Fundamental with Technical indicators in Edge Chart: For the first time ever, now you can plot your own fundamental indicators like RoE, RoCE, Debt-Equity, Net Profit, Shareholding of Promoters, FII & DII alongside technical Indicators in Edge Chart. Save the template for easy use across companies.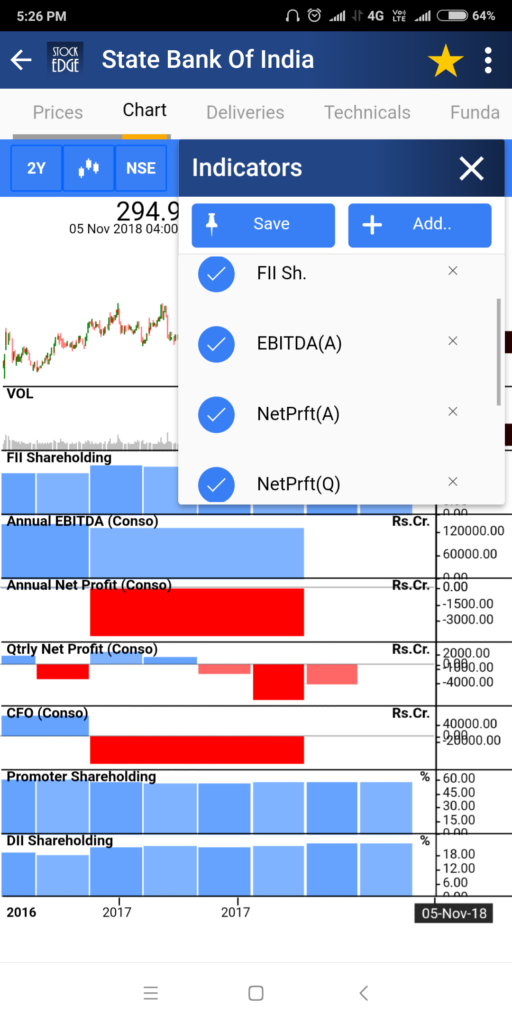 More New Features
Advanced Filter using Mcap and Price – Under Combination scan
2 new MFI Scan – Under Technical Scans
2 New Working capital Cycle Scans – Under Efficiency Scan
Save template option in Edge Chart – Under Stocks Chart
Result Calendar added in My Watchlist under updates for Free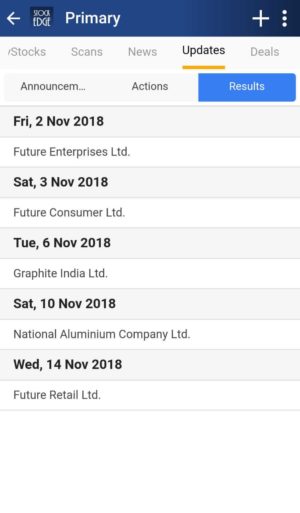 6. Working Capital Days Ratio under Efficiency Ratio forFree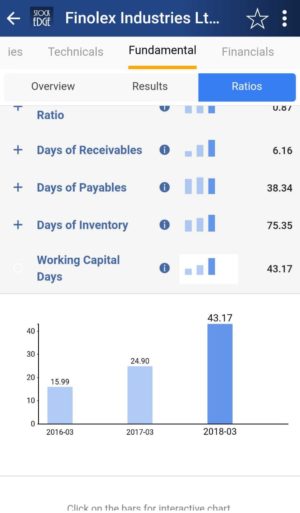 BOTTOMLINE
These added features will help you make more informed decisions at a click of a button. The Ready Made lists will help you to track down information on Investing and trading both. The other new features will help you to stay informed in the market and upto date on any particular Field technical or fundamental with ready-made scans. Thus, all in all will help you to take more informed, wise and fruitful decisions.
Get 20% off on both our premium products i.e. Annual Membership & StockEdge Club. Use Code DIWALI20 to get 20% discount till 15th November 2018. If you have been thinking about subscribing to the premium plans of StockEdge, this is the best time. Take advantage of the Diwali Double Dhamaka Offer to get access to the premium features of StockEdge at a discounted price and start building wealth in style. Click to Become a StockEdge Member