My StockEdge is a space within the StockEdge application, which has been created especially for the StockEdge users. Here you will be able to manage your ideas related to stocks & mutual funds, you can shortlist potential stocks & mutual funds for trading or investment purpose, you can set a target for stocks and many more things.
This part is designed keeping in mind that a user gets full detail with regards to his trading and investment in just few clicks.
Let's explore the My StockEdge tab and see how it makes your investment or trading decision easy and quick.
My StockEdge and its elements
In this tab, there are six different set of segments, five out of which are directly related to investment or research purpose and the remaining one is for your account setting, where you can change your password, log out option, your profile name etc. In this topic, we will only focus on those tabs which are directly related to your trading, investment and obviously your research. We will also help you to understand how you can customize My StockEdge tab for yourself, so that your investments, research and every other investment related important factors stay just a few click away.
(1) My Watchlists
Under this tab, you can make your portfolio by selecting single or multiple stocks. You can also create multiple portfolios but every portfolio name has to be unique. Every portfolio has its own set of Scans, News, Updates, and Deals.
This section helps you to identify stocks based on your pre-defined criteria. There are two types of scans available Fundamental and technical, depending on your necessity you can decide which one to go for.
The News section will help you to stay updated with the latest news related to your stocks which are present in that particular portfolio.
This section provides you with the information which is published by the company (your holding company) itself. Annual general meeting, Shareholding meeting, record dates etc.
There are three segments in this tab Bulk, Block, and Insider. If any deals happen within your holding companies, it will appear here.
(2) My Investor Groups:
This is one of the most favourite and popular section. Here you will able to shortlist your favourite investor from the market just by clicking on their name and you will also be able to track what they are buying and selling. Is it not amazing?
There are a lot more. You can also create multiple groups of investors and also can track them individually.
There are four tabs within a group –
Here you can add all the spelling and combinations of a particular investor For Eg Ashish Kacholio is presented in the image below..
The Deal section also has three options which are Bulk, Block and Insider. Each category will show all the deals by that particular investor group that you have created.
This segment shows stocks which are held by the investor group. It gives a consolidated % of holding by the investor, thus helping a user solve the problem of one user investing in multiple spellings.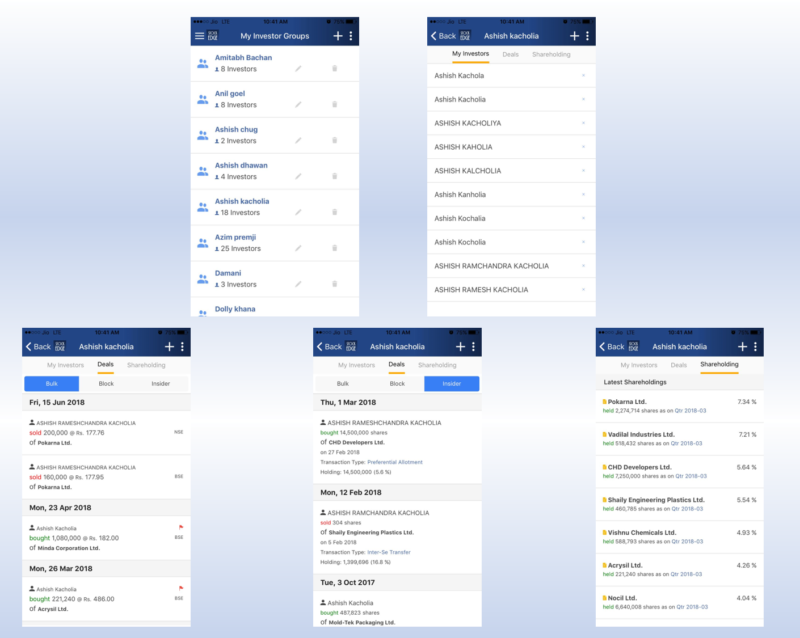 Also read: How to Track rockstar investors?
(3) My Scan:
My scan section is based on Technical and Fundamental parameters. There are more than a hundred unique scanning criteria available. These scans will help you to find out based on your selected conditions or criteria. Just click on them one by one to select the conditions and these conditions will appear in the main page of My Scan tab. After every trading session, you will find out stocks backed by your criteria if they fulfil these pre-defined conditions.
This is the whole different world and most used tab amongst the StockEdge user. Here you can make combinations of scans by defining multiple scanning conditions. This combination scan will identify stocks which will meet those conditions. You can make twenty different scans and each scan can have up to ten unique conditions. It is important to mention that this combination scan is only available to the premium member of the StockEdge application.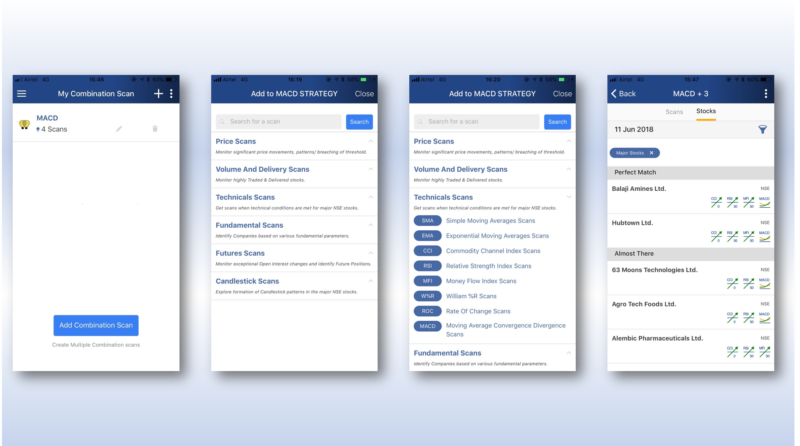 To know more about combination scan and premium membership please visit this link.
(5) My Target:
This tab will help you define your target for the individual stock. In this segment, Active targets and recently achieved targets are taken care of.
Defining a target for a stock is a little tricky but it is easy.
You need to select the 'stocks' tab from the 'Home' tab.
Select stock by typing its name in the search bar and from there you will able to define a target for a particular stock.
My StockEdge will automatically synchronize that data and it will be added to the 'Active target' list.
If any of your targets is achieved which was previously defined, it will appear on the 'Recently Achieved' tab.
Bottom-line
My StockEdge helps a user by accumulating all the necessary information and ideas in one place so that you do not hover around while searching for a potential investment opportunity. Every single segment serves a unique set of services which makes it user-friendly as well as advanced in nature.
There are also many features present in this segment which makes this application worth using on a daily basis. We strongly suggest you to use this application at least once if you are seeking knowledge and want to make money from the stock market whether you are a trader or an investor.