Mr. Shyam S Bhartia, together with his brother Mr. Hari S Bhartia is the founder and chairman of the Bharti Group, which is headquartered in New Delhi, India. The flagship companies of the group include Jubilant Life Sciences Limited (JLL), Jubilant FoodWorks Limited (JFL), and Jubilant Industries Limited, listed on Indian Stock Exchanges with a workforce of 39,000 employees globally.
The Bharti Group has a strong presence in diverse sectors like Drug Discovery Services, Life Science Ingredients, Performance Polymers, Pharmaceuticals, Food Service (QSR), Automobile, Retail, and Consulting in Aerospace and Oilfield Services.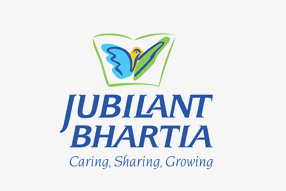 Coming to the history of Bhartia Group:
In 1978, Bhartia Group was incorporated as Vam Organic Chemicals Limited.
In 1981, JLL came out with its IPO and was listed on Indian stock exchanges.
In 1995, Jubilant Energy ventured into the oil and gas business by acquiring a stake in a producing field in the northeastern part of India.
In 1996, the first store of Domino's was opened in Greater Kailash 1, Delhi.
In 2002, JLL acquired the Active Pharmaceutical Ingredients business.
In 2003, a new state-of-the-art Research & Development Centre, equipped with all the latest scientific instruments, was set up in Noida, near New Delhi.
In 2004, JLL inaugurated Jubilant Special Economic Zones at Bharuch, Gujarat.
In 2007, JLL acquired Hollister Stier Laboratories in the USA, a contract manufacturer of Sterile injectable vials and allergenic extracts. In the same year, the Jubilant Bhartia Foundation, the social wing of the Jubilant Bhartia Group, was established as a non-profit organization.
In 2011, JFL signed a master franchise agreement with US-based coffee chain Dunkin' Donuts for operating the brand in India.
In 2012, JLL inaugurated Jubilant SEZ at Bharuch, Gujarat and the first Dunkin' Donuts store was opened in Delhi. In the same year, Jubilant Energy acquired a block in Myanmar under the 'Myanmar Onshore Blocks Bidding Round 2011'.
In 2014, Pharmaceuticals and Life Science Ingredients consolidated under two independent verticals to decouple the Pharmaceuticals segment from the Life Science Ingredients segment.
Major Companies under the Bhartia Group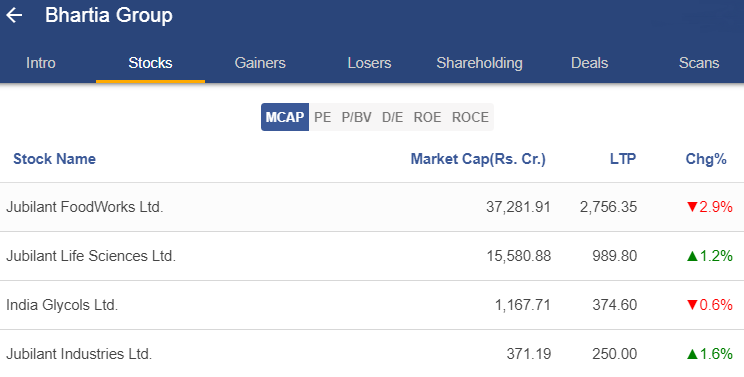 Jubilant Life Sciences Limited
It is an integrated global Pharmaceutical & Life Sciences company, engaged in pharmaceuticals, life science ingredients, drug discovery solutions, and Indian-branded pharmaceuticals.
Jubilant FoodWorks Limited
Among the largest food service companies in India, the company has a master franchise of Domino's Pizza for India, Bangladesh, Nepal & Sri Lanka and Dunkin' Donuts for India. Domino's has presence with a network of 1,335 restaurants across 282 cities as of 31st March, 2020. As of today's date, this is Jubilant FoodWorks share price.
Jubilant Industries Limited
The diversified product portfolio of the company includes Agri products like a wide range of Crop Nutrition, Crop Growth, and Crop protection products and performance Polymers products comprising of Consumer products like Adhesives and Wood Finishes and food Polymers and latex such as Vinyl Pyridine, SBR, and NBR Latex. As of today's date, this is Jubilant Industries share price.
India Glycols Limited (IGL)
The Company manufactures green technology-based bulk, specialty, and performance chemicals and natural gums, spirits, industrial gases, sugar, and nutraceuticals. Its product range spans the chemicals, spirits, herbal and other phytochemical extracts and guar gum, industrial gases and realty sectors, and finds application across an increasing number of industries. As of today's date, this is Jubilant Industries share price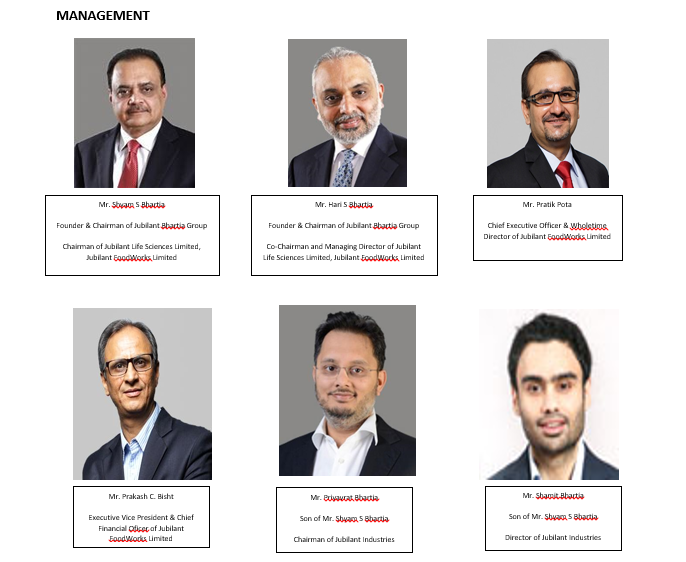 Corporate Social Responsibility
The founder of the group, Mr. Shyam Bhartia, established the Jubilant Bhartia Foundation.
Primarily, the activities of the Foundation are focused on four key initiatives:
Supporting Government Rural Primary Education System
Strengthening Basic Healthcare Facilities
Providing vocational training to improve employment prospects among the local youth
Promoting social entrepreneurship
The success of the Group so far in the various companies' businesses is an outcome of the strategic vision to attain leadership positions in each of its businesses. Bharti Group continues to focus on delivering world-class products and services to its customers, led by a culture of innovation.
You can also read our latest article on The Impeccable Journey of Jindal Stainless (Hisar) Ltd.
Watch the entire video on the Journey of Bhartia Group here:
Know more about Bhartia Group by using the Business Houses tab in the StockEdge Web
Business Houses are one of the paid tools offered by the StockEdge App
Check out StockEdge Premium Plans.