The cash flow statement is one of the three most important financial statements while we analyze the fundamentals of the company. In order to study the cash flow statement, we need to analyze the cash flow per Share and free cash flow per Share. Cash flow gives us the amount of cash that a company possesses. Let us discuss about the Cash Flow per Share
Cash Flow per Share (Rs)
Cash Flow per share is the earnings after-tax plus depreciation. This ratio acts as the measure of a company's financial strength. Cash flow per share indicates the net cash of a company on a per share basis. Cash flow does not take into account depreciation and amortization as it's not a cash expense it's a non-cash item.
Watch the video below on Everything you want to know about Cash Flow per Share:
Impact of Cash Flow per Share (Rs)       
The expenses related to amortization and depreciation is not actual losses paid with cash, thus re-entering them helps to keep the company's cash flow from being artificially deflated. This ratio is regarded as an accurate measure of the company's financial position more than earning per share as it takes into consideration a company's ability to generate cash. This is because cash flow is more difficult to manipulate than earning per share.
Formula:
Cash Flow Per Share = (Operating Cash Flow – Preferred Dividends) / Common Shares Outstanding
For example:
Let's assume that during the fourth quarter, Company ABC reported cash flow of Rs. 40 lakhs and distributed preferred dividends of Rs. 5 lakh.  During the same time frame, the company had a total of 10 lakhs shares outstanding. We calculate the company's quarterly cash flow per share as follows:
(40,00,000 – 5,00,000) / 10,000,000 = 0.35
We don't have to calculate Cash flow per share on our own. StockEdge gives Cash flow per share of the last five years of any company listed in the stock exchange. We can look and compare Cash flow per share of any company and filter out stocks accordingly.
Suppose we want to look at Cash flow per share of Just Dial Ltd. of last 5 years. In the Fundamental tab of Just Dial Ltd., click on the fundamentals tab, we will get Ratios tab.  Then in the Ratios tab click on Cash Flow Ratios, Cash flow per share will come of Just Dial Ltd.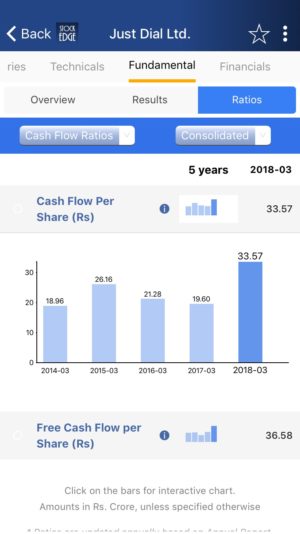 Check Out Also:  What Is Free Cash Flow Per Share
Bottomline
Free cash flow ratio gives a better understanding of a company's financial health as compared to P/E ratio. It indicates a better measure of a company's performance. With a click of a button, you can see the comparison of the company's cash flow for five years. Haven't subscribed to stockedge yet? So what are you waiting for, subscribe immediately to use this free feature. We also have paid featured scans based on Solvency, with the help of these ready-made scans you can with the click of a button filter out good companies. These scans are part of the premium offerings of StockEdge app.
Click here to know more https://stockedge.com/premium.
If you want to know more then click on this link : https://www.youtube.com/watch?v=QRv3YCwRtD4