Before we should decide whether to invest in sector funds or not, we need to understand sector or sectoral funds and their potential to give high returns.
One of the core ideas of equity mutual funds is to invest in stocks of a number of companies rather than investing in stocks of a single company. Mutual funds smartly allocates your funds in a number of different stocks forming a portfolio. This is called portfolio diversification.
Though from a safety perspective, portfolio diversification is an important tool as it minimises risks, it can also have a negative impact on your returns. This is because at any given period certain sectors of the economy perform brilliantly, some do well and others may underperform.
So when we diversify our stock portfolio between companies from various sectors, we get a combined return of both the performing and underperforming sectors. But if one can manage to invest only in the top performing sectors, their returns would be extraordinary.
In order to attract risk taking investors who prefer to invest in stocks only belonging to a particular sector, Asset Management Companies offer Sector or Sectoral Funds.
But before we get into Sector Funds, let's get the basics cleared!
What is a Sector?
A sector consists of a group of companies that operate in the same line of business which means that they either offer the same or similar type of products and services.
For instance, Maruti Suzuki and Tata Motors are a part of the Auto Sector, whereas HDFC Bank and ICICI Bank are a part of the Banking and Financial services sector.
What are Sector | Sectoral Funds?
A sectoral mutual fund scheme invests in stocks of companies belonging to a particular sector. According to the Securities and Exchange Board of India (SEBI) a Sector Fund invests at least 80% in equity and equity related instruments of a particular sector. The remaining 20% may comprise debt instruments such as bonds and government securities.
Sector Funds allow investors to invest in the top companies from any given sector. Sector funds can be further classified into the following:
Auto Sector Funds
Pharma and Healthcare Sector Funds
Technology Sector Funds
Banking and Financial Services Sector Funds
Infrastructure Sector Funds etc.
Best Sector Funds(Pharma Sector) in past 3 year shown on the StockEdge App: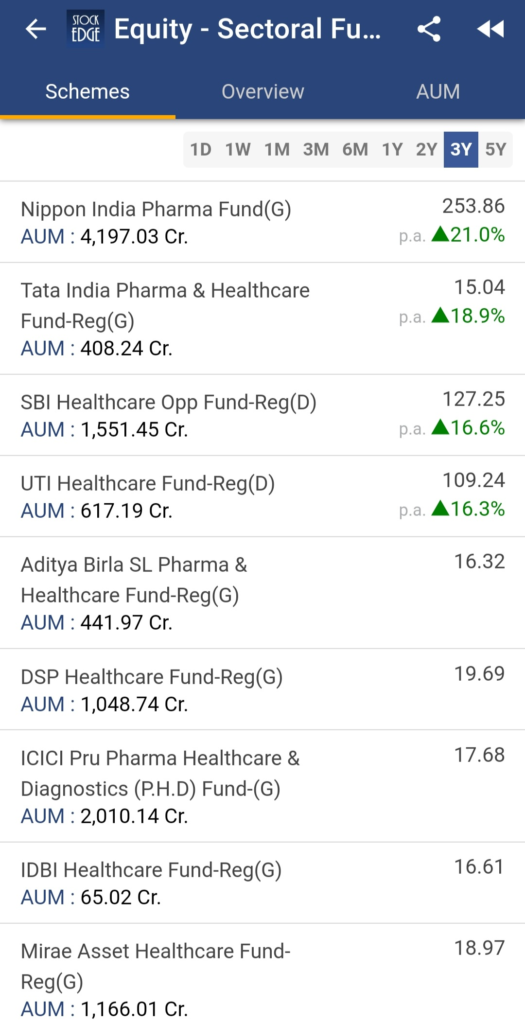 Top Sector Funds(Banking and Financial Sector) shown on the StockEdge App: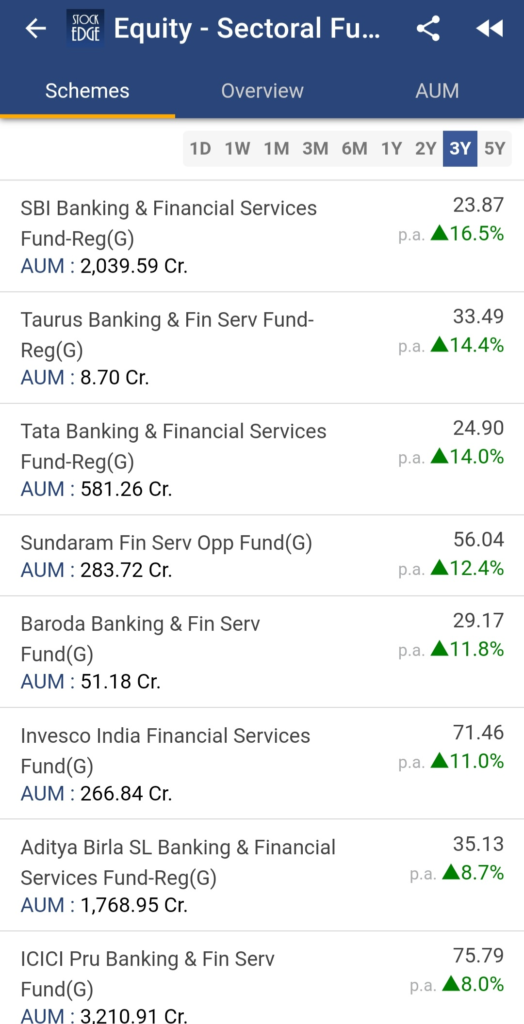 Difference between Index Funds and Sector Funds
If we look at the composition of the Nifty50 index, which is used as a benchmark to measure the overall performance of the Indian stock market, we will find companies from many different sectors.
It includes the likes of companies from the banking sector, automobile, FMCG, healthcare, IT sector and many more. A large majority of mutual fund schemes and all index funds invest in companies belonging in the Nifty50 thereby investing in companies from many sectors.
Similarly, indices such as Nifty100, BSE Sensex, and Nifty Mid Cap include companies from a number of sectors. A Sector fund on the other hand will only contain companies from a specific sector.
Also Read: Should you invest in Dividend Yield Funds?
Reason to invest in a Sector Fund
If you are someone with a good amount of knowledge about a specific industry or have high conviction through your research about a specific sector, Sectoral funds can be highly rewarding.
For instance, in the past 1 year, as of the time of publishing this blog, the returns from the Nifty50 index have been 24%. During the same period, the returns of the Pharma sector tracked by the NSE Pharma index have been almost 55%.
So we can say that the Pharma sector has outperformed the overall markets by over 20%. Though Covid19 could have been a major benefactor, investors who did invest in the sector have certainly made the most returns.
Another reason to invest in a sector fund is for those who invest in individual stocks themselves. Instead of investing in just one company, an investor can instead invest in multiple companies from the same industry through a sector fund. This diversifies an investor's portfolio and limits the potential downsides.
Who should invest in Sector Funds?
High Risk Takers – You may have come across investors who talk about how in the coming times a certain sector is going to bounce back or outperform. Well it's one thing to say and another to invest. In case of an unpredictable event a particular sector may get worse affected than others which can cause a huge loss of capital to the investor.


Experienced Investors – A person who is new to the world of finance or someone with limited knowledge of the economy and sectors should avoid investing in Sector Funds. It is prudent to have an understanding of the factors that may affect the performance of a sector and its businesses before investing in them.


Active Investors – Sectoral investments are cyclical in nature. This means that one cannot stay invested in them for a very long time period. The timing of the entry and exit from a sector fund is very important. So only investors who closely follow the financial markets on a daily basis should invest in such schemes.


Those with other investments – No investor should only invest in sector funds. It is preferred to have investments in other mutual fund classes or asset classes. Most experts suggest an investor should not invest more than 10% of their total corpus in a sector fund.
You can also view the video below to know more about Sector Funds!
Click here to know more about the Premium offering of StockEdge.
You can check out the desktop version of StockEdge using this link.