Among the other trending stocks, we are going to talk about the world's third-largest producer of soda ash which has its manufacturing facilities in Asia, Europe, Africa, and North America, and the 6th largest producer of sodium bicarbonate in the world, i.e. Tata Chemicals Ltd.
The company recently reported its latest quarterly results which have shown a multi-fold rise in profitability due to the increase in the soda ash business.
The Story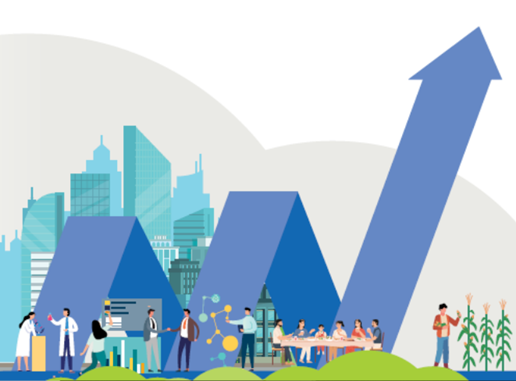 Source: Investor Presentation
Tata Chemicals Ltd was founded in 1939 by the Tata Group in Mithapur, Gujarat. The company operates in two divisions: Basic Chemistry and Specialty Chemistry. The Basic Chemistry product line of the company supplies critical ingredients to many of the world's leading brands in glass, detergents, pharma, biscuit manufacturing, bakeries, and other industries. Its innovations in Specialty Chemistry have resulted in the formation of Tata NQ, India's first and only nutritional science company.
It pioneered the production of Fossence and Gossence, a line of healthy prebiotic products marketed to business-to-business customers in India, North America, Europe, the Middle East, and Asia. Through its subsidiary company Rallis India Ltd., the company has a strong position in the crop protection business. Its green patented technology for producing Highly Dispersible Silica is aimed at adding value to a variety of industries, including high-performance tires, oral care, paints and additives, and so on.
It is developing a platform in Energy Sciences to provide cutting-edge solutions based on Lithium Ion cell technology. Tata Chemicals has world-class research and development facilities in Pune and Bangalore.
The basic chemical sector accounts for 75% of total revenue, with the remainder coming from specialty products. As of today's date, this is Tata Chemicals share price
Operational Highlights of Tata Chemicals Ltd.
During the Q1FY22, the company reported net sales of Rs.2977 Cr, an increased in 26.8% year on year. This was driven by higher growth in the basic chemical segment across four units.
The top line was marginally higher, but margins were higher due to lower-than-expected power, fuel, and freight costs.
Due to operating leverage, gross margins increased by 330 basis points year on year to 78.1%, while EBITDA margin increased by 490 basis points year on year to 20.2%.
EBITDA increased by 67% year on year to 601.2 crore.
PAT was at 288 crore, an increase of 2065% YoY primarily due to strong operational performance and a higher share from the JV.
The capital expenditure (capex) for the first quarter of FY22 was 323 crore.
The gross debt stood at 7,284 crore during the quarter, up from 6,933 crore on March 31, 2021.
Cash and cash equivalents totaled 3,293 crore during the quarter.
Profit before tax (PBT) increased by 289.1% year on year, from 110 crore in Q1 FY21 to 428 crore.
Segment Wise Highlights
Basic Chemistry Products
Revenue from operations increased by 29.9% year on year, from 1,672.3 crore in Q1 FY21 to 2,172.8 crore.
Earnings before interest and taxes (EBIT) were 345.6 crore during the quarter, up 209.4 % year on year.
Soda ash volumes in Q1 FY22 were 898 kilo tonnes (kts), up from 624 kts in Q1 FY21, representing a 43.9 % increase year on year.
Salt volumes in Q1 FY22 were 408 kts, up from 385 kts in Q1 FY21, representing a 6% increase year on year.
Sodium bicarbonate volumes were 55 kts in Q1 FY22, up from 51 kts in Q1 FY21, representing a 7.8 % increase year on year.
Overall margins in India improved year on year due to higher volumes, which were partially offset by higher input and energy costs.
During the quarter, revenue and EBIT were 770 crore and 234 crore, respectively, up 26% and 47.2 % year on year.
In the United States, revenue and EBIT were 837 crore and 93 crore, respectively, up 35% and 297.9 % year on year. The export market expanded during the quarter, but prices remained below pre-Covid levels.
In the United Kingdom, revenue and EBIT stood at 407 crore and negative 8 crore, respectively, during the quarter. Revenue increased by 29 % year on year, while EBIT decreased by 33.3 % year on year. Lower sales realization and higher energy and carbon costs impacted margins.
In Kenya, revenue and EBIT increased by 34% and 1600%, respectively, to 134 crore and 17 crore during the quarter. Margins improved as a result of lower power and fuel costs.
Speciality Products
Revenue from operations increased by 18% year on year, from 675.9 crore in Q1 FY21 to 797.4 crore in Q1 FY22.
EBIT was 93.3 crore during the quarter, compared to 93.4 crore in Q1 FY21.
During the quarter, Agro Science (Rallis India Ltd.) reported revenue and EBIT of 741 crore and 104 crore, respectively. Revenue increased year on year, owing to volume growth in domestic formulations, crop care, and seeds. Higher freight and employee costs impacted margins year on year.
Updates
Revenue increased year on year due to a rebound in soda ash volumes in the United States and India. Volumes in the United Kingdom remained stable, while Kenya continued to record higher levels of soda ash.
As of June 2021, the company had spent 950 crore on Mithapur plant expansion. The total project cost, including cement and chloro caustic expansion, is estimated to be Rs. 2,700 crore.
Future Outlook
The company anticipates that the demand and the price of soda ash will rise in FY22. The management would keep an eye on energy, logistics, and carbon costs in the coming quarters. The Mithapur expansion is expected to be finished by FY24. The key near-term strategies would be to invest and grow in India, focus on cash generation across geographies, and deleverage international debt.
Technical Views
Tata Chemicals Ltd. is trading at the upper end of the pattern and is likely to stay positive for the medium-term outlook if the stock holds and closes above 835 level on a closing basis. Technical parameters look positive till now and are likely to see further momentum above the 844 level.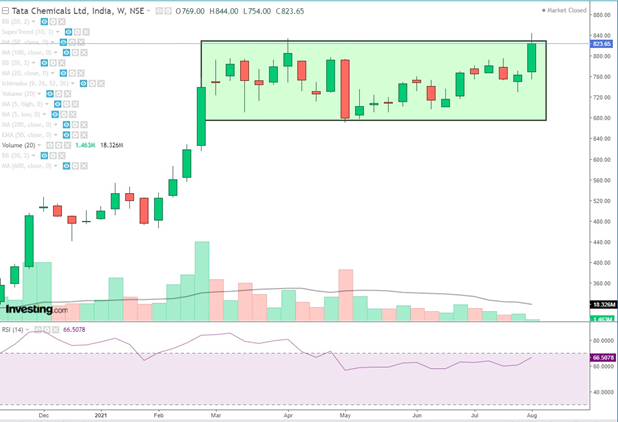 Bottomline
Tata Chemicals Ltd has a strong and diverse business risk profile as a result of its established market presence, as well as a healthy financial risk profile as a result of its strong liquidity and financial flexibility. Increased demand for solar cells and lithium carbonate will broaden the outlook for the soda ash industry. The improved pricing environment for soda ash bodes well for future growth prospects. Export demand for the North American unit must recover in order for the group's performance to be sustained. With the business environment steadily improving, the company is in an excellent position to expand across customer segments.
Know more about Tata Chemicals Ltd. and its peers by using the Sectors tab in the StockEdge Web
Check out StockEdge Premium Plans.
Disclaimer: This document and the process of identifying the potential of a company have been produced for only learning purposes. Since equity involves individual judgments, this analysis should be used for only learning enhancements and cannot be considered to be a recommendation on any stock or sector.