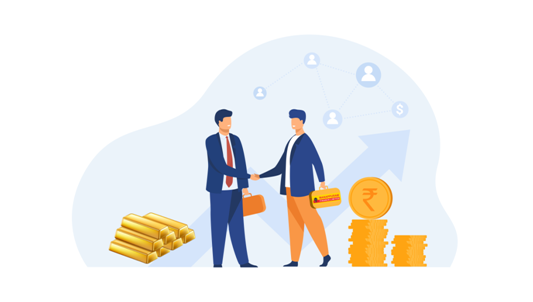 Indians adore gold more than any other people on the planet, and even the poorest Indian tries to obtain the tiniest trinket that serves as both jewelry as well as the safest long-term investment. What happens is when T.V commercials featuring movie stars tell you how easy it is to borrow money against your carefully accumulated gold, it strikes an emotional chord.
Watching people slide gold across the counter and get a chunk of cash, back in a minute to finance a child's higher education or buy a tractor is so appealing that people across the economic spectrum look to gold loans as their first borrowing option when they are in a bind. In almost every case, the gold pledged is not even a family heirloom holding great emotional value, and borrowers are unaware of the high interest they are paying on an asset that yields no return.
This emotional reaction, combined with poor knowledge, makes lending against gold a very profitable business.
The Story
Its origin date back to 1949, when Mr. V.C. Padmanabhan, founded it in the coastal village of Valapad (Thrissur District). The company was involved in pawnbroking and small-scale lending. After his father died in 1986, Shri Nandakumar took over the helm.
Since then, it has been a story of unrivaled growth, with numerous milestones achieved. Manappuram Finance Ltd., founded in 1992, has grown rapidly.
Today, Manappuram Finance Limited is India's second-largest gold financier, with 4,637 branches spread across 28 states/UTs, with Rs. 272.24 billion in assets under management (AUM) and a workforce of over 30,000 serving customers from lower socioeconomic classes, primarily in rural and semi-urban areas.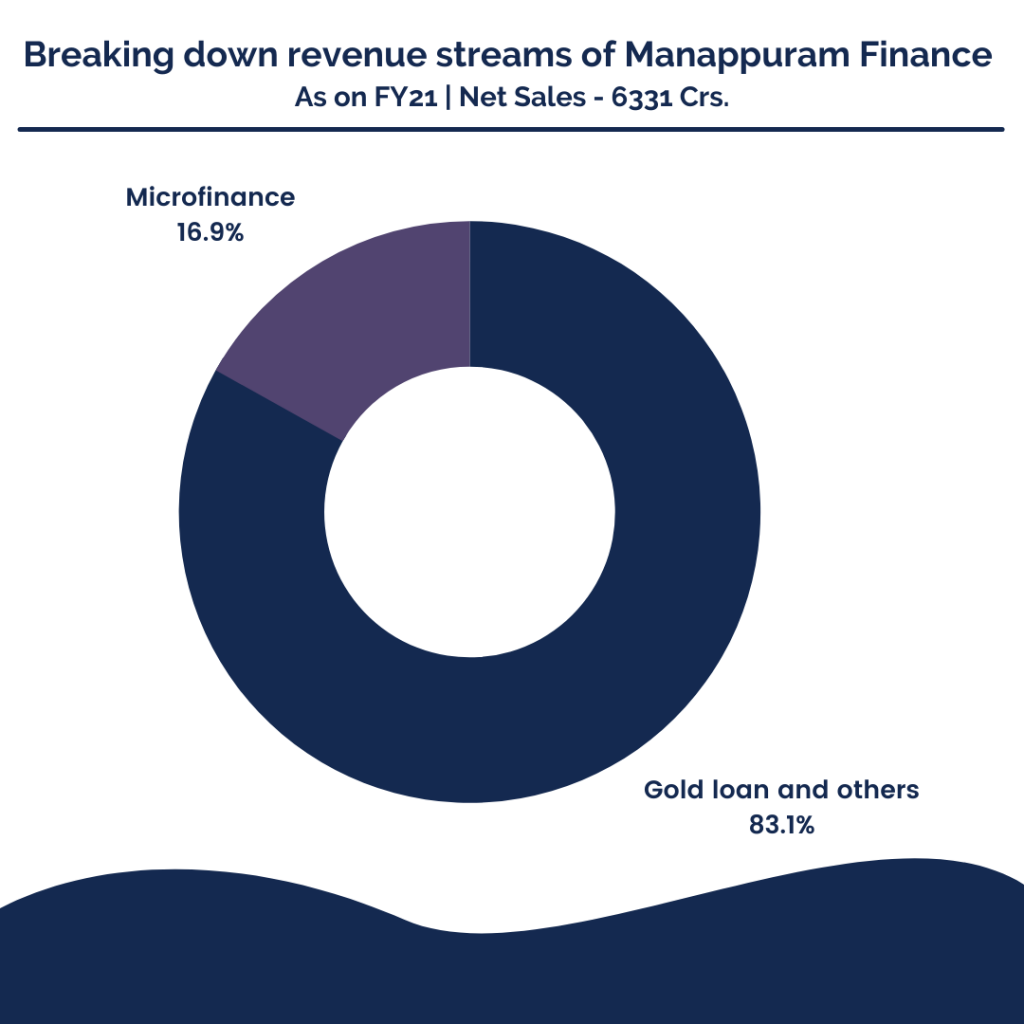 Let's try to understand the Business of Gold Lending!
Borrowing against gold is appealing because few questions are asked. The lender does not require you to disclose your income, produce a pay stub, or be concerned about your credit score or credit report. If you bring your jewelry to a gold loan company, they will finance you up to 60-70% of the gold's value (RBI restricts LTV at 75%). Even though the gold price has been reduced, the actual margin is much higher.
Now you must be wondering what is LTV? Don't worry we will explain it to you.
Lenders use the loan-to-value (LTV) ratio to determine how much risk they're taking on with a secured loan. It assesses the relationship between the loan amount and the market value of the collateral, such as a home or car.
If a lender grants a loan worth half the asset's value, for example, the LTV is 50%. As LTV increases, so does the lender's potential loss if the borrower fails to repay the loan, creating more risk.
The loan-to-value ratio can apply to any secured loan, but it is most commonly applied to mortgages. In fact, LTV limits are specified as part of the qualifying criteria for several federal mortgage programs.
This gold is then pledged by these gold finance companies with large banks, with funding totaling more than 80% of the gold's value. The gold finance company keeps a portion of the profit. Second, there is a significant disparity in the rates. Because the gold loan companies are fully secured, the PSU banks typically refinance them at 11-13%. However, depending on the credit risk perception of the borrower, gold loan companies charge anywhere from 18% to 32% annualized.
It is this huge margin that keeps the gold loan companies going.
One of the major advantages that gold loan companies have is their low cost. These gold loans are in high demand in semi-urban and rural areas where the gold loan company can effectively operate through a network of franchises and brokers. This significantly reduces their establishment costs while only requiring a variable payout. Running operations in rural and semi-urban areas is much cheaper for these gold loan companies, which has served them well.
Most people have an emotional attachment to gold and will not sell it unless they are in dire financial straits. This is why gold loans are such an appealing business for lenders.
Let's Look at the Financials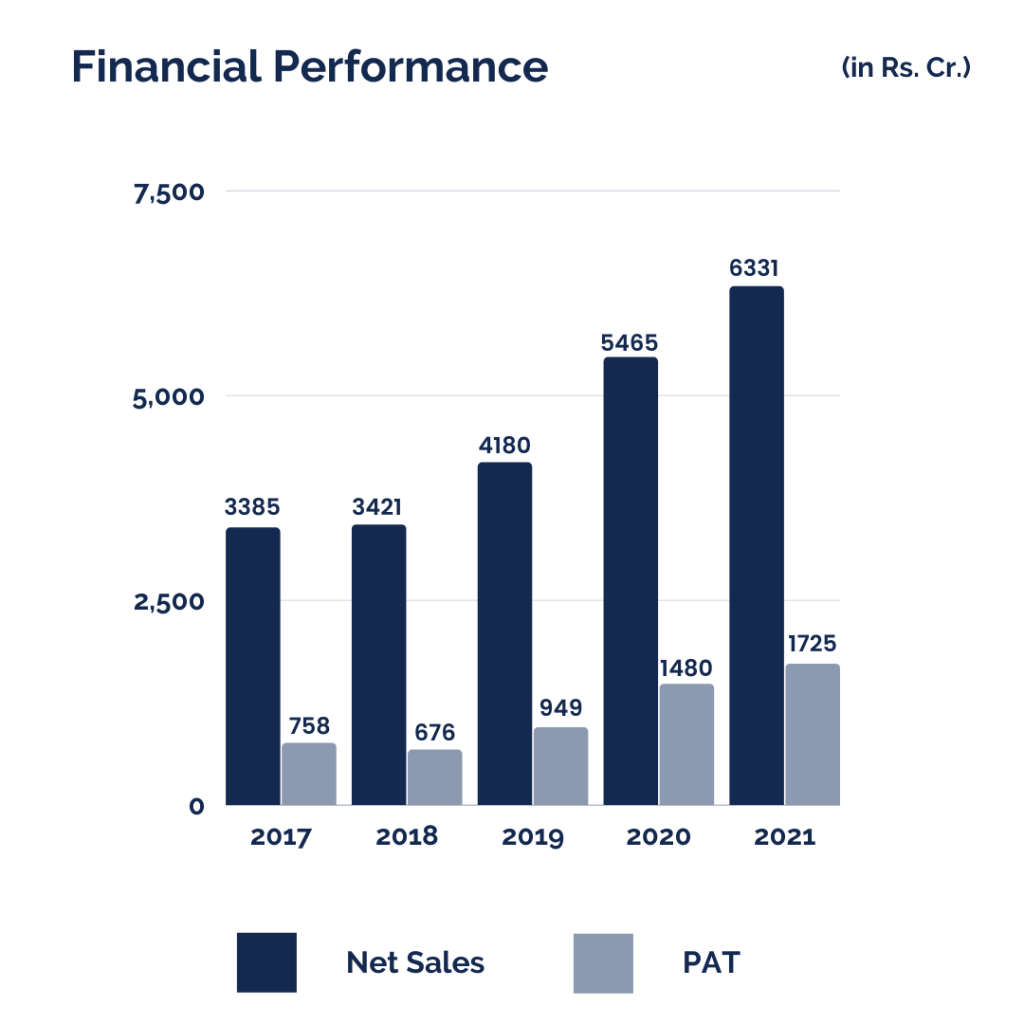 Manappuram's revenue has grown 87% between FY17 to FY21— from Rs.3385 to Rs.6331 crores. PAT has grown by a whopping 126% from Rs.758 crores to Rs.1725 crores. However, the share price growth is not that impressive. In a time where most of the stocks have given a massive return in the last one year, Manappuram's stock price grew only by 20%. As of FY21, the company had healthy capital adequacy of 29%, compared to the regulatory requirement of 15% and as of today's date, this is Manappuram Finance share price.
The current distress which Manappuram Finance is going through!
Initially, the pandemic pushed the gold loan market to new heights. It was unquestionably a positive development for the gold loan market. However, it also suggested that people were being forced to obtain loans by pledging their stored gold in exchange for immediate liquidity. However, the gold price bull run came to an abrupt halt early this year, with gold prices plummeting from a record high in the month of August 2020.
Excess liquidity in the global economy has dragged down gold prices, and expectations are that it will continue to fall until inflation becomes a concern for central banks.
With the continuous sequential decline in gold AUM, due to a significant drop in gold prices, the company has been asking customers to pledge more gold in order to shore up the collateral. But, at a time when lockdowns are common and the economy is in a slump, how can we expect people to repay the loan on time? As a result, the company took a conservative approach and began auctioning gold in bulk.
They auctioned off a tonne of gold worth 404 crores in the fourth quarter of FY2021, compared to just 8 crores in the previous three quarters. And that was only the beginning. In the following quarter, the company auctioned off 4.5 tonnes of gold worth Rs. 1500 crores.
While this may not appear to be such a bad thing in light of the alternatives, but the investors were dissatisfied with the lost earning potential. So, ideally, the lender would want a loan to run its full term so that they can profit from interest. However, if the lender is auctioning gold or recalling loans ahead of time, that's lost revenue.
The Road Ahead.
Though the continuous decline in gold AUM is cause for concern, recovery was seen in July. When compared to the previous month, customer addition increased by 40% in July. Despite the fact that gold prices remain volatile, a loan-to-value (LTV) of 65% provides an adequate margin of safety. A strong balance sheet with a healthy Capital Adequacy Ratio is also reassuring. In order to improve business outcomes, the company is also focusing on digital initiatives.
Because of the low costs and high asset quality, gold finance companies like Manappuram Finance have consistently managed to provide an industry-beating return on equity of 27% along with a return on asset of 5-6%.
Gold lending is a high-margin business, and we believe specialists like Manappuram will benefit in the future as the company faces little risk in terms of asset quality, asset-liability mismatch, interest rates, and leverage.
Until then, stay tuned for the next blog and keep watching this space for our midweek and weekend editions of 'Trending Stocks". And, if you liked the way we represented Manappuram Finance's story, show us some love by sharing it with your friends and family. Until then, take care and happy investing!