In today's blog, we will discuss Kajaria Ceramics Ltd., which has been outperforming its benchmark and sectoral index in one week and three months. They announced its quarterly results on 21st Jan 2022 and as of today, this is the share price of Kajaria Cermaics Ltd.
The Story
Kajaria Ceramics Ltd. is the largest manufacturer of ceramic and vitrified tiles in India and the 8th largest in the world, with an annual aggregate production capacity of 70.4 million square metres distributed across eight plants in Uttar Pradesh, Rajasthan (one in Sikandrabad, one in Gailpur and one in Malootana), Gujarat (three in Morbi, one in Vijaywada, and one in Srikalahasti). Kajaria is present throughout the tile value chain, including ceramic wall and floor tiles, polished and glazed vitrified tiles.
Kajaria Ceramics Ltd holds around 10-11% market share in the overall industry. In addition to tiles, Kajaria Ceramics Ltd has a presence in bathroom solutions – sanitaryware and faucets – via its subsidiary Kajaria Bathware. Kajaria Plywood (a subsidiary) has also entered the plywood business offering wood panel products.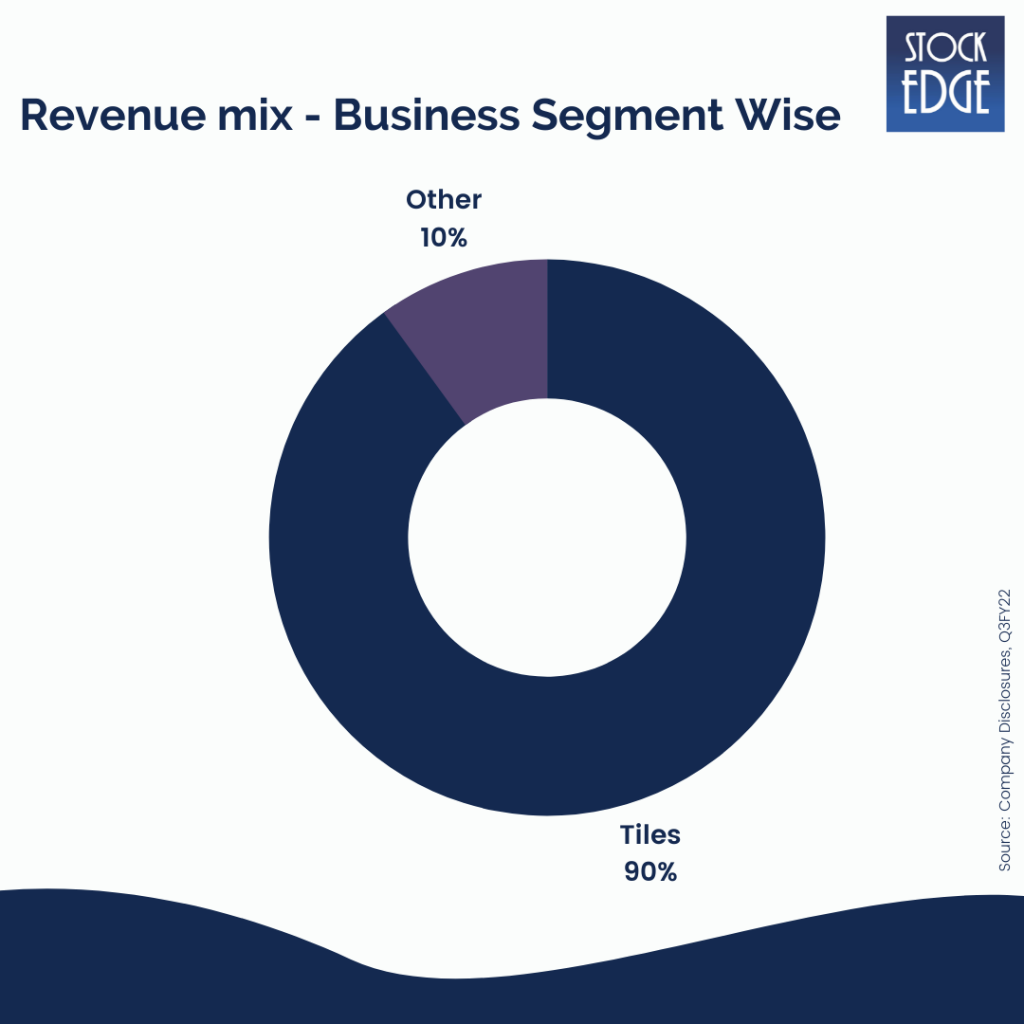 The Indian Tile Industry
Tiles are now a necessary component of the construction industry. They are used in commercial spaces, residential complexes, and high-traffic areas.
Tiles are the unsung heroes of home décor. Yet, they have become an essential component of home design strategies because of their aesthetic appeal. They are used wisely in every room of the house. The wall adds style and glamour to the look to make the space appear more prominent on the floor.
Tiles are preferred in high footfall areas (commercial and retail) because of their aesthetic appeal, strength, longevity, and ease of maintenance.
Over the last ten years, the global ceramic tiles market has experienced consistent growth, driven by – rising demand for ceramic tiles in buildings and construction; rapid development of residential and commercial buildings due to population growth, increasing urbanization, and growing per capita income; and technological advancements in this sector, which have fueled product innovation and cost efficiencies.
Morbi, India's largest ceramic industry hub, saw strong demand from international markets.
This was due to some countries' anti-China policies and the China+1 strategy used by some other tile-consuming countries. This aided in the opening of new markets.
Compared to the previous year, India's tile exports increased significantly in FY21.
What are the prospects for demand?
Reverse migration has been a significant trend that has significantly increased demand for homes in Indian Tier II and Tier III cities, along with the ready availability of larger spaces, lower construction costs, and improved value for money in terms of property prices.
The government has announced the construction of 100 new airports in India by 2024. Most of these airports are located in Tier I and II cities to improve connectivity. The majority of these airport projects have yet to begin. Large expansions have also been planned (some have already started) for India's premier New Delhi, Hyderabad, Mumbai, and Kolkata.
According to JLL India, the top eight cities in India added 28 million square feet to India's warehousing inventory, bringing the country's total storage space capacity to 238 million square feet by 2020. According to the advisory, India will have 344 million square feet of warehousing space by 2022.
Let's look at the Financials of Kajaria Ceramics Ltd
Kajaria Ceramics Ltd revenue increased 27.4% year on year to Rs.1068 cr (+9.7 % QoQ), primarily due to higher sales volumes. Revenue from the tiles business increased 26.8 % year on year to Rs.962cr, with own manufacturing, subsidiaries, and outsourcing businesses contributing Rs.552 cr (+18.9 % year on year), Rs.138cr (+11.2 % year on year), and Rs.271 cr (+60 % year on year), respectively. Revenue from sanitary ware and plywood increased 33.1 % year on year to Rs.107 cr.
Despite robust topline growth, the company managed to post a 1.1% YoY increase in EBITDA to Rs. 184 cr, but the EBITDA margin shrank 450bps YoY to 17.2% due to higher power and fuel costs, raw materials costs and staff costs. PAT increased 2.6% year on year to Rs.122cr, aided by lower tax outgo.
Who is the jockey?
Ashok Kajaria is the chairman and managing director of the Kajaria Ceramics Ltd, founded in 1988. As joint managing directors, his sons Chetan and Rishi assist him in running the business. He also serves on Kajaria Infrastructure Pvt Ltd, Kajaria Energy Ltd, and Ramya Agrotech Pvt Ltd. He previously served as Director of the Indian Council of Ceramic Tiles and Sanitaryware and President of the PHD Chamber of Commerce and Industry. He graduated from the University of California, Berkeley, with a bachelor's degree in mechanical engineering.
To get more detailed analysis and Reports on Stocks, visit our Edge Report Section by subscribing to our StockEdge premium plans
Road Ahead
Kajaria is expanding capacity at three sites in Rajasthan, Gujarat, and Andhra Pradesh to add 12.4 million Square meters total capacity at the cost of Rs.250 crore. All three expansion projects are scheduled to be finished by April 2022, which will drive growth ahead. Apart from that, Kajaria's product prices have continued to rise. The management has approved the purchase of an additional 26% stake in Cosa Ceramics.
However, as with such companies, risks like raw material price volatility can impact margins and fuel cost, which forms a significant part of the company's cost. Apart from that slowdown in demand can likely hurt demand for a company's product.
So we will have to wait and see how the company develops from here on out.
Until then, keep an eye out for the next blog and our midweek and weekend editions of "Trending Stocks and Stock Insights." Also, please share it with your friends and family.
Happy Investing!