In this weekend's blog, we'll talk about a company that is one of India's leading manufacturers of branded electric resistance welded (ERW) structural steel pipes, with a capacity of 2.6 mn tonne per annum (mtpa) spread across 10 manufacturing facilities Yes, you guessed it right, it's APL Apollo Tubes Ltd.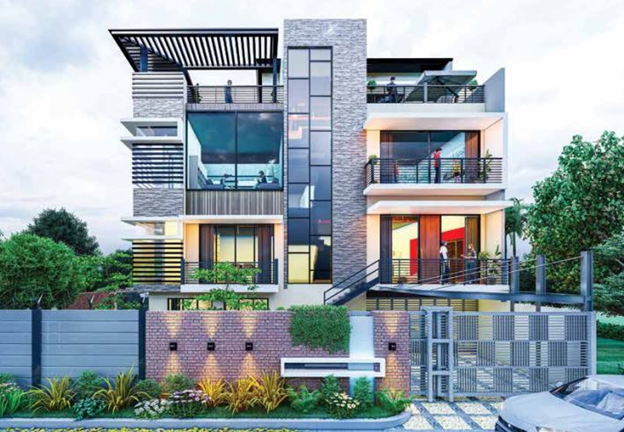 The Story
Incorporated in 1986, the company had set up its first manufacturing plant in Sikandrabad, Ghaziabad. The company was founded by the late Sudesh Kumar Gupta and has since carved an unrivaled position in the global market by making an unwavering effort to provide its clients with premium quality pipes and tubes.
Between FY10 and FY21, the company increased its capacity from 0.27 mtpa to 2.6 mtpa across the country, growing at a CAGR of 23%. APL has developed this capability in both organic and inorganic ways. Apollo Metalex Pvt was bought out in 2007, followed by Shri Lakshmi Metal Udyog in 2008, Lloyds Line Pipes in 2012, and Taurus Value Steel and Apollo Tricoat in 2019.
Capacity expansion, vast distribution network (+800 distributors, +50,000 retailers, +0.2 million fabricators, and 29 warehouses), innovative product ranges (+1,500 SKUs), and strong brand image are all contributing to the company's massive growth. Furthermore, the company's market share in the ERW segment has increased to 50% in FY21, up from 27% in FY16, which is phenomenal.
Steel pipes industry
Steel tubes and pipes are classified as ductile iron, seamless, or welded pipes. Welded pipes are further divided into SAW (HSAW and LSAW) and ERW pipes. ERW pipes are formed by rolling plates and welding the seam.
They are primarily used in the construction of commercial buildings such as airports, malls, metros, bus bodies, greenhouse structures, sprinklers, prefabricated structures, and so on.
Innovative products tailored to the needs of the customer
The company uses the latest technologies like Direct Forming Technology (DFT) which enables it to customize products in a cost-effective manner, to constantly innovative products that replace the conventional ones like wood, aluminum, and reinforced cement concrete (RCC) across the construction segments.
The company's growing presence across various sectors, as well as higher penetration within each segment through innovative products, has aided it in replacing traditional product usage. APL currently has a presence in 300 towns and cities across India, with a strong presence in the western and southern regions, thanks to its strong distribution network.
A major focus area is brand development.
APL has successfully captured the fabricator and architect's mind share (who typically dictate the customized product based on the end-use), making its steel tube their preferred choice for applications. The company has worked hard to establish a strong brand image through large-scale print and television commercials, as well as sponsorship of major sporting events.
India's structural steel market and its prospects
The growing commercial building sector, as well as the government's initiatives for green buildings, smart cities, the Make in India scheme, warehouses, airports, and metros, are expected to drive the structural steel fabrication market in India. Going forward, this will provide significant growth opportunities for structural steel.
Significant growth in the real estate sector will fuel demand for structural steel.
The residential, commercial, and retail segments will lead the growth, which will be driven by rapid urbanization caused by rising urban population, the nuclearization of families, rising per capita income, improved standard of living, and increased construction of malls and commercial offices.
APL derives 75% of its sales from the building material segment (both construction and home décor) and will benefit directly from growth in the country's real estate market. The demand for structural steel is expected to grow significantly across the real estate sector, as it is replacing traditional construction products with newer ones at a much faster rate now due to their lower cost, greater flexibility, and shorter construction time requirements when compared to traditional ones. In addition, high-rise buildings with G+20 floors are being built in India, increasing the demand for structural steel in urban real estate.
Investing in urban infrastructure
With the Indian government planning to build more airports and metro rails, particularly in smaller cities, over the next few years, Growth in both of these segments will drive demand for structural steel, and APL, with a 50% share of the segment, will be a major beneficiary.
The company also intends to sell its products for the construction of large structures. Many state governments and private developers intend to use tubular technology to build hospitals, shopping malls, and commercial complexes. APL intends to supply its large-diameter products (300×300 and, soon, 500×500) for building structures in these types of upcoming projects.
Creating a strong foundation in the home décor segment
In 2018, APL entered the home decor market by acquiring a majority stake in Apollo Tricoat. APL currently owns 55.82% of APL Tricoat and has increased its presence in the market. Steel door & frames, window frames, handrail designer pipes, plumbing for the premium housing segment, staircase, furniture, pillars, and interior designs are some of the products available in this segment.
Financials of APL Apollo Tubes Ltd.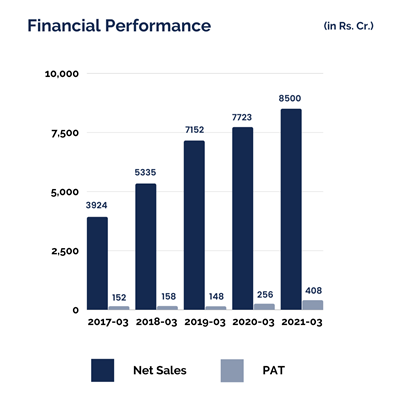 APL Apollo Tubes revenue has grown 117% between FY 17 and FY21— from Rs.3924 to Rs.8500 crores. Net profit has grown by a whopping 168% from Rs.152 crores to Rs.408 crores. The growth has been so remarkable that the company's share price has grown by 921% in the last 5 years. The company's debt-equity ratio has improved from 0.85 in FY17 to 0.31 in FY21. The company's working capital cycle has been reduced from 33 days in FY17 to 9 days in FY21. ROE and ROCE have improved to 27% and 28% respectively.
Who is the Jockey?
The company is led by Sanjay Gupta, (chairman & MD), who has more than three decades of experience in various steel industry segments. Under his visionary and dynamic leadership, the Company has evolved and grown from a steel tube manufacturer to a global leader in branded structural steel tubing products. Because of him, APL Apollo has revolutionized the steel tube and pipe manufacturing industry.
The Road Ahead
The company's long-term strategy is to focus on new product development and value addition across markets in order to sustain double-digit volume growth over the next 3-5 years. It intends to increase capacity by 1.4 million tonnes per year (0.4 mtpa in FY22, 0.6 mtpa in FY23, and 0.4mtpa in FY24). One million tonnes per annum (mtpa) will be produced at its Raipur facility, with the remaining 0.4 million tonnes produced at other units, resulting in an EBITDA/tonne of INR6000.
Capex will be incurred through internal cash flows, according to the company's plans. In the coming quarters, it would concentrate on increasing its market share. The company's sales volume for the current fiscal year is set at 2 million tonnes. Over the next three to four years, the company plans to reach and utilize 4 million tonnes of annual capacity. Following that, they may consider Greenfield expansion.
That's all from our end folks! We hope you liked our weekend read. Stay tuned for the next blog and keep watching this space for our midweek and weekend editions of 'Trending Stocks". And, if you loved the way we represented APL Apollo Tubes' story, show us some love by sharing it with your friends and family. Until then, take care and happy investing!