Turnover of a Company means the Revenue earned by a company after manufacturing and sales of goods in a monthly, quarterly, half yearly or yearly basis. In accounting terms it means the ratio of selling of Inventory by the company and collection of Accounts Receivable from the Debtors.
What does High increase in Quarterly Sales YoY signify?
High increase in quarterly sales means those companies whose sales have grown well compared to same quarter last year. Thus this scan will filter out those companies whose sales have risen exceptionally well Year on Year basis. This signifies that the company has done some big makeover either in the product or the market segment and hence has seen huge growth in sales or the company has won some large orders and thus sales have risen exceptionally.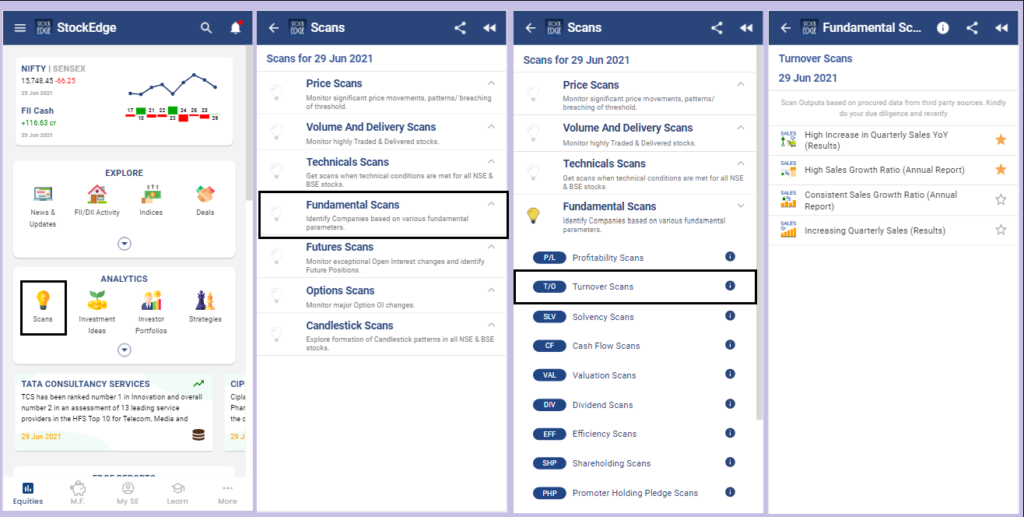 What does High Sales Growth Ratio signify?
When the company shows Annual sales growth more than 5% with respect to last year sales. Thus the amount by which it's sales is growing is known as its Sales ratio. Suppose a company shows sales of 250 crores in one year and 350 crores in the next year then its said to be having a sales growth ratio of 40 percent annually. These companies come under the radar of the Investors for value investment if all the other major valuation ratios remain favourable.
What does Consistent Sales Growth Ratio mean?
Consistent Sales growth ratio means the sales of the company is growing every year. This scan will filter out those companies whose sales are growing annually. That means the company is showing growth in all verticals with all its other variables remaining constant.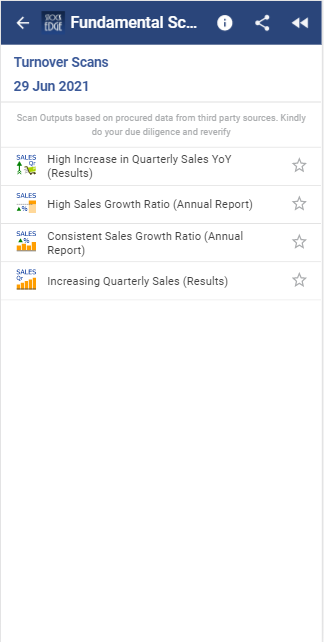 What do Increasing quarterly sales mean?
Increasing quarterly sales means the company has shown consistent growth every quarter in last 5 quarters with respect to the previous quarter.
How can we filter out companies having high Sales growth ratio?
We have a scan feature in Stockedge under which we have fundamental scan feature which contains turnover scan option which helps us to filter companies based on Increasing quarterly Sales from Quarterly Results, Consistent sales growth ratio based on Annual Report, High Sales growth ratio based on Annual Report and High increase in quarterly sales from Quarterly results.
Bottomline
Sales growth ratio is an important barometer to gauge the growth and future prospects of a company. With the help, these ready-made scans you can with the click of a button filter out good companies. These scans are part of the premium offerings of StockEdge app.
Join StockEdge Club to get more such Stock Insights. Click to know more!

You can check out the desktop version of StockEdge.