The market cap to Sales ratio determines how much price is one willing to pay for every rupee of its sales. It is an important ratio as it combines two very important aspects namely sales and the market price of the share. It is useful for valuing a company's actual price. If the ratio is less than one then it is considered to be undervalued and vice versa.
Although the share price depends on the sales it is also dependent on a lot of other factors. So, only viewing this ratio alone will not help in analyzing a stock. And, sales don't always necessarily translate into earnings. A lot of other ratios should be looked at in combination to analyze a stock.
Watch the video below on Everything you want to know about Market Cap to Sales ratio:
Components of the Market Capitalization to Sales ratio
Market Capitalization is the product of the Market Price of the share and no. of shares outstanding. The no. of shares basically remains the same unless there is a new issue of shares, stock split, or a buyback which can be seen in the shareholding pattern as a total number of shares present.
The market price of a share of a company is determined by market actions. If there is a demand for the share of a particular company the prices rise & vice versa. Now, the demand is due to the prospects of the company. If the company as a whole is doing well and if there is any future potential then the share price generally increases.
A sale of a company is the total value of products and services sold by the company. It can be obtained from the annual or quarterly report published by the company.
The sale is the quintessential aspect of any business. All the other financial or non-financial activities of a business either precedes or follow sales. In a line, we can say that a business exists to make sales. If there is some issue with the sales, it affects the entire business. It affects the share price too as the market bases its valuation on every rupee of sale that a company makes.
Importance
Market cap to sales ratio is preferred more over PE Ratio because it does not take into account Interest and taxes or any non-cash items thus it cant be manipulated. But PE ratio can be manipulated as it takes into account non-cash items too. Thus lesser is the market cap to sales more undervalued is the company and vice a versa.
Market Cap To Sales Ratio Formula:
Market Cap to Sales ratio = Market Cap / Total Sales
Market Capitalization = Market Price of a share * total no. of shares outstanding
Explanation
Suppose a company ABC has a price of Rs 1000 and the total number of outstanding shares being 1,00,000. Therefore market cap = 1000*1,00,000 = 10,00,00,000
Now suppose the company makes a sales of 10,00,000
Market Cap to Sales ratio = 10,00,00,000/10,00,000
Thus the ratio stands at 100
This means you will be paying Rs 100 for every rupee of sales that a company makes if you wish to buy the company for merger or acquisition.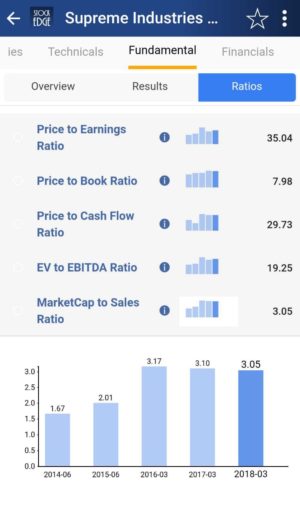 StockEdge App
Nowadays we don't have to calculate the market cap to sales ratio on our own. StockEdge gives us the ratio of the last five years of any company listed on the stock exchange. We can look at and compare the market cap to sales ratio of any company and filter out stocks accordingly.
Suppose we want to look at a market cap to sales ratio of Supreme Industries Ltd. For the last 5 years in the Fundamental tab of Supreme Industries Ltd, click on the fundamentals tab, we will get the Ratios tab. Then in the Ratios tab click on the Valuation Ratios, we will get the market cap to sales ratio of Supreme Industries Ltd.
Bottomline
The varying share price with respect to sales can give us some idea into how the price of a share of a company is related to its sales. It can be tracked on a year-on-year basis to get a better idea of how it is changing. It can be compared with other businesses in the same Industry. With a click of a button, you can see the comparison of the company's market cap to sales ratio for five years.
Haven't subscribed to StockEdge yet? So what are you waiting for, subscribe immediately to use this free feature? We also have paid featured scans based on Valuations, with the help of these ready-made scans you can with a click of a button filter out good companies. These scans are part of the premium offerings of the StockEdge app.
Join StockEdge Club to get more such Stock Insights.

You can check out the desktop version of StockEdge.