In this blog, we will share our spotlight on Shilpa Medicare Ltd.
Shilpa Medicare Ltd. – Highlights
Shilpa Medicare Ltd. is trading at Rs 509.80, up by 11.91% on the NSE. The stock is up 41.79% in last one year as compared to a 125.14% spurt in Nifty SmallCap 100.
In one month the stock has gone up by 33.48%.
The rally in the stock is due to the tie-up with Dr. Reddy's Laboratories for the production of Sputnik V.
According to the company's filings with the stock exchange, the company has entered into a three-year DefInitive Agreement with Dr. Reddy's Laboratories Limited (DRL) for the production-supply of the Sputnik V vaccine from its integrated biologics R&D and manufacturing centre in Dharwad, Karnataka.The targeted production of the dual vector Sputnik V for the fIrst 12 months is 50 million doses (50 million of Component 1 and 50 million of component 2), from the date of start of commercial production.
DRL has collaborated with HVIRDIF on the vaccine's clinical development and has distribution rights in several countries, including India. The transfer of sputnik technology to SBPL will be facilitated by DRL. According to the agreement, SBPL will be in charge of vaccine manufacturing, while DRL will be in charge of vaccine distribution/marketing in its marketing territories. The companies are also exploring the option to manufacture Sputnik Light, a single dose version of the vaccine in the near future.
The company sees biologics as a strategic growth area and has made significant investments in establishing a high-end, flexible biologics facility in Dharwad to meet the needs of the rapidly growing biologics field, which includes adenoviral, subunit, and DNA vaccines, monoclonal antibodies, and fusion proteins.
Shilpa Medicare, founded in 1987, has carved a niche for itself in the highly competitive and quality-conscious pharmaceutical manufacturing industry. Using sophisticated technology and meticulously following international specifications, it manufactures and exports consistently high-quality Active Pharmaceutical Ingredients, Fine Chemicals, intermediates, herbal products, and specialty chemical products.
In 2021, Shilpa Medicare Limited has entered the gynaecology market with the launch of its first women's intimate cleansing spray in India under the brand name 'SwatchShil.'
For more fundamental data and analysis, click on Shilpa Medicare Ltd.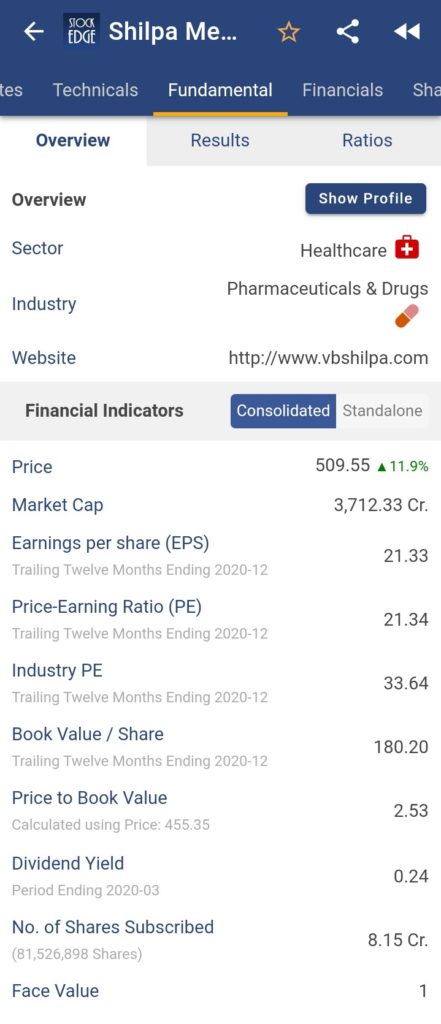 To get more detailed analysis and Reports on Stocks, visit our Edge Report Section by subscribing to our StockEdge premium plans