In this blog, we will share our spotlight on HDFC Bank Ltd.
Central Depository Services (India) Ltd. – Highlights
The shares of Central Depository Services (India) Ltd. closed at Rs.1254.45, up by 15.79%, in today's trading session.
The stock price has increased by 336.63% in last one year, while the benchmark index Nifty 50 has increased by 46.37%.
The stock has been rallying after the depository on Friday said that it has become the first depository to open four crore plus active demat accounts.
In terms of active demat accounts, CDSL is currently the largest depository in the country.
The depository reported an 82.8 % increase in consolidated net profit in Q4 FY21 to Rs 51.97 crore, up from Rs 28.53 crore in Q4 FY20. During the quarter, income from operations increased 72.1 % year on year (YoY) to Rs 103.08 crore.
On December 12, 1997, the company was incorporated in Mumbai as 'Central Depository Services (India)' (CDSL), a public limited company under the Companies Act, 1956. On December 19, 1997, the company received its certificate of incorporation from the Ministry of Corporate Affairs. SEW issued the company a certificate of registration under the Depositories Regulations on August 19, 1998, and it later obtained its certificate of commencement of business as a depository under the Depositories Regulations on February 8, 1999.
The company began its depository business in 1999 with the goal of providing convenient, dependable, and secure depository services to all market participants at an affordable cost. It was initially promoted by the BSE, which later sold a portion of its stake to leading Indian banks. It is linked to the clearing corporations of all the major Indian stock exchanges, including the BSE, the National Stock Exchange (NSE), and the Metropolitan Stock Exchange of India.
In India, CDSL serves as a securities depository. Account opening, dematerialization, processing delivery and receipt instructions, account statement, re-materialization, pledging, nomination, transmission of securities, change in address, bank account details, and SMS services are among the services provided to depository participants.
For more fundamental data and analysis, click on Central Depository Services (India) Ltd.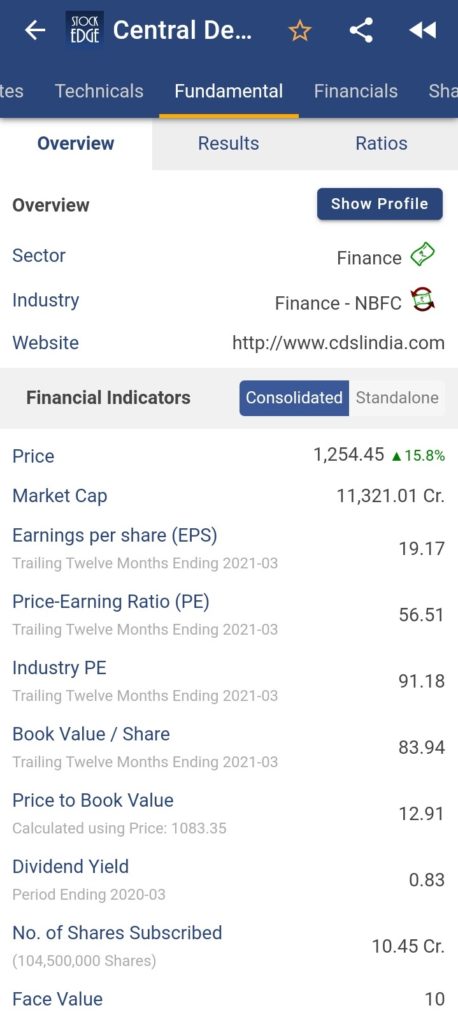 Read our latest article on Balrampur Chini Mills Ltd. – India's 2nd largest sugar manufacturer
To get more detailed analysis and Reports on Stocks, visit our Edge Report Section by subscribing to our StockEdge premium plans
Disclaimer: This document and the process of identifying the potential of a company has been produced for only learning purposes. Since equity involves individual judgments, this analysis should be used for only learning enhancements and cannot be considered to be a recommendation on any stock or sector.