Check out the share trend of Angel Broking Ltd.
Angel Broking Ltd. – Highlights
The shares of Angel Broking Ltd closed at a 20% upper circuit level, recording its 52W high at the price of Rs.1274.45 in today's trading session.
The stock price has increased by 362% since inception which is merely a period of 10 months, and increased by 264.65% in 6 months while the benchmark index S&P BSE Sensex has increased by 8.37%.
The stock soared after the one of the largest retail brokerage firms in India in terms of active clients, reported strong results for the quarter ended June 2021. (Q1FY22).
Angel Broking Ltd reported a net profit of Rs 121.4 crore for the quarter ended June 30, 2021, a 156.7 percent increase year on year, and a 19 percent increase sequentially. The company's gross revenue increased by 13 percent to Rs 474.50 crore for the quarter, thanks to strong growth in client base and high client activity.
In the first quarter of FY22, the company added 1.20 million gross clients, up from 0.96 million in the previous quarter.
More people from Tier 2, 3 and beyond cities are accepting equities as a vehicle for wealth creation, according to the company's management. The company's growth is fueled by its transformation into a Digital First and Fintech business model, which heavily relies on Artificial Intelligence and Machine Learning to provide the best possible service to their customers.
Angel Broking's new CEO, Narayan Gangadhar (strong tech experience with Google, Amazon, Uber, and Ola), holds promise, they say, as the company seeks to expand its digital capabilities.
The Board of Directors declared a 1st Interim dividend of Rs. 5.15 per share on equity shares of the Company with a face value of Rs. 10/- per share as of the Record Date as on 26th July, 2021 for the Financial Year 2021-22. The Board declares that the dividend will be paid on or before 14th August,2021 to all the beneficial owners as on 26th July, 2021.
The Board of Directors approved the change of the Company's name from 'Angel Broking Limited' to 'Angel One Limited' or 'Angel One Fintech Limited' or any other name approved by the Ministry of Corporate Affairs' Central Registration Center ("CRC') in their meet.
Mr. Krishna Iyer has been appointed as an Additional Non-Executive Director on the Board of Directors of the Company with immediate effect by the Board of Directors of the Company.
Angel Broking Ltd, founded in 1996, is a technology-driven financial services company that offers clients broking and advisory services, margin funding, loans against shares (via one of our subsidiaries, AFPL), and financial product distribution under the brand "Angel Broking." Our broking and related services are available via (i) their online and digital platforms, and (ii) our network of over 11,000 Authorized Persons as on June,2020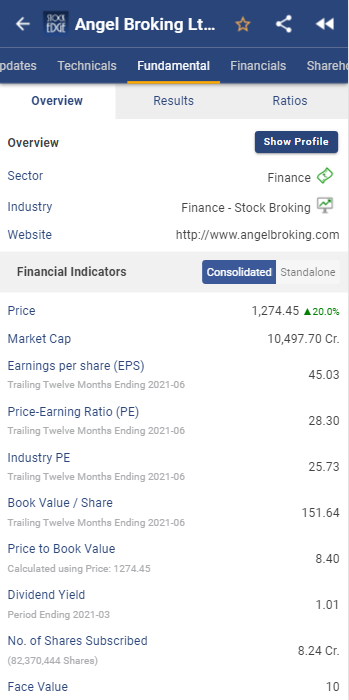 For more fundamental data and analysis, click on Angel Broking Ltd.
Read our latest article on Balrampur Chini Mills Ltd. – India's 2nd largest sugar manufacturer
To get more detailed analysis and Reports on Stocks, visit our Edge Report Section by subscribing to our StockEdge premium plans
Disclaimer: This document and the process of identifying the potential of a company has been produced for only learning purposes. Since equity involves individual judgments, this analysis should be used for only learning enhancements and cannot be considered to be a recommendation on any stock or sector.