In today's blog, we place the spotlight on Tata Motors Ltd, which is a leading global automobile manufacturing company. The company's share price has gained a whopping rally of 264% from its recent low on 3rd April 2020. As of today's date, this is Tata Motors share price.
The company is engaged in the manufacturing of cars, utility vehicles, pick-ups, trucks, and buses. Also, Tata Motors is India's largest and the only OEM offering an extensive range of integrated, smart, and e-mobility solutions.
World-class manufacturing forms the essence of Tata Motors. The facilities of the company ensure that every step – from design to production to assembly – meets the highest quality standards in the manufacturing process.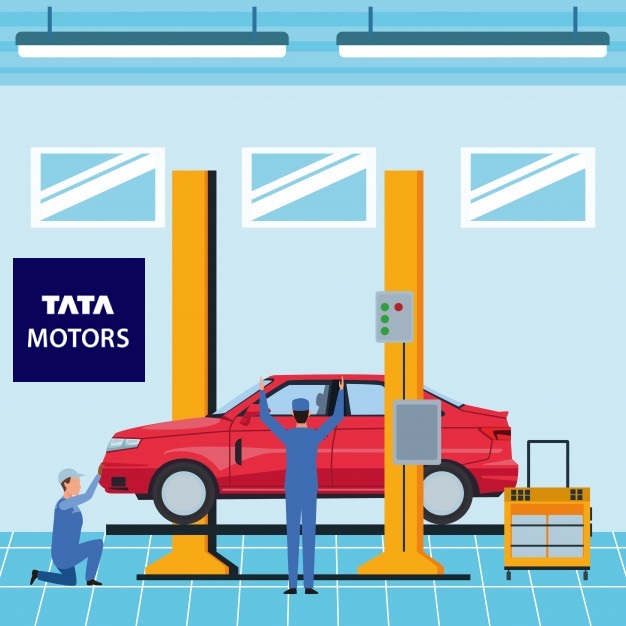 The company is driven by a passion for excellence, which is reflected across all its operations. To offer the best vehicle experience to its customers, its passionate engineering and quality talent ensures the production of superior vehicles, which has led to the rapid growth in global demand for its products.
For decades, Tata has been a very common household name in India and was known for its commercial vehicles like buses, trucks, etc. After tasting the success in commercial vehicles, Tata Motors decided to enter the mass passenger car segment with the highly acclaimed Indica in 1998, which went on to become a huge success in India.
It has operations in various countries like India, the UK, South Korea, South Africa, China, Brazil,  Austria, and Slovakia through a strong global network of its subsidiaries, associate companies, and Joint Ventures (JVs), including Jaguar Land Rover in the UK and Tata Daewoo in South Korea.
Back in 2008, Tata Motors had acquired the iconic Jaguar Land Rover businesses from Ford Motor Company for a net consideration of US $2.3 billion, in an all-cash transaction.

Tata Motors Commercial Vehicle (CV) offerings include sub-1-tonne to 55-tonne Gross Vehicle Weight (GVW) trucks and small, medium and large buses and coaches. The Passenger Vehicle (PV) offerings of TML include the NEW FOREVER range that reflects the design language of IMPACT 2.0 across cars and utility vehicles and is built using sustainable, pioneering technologies.
The company has the vision to become the most aspirational Indian Auto Brand.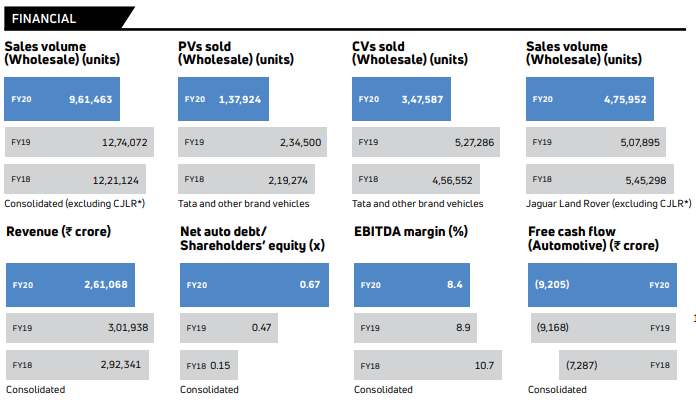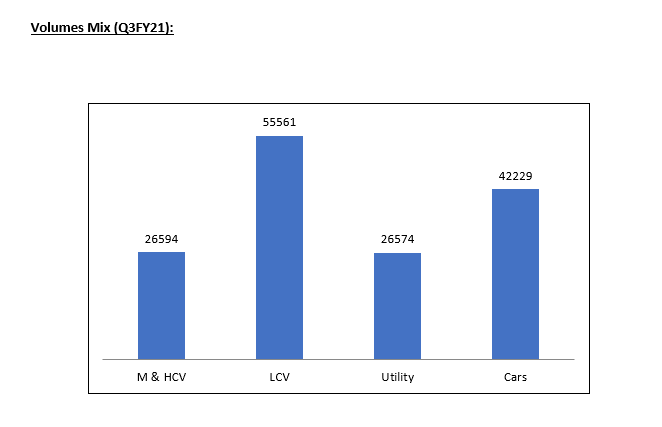 Operational Highlights
The revenues grew during Q3FY21 to Rs 75,653 cr as compared to Rs 71,676 cr in Q3FY20. The topline grew in a healthy manner on both Indian and JLR front.
The EBITDA grew to Rs 11,509 cr in Q3FY21 as compared to Rs 7,196 cr in Q3FY20. EBITDA margin came in robust amid less adverse RM costs as well as lower other expenses.
The PAT grew to Rs 3,222 in Q3FY21 as compared to Rs 1,954 cr in Q3FY20.
On a consolidated basis, Free Cash Flow generation for the quarter was at Rs 7,900 crore, with net external automotive debt as of December 2020 at Rs 48,700 crore vs. Rs 61,900 crore as of Q1FY21.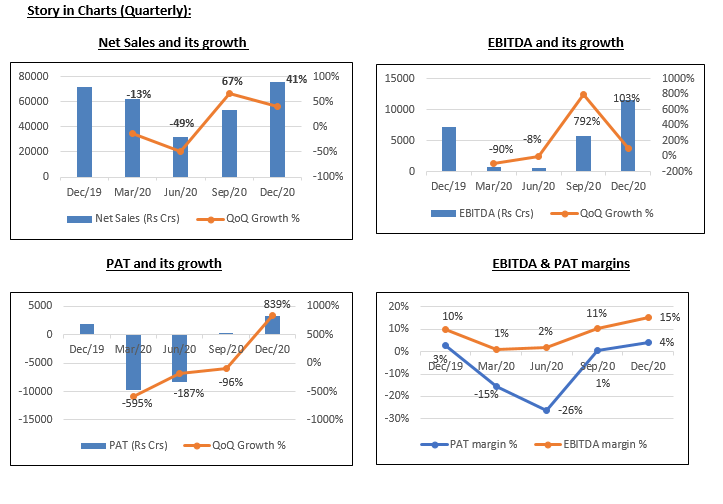 Future Outlook:
Electric Vehicles forms 2% of total Passenger Vehicles sales thus far in FY21. Nexon EV has crossed 2,500 units sales since launch and formed 64% of total India EV industry volumes in 9MFY21
The company might have some short term pressure due to the shortage of semiconductors.
Standalone margins were at the highest level in seven quarters. India Free Cash Flow for Q3FY21 was at Rs.2,200 crore, with investment spends at Rs.547 crore
Ongoing product mix improvement (higher share of Land Rover; higher share of China and North America vs. Europe and UK) played a big part in profitability improvement.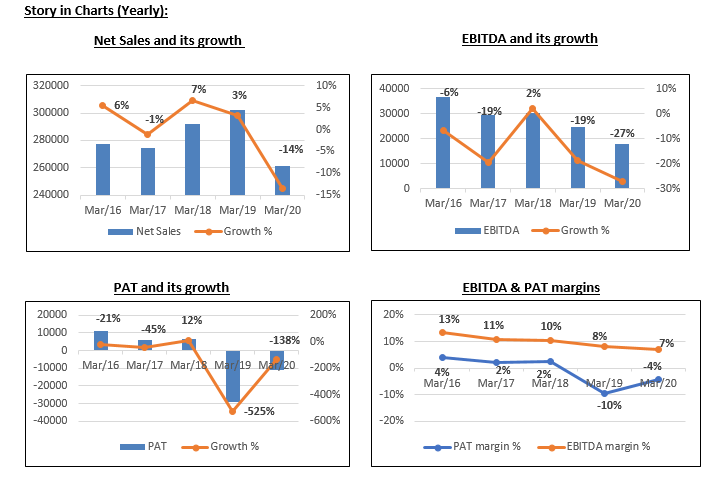 Management Update
During 3QFY21, JLR said that it is back to pre-Covid levels of profitability at the EBIT level.
India CV revenues were up ~21% YoY despite ~8% volume decline due to better mix (higher truck, ILCV sales). CV EBITDA margins were placed at ~8%.
India PV sales were up 78.5% YoY on the back of ~86% volume growth achieved in Q3FY21. Margins at 3.8% compared to negative 4% in Q3FY20 while absolute EBITDA at the best level of the past 10 quarters.
Product Segments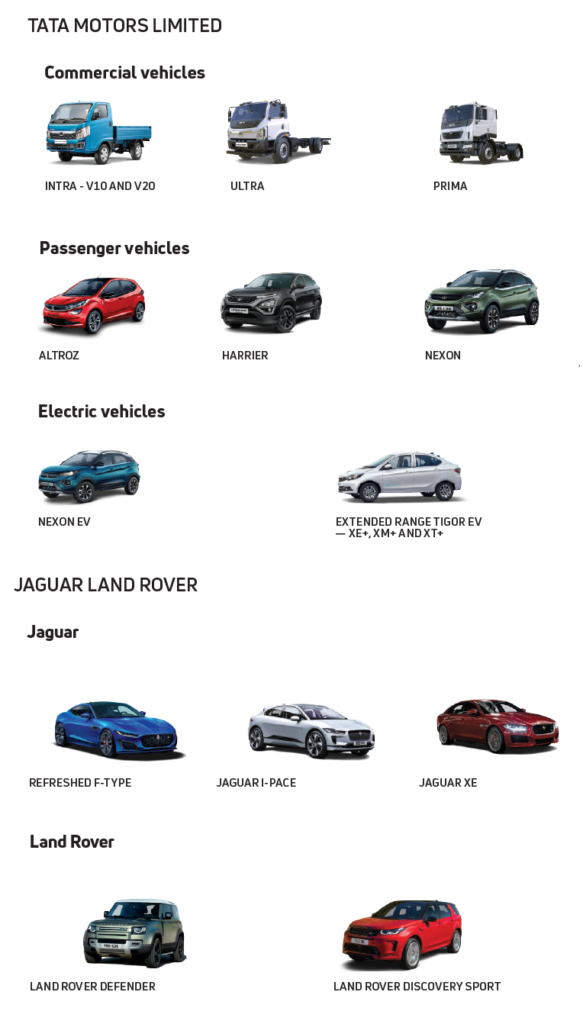 StockEdge Technical View
Tata Motors trading above the weekly support zone and likely to stay positive till the stock stays above 290-300 zone. Probable resistance in the medium term comes at 375 level. Technical parameters look positive as of now. Likely to see further momentum above 342 level.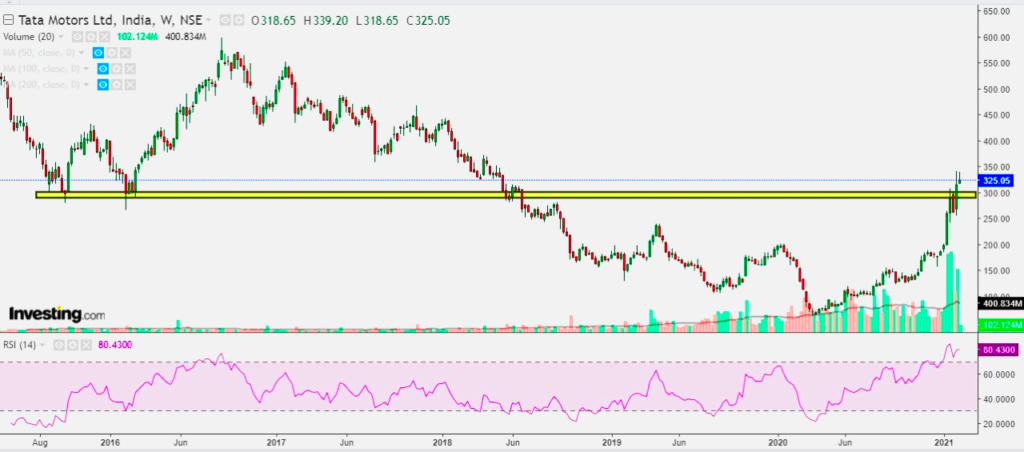 Bottom Line:
India's Passenger Vehicle performance in 9MFY21 has defied the industry translating into 300 bps market share gain and healthy profitability at EBITDA level. Commercial Vehicle segment is also recovering fast, aided by return of infrastructure and mining demand in trucks and LCV resilience. At JLR, China's performance continues to lead the way in the post Covid period.
Strong liquidity; debt maturities well spread out; Promoters exercise their warrants amounting to Rs 2.6KCr in Jan 2021 increasing Tata Group shares (voting) to 45.82%. Standalone cash savings for 9MFY21 are at Rs 5,100 crore (vs. full year target of Rs 6,000 crore).
Investment reduction target of Rs 3,000 crore for the year is likely to be undershot as the company would not reduce capex related to growth (currently at Rs 1,600 crore). The company is performing well in both Indian operations and also on the JLR front.
Read our latest blog on Are Dividend Yield Funds a good option to invest in?
Disclaimer:
This document and the process of identifying the potential of a company has been produced for only learning purposes. Since equity involves individual judgements, this analysis should be used for only learning enhancements and cannot be considered to be a recommendation on any stock or sector. Our knowledge team has limited understanding and we all are learning the art and science behind this.