Technical Analysis
Edge Charts is one of the most widely used and effective premium feature of StockEdge for technical analysis and it fits very well with the main aim of StockEdge i.e. Getting an edge in your analysis and markets and that's what exactly edge charts are meant for.
Edge Charts is a powerful advanced tool with 4 exclusive charting patterns : Candlestick, OHLC, Area and Line Charts. Traders and investors have an option to plot charts on periods ranging from 1 Day to 5 Years for both NSE and BSE.
Traders can draw trend lines and plot various technical parameters and metrics to enhance their research and analysis. There are 30 different set of technical parameters with all having different basis and conclusions which can be combined to deliver out their synergistic results.
Traders and Investors can even do time period analysis based on different charting periods available and can even save their combination of parameters as a predefined template.
Lets take an example of a stock and understand the very basics of technical analysis and what one should actually look for in a stock when performing a technical analysis, especially helpful for traders:
We have taken the Edge Charts of Tata Elxsi Ltd, now let us understand how this stock is gonna perform and what signals can be drawn out from its technical analysis of charts:
Let us understand the very basics of doing Technical Analysis with understanding OHLC and how the share prices change and how the candlestick bars are plotted: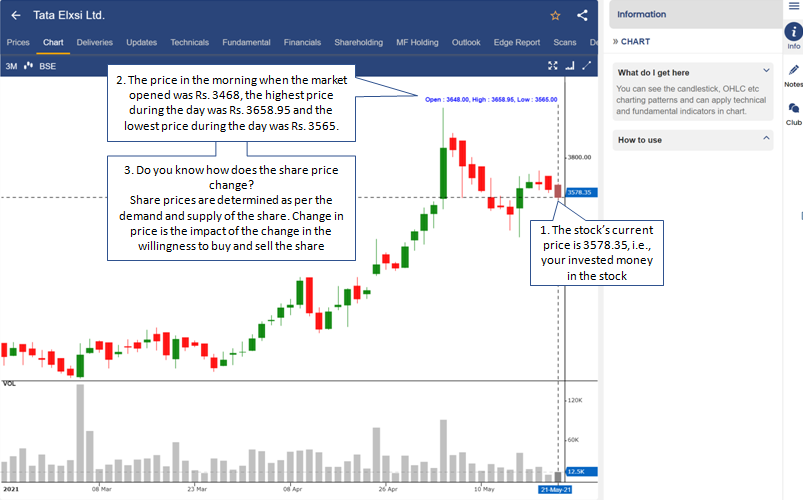 2. Now let us understand what does the line and candlestick charts imply at different price levels and trends and that is why 1Y chart has been plotted to have a complete holistic view of all kind of trend signals: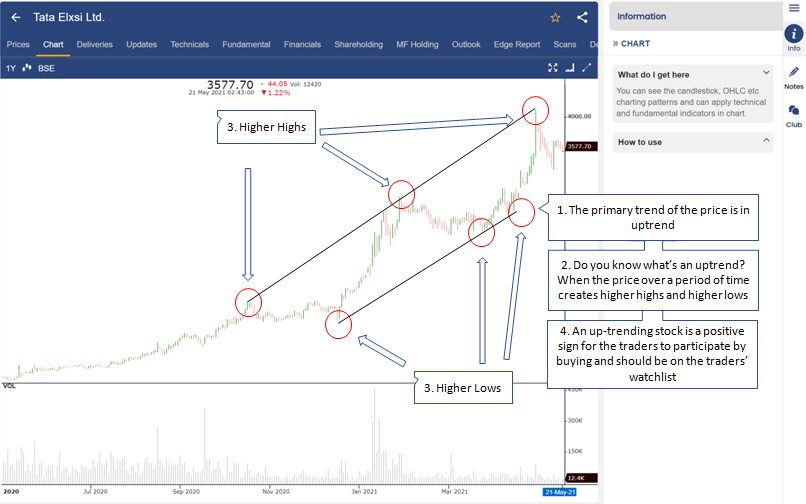 3. What is Volume and Delivery and significance of it in Technical analysis: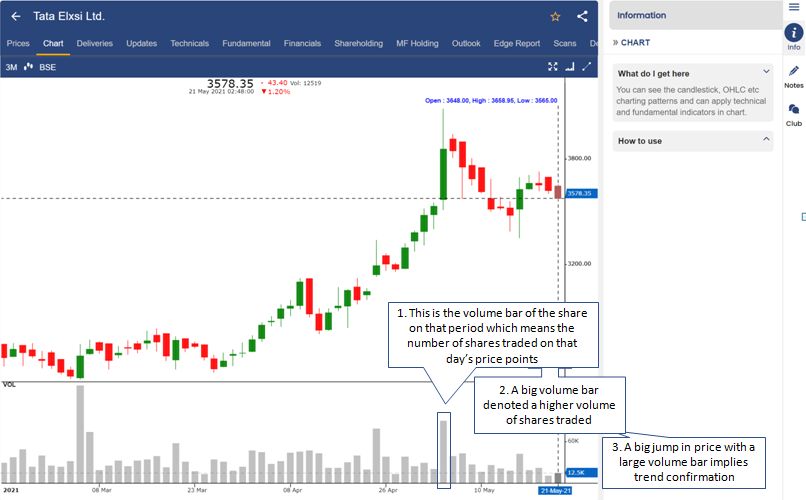 So as far we have learnt the very basics of doing technical analysis and it is understanding the OHLC points, the plotting of different kind of charts and the identification of price trend signals and significance of volume and delivery. Using Edge Chart you can not only do Technical Analysis but Fundamental as well, where you can plot EBITDA, Net profit, Sales, Ratios shareholding and much more in the chart itself to see the trend along with the price chart.
Edge Chart is a premium offering. To use this feature subscribe to our StockEdge premium plans
Read our blog on Adani Transmission Limited – Energizing India, Enriching Lives.
For more knowledge avail the course of Technical Analysis on Elearnmarkets – CERTIFICATION IN ONLINE TECHNICAL ANALYSIS