Hey there, fellow investors! Are you tired of the same old boring stock market analysis platforms or forums that put you to sleep faster than a lecture on accounting principles?
Fear not, my friends! We've got just the solution for you – StockEdge Club!
What's StockEdge Club?
StockEdge Club is the ultimate platform for stock market analysis and investors hub. With its power to solve all your stock market queries and give you stock recommendations backed by data and research, you can navigate the market like a pro.
Plus, all the learning resources will give you the edge to grow in the markets.
We go above and beyond by offering personalized support to help you navigate the stock market. So, if you have any burning questions or need assistance making a decision, the StockEdge Club is here to help!
But wait, there's more!
StockEdge Club provides quick and adequate market analysis by various experts of different domains, community discussions with other members & experts, daily learning, and investing or trading ideas along with various trading strategies.
Real-time news and analysis are given so that you can stay up-to-date with market trends and never miss a beat. And all of this comes at a cost that won't break the bank. Who says investing has to be expensive, right?
The best part? StockEdge Club is a clutter-free platform for all the relevant stock market discussions in a close-knit investors hub.
So what are you waiting for? If you're a retail investor looking to up your investment game, give StockEdge Club a try. Trust us, it's anything but boring!
The key features of StockEdge Club are as follows:
Real-time query resolution – Active knowledge forum where ideas are shared – Access to various periodic learning sessions.
Elaborate kare…?
Trading Ideas: StockEdge Club provides investors with trading ideas and recommendations based on technical analysis and market research. Investors can use these ideas discussed in this investors hub to identify potential investment opportunities and improve their trading performance.
Community: As a member of the StockEdge Club, you'll have access to a community of other traders who can provide support, share ideas, and offer feedback.
Within the platform, you have 4 clubs (Fundamental/ Technical/ FnO and Stock Ideas).
There can be instances when you came to know about a listed company, and now you want to know more about the company. What you can do is post your query on that stock in the fundamental club. Our team will revert to you with the most effective analysis and in-depth knowledge of that business of the stock.
Post going through that analysis, you feel like investing/ trading into it. Then you can tag that stock in the Technical Club.
Now our Super Chartists folks will assist you with the buy, sell call using their trading setup. You'll be able to confidently navigate the stock market and make profitable decisions with our assistance.
So, instead of struggling to decipher complex charts independently, rely on our experts!
Learning sessions/ Webinars/ Courses, Live Learnings Sessions: The platform provides access to webinars and other learning resources that can help you stay up-to-date on the latest trends and techniques in stock trading.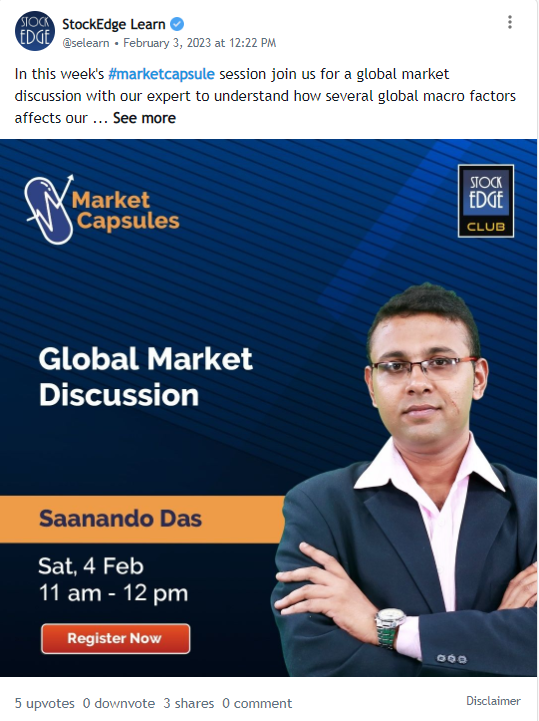 We don't want to flaunt, but being a member of the StockEdge Club has several advantages which can help you grow as a trader or investor. Now, you might be wondering how that's possible.
Premium App Features: Members of the StockEdge Club can access exclusive features and resources within the StockEdge app.
Here are our premium app offerings >>
Investment Themes,
advanced fundamental and technical scans,
combination scans,
Investment Ideas
Investor Portfolios of Ace Investors
Strategies
Business Houses
Edge Reports on Stocks
Company Fillings
Sector Rotation
Market Breadth
Derivative Analytics
an interactive EdgeChart, and an ad-free experience on the StockEdge Platform for one year.
Pro Analytics Chart Patterns – It will help you to identify chart patterns, and you can filter out stocks based on that chart patterns and trade accordingly. StockEdge Pro helps you identify chart patterns and gives you a list of stocks in which those chart patterns are formed. Click here to read more about it.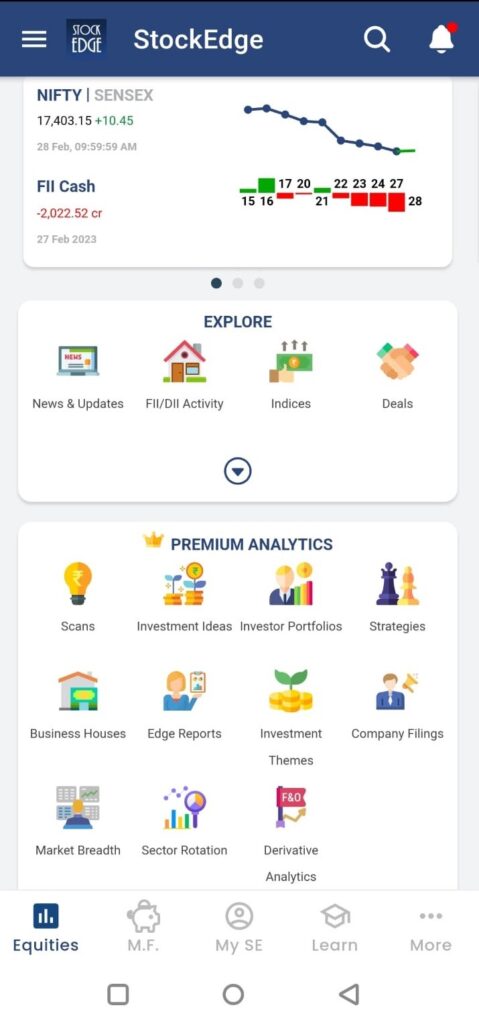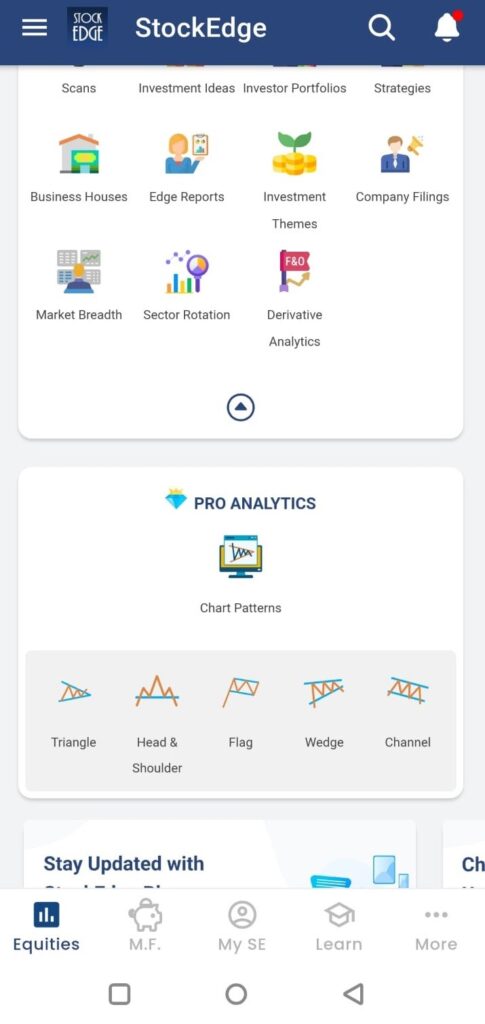 When we started developing this investors hub, we had one goal, and that was how we could empower retail investors. So, if you feel that our offerings are expensive, remind yourself whether you want to spend on a fancy dinner or build your equity portfolio.
Bottomline
If you are a retail investor looking to beat the stock market, StockEdge Club is definitely worth checking out.