In today's stock insights, we will be talking about Jindal Saw, which is a part of the OP Jindal Group, and one of the largest pipe producers in India.
The Story
Established in 1984, they are the only company with a water-centric product profile that is present in all major pipe segments – SAW, seamless, and DI.
Jindal Saw has plants in Kosi Kalan and Mathura (Uttar Pradesh), Mundra (Gujarat), Bellary (Karnataka), Bhilwara (Rajasthan), and Nasik (Maharashtra) and supplies to major domestic and international entities.
Jindal Saw also runs a 1.5 million-tonne-per-year pellet plant supported by captive iron ore mines. They have spun off their loss-making operations (railway wagon manufacturing, EPC, and waterways) into a separate publicly traded company. As of today, this is Jindal Saw share price
What are the growth triggers for Jindal Saw?
According to the Niti Ayog water crisis report, 600 million people in India are facing a high extreme water crisis. 75% of these households do not have drinking water on site, and 84% of rural households do not have piped water access. As a result, Narendra Modi launched an ambitious project to provide piped water to every household by 2024.
The government of India established a separate ministry called "Jal Shakti" to plan, coordinate, and carry out this project.
With the General Elections approaching and the deadline for the government's ambitious bid to provide piped water to every rural household by 2024 approaching, the Centre's marquee Jal Jeevan Mission has been allocated Rs.69,684 crores, up from the Rs.54,808 crores the department is expected to spend in the current fiscal year.
HSAW pipes are the preferred mode for connecting rivers and transporting water to treatment plants, and DI and HDPE pipes will be used for the distribution of potable water. Jindal Saw is present throughout the segment, from the beginning to the end.
Secondly, the construction of a gas grid in India is progressing slowly. It is anticipated that Indian companies will place large oil and gas pipeline orders over the next couple of years. City gas distribution should pick up as well, which will aid volume growth.
Thirdly, Jindal Saw owns and operates a 1.5 million tpa pellet plant supported by iron-ore mines. Despite the lower Fe grade of mines, Jindal Saw beneficiates iron ore to improve its Fe content before using it to make pellets. However, they are beginning to produce pellets that are of higher grade in Fe.
Given its plant's geographic advantage (the western region), they sell its products at a premium compared to the Odisha/Chhattisgarh market, which accounts for higher costs due to beneficiation. The pellet plant also serves as an economic hedge against changes in raw material prices in DI pipes.
Jindal Saw is in the process of increasing the pellet plant's capacity to 2 million tones with minimal capital expenditure, which will increase profits from this business even more and help the overall performance.
Major Clients include:- Reliance Industries, NCC Ltd., Gammon, Larsen & Toubro, Bharat Petroleum, ONGC, NPCC, GKC Projects LLC, British Gas, etc.
Let's look at the product profile of Jindal Saw.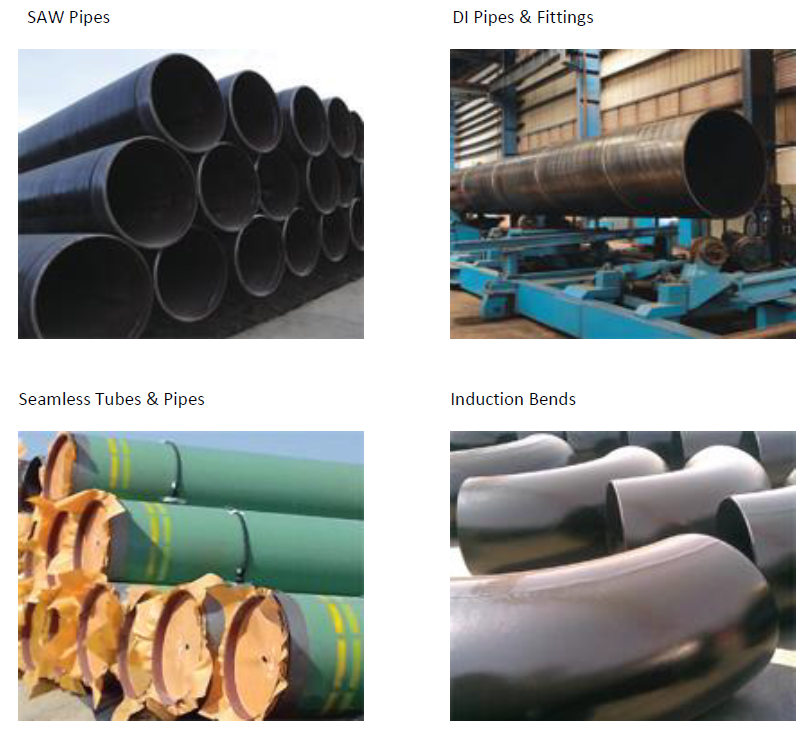 Let's look at the financials of Jindal Saw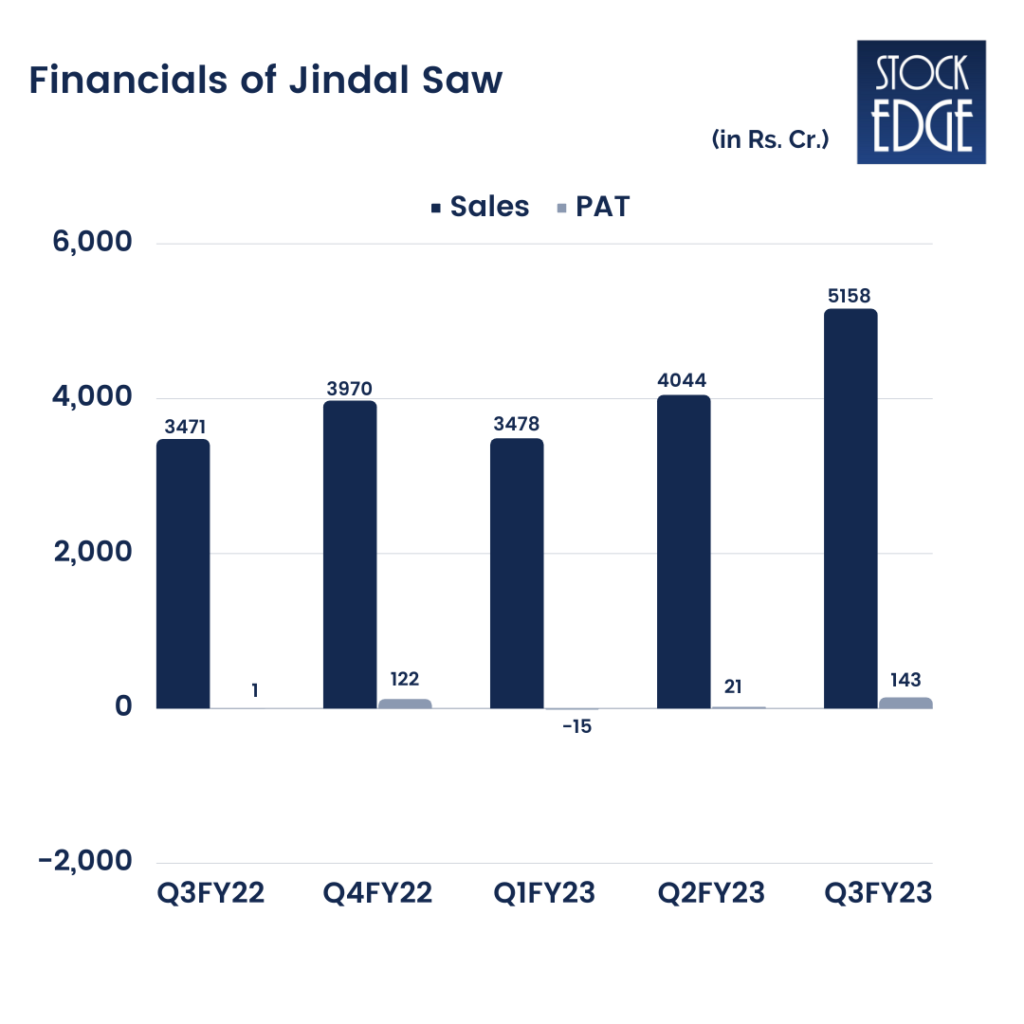 Jindal Saw Ltd's net sales in Q3FY23 increased to Rs.5157.94 cr up by 48.6% year on year which outperformed due to significantly higher volume execution driven by SAW Pipe Segment.
Consolidated EBITDA was at Rs 495.2 cr up by 142% YoY, owing to a significant improvement in SA EBITDA.
Other income was at Rs 162.34 cr (at the standalone level) up by 190% year on year increased mainly due to notional profit on investments in Jindal ITF Ltd.
Consolidated Adj Pat was at Rs 143.3 cr up by 211% year on year.
They have an order Book of US$ 1.3bn.
Jindal Saw has been awarded the bid for the Sathavahana Ispat DI plant and has received all necessary approvals. They are currently awaiting the final allotment letter. The plant has a total capacity of approximately 210 KT and a competitive location in south India. Jindal Saw has assigned personnel from its Mundra DI plant to work on the plant in order to get it ready for production.
To get more detailed analysis and Reports on Stocks, visit our Edge Report Section by subscribing to our StockEdge premium plans.
Road Ahead
Jindal Saw is the most diverse pipe player in India, allowing it to target larger market segments. The management is quite confident and is guiding the 3Q rate to be largely sustainable and expecting strong volume execution. A strong order book combined with a healthy bid book will ensure a significant improvement in EBITDA over the next 12-15 months.
Jindal Saw is considering reviving plans to establish a small steel mill in Bhilwara, Rajasthan, to help meet steel requirements for seamless and stainless steel pipes.
In terms of the future, Jindal Saw stated that the global steel pipe market appears to be promising, with opportunities in oil and gas, water and wastewater, power generation, automotive, and other industrial sectors.
However, as with such companies, there are risks associated with them such as delays in government projects, rise in commodity prices, and Significant fall in oil & gas prices that can have an impact on export orders which will impact the Company's performance.
So, we will have to wait and see how Jindal Saw develops from here on out.
Until then, keep an eye out for the next blog and week's editions of " Stock Insights." Also, please share it with your friends and family.
Happy Investing!