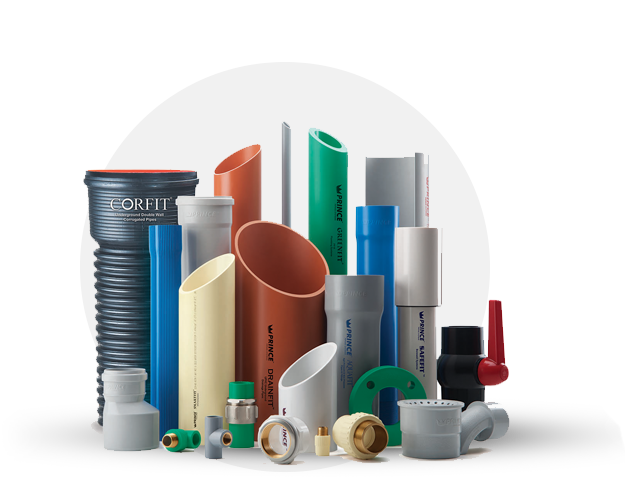 The Story
Incorporated in 1987, Prince Pipes is promoted by Mr. Jayant Chheda, who entered into the PVC products business in 1982 and started 1st pipe manufacturing unit in Mumbai in 1987.
Today, Prince Pipes and Fittings Ltd. manufactures polymer pipes and fittings used in plumbing, irrigation, and soil, waste, and rainwater (SWR) management. The company has over 30 years of experience in the polymer pipes segment and is one of the top five companies in the piping industry. It has a strong presence across India, with seven manufacturing plants – Haridwar
(Uttarakhand), Athal (Dadra and Nagar Haveli), Dadra (Dadra and Nagar Haveli), Kolhapur (Maharashtra), Chennai (Tamil Nadu), Jobner (Rajasthan), and Sangareddy (Telangana).
It has a total installed capacity of approximately 259,000 tonnes per year (TPA). This will be increased by 50,000TPA once the Telangana plant is fully operational. It has 7,200 stock-keeping units (SKUs) and over 1,500 distributors.
Prince Pipes markets its products under two brand names: Prince Piping Systems and Trubore.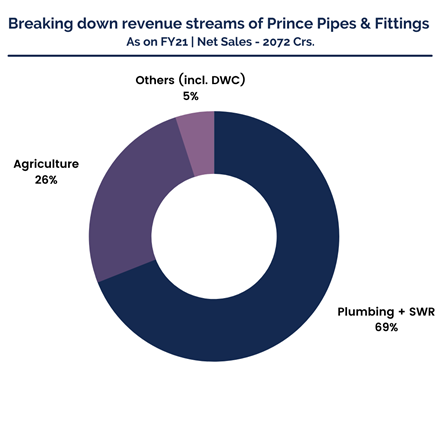 How is the industry shaping?
Metal pipes dominated the pre-independence era of pipes (copper pipes for high-end residential units and hotels and galvanized iron pipes for masses). However, due to water quality issues, particularly in hot water usage, such as scaling leading to poor flow of water due to choking and acceleration of corrosion in hot chlorinated water, the industry started looking at alternatives to metal piping.
Plastic piping gained traction in India in the 1960s due to its lightweight and smooth surface, which allowed for faster water flow and generated less friction than metallic pipes. Because CPVC pipes could withstand high temperatures, they become a popular choice for hot water piping systems.
Rapid capacity expansion in the 1980s, as a result of World Bank-funded water schemes, led to the growth and acceptance of polymer pipes throughout the country. Today, CPVC is used as the first choice in 90% of buildings because no other product can match its performance and value for money.
Investments in agriculture (irrigation) and construction—water supply and sanitation (WSS), used for sewage and drainage solutions, water mains and irrigation, transportation of drinking water, and manufacture of advanced fire-sprinkler systems—has driven the plastic pipes market in India.
The plastic pipes market is worth INR300 billion, with organized players accounting for 65% of the market. Plumbing pipes used in residential and commercial real estate account for 50-55% of industry demand. Agriculture accounts for 35% of industry demand and is dominated by regional unorganized players. The remaining 5-10% of industry demand is derived from infrastructure/industrial projects. Over the fiscal years 2011 to 21, the pipe industry grew at a CAGR of 10%.
Government Initiatives Boosting Growth
Only half of India's 142 million hectares of cultivated land is irrigated, and about 63% of the irrigated land is dependent on tube wells, which are monsoon-dependent. This reflects the existing potential for Agri pipes, which opens a door of opportunity for the pipes and fittings industry. Under Prime Minister Krishi Sinchai Yojna (PMKSY), the Government of India plans to spend Rs.50 billion over the next five years to establish a dedicated Micro Irrigation Fund in collaboration with NABARD. This will give micro-irrigation in India a boost.
The Jal Jeevan Mission, a flagship program of the Modi government, was launched in 2019 with the goal of providing tap water connections to rural households by 2024. So far, 33 million rural households have received tap water connections. This scheme has been allocated Rs.500 billion in this budget. Furthermore, the Finance Minister announced the urban component of this scheme. The mission's ambitious urban segment will be implemented over five years at a cost of Rs.2.87tn.
Over FY21-25E, growth is expected to accelerate to a 12-15% CAGR, driven by the government's focus on housing and sanitation, increased emphasis on irrigation and last-mile water connectivity, an increase in urban housing demand, particularly in tier 2/3/4 cities, rural demand due to normal monsoon, replacement demand for galvanized iron (GI) pipes as PVC pipes are cheaper and have a longer shelf life, and replacement demand. Pipe companies have plenty of room to grow in the coming years, thanks to such strong industry tailwinds.
How Prince Pipes is trying to create an economic moat?
Prince Pipes has increased its emphasis on improving operational efficiencies through a variety of collaborations. Collaboration with the inventors of CPVC, Lubrizol, for the FlowGuard and Corzan brands would allow for volume growth in the plumbing/SWR category while also improving the value mix. The technical collaboration with Tooling Holland, the global leader in molding, helps to ensure the production of high-quality products. This will help the company save money, gain a competitive advantage, and optimize production processes.
Prince Pipes aims to strike a balance between pricing and volume, but it has shifted its focus from being a value-focused player to becoming a premium player. Through various initiatives, the company has increased its emphasis on marketing and branding. Since 2018, it has had Mr. Akshay Kumar as its brand ambassador, which has helped it improve brand perception among channel partners and differentiate itself from a competitor with a similar name. In addition to branding through hoardings and shop boards, the company has built the brand through a multi-state single strategy of transit media. A&P will continue to account for 2-3% of sales in the future.
This will help in an improved product mix as a result of superior pricing power. Margin expansion is aided by faster growth in CPVC and PPR products, an increase in a contribution from fitting, and the benefit of operating leverage. In Telangana, Prince commissioned 500MT capacity in 4QFY21, which is currently operating at 4,000 MT. With a total capacity of 51,943MT, it is expected to be completed between FY22 and 24E. This would increase the fitting contribution, aid in market penetration in the South, and reduce freight costs.
Financials
Prince Pipe's revenue has grown 66% between FY17 to FY21— from Rs.1247 to Rs.2072 crores. PAT has grown by a whopping 200% from Rs.74 crores to Rs.222 crores. The growth has been so exceptional that the company's share price has grown by 220% in the last one year. The company has strengthened its balance sheet by reducing total debt. The debt to equity ratio has improved from 1.33 to 0.08 between FY17 to FY21 and is long-term debt-free and As of today's date, this is Prince Pipes and Fittings share price.
During the first quarter of FY22, the sales volume got impacted due to the second wave of Covid which led to the nationwide lockdown. Despite that, the PAT grew by 58%, from 11 crores in Q1FY21 to 18 crores in Q1FY22. With consistent improvements in RoCE and operating profitability, it is expected that a re-rating of Prince Pipes is imminent.
How good is the Jockey?
Overall, the company is run by highly competent management led by Mr. Jayant Chheda who has extensive industry knowledge and over four decades of experience and has been with the company since its inception. He leaves no stone unturned in his efforts to introduce innovative products.
With recent strategic technology tie-ups and aggressive brand campaigning, Prince has emerged as a strong player who is challenging the leaders in the pipes industry.
The Road Ahead
With the government's increased emphasis on housing and sanitation, as well as increased budgetary allocations for irrigation and a recovery in the real estate sector. Prince Pipes is well-positioned to take market share from unorganized players due to its pan-India presence, broader product portfolio, stronger distribution network, presence in the fittings category, and a broader range of applications for end-user segments.
That's all from our end folks! We hope you liked our weekend read. Stay tuned for the next blog and keep watching this space for our midweek and weekend editions of 'Trending Stocks". And, if you loved the way we represented Prince Pipes and Fittings Ltd.'s story, show us some love by sharing it with your friends and family. Until then, take care and happy investing!