Among the other trending stocks, we are going to talk about one of the leading manufacturers of branded papers and packaging boards, i.e. JK Paper Ltd., and try to find out the tailwinds behind the Indian Paper Industry which is favoring the industry leader.
The Story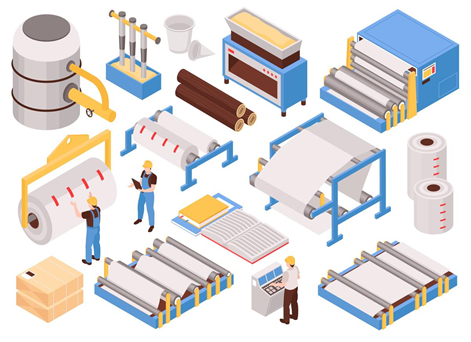 Established in 1962, JK Paper Ltd. is a market leader in office papers, coated papers, and packaging boards. The company operates two integrated pulp and paper mills: JK Paper Mills (JKPM) in Rayagada, Odisha (295,000 tpa) and Central Pulp Mills (CPM) in Songadh, Gujarat (160,000 tpa). In August 2018, the company acquired a 76.4% stake in Sirpur Paper Mills Ltd (SPM) in Telangana (136,000 tpa), bringing the total number of plants to three and the installed capacity to 591,000 tpa. Furthermore, the company has become a leading exporter of branded copier papers and packaging boards, exporting to over 60 countries. As of today's date, this is the JK Paper share price.
In each of the segments, the company offers a diverse range of products, including office papers, packaging boards, printing and writing papers, and specialty papers. JK Paper is one of the largest wood-based paper companies in the country, having established itself as a leader in the branded copier paper and high-end packaging board segments, as well as one of the two leading players in coated paper.
JK Paper is a subsidiary of the JK Organisation, a well-known business conglomerate with a history dating back over a century.
JK Paper has been a market leader in copier paper due to its exceptional quality and awareness campaigns. To produce superior quality copier paper, the company leverages its integrated state-of-the-art plants, which are powered by cutting-edge technology. JK Paper has a diverse product portfolio that includes a presence in the high-quality paper segments (coated paper, uncoated paper and packaging board). With a 23% market share in copier paper, the company is the market leader. Its product SKUs – JK Copier, JK Easy Copier, JK Sparkle, JK Max, JK CMax, JK Cedar, and so on – are used in office documentation, and the product is priced differently across variants.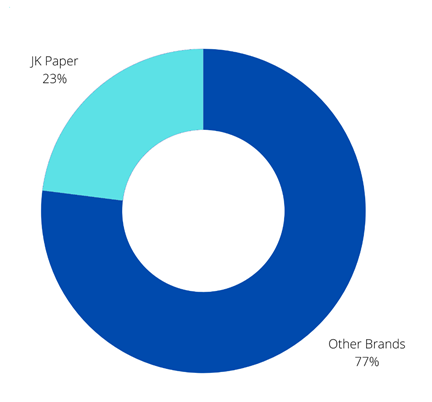 Furthermore, the company is the second largest in coated paper with a 12% market share, with products available in matt and gloss finish across variants such as JK Cote, JK Supercote, and JK Cote (Premium/Chromo). JK Paper is a market leader in the packaging board segment, with an 11% market share. FMCG companies can choose from a variety of high-end coated packaging boards offered by the company.
Financial & Operational Highlights of JK Paper
Revenues increased by 40.81% to Rs.660.75 crore in Q1FY22, compared to Rs.469.24 crore in Q1FY21. This was primarily due to higher volume with better realisations across all segments, which resulted in improved performance of Sirpur Paper Mills Ltd, a step-down subsidiary, during the quarter despite the impact of the COVID-19 pandemic's second wave.
Despite some supply delays caused by COVID-19, the packaging board project at 'Unit-CPM' is progressing well, and trial production is expected to begin in the current quarter.
The EBITDA grew by 204.23% to Rs.190.30 cr in Q1FY22 as compared to Rs.62.55 cr in Q1FY21. EBITDA margins improved from 13.33% in Q1FY21 to 28.80% in Q1FY22.
Net Profit was Rs.104.22 crore, a growth of 3818% as compared to Rs.2.66 cr in Q1 FY21. The growth was due to higher sales and better realization.
EPS in Q1FY22 is 6.14. In Q1FY21 EPS was 0.20, a growth of 2970%.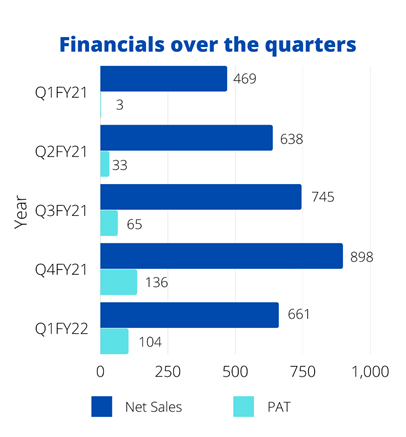 Recent Updates
On July 1, 2021, JK Paper Limited established a wholly-owned subsidiary company called JKPL Packaging Products Limited. to manufacture/trade packaging products and engage in other related activities.
The board has approved an investment of Rs 150 crore for setting up a corrugated packaging plant.
The company also announced that its board of directors has approved the acquisition of Deepti Electronics & Electro Optics Pvt Ltd (Delopt) as a going concern on a slump sale basis for a net cash consideration of approximately Rs 25 crore.
The acquisition of this business will allow the company to diversify its business portfolio and increase its economic value in the emerging electro-optics market.
Future Outlook
Despite China's ban on waste paper and solid waste imports, Global pulp prices have risen a lot. This has resulted in the closure of a number of smaller units based on waste paper and recycled fibre, where production has become unprofitable, which aided the industry leaders to take market share away from these smaller players. Because Chinese paper mills were unable to obtain the primary raw material, they began importing Kraft paper from India. Kraft paper is recycled paper, and Chinese mills use it to make paper as pulp or as a fibre source. This has resulted in a significant increase in Kraft paper exports to China, resulting in a material shortage for corrugated box manufacturers in India.
Despite a drop in demand for writing and printing paper as a result of school and college closures and partial office closures, paper prices remain firm as the top ten integrated players are operating at near peak utilization rates due to supply squeeze from small manufacturers.
Plantation activities continue to be a primary focus area for the company in order to obtain adequate raw materials at a reasonable cost.
Risks
Extended Covid-19 woes in the form of a third wave can have a negative impact on economic growth prospects. This can result in offices and educational institutes being closed for an extended period of time, negatively impacting the company's growth outlook and earnings.
Due to environmental concerns, China has prohibited the import of waste paper, causing global pulp prices to skyrocket. This greatly benefits domestic players through backward integration and market share consolidation. Although unlikely, if China reverses its decision to ban the import of waste papers, the price of pulp could fall, reducing the company's growth prospects. Meanwhile, the imposition of anti-dumping duties by the Government of India on uncoated/coated paper is a key upside risk.
Technical Views
JK Paper faced resistance from the upper line channel and is likely to see some profit booking in the near term till it stays below 270-274 level. Any dip to 235-240 level can be seen as a favorable demand zone for medium term outlook. Overall the stock is a clear uptrend and the trend is likely to continue till it continues to trade in the above channel.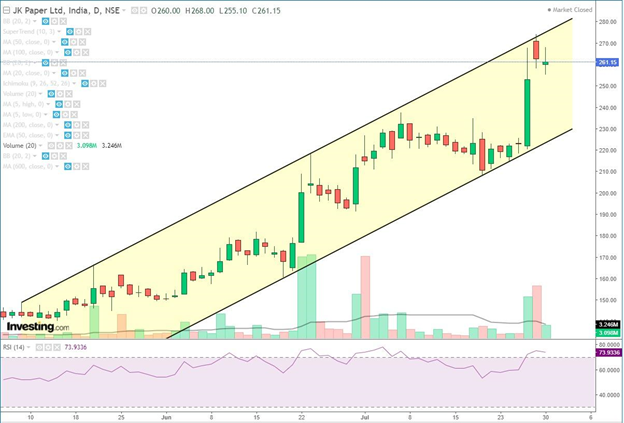 Conclusion
With the rising price of lumber across the world mainly due to massive wildfires in parts of the US and Canada which could lead to a supply constraint in lumber. Prices of lumber in China have also moved up sharply which is giving Indian players a significant advantage.
The packaging paper market is expanding at a double-digit rate as a result of the expanding e-commerce and home delivery markets. The gradual reopening of educational institutions will also increase the demand for writing and printing paper. The company is focus on reducing costs, enriching product mix, and better serving its customers.
JK Paper is benefiting from increased volumes as a result of the Sirpur acquisition and packaging paper plant. With rising paper prices, EBITDA margins will improve dramatically, resulting in free cash flows once all capex is completed. Because of better pricing and higher volumes, the company's performance is expected to improve significantly over FY21-23.
Know more about JK Paper Ltd. and its peers by using the Sectors tab in the StockEdge Web
Check out StockEdge Premium Plans.
Disclaimer: This document and the process of identifying the potential of a company has been produced for only learning purpose. Since equity involves individual judgments, this analysis should be used for only learning enhancements and cannot be considered to be a recommendation on any stock or sector.